A Fair shake
JCA's Fair brings lightning to the Thunder, hits a 3 at the buzzer to send team to its first trip to the Final Four; called it the 'best moment of my life'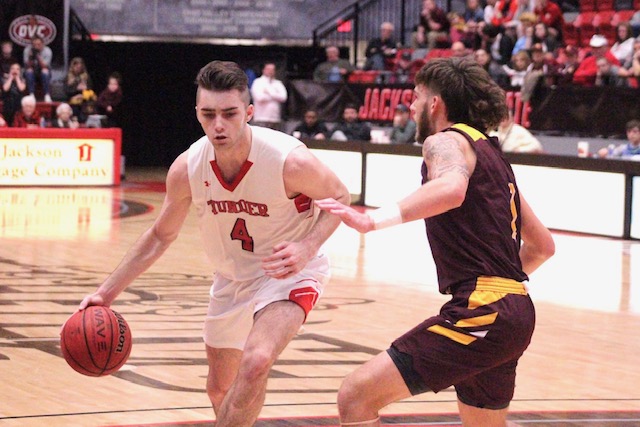 By Al Muskewitz
East Alabama Sports Today

JACKSONVILLE –Jacksonville Christian had the shortest drive of any team in this year's Northeast Regionals to get to the arena, 1.7 miles. There's a good chance the Thunder will be able to make it back without the wheels touching the road.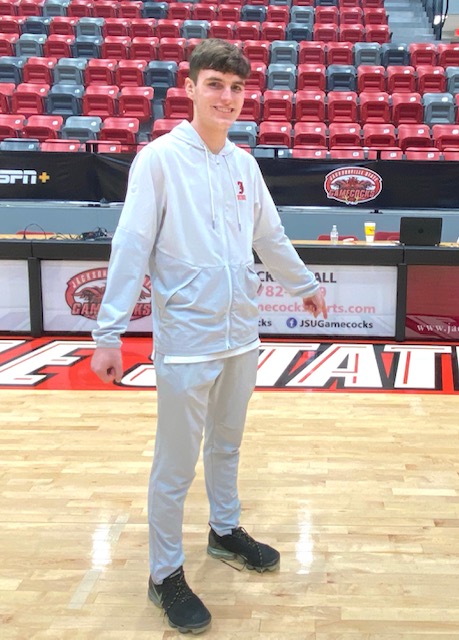 Eli Fair hit an off-balanced 35-foot 3-pointer at the buzzer to give the Thunder a stunning 52-49 win over Spring Garden Monday to earn the program's first trip to the Class 1A Final Four. They will play Lanett in the BJCC in the state semifinals Monday at 10:30 a.am.

Fair called it was "the best moment of my life." JCA coach Tommy Miller agreed it was the biggest shot in the 32 years he's been coaching the boys program, whether it's been in the AHSAA (since 2002) or the Christian schools association before that.

The coach also confided after the game he dreamed last night Fair, his grandson, would hit the big shot in the game.

"I didn't know about that until after; that's not something you're gonna tell before the game," Fair said. "So much was racing through my mind. I just saw everybody jumping around. The first thing I thought when the ball went through the basket, I was laying on the ground and said I've got to get up I'm going to get dog-piled on. I popped up fast and started running around. It was crazy. It's the best moment of my life, I'm not going to lie. I'll be talking about that for years, I can promise you that."

The game-winner came after Panthers' guard Weston Kirk was called for an offensive foul driving the lane with 11 seconds to go after the Panthers worked the clock for the final shot. Spring Garden coach Ricky Austin acknowledged they probably went a little too soon with the shot, but as far as commenting on the charge he said he was focused more on the potential rebounder than what was happening on the potential shot.

During the timeout to set up the play Kirk told his teammates he wanted the ball. The lane was open when he started his drive and all he saw was Chase Vinson on his right and Kobe Messer, who drew the charge, in front of him.

"That was the thing that had to be done," Miller said. "In the timeout we just talked about you've got play better defense right now than you've ever played in your life, and actually I think Kobe did. He had gotten beat several times tonight. He didn't on that play. He was right where he was supposed to be. Huge."

"I know Weston's hurting because he thinks he missed the big play, but if Weston hadn't been wanting the ball all year long we wouldn't be here right now," Austin said.

After the turnover, the Thunder got the ball to Fair on the inbounds. Miller was going to call a timeout when Fair got it, but instead let it play out. Fair took a couple dribbles to get across mid-court and then launched the ball from just about the "A" in the State of "Jacksonville State" written along the front of press row.

Swish. Game over.

Fair finished with 12 points and the 3-pointer was the only one in three attempts he hit in the game.

"The craziest thing about it is I hadn't hit anything all day except for layups and free throws, but when that shot left my hand I was like, 'That might go in,'" he said. "When I saw it go in that was the most shocked I'd ever been in my life … Sometimes when I'm shooting around I get bored and throw up one-legged shots. That might have helped tonight."

"I was directly beside from him and when he shot it I was like, 'Hold on,'" teammate Brady Shaddix said. "When it went through my jaw just dropped and I was like (he dropped his jaw for emphasis)."

"Tough shot," Austin said. "Kid made a tough shot."

"Nobody's gonna believe this," Miller said, "but I envisioned last night – you can call it a dream, whatever you want to do – of Eli making a last-second shot to win the ballgame. And it was a long shot. It was almost exactly like that. It was one of those things I really think the Lord was involved here. Not that He cares who wins, I don't think, but I think He was involved in that."

Vinson was named tournament MVP; he had 18 points and 14 rebounds in the final. He was joined on the all-tournament team by Shaddix, who scored 12 points and whose play Miller said was the difference in the game.

The Thunder started fast and opened a 25-11 lead in the second quarter, and then suddenly lost their discipline and Spring Garden went on a 15-2 run to pull within one. The Panthers had four straight possessions to take the lead, but came up empty on them all and JCA went into halftime with a 29-28 lead.

Luke Welch scored the first two buckets of the second half and after picking up third foul his replacement Cameron Welsh hit a 3 and a 2 to put the Panthers up five. JCA's Nash Messer later tied it at 37 and the quarter ended 39-39.

Cooper Austin gave Spring Garden a 49-48 lead with 43 seconds left. Vinson hit one of two free throws to produce the game's eighth tie at 49 with 30.5 left and set the wheels in motion for the ending.

"It was the game I think everybody expected," Miller said. "There was a lot of interest in this game outside of just Spring Garden and JCA, and I think everybody who came tonight saw what they came to see – two teams that have battled it out all year long. If you beat Spring Garden you know that you have done something worth doing."

"We came into the tournament wanting to win, that was our goal, but it happening's a whole different story," Fair said. "I didn't know how it'd feel and it feels a whole lot better than I even thought it would."

CLASS 1A NORTHEAST REGIONAL
Jacksonville Christian 52, Spring Garden 49
SPRING GARDEN (23-7) – Weston Kirk 7-11 0-0 16, Cooper Austin 2-11 2-2 16, Ryley Kirk 2-8 0-2 5, Luke Welsh 5-6 0-0 10, Chaz Pope 1-5 0-0 2, Lucas Byers 1-6 0-0 3, Cameron Welsh 3-7 0-0 7. Totals 21-54 2-4 49.
JACKSONVILLE CHRISTIAN (24-6) – Brady Shaddix 4-9 2-3 12, Chase Vinson 7-15 4-6 18, Eli Fair 4-10 3-4 12, Nash Messer 2-7 2-2 6, Kobe Messer 2-6 0-0 4, Tanner Wilson 0-0 0-0 0, Jonathan Carter 0-0 0-0 0. Totals 19-47 11-15 52.

Spring Garden 11 17 11 10 – 49
JCA 20 9 10 13 – 52
3-point goals: Spring Garden 5-25 (W. Kirk 2-3, Austin 0-5, R. Kirk 1-5, Pope 0-3, Byers 1-6, C. Welsh 1-3); JCA 3-12 (Shaddix 2-5, Fair 1-3, N. Messer 0-1, K. Messer 0-3). Rebounds: Spring Garden 35 (W. Kirk 10, Pope 8); JCA 30 (Vinson 14). Total fouls: Spring Garden 14, JCA 9. Officials: Gregg, Pruitt, Little.

All-tournament team – Chase Vinson, JCA (MVP); Brady Shaddix, JCA; Luke Welsh, Spring Garden; Weston Kirk, Spring Garden; Jaylon Clements, Skyline; Tommy Murr, Lindsay Lane.