Friends regardless
Alexandria's New, Weaver's Souder pause their strong friendship for the state title match; New wins it for his third straight crown, undefeated season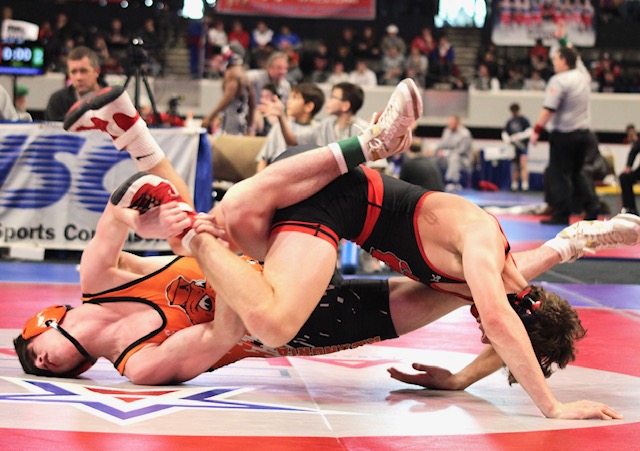 By Al Muskewitz
East Alabama Sports Today

HUNTSVILLE – Two weeks from now – heck, maybe even next week – Alexandria's Jaden New and Weaver's Cody Souder are going to be in a pool somewhere on the road cutting up or perhaps in the wrestling room at Ironclad giving each other what-for like they do most of the other 51 weeks of the year. But for six intense minutes Saturday, there was none of that. It was a war.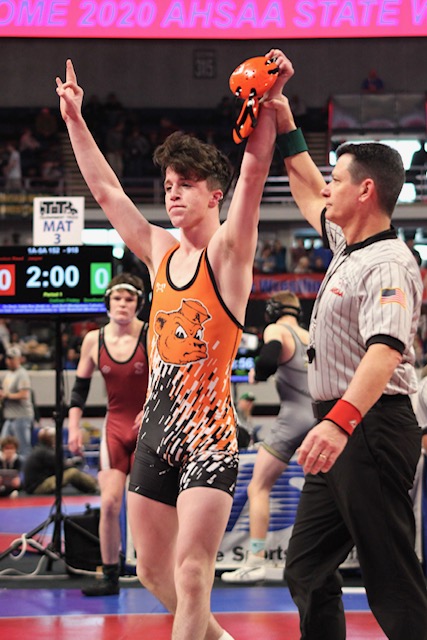 The most anticipated local matchup of the State Wrestling Championships hit the mat Saturday afternoon and New beat his friend again, this time in a 7-2 decision in the 145-pound final at the VonBraun Center for his third straight state championship and an undefeated season.

It was the fifth time this year the two friends and wrestling rivals met this season and the drill is about the same every time. In the run-up to the match it's all fun and games, but when the whistle blows it's all business.

"When you step on that mat you're not friends, you're opponents," Alexandria coach Frank Hartzog said. "It's not personal, you're just opponents. When you step on the mat, you're trying to do what you do."

New and Souder have wrestled each other regularly for years, usually meeting in the finals of their weight class in whatever tournaments their teams entered. But in the middle of this season they came up with an idea that would have given both a shot at a state title and kept Saturday's match from happening.

New dropped down to 138 while Souder remained at 145 and flourished. It sounded good for everybody when they discussed it, and while nobody would say "never again" it was believed after the new year they wouldn't wrestle each other again (they didn't in the county tournament). But shortly before sectionals, New was back at 145 because it fit better with the Cubs' lineup moving forward. And, after all, at that point in the year it's team first.

"I'm just glad he understands what my reasoning was to bump up," New said. "I texted him like two weeks before sectionals to let him know in case he wanted to move. He said he'd rather wrestle me … I was just glad we're friends and it's nothing personal; it's just wrestling. A few weeks from now we'll be back working together."

The two met in the sectional finals, with New winning 5-4. They've wrestled five times this year and New has won them all, but three of them have been decided by two points or less.

Souder called Saturday match "just a normal match, really; it just didn't come out how I wanted it to."

New led the whole time, but the focused Souder battled him throughout. New scored a takedown in the first period and that left Hartzog, who said he "always gets nervous" with this match, "a little less nervous." He went up 4-0 in the second but Souder flipped him in the closing seconds to make it 4-2. In the third period, New set up a solid base with his legs and Souder just couldn't budge him no matter how hard he tried.

"He's just really strong on the bottom," Souder said. "I did everything I could."

"I thought he did more than he usually does," New said. "Last time, we had a close match. I went to practice Sunday and was watching film and working on it and I felt like I stopped all the places he was beating me at in sectionals. We just went at each other."

New said it was "so hard" not to say something friendly to Souder during the match, given the way they cut up off the mat, but it goes back to what they're there for.

"You just have to fix your mindset to know he's not my friend right now," New said. "We just went at each other. I'm glad his mindset changed and my mindset changed and it was like that. It was a good match."

"You just forget about the whole friendship until after the match and then we're back to being buds," Souder said.

Hartzog, for one, is hoping the rivalry has reached the end of the line.

"I really do hope that's the last one," he said. "Maybe it will be, maybe it won't, but I'm hoping it will."

The wrestlers, meanwhile, aren't committing to anything.

"I don't know," Souder said. "We'll see."

CLASS 1A-5A CHAMPIONSHIP MATCHES
106: Cabe Dunn, Arab (51-1) dec. Hinds Duncan, Pike Road (42-4), 2-0.
113: Jacob Holland, Arab (55-1) dec. Trent Robertson, Susan Moore (29-4), 6-4.
120: Cory Land, Moody (56-0) tech fall over William Walker, Satsuma (55-2), 18-3 (2:53).
126: Zach Haynes, Tallassee (43-3) dec. Evan Phillips, Hayden (52-4), 7-4.
132: Ryan Summerlin, Moody (43-0) maj. dec. over Joshua Roe, Arab (42-18), 16-4.
138: Sebastian Oswalt, Mortimer Jordan (47-9) dec. Patrick Lawler, Arab (49-7), 3-0.
145: Jaden New, Alexandria (52-0) dec. Cody Souder, Weaver (40-7), 7-2.
152: Preston Reed, Jasper (51-4) dec. Dathan Finley, Southside (49-18), 2-1.
160: Jack Burt, Montgomery Catholic (44-2) dec. Caleb Roe, Arab (58-6), 6-5.
170: Carnel Davis, Southside (57-11) dec. Tyler McDonald, Mortimer Jordan (58-8), 9-3.
182: Nicholas Brashear, Corner (54-1) dec. Sam Atchley, Arab (28-11), 6-4.
195: Christian Smith, Ranburne (35-0) maj. dec. over Dashton Rush, Jasper (48-6), 11-2.
220: Cole Fuller, Corner (50-1) dec. Carson Hall, Ranburne (37-2), 7-3.
285: Ben Buchanan, Ranburne (39-0) pinned Brodie Vinson, Jasper (40-4), 3:06.