Oxford falls in OT
Updated: February 14, 2020
Yellow Jackets dumped by No. 1 Pinson Valley in regional semifinals, factors include free throws, offensive rebounds, 41 from Kam Woods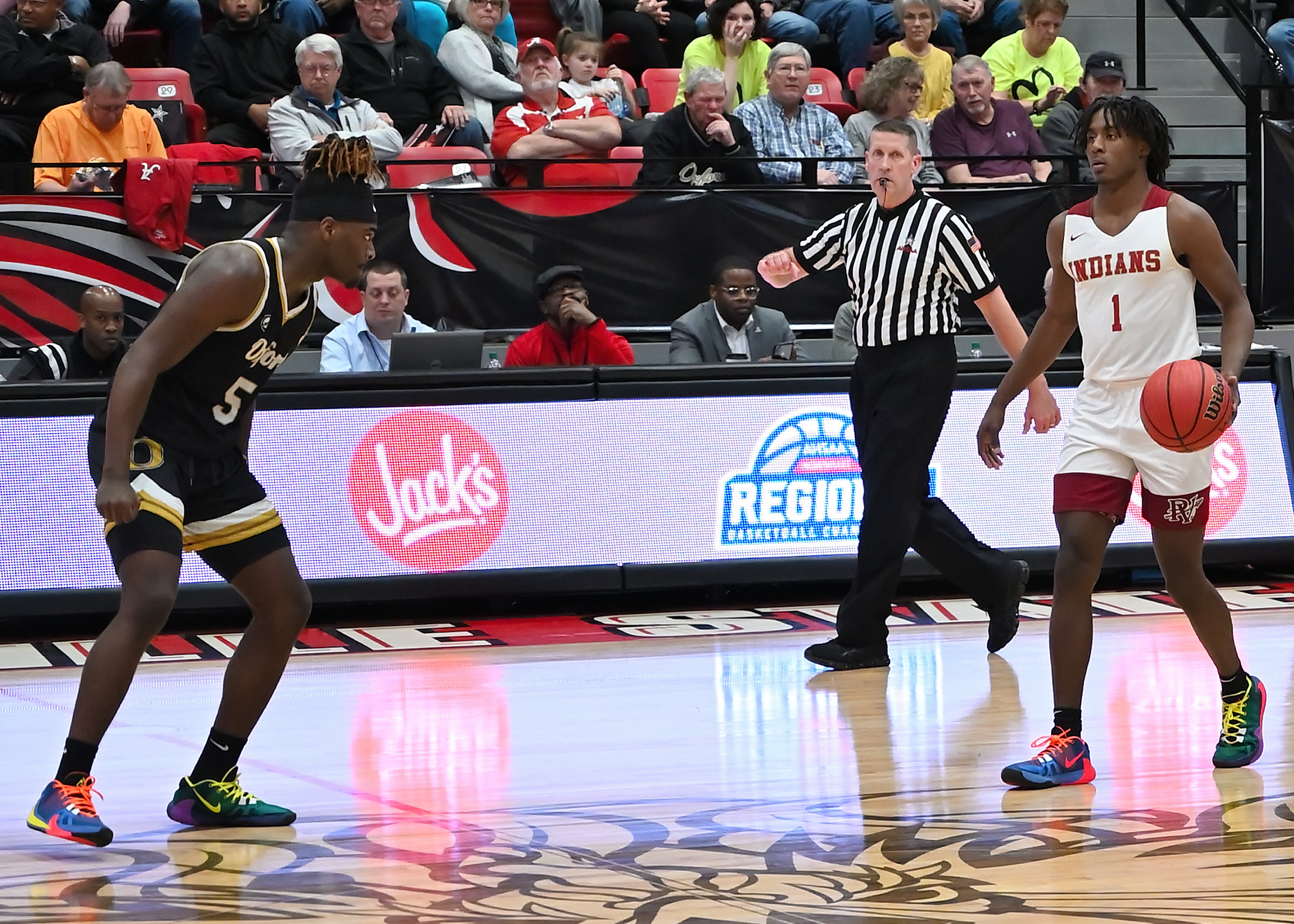 By Al Muskewitz
East Alabama Sports Today

JACKSONVILLE – It's a rare thing in sports that a player gets a chance at redemption. Usually, a big play happens in their career and – whether the outcome was good or bad – it passes into a lifetime of memories for all those involved never again to be offered a second chance if it went bad.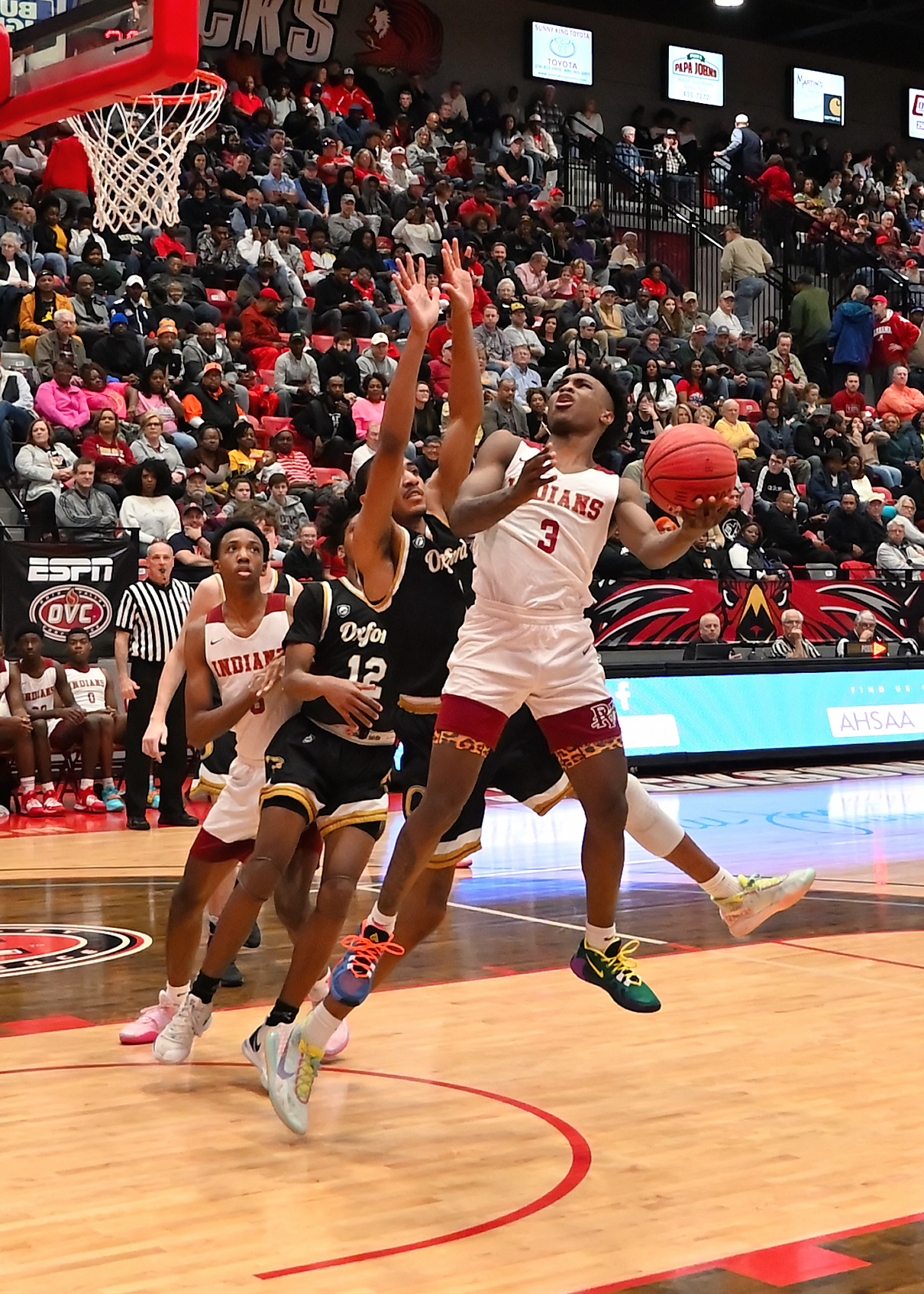 Pinson Valley's GaQuincy McKinstry got his second chance on the final play of Friday's Class 6A Northeast Regional semifinal against Oxford and this time he got the better end of it.

In a play dripping with irony, McKinstry knocked away a long pass intended for Oxford's Rock Taylor that preserved the top-ranked Indians' 70-67 overtime victory that ended the Yellow Jackets' season. Two and a half months earlier it was Taylor who came down with a fourth down Hail Mary in front of the cornerback they call "Kool Aid" with 1:12 to play for the go-ahead touchdown in Oxford's state semifinal football win.

"When I saw the ball go up I knew I wasn't going to let him catch it again, catch it clean again," McKinstry said with PV coach Darrell Barber chuckling in the background as the reminder was made. "I didn't really have a flash back, I just knew I wasn't going to let him catch the ball. If it were anybody, whether it was him, somebody else, I just knew at that point in time I wasn't going to let that person catch the ball.

"In the football game they ran a pic play, but that one there was no chance for it to be a pic play, so when it's one-on-one I'm going to win that, for sure."

To set up the play, Oxford had the ball under the basket down 70-67 after PV's JoJo James missed a pair of free throws with 3.3 seconds left. The Jackets wanted to get it in quickly for a good look at a corner 3 from either Zondrick Garrett or Kobe Warren. Oxford coach Joel Van Meter instructed Rylan Houck to get the ball in to get it to the "best football player in the state with the best hands. Houck lofted a high, arching pass for Taylor at midcourt, but McKinstry knocked it away from his longtime friend and AAU teammate from behind and the horn sounded to end the game.

"We executed the play as much as we could and we'll live it and move on from there," Van Meter said.

Taylor believed there was contact on the play, but there was no call.

"To me you've gotta be competitive in both sports, so we were just going at it," Taylor said. "I got him then, he got me now. It's opposite. Things happen."

Pinson guard Kam Woods was confident his teammates were going to knock it down.

"We've got two cornerbacks on our team so we knew it was going to happen, they weren't going to be able to get that," Woods said.

The Indians (28-3) were led by Kam Woods. The senior guard who Van Meter called "one of the best scorers I've coached against in high school" scored 41 points against a straight-up Oxford defense, but didn't really get going until the second half.

He had 36 points in the second half, including 32 in a row for his team at one point and all but one of its 35 points in the third and fourth quarters. "Gol-lee," McKinstry said when Woods was presented with those numbers. He shot 15-of-38 from the floor, 13-of-27 in the second half and overtime.

Barber stressed defense with his team in the second half, but added, "Of course, with him being out there it's a big plus."

"I didn't know I had that much," Woods said. "I knew I had to score, though, for us to be in it. In the first half I was sluggish so that's why we were down. When they hyped my head up to go out there and scored that's when we came back."

Of course, Woods had the ball in his hands on the last play of regulation and drove on Kobe Warren for a potential game-winning layup. But 6-7 Garrett moved into the lane to disrupt the shot and even though Woods is, as Van Meter said, one of the few high school players in the state who can make those lofted shots, the ball fell away and the teams went to overtime.

"I was just trying to get a stop," Garrett said.

Woods hit two free throws with 14 seconds left in overtime to give Pinson Valley a 70-65 lead. Taylor's put back with 5.3 seconds left cut it to three and the Jackets had the ball after James missed two free throws with 3.3 seconds left.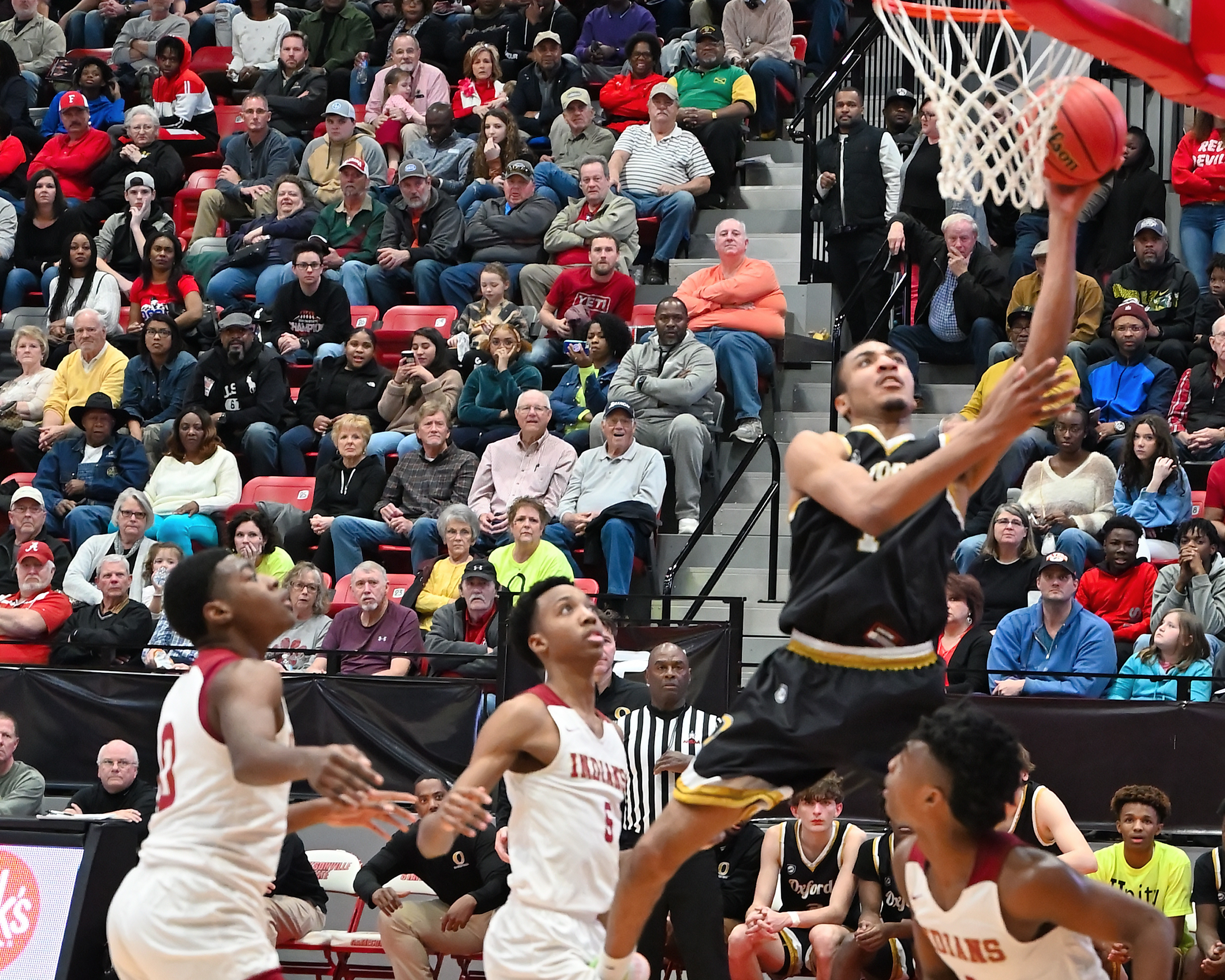 Taylor finished the game with 18 points and 11 rebounds. Garrett had 28 points, 18 rebounds and three blocked shots in the last game of his dynamic high school career.

"We kind of came together as a group probably about two weeks after Rock got here from football and we were kind of at a turning point," Van Meter said. "We just kind of said, 'Hey, look, we're going to get on your shoulders; you're going to carry us.'

"We said we're going to get on your shoulders and we're going to do whatever we need to do to help you, but you're going to be the guy. From that time, I thought you could kind of see him really come into his own … He's really turned himself into what's going to be a great player at the next level (at South Alabama)."

The Yellow jackets (22-9) were only 13 of 25 from the free throw line in the game, 8 for 18 in the fourth quarter and overtime. They were just five of their first 14 before Garett made three of four in overtime, including the pair that gave Oxford a 65-64 lead with 1:48 to play.

That was lamentable enough, but even though the Yellow Jackets outrebounded Pinson Valley 44-32 Van Meter cited the Indians' 16-15 edge in offensive rebounds (that led to 20 second-chance points) as a bigger factor in the loss. Van Meter figured all four of Woods' 3-pointers (on 17 attempts) came as the result of some offensive rebound and kick out.

"For the most part we've been a very good free throw shooting team, probably around 67-68 percent," Van Meter said. "It's the game of basketball. There are going to be nights where you don't shoot whatever well. Tonight, we didn't shoot free throws well, but to me the difference in the game is our size and they out-offensively rebounded us.

"To me, that's the difference. That has nothing to do with the free throw and how many we make or miss. Obviously, I'd like to have had made a couple more free throws. If we made a couple more probably would've made a difference. Lot of times you can't control whether the ball goes through the rim (but) you can control whether you go rebound the basketball."

CLASS 6A NORTHEAST REGIONALS
Pinson Valley 70, Oxford 67 (OT)
OXFORD (22-9) – Zondrick Garrett 10-14 6-11 28, Rylan Houck 2-4 2-2 6, Kobe Warren 0-4 1-2 1, Rock Taylor 8-11 1-4 18, Justin Moore 5-9 1-4 12, Mont McClendon 0-4 2-2 2, Milas Jackson 0-0 0-0 0. Totals 25-46 13-25 67.
PINSON VALLEY (28-3) – GaQuincy McKinstry 4-13 2-4 10, DeMarque Densmore 2-4 0-0 5, Kam Woods 15-38 7-7 41, Jojo James 3-9 0-2 8, Cam Scott 0-0 0-0 0, Moe Calloway 0-1 0-0 0, Austen Griffie 1-3 4-5 6, B.J. Diakite 0-0 0-0 0. Totals 25-68 13-18 70.

Oxford 11 16 18 13 9 – 67
Pinson Valley 11 12 15 20 12 – 70
3-point goals: Oxford 4-13 (Garrett 2-5, Warren 0-3, Taylor 1-1, Moore 1-2, McClendon 0-3); Pinson Valley 7-27 (McKinstry 0-1, Densmore 1-2, Woods 4-17, James 2-7). Rebounds: Oxford 44 (Garrett 18, Taylor 11); Pinson Valley 32 (McKinstry 8, James 7). Fouled out: Scott. Total fouls: Oxford 18, Pinson Valley 23. Officials: Henry, Crocker, Chambers.