Band of brothers
Lincoln counts 3 Finley brothers among its eight wrestlers in state tournament; contenders Alexandria, Oxford each have 11 among 60-plus from tri-county area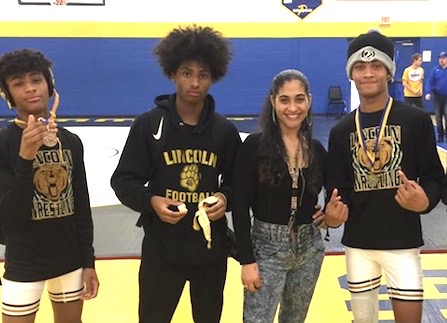 By Al Muskewitz
East Alabama Sports Today
 
LINCOLN – Nobody was cheering harder late in Saturday's Super Sectional in Montgomery than Da'Zhone Finley. If the broad smile on his face at the end of the day wasn't proof enough, then the fact he didn't have much voice left should have been a dead giveaway.
 
Finley already has his spot in the state tournament secured, but was literally jumping out of his of his seat pulling hard to bring his brothers along with him. Not just his brothers on the Lincoln wrestling team, but his real brothers.
 
When junior Lavont and freshman Jamichael nailed down their spots later in the day, it gave the Golden Bears the rare if not unprecedented set of three brothers vying for titles in the same state championship tournament.
 
Da'Zhone (49-3) is the No. 1 seed from the South at 138. Jamichael (35-14) is a 5 at 113 and Lavont (32-22) is an 8 at 132. They are among eight Golden Bear qualifiers for the tournament that starts Thursday at the Von Braun Center in Huntsville.
 
There are more than 60 wrestlers from Calhoun, Cleburne and Talladega counties in the field, including 22 sectional champions or runner-ups. Alexandria (1A-5A) and Oxford (6A) both have 11 qualifiers and are among the contenders for team titles in their respective classifications.
 
"It's very awesome," Da'Zhone said of having his brothers competing alongside him. "I've worked with them for so long to get them to go to state with me and this year it's amazing. They always look up to me as the big brother. It's very motivating."
 
Da'Zhone has a lot of motivation heading into his fourth trip to Huntsville. He has lost only three matches all season and will get a chance to exact some revenge for one of them if he meets, as projected, once-beaten Springville sophomore Trent Gilham (60-1), the No. 1 seed from the North, in the 138 finals. 
 
Gilham pinned him in one of the first matches of the season, at a time Lincoln coach Skylar Mansfield said, the senior "just didn't have his mindset right how good he could be." It's burned in him ever since.
 
"I think about it every day," Da'Zhone said. "I've wanted to wrestle him since he beat me. We had a chance to do it (earlier this year) but we had to go to Duals. I'm going to try to keep all the energy saved up for him."
 
After each of the losses he has dissected the tape from the match and took the lessons he learned from those defeats into the wrestling room and studied them going forward. He's carried that drive from the first match he lost as a ninth grader – a match that got away – after Mansfield convinced him to give wrestling a shot.
 
"He has a work ethic like I've never seen," Mansfield said. "He runs track, plays soccer, is a state qualifier in track, plays football. He's a jack of all trades when it comes to sports. He's such a competitor. Everything he does is don't finish last or let anybody beat you."
 
And that's the ethic Big Brother has tried to instill in his siblings as they chased a qualifying spot and now that they're competing in the state tournament for the first time. Jamichael earned his state tournament spot thorugh the consolation brackets first with Lavont securing his spot a few minutes later.
 
Jamichael went 6-2 in the sectional with five pins. Lavont went 4-3 and champion Da'Zhone, of course, swept through 5-0 (two pins, two decisions and a bye).
 
"I just told them to keep grinding and don't let anybody beat you and they took it to heart," Da'Zhone said. "I've told them this is not going to be like any other tournament they've been to. All the top wrestlers made it. You have to prepare yourselves physically and mentally."
 
Actually, the three brother qualifiers are among four Finleys in Lincoln's every-day lineup.The fourth is Fabian, an 82-pound seventh-grader in 106 who didn't qualify for state. Another brother, K.J., wrestles with success in Lincoln's youth program. There's a sister, too, and she might end up wrestling when she gets old enough.
 
"We're not really known for wrestling so to have something that special as four brothers on the team and three qualify for state the same year is special," Mansfield said. "They keep each other accountable, they work with each other. My thing has always been keep going and work with each other eventually we'll bring a state champion out of that bunch."
 
What about three?
 
"That's going to break a lot of peoples' hearts," Da'Zhone said.

TRI-COUNTY QUALIFERS TO STATE
(From Calhoun, Cleburne, Talladega counties)
CLASS 1A-5A
106: 2. Preston Jones, Alexandria; 3. Lena Johannson, Weaver; 5. Matthew Kenneway, Saks; 7. Izak Duke, Piedmont; 8. Jaden Cheatwood, Pleasant Valley.
113: 1. Kaleb Mathews, Alexandria; 2. Dylan Melendez, Piedmont; 5. Jamichael Finley, Lincoln; 7. Kasin Bramlett, Ohatchee.
120: 4. Joseph Lomax, Alexandria; 7. Austin Creamer, Lincoln.
126: 3. Aden Whittaker, Alexandria; 7. Travis Bellar, Weaver.
132: 2. Joshua Johannson, Weaver; 6. Carter Maddox, Piedmont; 8. Lavont Finley, Lincoln.
138: 1. Da'Zhone Finley, Lincoln; 2. Dakota Medders, Alexandria; 3. Tanner Wood, ASB; 5. Hunter Hollis, Ranburne; 8. Anthony Usry, Weaver.
145: 1. Jaden New, Alexandria; 2. Cody Souder, Weaver; 4. Quin Cotton, Lincoln; 5. Timothy Thurman, Saks; 6. Jaylen Thomas, White Plains.
152: 1. Zachary Williamson, Cleburne County; 3. Donovan Lomax, Alexandria; 8. Brennen Barber, Lincoln.
160: 2. Spencer Jordan, Ranburne; 3. Connor Norris, Alexandria; 7. Kaleb Thomason, Piedmont; 8. Landon McLendon, Lincoln
170: 2. Trenton Brown, Saks; 3. Troy Galloway, Ohatchee; 4. Damon Calhoun, Ranburne; 8. Hunter Sallee, Pleasant Valley.
182: 2. Devin Anderson, Weaver; 3. Jeremiah McCord, Ranburne; 6. Zachary Salter, Cleburne County.
195: 1. Christian Smith, Ranburne; 2. Connor Hall, Alexandria; 4. Keyshon Townsend, Lincoln; 7. Matthew Nolen, Cleburne County.
220: 1. Carson Hall, Ranburne; 2. Caleb McCulley, Alexandria; 4. Treveon Bolton, Saks; 7. Russell Clanton, Cleburne County.
285: 1. Ben Buchanan, Ranburne; 2. Trent Pate, Cleburne County; 5. Jonathan Evans, Pleasant Valley; 7. Juddson Cromer, Alexandria.
 
CLASS 6A
106: None
113: 3. Caleb Shelton, Oxford.
120: 8. Michael Howell, Oxford.
126: None
132: None
138: 1. Jakob Chisolm, Oxford.
145: 2. Kendrick Young, Oxford.
152: 4. Chase Hicks, Oxford.
160: 1. Reed Hill, Oxford.
170: 7. Tristen Latham, Oxford.
182: 4. Keeshon Siaosi, Oxford.
195: 1. Chanceton Holifield, Oxford.
220: 5. Octavius Adair, Oxford.
285: 4. Kobe Shumaker, Oxford.