Family matters
After top-3 finishes in the sectional, Joshua and Lena Johannson give Weaver the first brother-sister qualifiers to the state wrestling championship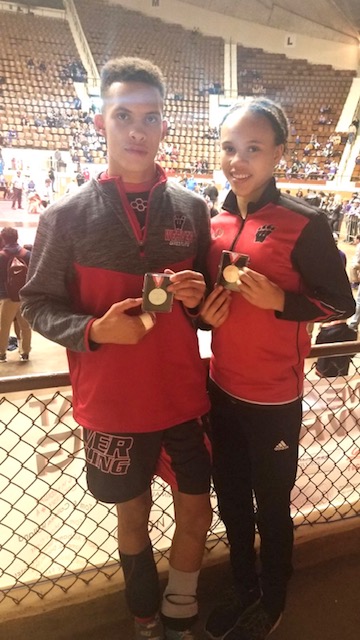 By Al Muskewitz
East Alabama Sports Today

There are plenty of examples over the years from both Calhoun County and around the state of bands of brothers pulling for each other to win it all while doing what they could to help their teams succeed at the state wrestling championship.

But what the field and the fans are going to see this week in Huntsville is like nothing they've ever seen before when it comes to sibling rivalry in their sport.
 
When Weaver pulls up to the VonBraun Center later this week, the Bearcats will bring with them the first set of brother-sister qualifiers in the history of the tournament.
 
Freshman Joshua Johannson is the No. 2 seed from the South at 132 after losing a one-point decision in the final Saturday at the Garrett Coliseum in Montgomery. His sister Lena, a seventh-grader, is the No. 3 seed at 106 after winning the consolation final a little while earlier. Lena is 40-11 this season, while Joshua is 38-10.
 
"It was pretty cool," Joshua said. "I was proud of her. I knew she could do it and I knew I could do it, but when it happened it was almost like we've been there before because we've been anticipating this all year and it finally happened.
 
"We're just super happy. When other people mention it we were kind of laughing about it because it's just what it was."
 
Lena is just the second girl ever to qualify for Alabama's state wrestling championship, joining former Gadsden City and Ohatchee wrestler Hannah Gladden in the elite sorority. Gladden went 0-4 in state tournament appearances in 2012 and 2013.
 
Lena had been interested in wrestling since the fourth grade but her father discouraged her participation by telling her girls didn't wrestle. When they went to one of Joshua's youth tournaments and saw several girls on the mat their dad's perspective was thrown for a reversal. It wasn't long after Lena was on the mat, too, working her way to an eventual place in history.
 
"I think it's really important that girls can be able to know that they can play sports, the same sports, and knowing that Hannah had already qualified was really encouraging," Lena said. "We knew it could already be done and I want to do as well as here if not better. 
 
"I know Hanna Gladden qualified, so I don't really feel like I'm the first but I feel like I am going to end up being a trailblazer so in like 10 years a bunch of girls are looking up to me."
 
All the Weaver coaches realistically believed the siblings would make it to Huntsville, they just didn't know what spots in the bracket they'd occupy.
 
Lena is in her first year with the varsity having come up through the Bearcats youth program and has drawn a crowd wherever the Bearcats have gone. It should be noted she's never had an opponent decline to wrestle because of her gender.
 
At the beginning of the season she was 'unsure" whether she'd make it to Huntsville, but during the team's bus ride to Montgomery she was convinced more than ever she'd make it.
 
She was seeded third and earned her spot in Huntsville with a pin and major decision. With that in hand the rest of the tournament was a bonus. She lost in the semifinals, then was awarded third when her scheduled opponent couldn't go because of a hand injury he sustained in his previous match.
 
As fate would have it Lena was the first to the siblings to qualify, leaving it to her brother to complete the historic pairing. "I was really looking forward to him being able to go with me," she said.
 
For his part Joshua admitted he was "pretty excited and pretty nervous" about holding up his end, but in the end he focused on doing what he needed to do and "tried to wrestle every match as hard as I possibly could."
 
It wasn't an easy road. His seed changed three times in the run-up to the sectional because he hadn't been a state qualifier; his first varsity season was cut short in December when he broke his collarbone at Spanish Fort. He started as a 2, dropped to a 4 and eventually came in as the seventh seed. All he did was beat the No. 2 seed (a 2019 state qualifier) in the quarterfinals to join his sister in Huntsville and pinned the No. 3 seed in the semis.
 
When he did make it, Fulmer said, "all (his wrestlers) were excited, our fans were excited, a lot of the opposing teams that we wrestle with and wrestle against were cheering and several of the Montgomery schools were really excited as well. We had a lot of people cheering in our corner behind us."
 
Now that they're in, the siblings' hopes turn to becoming the first brother-sister combination on the state tournament podium.
 
If placing would be nice, what would brother-sister state champions be like?
 
"That," Joshua said, "would be awesome. We've just got to keep working at it."

ROAD TO HUNTSVILLE
Here are the paths Joshua and Lena Johannson took to qualify for the state wrestling tournament in Huntsville.

Lena Johannson – 106 (40-11)
Round 1: Bye.
Round 2: Pinned James Andrew Ingalls, Montgomery Catholic, 1:09.
Quarterfinals: Won major decision over Land Bell, Tallassee, 10-0.
Semifinals: Lost decision to Preston Jones, Alexandria, 6-1.
Consolation semifinals: Pinned Matthew Kenneway, Saks, 4:01.
Third-place match: Won by medical forfeit over Ramon Lozada, Elmore County.

Joshua Johannson – 132 (38-10)
Round 1: Bye.
Round 2: Pinned Lavont Finley, Lincoln, 2:42.
Quarterfinals: Won decision over Christian McCary, Tallassee, 16-10.
Semifinals: Pinned Hunter Gasaway, Beauregard, 3:16.
Championship match: Lost decision to Cole Sykes, Shelby County, 7-6.