Panthers heads up
Spring Garden wins coin toss with JCA for boys top seed, host in Class 1A Area 11 Tournament; Vinson, Brown named area MVPs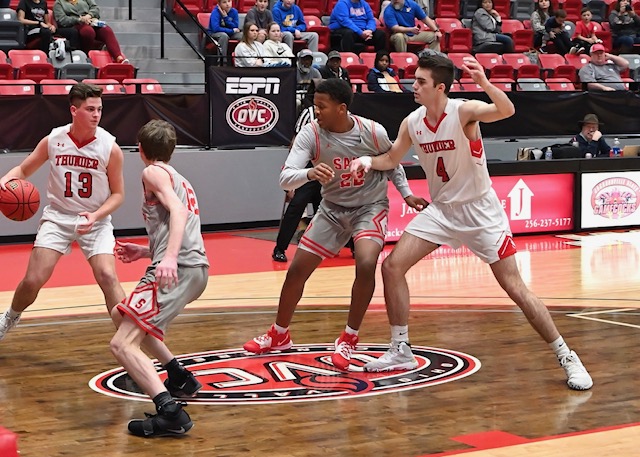 By Al Muskewitz
East Alabama Sports Today

ANNISTON – Ricky Austin has won more than 800 combined games as Spring Garden's boys and girls basketball coach, but he had never won a coin toss tiebreaker until Monday.

Austin called "heads" and that's what turned up when Donoho athletics director Steve Gendron's coin stopped rolling on the floor to earn the top seed over Jacksonville Christian and hosting rights for next week's Class 1A Area 11 tournament.

The Thunder (17-5) forced the coin toss by beating Spring Garden (18-5) in their last meeting, a loss Austin had long since accepted. He wasn't even thinking about calling the coin toss at Donoho until Gendron gave him the choice based on the better of the two contenders' overall records. Even then he was willing to defer to JCA coach Tommy Miller.

"That's the first time I've ever won anything in my life," Austin said after the result became official. "It's big just because obviously you have a good comfort zone in your gym. Either way it's going to be a great crowd no matter where it was hosted.

"Other than the comfort zone for my kids and keeping it as close to the same routine as we're used, that's all it is. Once that ball goes up I think it's all out the window. I'm not overlooking anybody, but JCA can come in and win this thing. JCA has a very good team and they're good enough to win on the road."

Austin's girls team had the top seed and hosting rights for their tournament. Winning the coin toss just put both tournaments in the same gym, on the same days, making it a whole lot easier for the coaches who have both teams (Austin and Donoho's Korielle Beavers).

Here's the tournament schedule:

CLASS 1A AREA 11 TOURNAMENT
(All games at Spring Garden)
Feb. 3
Girls bracket
No. 4 Faith Christian vs. No. 5 Donoho, 5:30 p.m.
Boys bracket
No. 4 Coosa Christian vs. No. 5 Donoho, 7 p.m.

Feb. 4
Girls bracket
Faith Christian-Donoho winner vs. No. 1 Spring Garden, 4 p.m.
No. 2 Coosa Christian vs. No. 3 Jacksonville Christian, 7 p.m.
Boys bracket
Coosa Christian-Donoho winner vs. No. 1 Spring Garden, 5:30 p.m.
No. 2 Jacksonville Christian vs. No. 3 Faith Christian, 8:30 p.m.

Feb. 6
Girls championship, 5:30 p.m.
Boys championship, 7 p.m.

The only other coin toss Austin recalls being part of "was so far back" he didn't remember much about it, except it involved his girls team and he lost it.

Miller, meanwhile, took the results of the toss as a teachable moment.

"I think it's going to be a good situation, it'll be a learning situation," he said. "It's another one of those things where you've done everything you can do and it still didn't turn out like you hoped it would do and that's life. That's the way I'm going to approach it. It's one of those times.

"In those guys' lives they're going to have a lot of these times. We can just go in and do the best we can do."

The coaches also selected the all-area team at the meeting. The two most dominant posts in the league, JCA's Chase Vinson (23.1/12.7) and Coosa Christian's India Brown (18.5/16.0), were voted the most valuable players. Both are averaging a double-double.

"I'm really happy for Chase and I'm happy with the progress that he has made over the last two years," Miller said. "I think he's going to continue to improve. I feel like he's going to play somewhere at the next level and continue to improve."

Austin called both MVPs "game changers."

"Vinson is as good as any we've played against all year long," he said. "And he's surrounded by some great kids. India's size, her height and how strong she is, presents problems. There's just not a lot of girls you play against in 1A that has the skill and the size that she has."

Here's the rest of the All-Area Team:

BOYS: Westin Kirk, Spring Garden; C.J. Gomez, Faith Christian; Evan Delp, Coosa Christian; Amari Smedley, Donoho; Ryley Kirk, Spring Garden; Kobe Messer, JCA; Ethan Richarzhagen, Faith Christian; Dartavious Britton, Coosa Christian; Drew Williamson, Donoho; Cooper Austin, Spring Garden; Eli Fair, JCA; Jacques Prater, Faith Christian; Brady Shaddix, JCA.

GIRLS: Macy Reedy, Spring Garden; Kylie Cupp, JCA; Babat Aremu, Faith Christian; Victoria O'Neill, Donoho; Ace Austin, Spring Garden; Bella Millirons, Coosa Christian; Rebekah Carter, JCA; Sydnee Johnson, Faith Christian; Campbell Hagan, Donoho; Neely Welch, Spring Garden; Kaylee Hasley, Coosa Christian; Elizabeth Doss, JCA; Kayley Kirk, Spring Garden.

Cover photo: Donoho athletics director Steve Gendron prepares to toss the coin to determine top seed and host for the Class 1A Area 11 boys basketball tournament.