Making his point
JCA survives Saks in intense 8-9 game, Thunder to face top-seeded Oxford in battle of the posts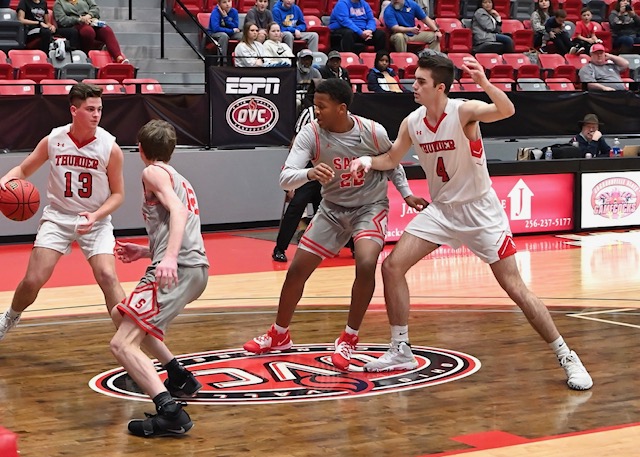 By Al Muskewitz
East Alabama Sports Today

JACKSONVILLE – If you listen real close it sounds like a lot of people have a lot to prove in this year's Calhoun County Basketball Tournament.

For some teams, it's a chance to prove they're better than their record indicates. For others, it's to prove (or justify) where they were placed during the tournament seeding meeting.

For players like Jacksonville Christian post Chase Vinson it's a chance to prove he can play with the players at his position from the bigger schools in the county.

He'll get the chance Monday to go against maybe the best of the lot and then follow a cascade of post prospects depending how long the Thunder lasts in the field.

When the Thunder beat Saks 80-73 in overtime Saturday it set up a quarterfinal match with top-seeded Oxford and put Vinson on a collision course with the Jackets' South Alabama signee, Zondrick Garrett.

"That sounds really fun," he said. "Sounds like it'll be a fun game."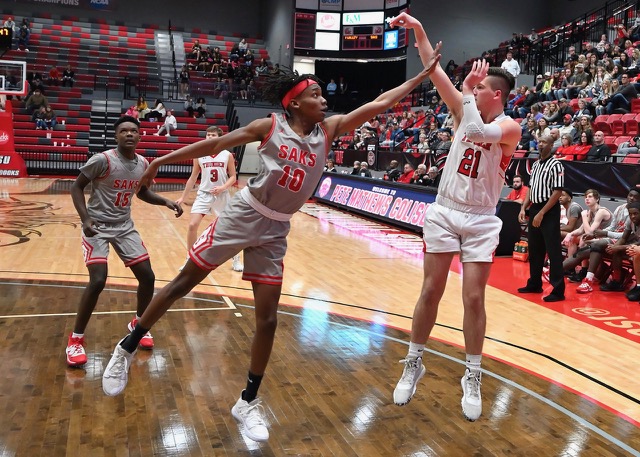 Vinson already has gone up against one of the county's top inside players, facing Alexandria's Landan Williams in late November. If JCA can pull the upset on Oxford, he could face a rematch with Williams or possibly a duel with Sacred Heart's Aaron Green in the semifinals.

In the earlier meeting with Williams, Vinson was more aggressive in the second half and JCA coach Tommy Miller agreed that would be the better approach against Garrett, who also is a threat from outside as well as changing the game in the paint.

"If he approaches the game to be aggressive I think he'll do well," Miller said. "If he wants to play going away from Garrett, then I think it's going to backfire. We have improved a lot over the season on going to the goal, being aggressive.

"This guy we know is a top-quality ballplayer and Oxford is a top-quality team. We know what we're up against. I feel like we'll show up and play, I really do, and whatever happens happens."

Vinson has been dominant at his position this year – averaging a double-double – and is dominating against teams on or around the Thunder's level. The game Monday will be about facing a mid-major Division I signee and attempting to hold your own while helping your team to the next round of the tournament.

Vinson had another double-double against Saks, scoring 28 points and pulling down 17 rebounds. He averaging 23.4 points and 13.1 rebounds for the year.

"A lot of people thought I was underrated and stuff like that," he said. "I love telling people that I can play with them. (Monday's game will) give them a chance to show them I can play with everybody."

Saks didn't have an answer for Vinson beyond surrounding him with multiple players down on the block. While he was the leading scorer and rebounder in the game, JCA coach Tommy Miller said it took everyone to bring the Thunder this victory.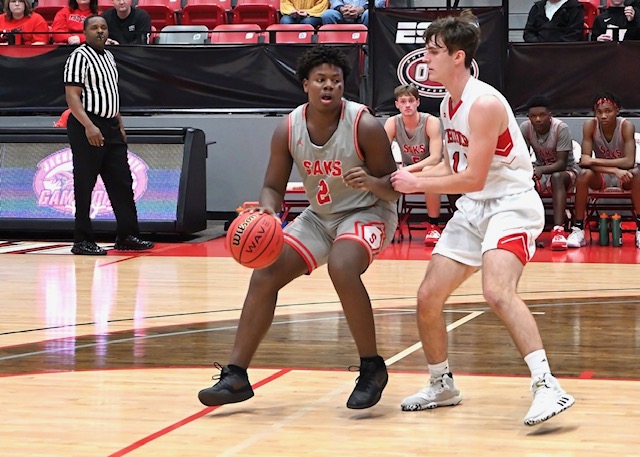 Kobe Messer had 22 points and 10 rebounds; he had the last shot in regulation. Eli Fair had 11 points, including the game-tying 3 with 28 seconds left in the fourth quarter. "It was definitely a big shot," Fair said. "I knew if I got the open shot I'd be able to make it."

Brady Shaddix had 11 assists and came up with a huge steal against Kyle Goedde in the lane with 2.4 seconds left to give Messer a shot at the last shot.

"Everybody we had played well," Miller said. "There were so many plays in that game that could have let the game go the other way. Kobe causes a lot of attention, always, and he and Chase I thought played well, but we had to have help. We played six people and all six people contributed."

While JCA had Vinson and Messer carrying the scoring load, Zaejuan Johnson and Zay Elston were doing the same for Saks. Elston had 23 points and Johnson 20.

Jacksonville Christian 80, Saks 73
SAKS – Benji Wilson 0 0-0 0, Zaejuan Johnson 9 2-2 20, Will Mixson 0 0-0 0, Kyle Goedde 3 1-1 7, Myles McLaughlin 0 0-0 0, Conor Martin 2 0-0 6, Patarick Williams 3 1-2 7, Jordan Cosper 1 2-4 5, Zay Elston 10 3-4 23, Tyler Smith 3 0-0 6. Totals 30 9-13 73.
JCA – Tanner Wilson 2 1-1 6, Brady Shaddix 1 1-2 4, Chsae Vinson 11 6-6 28, Eli Fair 3 3-3 11, Nash Messer 3 3-3 9, Kobe Messer 9 0-0 22. Totals 29 14-15 80.

Saks 17 18 18 14 6 – 73
JCA 16 20 15 16 13 – 80
3-point goals: Saks 4 (Martin 2, Cosper, Elston); JCA 8 (Wilson, Shaddix, Fair 2, K. Messer 4). Total fouls: Saks 15, JCA 12. Officials: Burns, McKinney, Jackson.