On top again
Piedmont takes down Saks 58-39 to grab top seed in Class 3A Area 11 tournament, extends area winning streak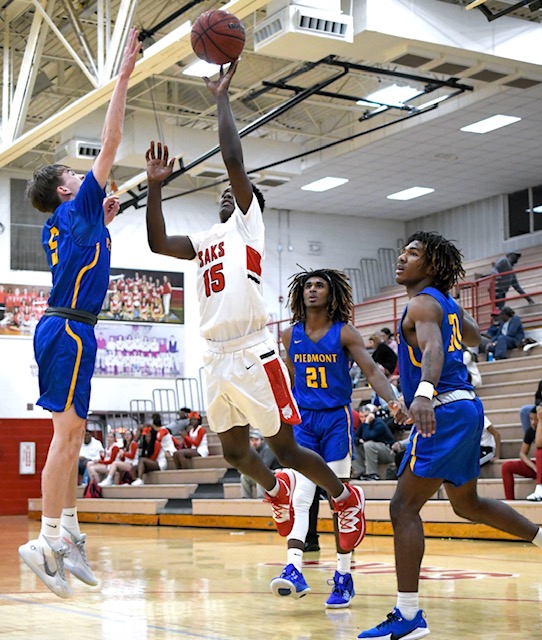 By Al Muskewitz
East Alabama Sports Today
 
ANNISTON – Piedmont captured another regular-season area basketball title Thursday night. After the traditional post-game handshake, the Bulldogs made their way to the dressing room just like it was another game.
 
The Bulldogs clinched the No. 1 seed in the upcoming Class 3A Area 11 boys tournament with a 58-39 victory over Saks, completing another undefeated run through the area.
 
There wasn't much of the customary hoopla that comes with reaching one of the season goals. An LSU national championship locker room it wasn't. The muted response kind of caught coach JoJo Odam off guard.
 
"It's big to host the area tournament; you get to play at home," Odam said. "I don't think they realized it. It's hard to win on the road against anybody. Getting to host the thing is huge and we're in there acting like … they weren't excited about it.
 
"I guess that could be good and bad. They expect big things and it's just the next game to them. Maybe they have bigger expectations. They've got their eyes down the road and that's a good thing."
 
Freshman guard Luke Bussey insists the Bulldogs are happy to have clinched, calling it a "big deal." 
 
"It kind of feels like we've been there before," forward Trey McFarland said. "We know how to win and we're almost used to it at this point. We came in expecting to win, that's what we did and now we're looking on to the next game."
 
Of course, that will be in the Calhoun County Tournament where the Bulldogs are installed as the sixth seed. As the regular-season area champion the Bulldogs will host the winner of that tournament's play-in game between Wellborn and Weaver. Saks is the second seed and will play Pleasant Valley for a spot in the sub-regional round. Plainview coach Robi Coker was in the gym Thursday night checking out a pair of potential sub-regional opponents.
 
The win extended Piedmont's regular-season area winning streak to 22 games; the run stretches to 27 if you count the area tournament games in that span. The Bulldogs' last regular season loss in area play came 10 days before Christmas 2016 at Glencoe (50-48).
 
The Bulldogs counted on some unlikely heroes to keep in the game early. With Silas Thompson missing shots early and Alex Odam held scoreless in the first quarter by Saks' box-and-one defense, newcomers McFarland and Bussey kept the Bulldogs moving forward until their top two scorers got on track.
 
McFarland, a transfer from Randolph County, has given the Bulldogs that inside presence they didn't know they were going to have this season. Bussey, a transfer from White Plains, has embraced the sixth-man role Thompson held a year ago and is now like a sixth starter.

"Those two mean a whole lot to us," Odam said.
 
They did against the Wildcats. McFarland had seven points in the first quarter and finished with nine in the game. His 3-pointer tied the game at 9 and started an 18-2 run that gave the Bulldogs control of the game. Bussey came off the bench midway through the first quarter and scored 10 points.
 
"Coach always tells us if someone isn't doing good on offense than another person needs to step up," Bussey said. "Usually Alex and Silas are getting their points but tonight they really didn't hit much early on so I just tried to pick up the game."
 
"It's all about picking up your teammates, really," McFarland said. "Alex and Silas fill a big role in our offense and they put up a lot of points, but when they're not putting up as much you've got to pick 'em up and fill that role and I feel like I did that well tonight."

Piedmont 58, Saks 39
PIEDMONT – Alex Odam 5 0-0 12, Omarion Foster 0 0-2 0, Luke Bussey 4 0-0 10, Trey McFarland 3 2-2 9, Silas Thompson 9 2-3 22, Jack Hayes 1 0-1 2, Malachi Jackson 0 0-0 0, Jakari Foster 1 0-2 3. Totals 23 4-8 58.
SAKS – Benji Wilson 2 0-2 4, Zaaejuan Johnson 2 0-0 4, Will Mixson  3 0-0 4, Leonta Jones 0 1-2 1, Kyle Goedde 1 0-0 2, Myles McLaughlin 0 0-0 0, Conor Martin 1 0-0 3, Patrick Williams 1 2-3 4, Jordan Cosper 1 0-0 3, Isiah Bush 1 0-0 2, Zay Elston 1 2-3 4, Tyler Smith 3 0-0 8, Aramis Taylor 0 0-0 0. Totals 15 5-9 39.
 
Piedmont              11  22 16  9    –  58
Saks                        9    9   10  11  –  39
3-point goals: Piedmont 8 (Odam 2, Bussey 2, McFarland, Thompson 2, J. Foster); Saks 4 (Martin, Cosper, Smith 2). Total fouls: Piedmont 8, Saks 11. Officials: Harrell, Horn, Garrett.