Birthday breakout
White Plains' Wilson breaks out of his slump with 5 3-pointers, 23 points in win over Cherokee County on his father's birthday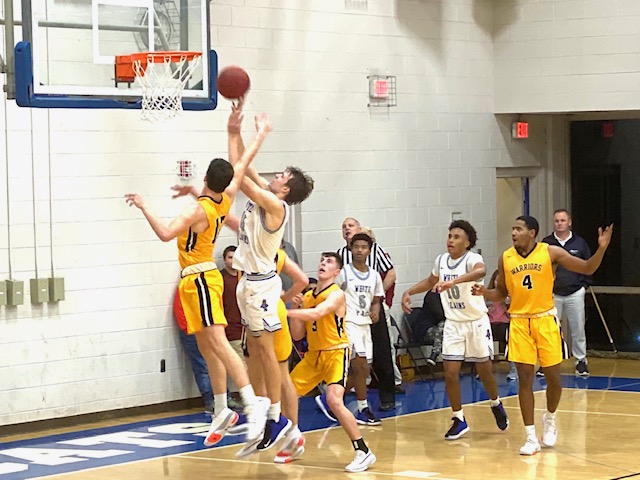 Friday's Calhoun County scores
Alexandria 59, Southside 41
Faith Christian 50, Donoho 47
Guntersville 78, Anniston 56
Ohatchee 82, Gaston 28
Oxford 55, Clay-Chalkville 42
Piedmont 53, Haralson County (Ga.) 39
Pleasant Valley 73, Wellborn 53
Saks 72, Weaver 38
White Plains 61, Cherokee County 47

By Al Muskewitz
East Alabama Sports Today

ANNISTON – Quin Wilson wrestled all week with what to get his father for his birthday that just happened to fall on the day he was playing a game.

Usually, Wilson and his sister go in on a gift card of some kind, but the White Plains junior guard was looking for something a little different this year.

Finally, his dad told him just to play a good game for his birthday, that would be present enough. Being the obedient son, Wilson delivered the most unique of gifts – a basketful of 3-pointers and a big win.

Wilson broke out of a shooting and scoring slump with his best game of the new year, hitting five 3-pointers and scoring 23 points as the Wildcats beat Cherokee County 61-47 to move into a tie for first place in the Class 4A Area 10 standings.

The Wildcats (14-7) are tied atop the league with Jacksonville. If (Jacksonville can beat Cherokee County on the road Tuesday night, White Plains and Jacksonville will be meet for the No. 1 seed in their area tournament in Jacksonville Jan. 17, the first night of the Calhoun County Tournament.

White Plains went 12-of-22 from behind the arc in the game, tying for the second most 3s they've hit in a game this season. And they spread it around. Five different players hit a 3. With dad Rufus watching from the stands, Wilson was 5-for-8. His runner in the lane with a half-second on the clock gave the Wildcats a 27-25 halftime lead, and he hit two of the four 3s the Wildcats hit in the third quarter to pull away.

Since scoring 13 points with three 3s against Saks in his team's final game in the Champion Christmas Classic Dec. 23, Wilson had scored 15 points with three 3s in his last six games before breaking out against the Warriors. He was held scoreless twice on the team's beach trip to Destin.

"I've been struggling with my shot," Wilson said. "I felt like it's just in my head, confidence, but my coaches never gave up. They tell me to keep shooting, keep shooting, it's going to fall and tonight it did."

"He hadn't been playing bad, he just hadn't been making shots," Wildcats coach Chris Randall said. "He'd been playing good, been taking care of the ball, been guarding good, his effort's fine, body language was great, the ball just hadn't been going in. I wish there was something I could make him take to give him confidence, but the only way to get confidence is repetition, seeing the ball go through the net, and he's shot his way out of it."

In addition to their outside scoring, the Wildcats did a masterful job defending the Warriors' big scorers. Jaden Chatman held Cherokee County leading scorer Slade Alexander to 10 points – all in the second half – and just two field goals. Connor Elrod wound up as their leading scorer with 15 points, but Coleman Messer held him to only one field goal (a 3-pointer) in the second half.

"The last time we played up there it was if they were playing quarterback and nobody was rushing and tonight I felt like we put a lot more pressure on the ball," Randall said. "Our goal was to make them uncomfortable. Now whether that worked I don't know, but our energy was so much better defensively and that starts with Jaden.

"Whoever we're playing if the guy is 5-8 or 6-8 Jaden's got to compete against their best player. He takes that as a badge of honor. It's pride. That means a lot to him that he gets that assignment and he doesn't take it lightly. He relishes in that role. And he did a great job of making Alexander work for everything."

White Plains also hit 12 3-pointers in a win over Collinsville. Its season-high is 13, in the second game of the year against Pleasant Valley.

White Plains 61, Cherokee County 47
CHEROKEE COUNTY – Dylan Culver 0 0-0 0, Walton Green 2 1-3 7, Matt Johnson 1 3-4 6, Nas Diamond 2 2-2 6, Jason McSpadden 1 0-0 3, Slade Alexander 2 6-7 10, Connor Elrod 5 2-2 15, Courtlin Brooks 0 0-0 0, Tristen Starr 0 0-0 0. Totals 13 14-18 47.
WHITE PLAINS (14-7) – Coleman Messer 0 0-0 0, Rico Aguire 0 0-0 0, Quin Wilson 9 1-2 23, Jaden Chatman 2 4-5 9, Jacob Wheeler 2 0-0 6, Landon Senciboy 0 0-0 0, Brody Baker 4 4-4 14, Carson Wright 0 0-0 0, Walker O'Steen 0 0-0 0, Kahlil Williams 0 0-0 0, Garrett Wilson 3 0-0 8. Totals 20 9-11 61.

Cherokee Co. 5 20 10 12 – 47
White Plains 6 21 16 18 – 61
3-point goals: Cherokee Co. 7 (Green 2, Johnson, McSpadden, Elrod 3); White Plains 12 (Q. Wilson 5, Chatman, Wheeler 2, Baker 2, G. Wilson 2). Total fouls: Cherokee Co. 13, White Plains: 14. Officials: Howell, Chambers, Warren.