Soaring Eagles
Jacksonville basketball players put on a show for their fans in 'our Midnight Madness at 5:15'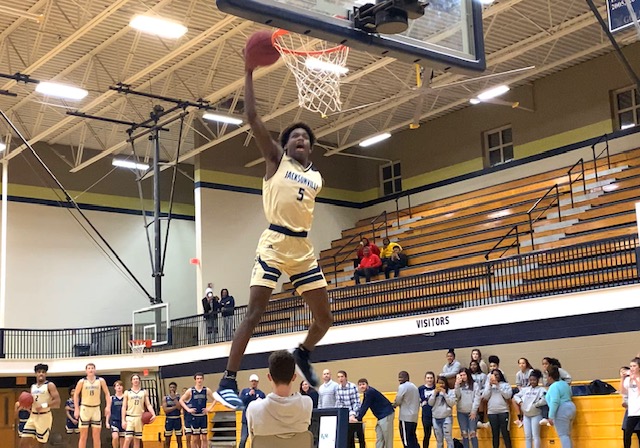 By Al Muskewitz
East Alabama Sports Today
 
JACKSONVILLE – Kyrie Maynor had been looking forward to Wednesday's "Meet The Eagles" hypefest from the first day Jacksonville basketball coach Cordell Hunt mentioned to him they were having it. When the day finally arrived, he was ready to impress.
 
The senior guard was one of the three contest winners during the rouser Hunt called "our Midnight Madness at 5:15." Maynor won the skills challenge, Jaeden Barksdale won the 3-point shootout and Yessman Green won the dunk contest.
 
A crowd of about 150 gathered in the gym to meet the teams in the run-up to Thursday's 2 p.m. in-school game against Pelham that will be the Golden Eagles' first this year with the boys varsity together.
 
"I've been hearing about this since I was a kid; it was just great to be in there," Maynor said. "Coach Hunt was telling us about it and telling us we were going to fans here and we were going to have to impress them, basically."
 
During the skills challenge players had to demonstrate their ball-handling skills by negotiating two serpentine loops, execute a couple passes through two yellow blocking donuts and hit a layup and short jumper at opposite ends of the court.
 
Maynor was the fastest through the course among the boys, getting around in 34.77 seconds. He then beat girls star Kayla Broom to the last shot after struggling with the last donut hole for the overall win. Broom had the fastest time through the course among all players (30.00)
 
"I couldn't let the girls' best player beat me," Maynor said.  "I had to hit the first shot because I messed up the pass."
 
Barksdale made it to the finals of the 3-point contest by hitting 13 around the arc in a minute's time. He also made 13 in the finals opposite Hudson Harvey. Maggie Anderson won the girls' 3-point contest, hitting 11 in each round.
 
"I've always been a shooter my whole life," Barksdale said. "I just keep shooting, running back there, shoot, shoot, shoot."
 
The highlight of the night was the dunk contest and Green won it with a flourish. It came down between Green and Donavon McCain.
 
Green reached the finals with a spectacular slam from the left side off a flip pass from football lineman Demetrius Hamilton. His winning slam was even more showy.
 
He went into the coaches office for a rolling chair he really wanted Hunt to occupy, but the head coach was having none of it. 
 
"I tapped out; I wasn't sitting in the chair," Hunt said. "I guess I was worried about how far he was going to take off right there. I didn't want to get landed on. I'm old. I'll break a bone."
 
McCain offered to take his place, but he was quickly removed, too valuable to the lineup to risk on a miscalculation. The role ultimately fell on Jacksonville student and sometime clock operator Hunter Robinson. He replaced the rolling chair with a more stable one and sat there bravely as Green soared over him and slammed the ball through the hoop to bring 10s from all three judges.
 
It was a hard dunk to top and some guys might not have even tried, but McCain wasn't going to go down without giving his best effort. He followed with a powerful jam from under and around the rim that scored a 10 and two 9s.
 
"I thought my dunk was pretty good," McCain said. "I've never seen Yessman jumpin' that far, for real. That was a nice dunk."
 
All three contest winners were regulars on Jacksonville's football team that played for the Class 4A state championship last Friday.
 
Eight players from the football team are on the varsity basketball roster. The Golden Eagles started their season without them and the lineup of mostly junior varsity players won all four games they played. Hunt wanted to give those football players some time to decompress and transition back into student life, but they wanted in.
 
"After we took that L in Auburn, I was so ready (to get back to it)," Green said. "You can ask coach. I was bugging him every day to let me come practice. I even came to practice and he told me not to come.  I came to practice and he said you can't do anything so just sit over there and shoot free throws. I shot like a hundred free throws. I'm just ready to dominate."
 
"Being an athlete you've got to be ready at all times," Maynor said.
 
Almost all the basketball players on the football team will be available Thursday except for Ron Wiggins. The county's single-season rushing champion is playing in the Alabama-Mississippi All-Star Game.
 
"I've been waiting on this all season," Maynor said. "I was worrying about football when I'm in football season, but when it's basketball time I know what time it is."
 
The event served a food and fundraiser for the Anniston Soup Kitchen.