Coming into his own
Freshman QB Hayes leads comeback that gives Piedmont its third state championship in 5 years, 26-24 over Mobile Christian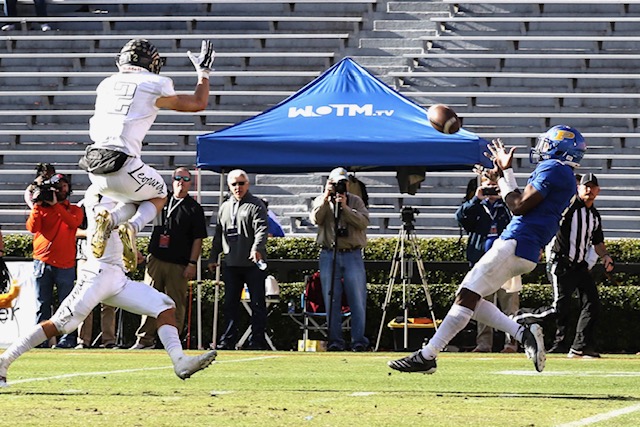 By Al Muskewitz
East Alabama Sports Today

AUBURN – Until Thursday Jack Hayes was forever known as Taylor Hayes' little brother. Not anymore.

Suffice to say, he carved his own legacy as a Piedmont legend – as a freshman – in the state championship game.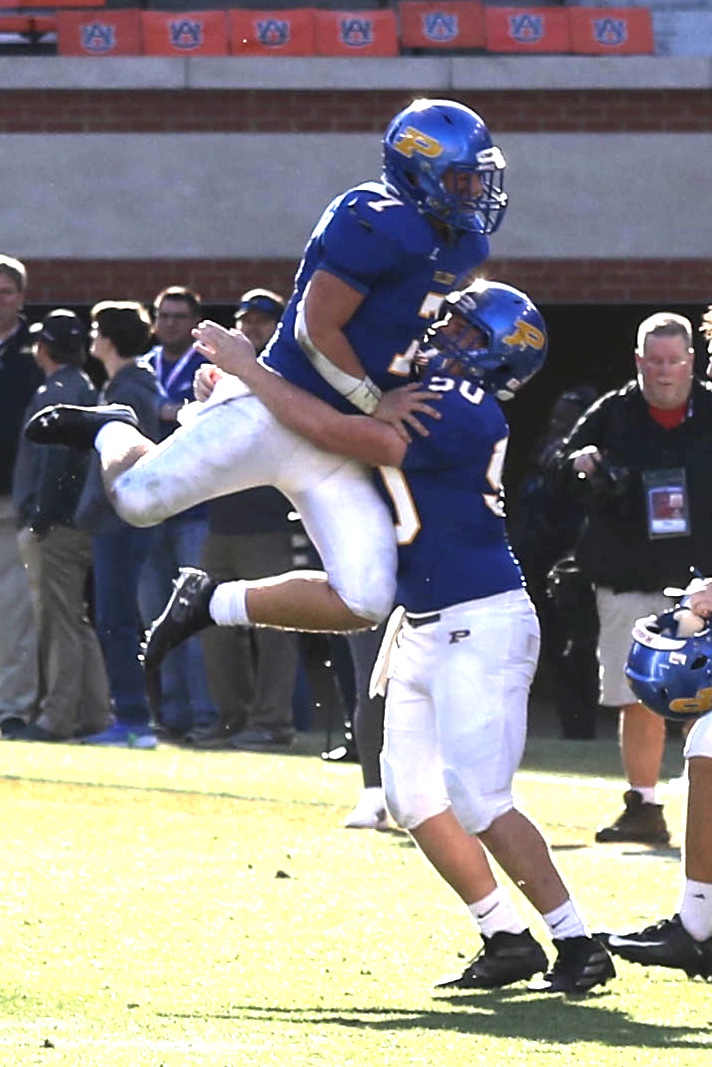 Hayes led the Bulldogs to four touchdowns in the second half, threw the game-winning touchdown pass with 35 seconds left and, in a rare appearance on defense, made the interception that sealed the Bulldogs' 26-24 victory over Mobile Christian for the Class 3A title game at Jordan-Hare Stadium.
 
It was the Bulldogs' third state title in five years and fourth since 2009. A Hayes has been at the helm of the last three.

Hayes' older brother Taylor led Piedmont to back-to-back blue trophies in 2015 and 2016 – winning MVP honors both years – while Jack served as one of the team's managers. Jack was the MVP Thursday.
 
"Jack's cast his own shadow today," Piedmont coach Steve Smith said. "I love the Hayes boys. They're fierce competitors. I can't say enough good things about Taylor Hayes, but Taylor even would tell you today that today's Jack's day to shine. I told Jack from Day One he doesn't have to be Taylor he just has to be the best version of Jack Hayes he can be. He's got some unique characteristics to him that I love and he played well today on the biggest stage."
 
The quarterback was particularly strong in the second half as the Bulldogs fought back from a 10-0 deficit. He opened the second half by directing the offense on a seven-minute, 14-play, 64-yard drive, capping it with a 2-yard run.
 
He threw an 81-yard touchdown pass to Austin Estes on the first play of the fourth quarter, then scored on a 7-yard touchdown run with 7:04 left to play to give the Bulldogs (14-1) their first lead of the game.
 
The Leopards (9-5) went back ahead 24-20 when Deontae Lawson bulled over from the 1 with 3:25 to play. 
 
The Bulldogs didn't have much time left and needed a steady head and hand to make the rally happen, and Hayes handled it like a veteran. He covered the 66 yards they needed in 10 plays, ultimately threading the needle to hit Jakari Foster right in front of the end from 27 yards out with 35 seconds left to give them the lead. 
 
"I looked up at the clock and it just hit me," Hayes said. "This is the last drive of the state championship; I need to turn it on."
 
Smith liked the Bulldogs in that end-game scenario and was "very confident we were going to be able to put it in the end zone."  Hayes ran it three times in the drive, but Elijah Johnson did the heavy lifting, rushing five times for 29 yards. He had a 10-yard gain on the play before Hayes' go-ahead touchdown pass.

Hayes was 4-of-5 for 139 yards passing in the fourth quarter. He threw for 204 yards in the game and rushed for 101 more. It was the kind of stuff his brother did when he led those Bulldogs to state crowns, and particularly to Mobile Christian in this stadium in 2016.
 
"It really didn't bother me being Taylor's little brother, but now that I won a state championship before he did, I get some bragging rights around the house," Jack said. "I can tell him about how I won it before he did. It means a lot, really, being my own person, but I was perfectly fine being Taylor's little brother."
 
Taylor and his dad, Piedmont schools superintendent Mike Hayes, were on the sidelines immediately after the game and enjoyed every minute of Jack's coming-out party. Jack and Taylor hugged during the pregame Tiger Walk and spoke after the game, but Jack said it might not be appropriate to repeat what they said to each other.
 
He didn't have to. Taylor said it all immediately after the game while the Bulldogs were lining up for the trophy ceremony.
 
"I'm going to get emotional talking about him," Taylor said. "I'm just so proud of him. Everybody's always tried to compare him to me and all this and I get why they do it, but he's obviously his own player. To have the ball with 3:30 left in the fourth quarter down by two or three in the state championship and to take his team all that way and punch it in, it just shows he's way beyond his years already. Hopefully it's only going to get better from here."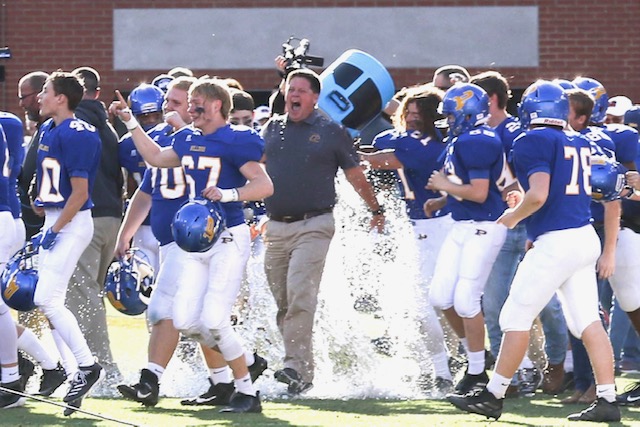 | | | |
| --- | --- | --- |
| MC (24) | | Pied (26) |
| 10 | 1D | 19 |
| 25-71 | Run | 50-191 |
| 14-23-1 | CAI | 13-29-0 |
| 254 | Pass | 204 |
| 0-0 | F-L | 0-0 |
| 4-41.5 | Punt | 5-37.6 |
| 7-59 | Pens | 7-65 |
Piedmont 26, Mobile Christian 24
Mobile Chr. 3 7 7 7 – 24
Piedmont 0 0 7 19 – 26
Scoring plays
M – Jackson Chandler 27 FG, 10:19 1Q
M – Nick Ellis 85 pass from Kason Lincke (Jackson Chandler kick), 11:34 2Q
P – Jack Hayes 2 run (Bryce Mohon kick), 5:00 3Q
M – Deontae Lawson 2 run (Jackson Chandler kick), 0:26 3Q
P – Austin Estes 81 pass from Jack Hayes (Bryce Mohon kick), 11:47 4Q
P – Jack Hayes 3 run (kick failed), 7:04 4Q
M – Deontae Lawson 1 run (Jackson Chandler kick), 3:25 4Q
P – Jakari Foster 27 pass from Jack Hayes (run failed), 0:35 4Q
RUSHING: Mobile Christian-Kason Lincke 11-52, Nick Ellis 6-13, Deontae Lawson 6-6, Jason Brooks 2-0. Piedmont-Jack Hayes 26-101, Elijah Johnson 22-91, Jakari Foster 1-1, Brant Deetman 1-(-1).

PASSING: Mobile Christian-Kason Lincke 14-23-1-254. Piedmont-Jack Hayes 13-29-0-204.

RECEIVING: Mobile Christian-Toler Keigley 4-67, Jason Brooks 3-36, Nick Ellis 2-120, Jacoby Chestang 2-15, Deontae Lawson 2-9, Luke Hamilton 1-7. Piedmont-Austin Estes 6-114, Max Hanson 3-21, Silas Thompson 2-20, Jakari Foster 1-27, Sean Smith 1-22.