'A heavyweight fight'
White Plains battles familiar camp foe down to the wire, falls in a close game coach believes will make team better in the long run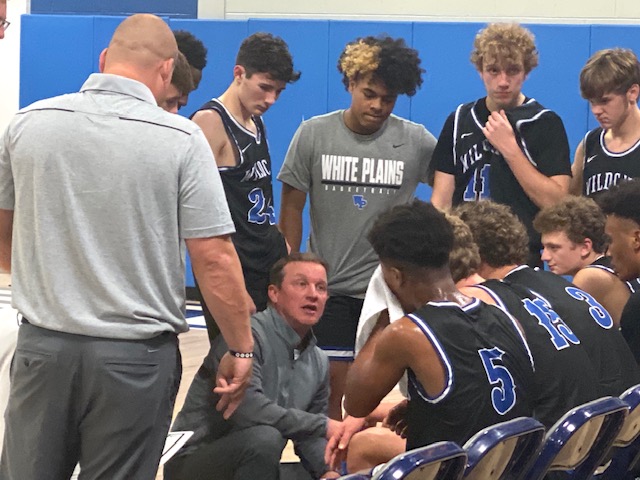 By Al Muskewitz
East Alabama Sports Today
 
CHATTANOOGA, Tenn. – Tommy Brown, the Boyd Buchanan athletics director and former Lee University basketball coach, sat in the third row of bleachers behind the scorer's table and after watching the teams' first four trips down the floor made a prophetic observation.
 
"The first team to 40 is the one that's going to win this thing," he said.
 
For the longest while it didn't look like either team would get there or they'd even combine for the 40 it was that kind of in-your-grill defensive game.
 
It took all game but someone eventually did get to that magic number – with 17.6 seconds to play – and it wasn't White Plains.
 
A pair of steals at midcourt in the final minute turned the tide and got Boyd Buchanan to Brown's threshold first in a 41-35 victory over the Wildcats in the marquee game of the Buccaneers' Coach T Classic.
 
"We played at camp three times this summer, three full games, and every single game was like that," Boyd Buchanan coach Josh Templeton said. "It's just a bunch of tough kids getting after each other.
"That was a heavyweight title fight and we got knocked down two or three times. At the end of the first quarter I said we're in for a street fight now. I told our kids these (White Plains) kids are the toughest kids we'll ever play."
 
Brody Baker's 3-pointer from the top of the key gave White Plains a 33-31 lead with 4:03 to play, but it was only a few moments later the Buccaneers made the two big defensive plays of the game and converted them into the go-ahead points.
 
The exchange began when Baker nearly had a steal, but he lost his footing in the center circle and Ian Johnson stole it back, eventually hitting a 3-pointer to put the Bucs ahead 34-33. Eli Evans then got a steal on the next possession and converted that into a layup to stretch the lead to three with 1:33 to play.
 
White Plains had a bunch of fouls to give at that point and gave them to exhaustion over the next 30 seconds. Johnson's successful one-and-one made it a 38-33 with 1:01 to play. Baker's layup from underneath cut the margin to three with 41.7 seconds left, but Caden Johnson hit a free throw and then Preston Edmondson hit two with 17.6 seconds left to get the Bucs to that magic 40.
 
"A lot like they do, we're just going to try to keep coming and keep coming and hope the other team makes a couple crucial mistakes," said Templeton, whose father is the Coach T for whom the classic is named. "Fortunately tonight we were on the good side those breaks; it could've easily been the other way."
 
In spite of the outcome, Wildcats' coach Chris Randall was relatively upbeat. He said it "may have been the best game we've played all year" because of the way his players competed and comported themselves in the some of more trying moments of the game.
 
To borrow one of Randall's favorite lines in games like these, getting points was like scoring touchdowns – coming with great effort and ultimately exuberance when they happen. The game was tied at 5 after the first quarter and there were only 29 total points scored in the first half, with Boyd Buchanan holding a 16-13 lead.
 
White Plains scored the first nine points of the second half to take their biggest lead of the night, but it was 26-25 after three quarter making the possibility of something getting to 40 a real uncertainty.
 
"They played us tough," Wildcats' point guard Quin Wilson said. "They were a good team defensively. We've just got to take care of the ball, be tough. It was a super close game so you've got to play tough, take every possession like it matters."
 
"We came up here to get better and I know we got better tonight," Randall said. "Some of our weaknesses got exposed, but I absolutely loved our body language. We shot two free throws the entire night and it's the most physical game I've coached in in a long time, and our kids never made a face, never begged for a call, never complained, never cried or whined, they just played. And, man, that makes me so proud that they just kept playing, kept grinding. I can't say enough about it."
 
The Wildcats wrap up their trip here Wednesday against Calvary Day of Winston-Salem, N.C., and seven-footer James Maguek. Randall has never coached against a seven-footer before. He had a game scheduled with Hokes Bluff when the Eagles had 7-2 Isaac Haas, but the game got postponed and was never rescheduled.
 
Boyd Buchanan 41, White Plains 35
WHITE PLAINS (4-1) – Coleman Messer 0 0-0 0, Quin Wilson 3 0-0 7, Jaden Chatman 0 1-2 1, Jacob Wheeler 3 0-0 8, Brody Baker 5 0-0 11, Walker O'Steen 3 0-0 6, Kahlil Williams 1 0-0 2, Garrett Wilson 0 0-0 0. Totals 15 1-2 35.
BOYD BUCHANAN (4-0) – Eli Evans 5 2-2 10, Preston Edmondson 0 2-2 2, Jacob Oliver 0 0-0 0, Ryan Lopez 2 1-1 5, Ian Johnson 4 4-4 14, Caden Johnson 0 2-4 2, Will Emrey 0 0-0 0, Karson Gay 3 0-2 6. Totals 14 11-15 41.
 
White Plains       5        8         13        9          –          35
Boyd Buchanan  5       11        9          16       –          41
3-point goals: White Plains 4 (Q. Wilson, Wheeler 2, Baker); Boyd Buchanan (I. Johnson 2). Rebounds: White Plains (Messer 8); Boyd Buchanan (Gay 7). Total fouls: White Plains 13, Boyd Buchanan 10. Officials: J. Wilkerson, K. Wilkerson, Whiteside.