No opening jitters
Oxford, defending state champion Talladega open their basketball seasons with victories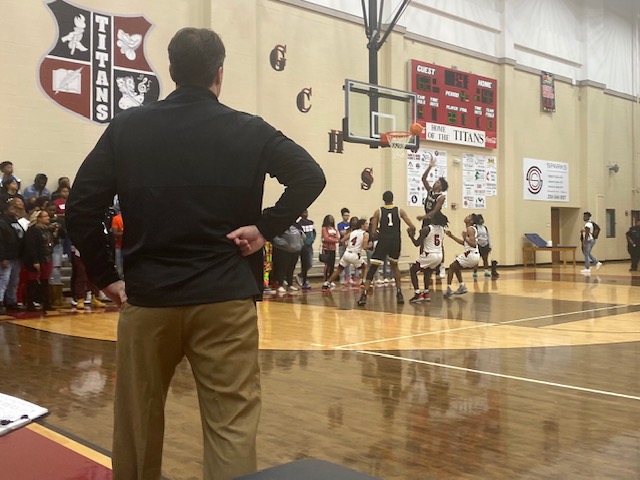 Monday games
Oxford 69, Gadsden City 52
Talladega 67, Etowah 40
 
Girls games
Collinsville 52, Cherokee County 25
Glencoe 65, Sardis 46
Horseshoe Bend 49, Clay Central 38
 
By Al Muskewitz
East Alabama Sports Today
 
GADSDEN – Expectations may be as high as they've ever been in Joel VanMeter's 10 seasons as Oxford's basketball coach and being able to meet those expectations every night will be a big part of this season's success.
 
Against the type schedule the Yellow Jackets have put together this year where their Calhoun County Tournament opener might be their easiest game they can't afford an off night.
 
The Jackets got off to a good start Monday night, going on the road and beating Class 7A Gadsden City 69-52 in their season opener.

It'll be like that all year. Tuesday night they play Sacred Heart in their home opener that'll test their emotions, then they head to a Thanksgiving tournament at Fairfield in which they open against post-season nemesis Parker.And on and on and on.
 
"Bottom line is you've got to win the day; whatever the day is, you've gotta win the day," VanMeter said. "Last year I thought we got in the Huffman game and maybe we weren't tested enough. This year, because of the schedule we put together – any coach who thinks they're going to be good is going to put together a tougher schedule – I think we're going to be ready for whatever we face.
 
"But every game you've got to win the day. We've got to win the day in practice. We've got to win the day on the court."
 
It was a typical first game. The Jackets looked like a team that was in their first game in the first half. They cleaned things up in the second half and looked like a team that had played a half-dozen games already. Assistant coach Jeremy Bynum even said as much.
 
They trailed only once in the game, at 10-9. Then Milas Jackson hit two free throws and Kobe Warren had a bucket to start a 13-2 run capped by Rylan Houck's swinging dunk that drew a T.
 
The Titans (2-1) got back within 26-24, but then Jackson blocked a shot and the Jackets went on to score the last four points of the half to take a 30-24 lead. Then Justin Moore got the second half started with a big dunk and the Jackets stayed out front, eventually pulling away in the fourth quarter.
 
"We put in a lot of work in the offseason and we just wanted to show that," Moore said. "There was a lot of energy. It was a good win."
 
The Jackets managed to stay in control even with big man Zondrick Garrett missing chunks of the last three quarters in foul trouble. Still, the South Alabama signee had 14 points, seven rebounds, two blocked shots and four assists.
 
Moore picked up a lot of the slack with a game-high 24 points and nine rebounds. Mont McClendon had 13 points, all in the second half.
 
"We had a feeling of what we had," VanMeter said. "Early on we made a couple of mistakes here and there that showed it was the first game, but after that I think we're right on what we thought we had.
 
"Our bench is way better. Milas Jackson, Cordell Chatman, Ethan Page and BaKari Dailey make us complete different than we were last year. … To be able to see Z go out and us still play well that just tells me our bench is good. It tells me this isn't a one-man show."
 
OXFORD (1-0) – Cordell Chatman 0 0-0 0, Zondrick Garrett 3 8-9 14, Rylan Houck 2 0-0 4, Mont McClendon 4 5-7 13, Kobe Warren 2 5-8 9, BaKari Dailey 0 0-0 0, Justin Moore 9 4-5 24, Milas Jackson 1 3-4 5. Totals 21 25-33 69.
 
GADSDEN CITY (2-1) – Phillip Hunter 1 0-0 2, Jay Lawson 5 4-4 16, Trey Woods 5 0-1 10, DeMarcus Macon 4 3-4 12, RaTavious Hicks 2 0-0 5, Shamar Huff 0 0-1 0, Cam Williams 1 0-0 2, Zion Kirby 0 0-0 0, Quinton Densmore 1 0-1 2, Jalen Huff 1 0-0 3, Roderick Orr 0 0-2 0, Jahamn Norris 0 0-0 0. Totals 20 7-13 52.
 
Oxford             17        13        17        22        –          69
Gadsden City 12        12        16        12        –          52
3-point goals: Oxford 2 (Moore 2); Gadsden City 5 (Lawson 2, Macon, Hicks, J. Huff). Technical fouls: Houck. Total fouls: Oxford 14, Gadsden City 16. Officials: Harrell, Dupree, Childs.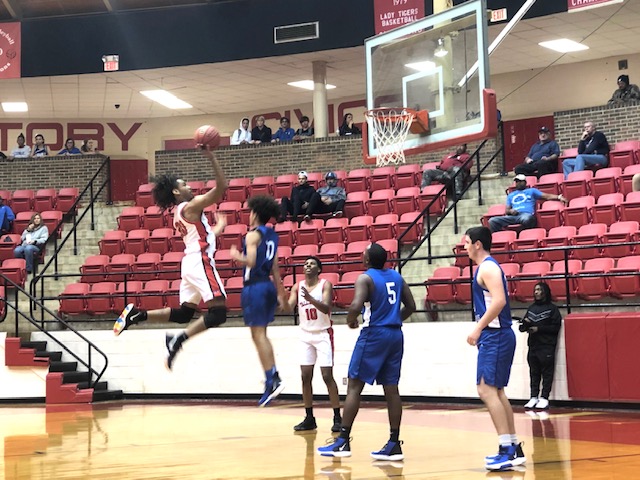 Talladega 67, Etowah 40
TALLADEGA – Chuck Miller coached his first game as a defending state champion and in a lot of ways his team looked a lot like it did on its Class 4A championship run.

Miller won his first state championship in 39 years of coaching, 19 years and 759 wins at Talladega, when the Tigers beat West Limestone 60-48 last March at the BJCC. He was the second winningest coach in Alabama and winningest active coach without a state title before he won it all.

"You've got to live up to that, but each season is their own thing," Miller said. "We're really concentration on this 19-20 season, but we've got a lot of people who went through the process last year and know how hard it is to do it and what you have to do to accomplish that. I was proud for that. Good teamwork today. We accomplished a couple of our goals tonight."

This Tigers team had only practiced once since the end of football season and it showed early, but they cranked it up in the second half, outscoring the Blue Devils 33-19 in the third quarter to pull away and give Miller career win No. 761.

Kobe Simmons had 16 of his game-high 21 points in the third quarter and also had 11 rebounds and six assists in the game. Arron Green went 8-for-10 from the free throw line and finished with 16 points plus nine rebounds, three steals and three blocked shots.

Final Four MVP D'Corian Wilson had 14 points, six rebounds and three assists. Keonte Funderburg had eight points and nine rebounds. Michael McGregor had seven points and eight rebounds.

"It's a great opening win, getting the whole thing together after one practice," Miller said. "They bought in. They worried about defense first and let the offense take care of itself."

There will be two defending state champions on the Chuck Miller Arena floor Tuesday night when the Tigers host Coosa Central, a 54-52 winner over four-time reigning 1A champion Sacred Heart in last year's 2A title game.

ETOWAH (0-1) – Ethan Foster 0 1-4 1, J.J. Williams 3 0-0 6, Nyny Davis 1 4-8 7, Trent Davis 1 5-8 7, Payton Horton 5 0-0 10, Ollie Finch 2 1-4 5, Dakota Cole 2 0-0 4, Eric Edge 1 0-0 3, Brady Troop 0 4-4 4. Totals 15 15-28 47.

TALLADEGA (1-0) – Nigel Scales 0 1-2 1, Jay Spratling 2 0-2 4, Arron Green 4 8-10 16, Michael McGregor 3 1-2 7, Rontavious Barclay 2 0-0 4, D'Corian Wilson 6 0-0 14, RaDerrius Montgomery 2 0-1 4, Kobe Simmons 8 3-5 21, Keontae Funderburg 2 4-7 8. Totals 29 17-29 79.

Etowah 10 11 19 7 – 47
Talladega 15 19 33 12 – 79
3-point goals: Etowah 2 (N. Davis, Edge); Talladega 4 (Wilson 2, Simmons 2). Fouled out: Troop. Total fouls: Etowah 24, Talladega 16. Officials: Oden, Morris, Montgomery.