Oxford overwhelms
Roundup: Yellow Jackets blank outmanned Sumter Central in final game of regular season; includes other county games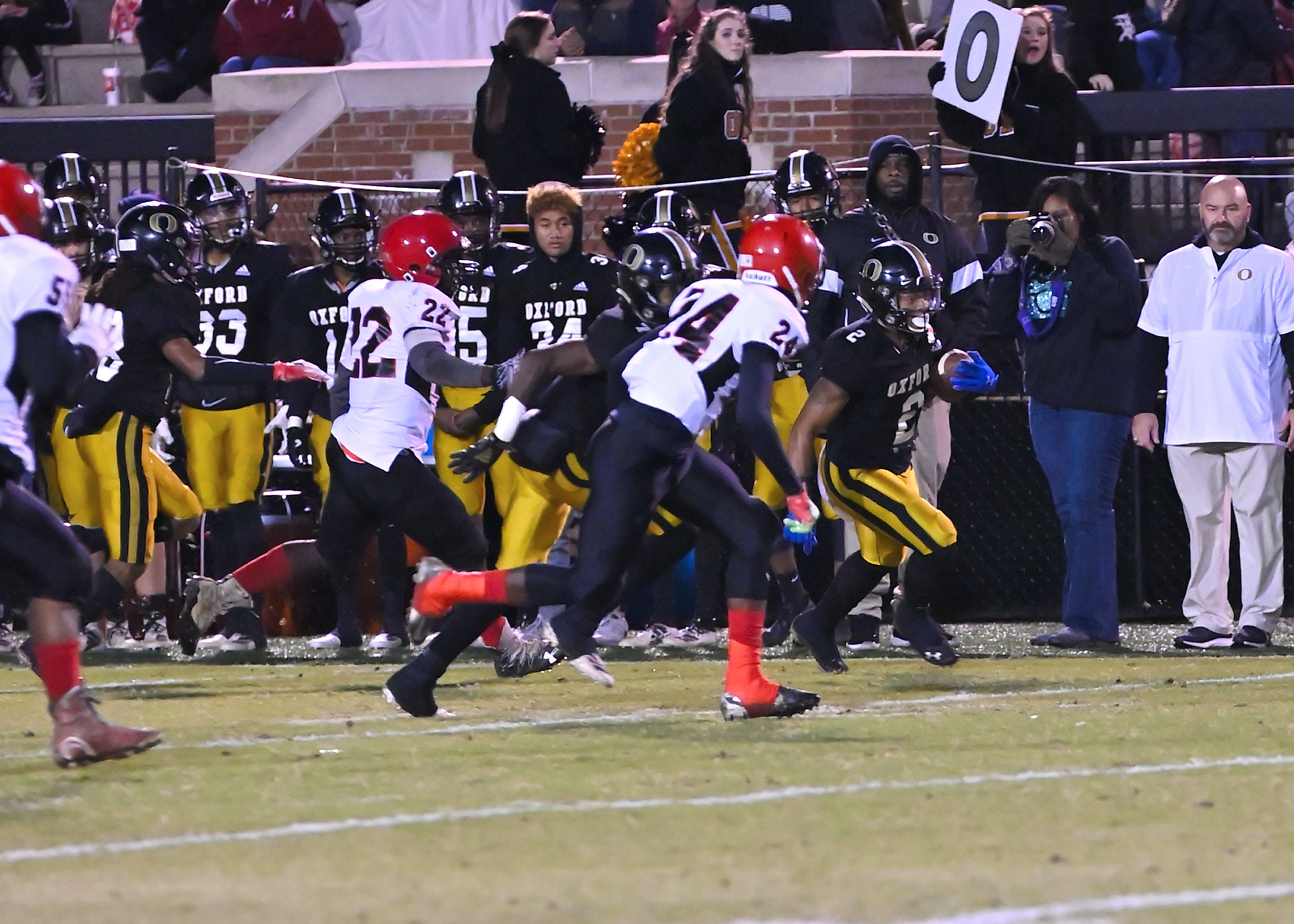 By Brant Locklier
For East Alabama Sports Today

OXFORD – The visitors knew they were in trouble the moment both teams walked onto the field.

Sumter Central only had 21 players with it at Lamar Field. Oxford was honoring 22 seniors on Senior Night.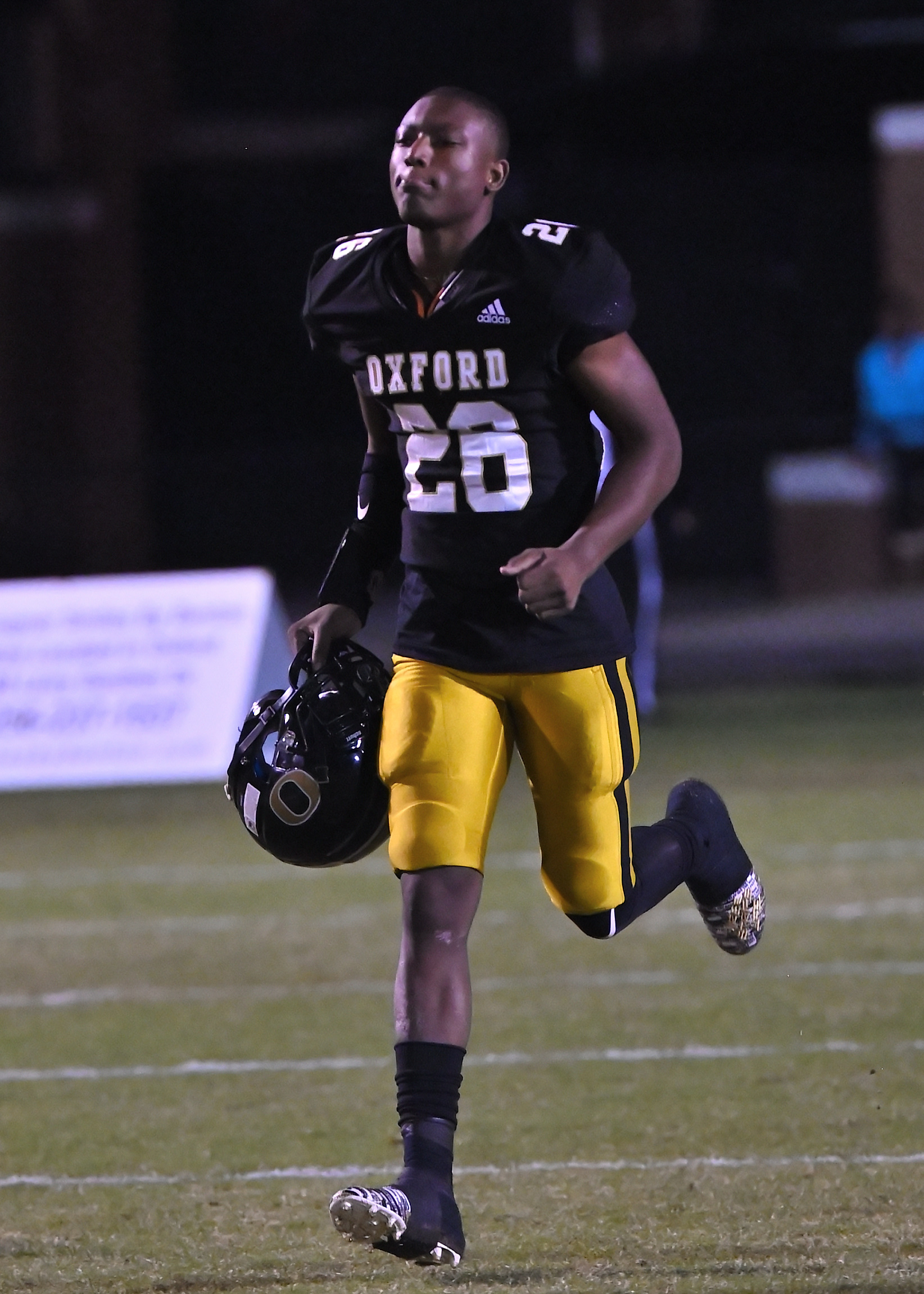 With that manpower advantage, the Yellow Jackets got a pair of touchdowns from J.B. Carlisle and Zay Britt and over-powered the 4A Jags 52-0. It was the fourth victory for the Jackets in four years over the Jags and marked the end of the series between the two teams.

Oxford (9-1) had its way on the ground as it rushed 19 times for 227 yards in a first half on the way to a 37-0 lead. The Jackets scored touchdowns on five of six possessions.

Britt carried twice for 70 yards and had two scores, one on a 66-yard run. Carlisle had eight carries for 92 yards and a couple of 4-yard scoring runs. Quarterback Trey Higgins rushed three times for 34 yards and had an 11-yard touchdown run. Devion Ball returned to the lineup and rushed twice for nine yards and caught a pass for 19 yards.

"We were pretty banged up throughout four games during the middle of the season, especially in the backfield and a couple of linemen," Oxford coach Keith Etheredge said. "We will get one of those linemen back for the playoffs and maybe the other one also.

"Staying healthy is the key to winning in this region. We got Carlisle back last week and that was huge. Everybody is so tough in this region. You got Pinson, Clay, Gardendale, and Shades Valley lost their quarterback and Huffman had some athletes. Clay got healthy just in time for us."

The second half featured a running clock and only eight-minute quarters. The Oxford reserves played every snap on both offense and defense and the Jackets got out of the game with no injuries.

They had only six snaps in the second half but scored twice. Quarterback Samuel Robertson hit Torrance Vincent on a beautiful diving 30-yard touchdown pass late in the third quarter. Alonzo Adams picked off a Central Sumter pass in the fourth quarter to set up a 14-yard touchdown run by Rodney Taylor.

Oxford will host Chelsea next week in the first round of the Class 6A playoffs. A win in that game would set up the Jackets for either a road trip to Cullman or a home game with Mae Jemison.
To see more photos from the game click on this link: www.bjfranklin.smugmug.com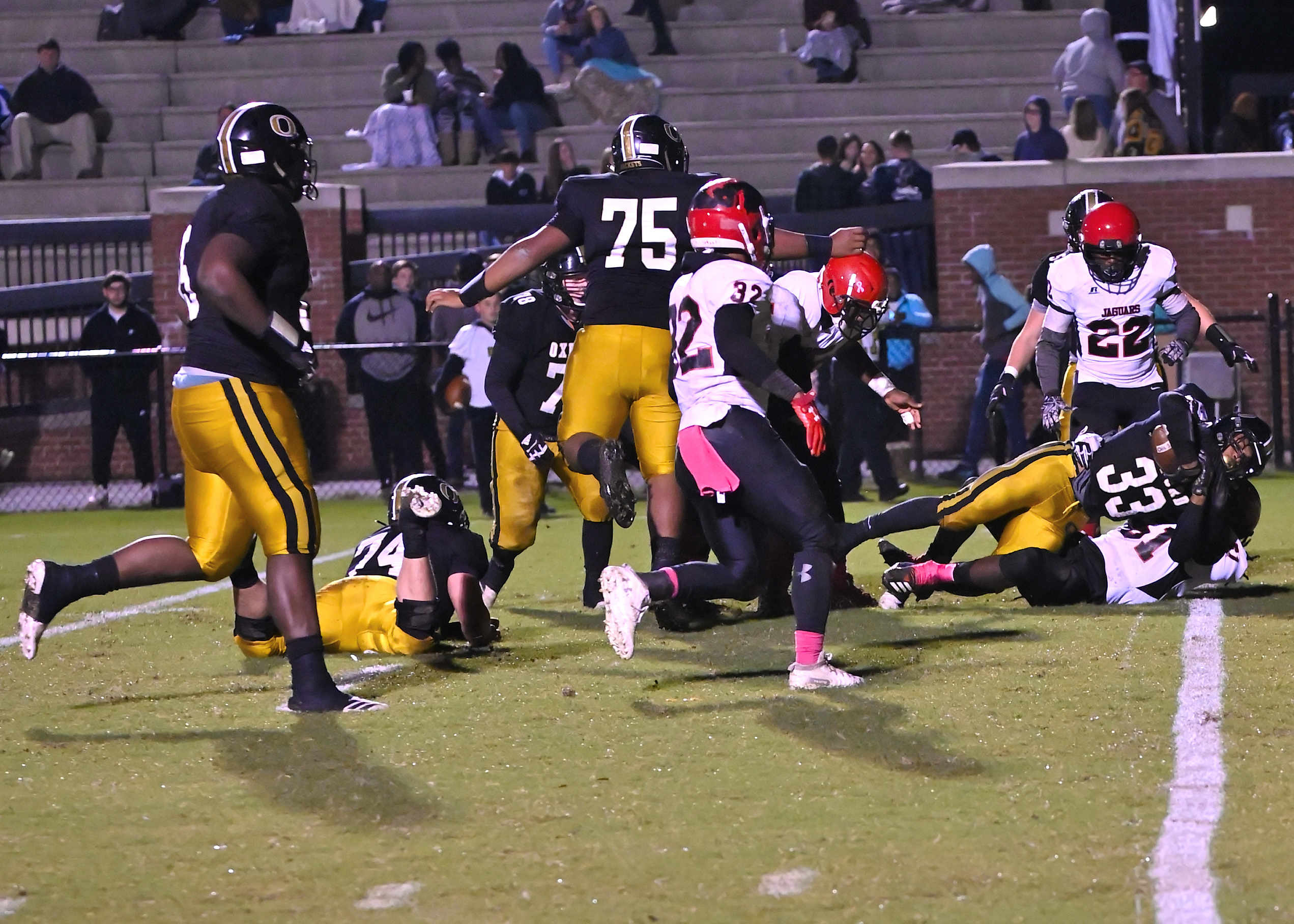 | | | |
| --- | --- | --- |
| SC (0) | | Oxf (52) |
| 5 | 1st D | 14 |
| 21-81 | Rush | 23-263 |
| 1-10-1 | C-A-I | 4-7-0 |
| 4 | Pass | 66 |
| 0-0 | F-L | 0-0 |
| 5-29.2 | Punts | 1-32 |
| 4-31 | Pens | 4-45 |

Sumter Central 0 0 0 0 – 0
Oxford 23 14 7 8 – 52
Scoring Plays
O – Trey Higgins 10 run (Andrew Warhurst kick), 7:39 1Q
O – Zay Britt 66 run (Andrew Warhurst kick), 5:31 1Q
O – Safety, Kayshwan Thomas tackled in end zone, 3:41 1Q
O – J.B. Carlisle 4 run (Andrew Warhurst kick), 0:55 1Q
O – Zay Britt 4 run (Andrew Warhurst kick), 7:46 2Q
O – J.B. Carlisle 4 run (Andrew Warhurst kick), 4:05 2Q
O – Torrence Vincent 30 pass from Samuel Robertson (Andrew Warhurst kick), 3:20 3Q
O – Rodney Taylor 14 run (Miguel Mitchell pass from Zay Britt), 4:23 4Q
Piedmont 35, Geraldine 14
PIEDMONT – The Bulldogs (9-1) scored the first two times they touched the ball and got three touchdowns in the third quarter to win their regular-season finale.

Jack Hayes threw a 24-yard touchdown pass to Silas Thompson on Piedmont's first play from scrimmage and Austin Estes broke off a 64-yard punt return after the defense held on the ensuing possession.

Hayes and Estes hooked up on a 25-yard touchdown pass in the third quarter. The Bulldogs' other scores came on a 7-yard run by Hayes and a 48-yard run by Elijah Johnson, who rushed for 121 yards.
Chilton Co. 21, Alexandria 14
CLANTON – Almost half of Shi Keem Laister's 163 yards rushing came on an 82-yard run in the final two minutes that broke a 14-14 tie. The Valley Cubs tied it on Grayson Forrest's second field goal of the game, a 30-yarder.

Laister accounted for 281 yards of offense. He also had a 42-yard scoring run and threw a 76-yard touchdown pass to Kobi Albert – both in the first quarter. Laister accounted for 281 yards of offense.

Ronnie Royal rushed for 158 yards and scored the Valley Cubs' only touchdown on a 4-yard run. Antonio Ross rushed for 174 yards. The Valley Cubs rushed for 395 yards as a team.
| | | |
| --- | --- | --- |
| Alex (14) | | Chil (21) |
| 54-395 | Rush | 20-184 |
| 2-6-0 | C-A-I | 5-7-0 |
| 10 | Pass | 117 |
| 9-90 | Pen-yds | 13-94 |

Alexandria 0 11 0 3 – 14
Chilton Co. 14 0 0 7 – 21
Scoring plays
C – Shi Keem Laister 42 run (Brian Giacobbe kick)
C – Kobi Albert 76 pass from Shi Keem Laister (Brian Giacobbe kick)
A – Ronnie Royal 4 run (Antonio Ross run)
A – Grayson Forrest 31 FG
A – Grayson Forrest 30 FG
C – Shi Keem Laister 82 run (Brian Giacobbe kick)
Ranburne 48, White Plains 34
White Plains quarterback Jaden Chatman completed 28 of 51 passes for 427 yards and five touchdowns, but Johnston Smith's pick-six with 1:58 left stopped the Wildcats' bid for a game-tying (or winning) touchdown.

Chatman threw touchdown passes to Jaden Harris and Carson Tyree in the second half to bring the Wildcats back from 20 points down.
Alabama Christian 52, Weaver 0
WEAVER – Noah Silmon rushed for 170 yards, Corey Landers rushed for 133 yards and both scored two touchdowns for ACA. Linebacker Jack Thomas had nine tackles a 1.5 sacks.

Weaver ended the year without a win in Justin Taylor's first season as head coach. It was the Bearcats' first winless season since 2009.