'In a new realm'
'Something magical' spurred Donoho to incredible comeback that spurred it to Class 1A state volleyball crown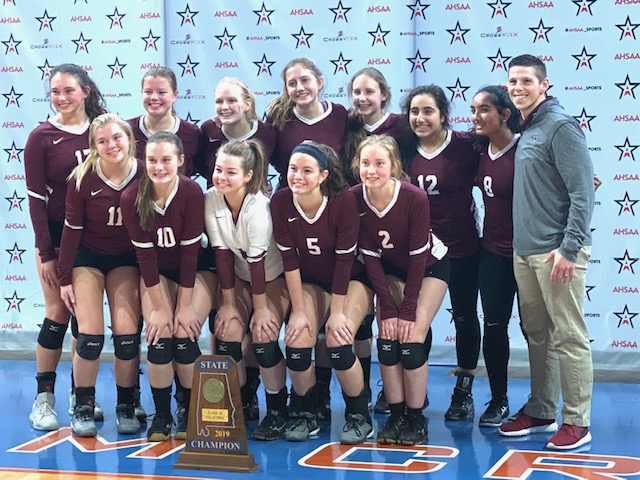 By Al Muskewitz
East Alabama Sports Today

BIRMINGHAM —Donoho will long remember winning the Class 1A state volleyball championship on Halloween Night. But it'll be the way the Lady Falcons did it that no one will ever forget.

The Lady Falcons staved off six championship points in the fourth set to extend the match and then opened a big lead in the 15-point tiebreaker to beat Westminster-Oak Mountain 3-2 at Bill Harris Arena Thursday night. The game scores were 24-26, 25-20, 18-25, 28-26, 15-12.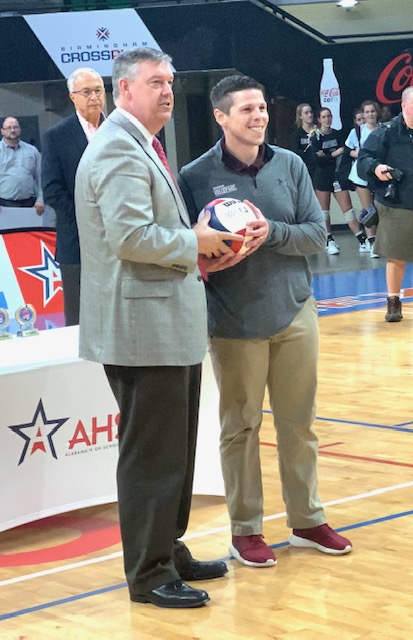 It was their 11th state volleyball title all time and first since 2012. Incredibly, this program was 7-18 and missed the playoffs for the first time in 33 years two years ago, the year before Jamie Clendenin took over as head coach. Most of the current players on the team were in elementary school the last time Donoho won the state title.

"It's unbelievable," Clendenin said. "I don't know that these girls know what they just did. What they did is put Donoho in a new realm. When was the last time we've won a state championship — 2012? They put us back in a spot we haven't been in seven years and we've done it within two years of being in a program that pretty much hit rock bottom. They put volleyball back on the map at Donoho.

"And the way they came back and won, that's huge. You don't have teams come back down 24-19 in an environment like that often. The hustle they gave, the determination, they fought. They didn't give up today and I was proud of them."

The Lady Falcons were literally down to their last point of the season, trailing with Westminster serving at 24-19. It meant the next ball that found an open space on their side of the floor and they were done.

But they rallied, finding the strength within themselves to score the next six points to not only completely erase the deficit but take the lead on Lily Grace Draper's down-the-line winner 25-24.

"I wasn't ready for it to be over," Draper said.

They faced elimination again receiving at 26-25, but Maggie Wakefield scored the next three points – two on kills and one on a block at the net that rode the net cord before falling over for a point – to give the Lady Falcons an incredible set win and championship life.

They used that momentum to score the first seven points of the tiebreaker and open a 9-1 lead. It was the second match in a row they opened a big lead in the tiebreaker. They led 13-3 and 14-7, but had to withstand a Westminster rally before closing it out. The Lady Knights were playing to win their first state championship.

"I think we all knew that this was going to be our last game no matter what and I think all of us knew we had to put everything out there, give everything we got, because I don't think any of us were going to be satisfied with runner-up," Wakefield said. "We all wanted to win, so I think that's what drove us to get those last few points."

Including Thursday the Lady Falcons were 13-5 this season in 15-point tiebreaker sets, but only one of the losses was in a five-set match. They were 3-0 in five-setters in the regional and state tournaments.

"In the fifth set we all have this determination where this is do-or-die, third set or fifth set, no matter what we're playing, who we're playing, this is a do-or-die situation for us," Wakefield said. "In the fifth set something magical happens inside of us. There's really no words to explain it. Somehow all of us collectively decide let's do this. I think that's what happened against Spring Garden. I think that's what happened today."

Junior setter Maggie Miller was named most valuable player; she had 53 assists in the championship match. Draper (22 kills, 15 digs) and Maggie Wakefield (24 kills) made the all-tournament team and at various points in the match could have held strong consideration for MVP.

There wasn't a spot on the all-tournament team for libero Mya Keel (26 digs) or Kate Porteous – the team's two seniors – but both played as big a role in the comeback as anyone, Keel keeping points alive and Porteous with her unique serves.
.
"Before we got on our run I think we were all kind of feeling down and we all kind of felt defeated, but once we started to realize we're back in it I think that spark of hope really gave us something to run on," Wakefield said. "Eventually that hope turned into maybe we've got this and then the maybe we've got this turned into we got this let's go. I think that's really what drove us."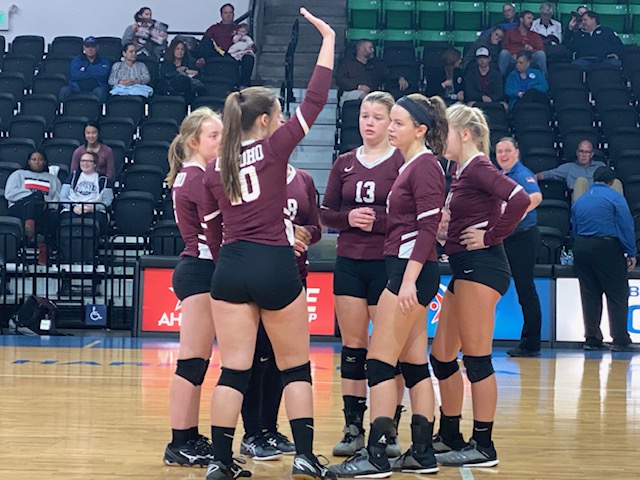 CLASS 1A CHAMPIONSHIP
Donoho 3, Westminster-Oak Mountain 2
(24-26, 25-20, 18-25, 28-26, 15-12)

KILLS – Westminster: Payton Metcalf 7, Molly Reynolds 12, Virginia Welch 8, Bailee Acker 13, Macy White 9, Mary Catherine Griffith 3. Donoho: Maggie Miller 4, Ayesha Siddiqua 1, Lily Grace Draper 22, Maggie Wakefield 24, Mary Marshall Perry 2, Mercy Mangum 14.

ASSISTS – Westminster: Payton Metcalf 39, Bailee Acker 2, Sarah Click 1, Macy White 1, Hallie Anne Jones 1, Mary Catherine Griffith 1, Eden Morris 1, Elizabeth Simpson 2. Donoho: Maggie Miller 53, Ayesha Siddiqua 2, Mya Keel 4.

ACES – Westminster: Payton Metcalf 2, Sarah Click 1, Mary Catherine Griffith 1, Caroline Lund 2, Elizabeth Simpson 1. Donoho: Maggie Miller 1, Ayesha Siddiqua 2, Mya Keel 3.

DIGS – Westminster: Payton Metcalf 21, Molly Reynolds 2, Virginia Welch 7, Bailee Acker 14, Sarah Click 6, Macy White 11, Hallie Anne Jones 13, Mary Catherine Griffith 2, Eden Morris 9, Caroline Lund 7, Elizabeth Simpson 20. Donoho: Sarah Waggoner 11, Maggie Miller 17, Ayesha Siddiqua 22, Lily Grace Draper 15, Maggie Wakefield 3, Mary Marshall Perry 1, Mya Keel 26, Yana Osavska 1, Kate Porteous 2, Naira Rahman 1, Mercy Mangum 6.

BLOCKS – Westminster: Molly Reynolds 3, Virginia Welch 1. Donoho: Maggie Wakefield 1, Mary Marshall Perry 1.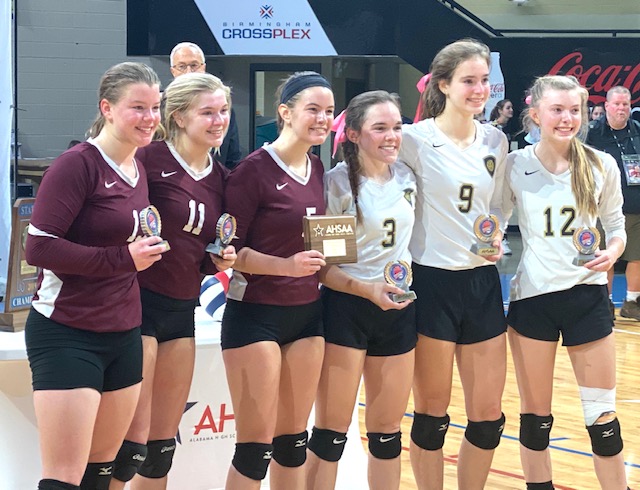 STATE CHAMPIONSHIP MATCHES
CLASS 3A: Montgomery Academy 3, Geraldine 0 (25-20, 25-20, 25-17)
CLASS 5A: Jasper 3, Faith Academy 0 (25-16, 25-13, 25-18)
CLASS 7A: Mountain Brook 3, McGill-Toolen Catholic 0 (25-21, 28-26, 25-23)
CLASS 6A: Spanish Fort 3, Hazel Green 1 (27-25, 25-19, 21-25, 25-21)
CLASS 2A: G.W. Long 3, Addison 1 (18-25, 25-21, 25-22, 25-15)
CLASS 1A: Donoho 3, Westminster-Oak Mountain 2 (24-26, 25-20, 18-25, 28-26, 15-12)
CLASS 4A: Bayside Academy 3, Providence Christian 1 (25-14, 25-15, 26-28, 25-15)