Blaney by a nose
Blaney edges Newman at wire in sixth-closest finish in NASCAR history, qualifies for next round of playoffs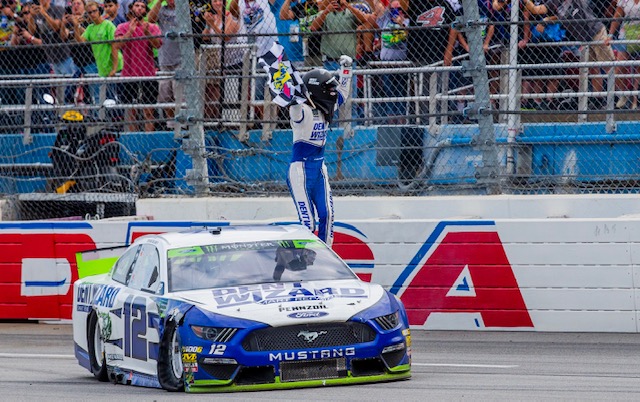 By Al Muskewitz
East Alabama Sports Today

TALLADEGA – If you blinked you missed it.

Ryan Blaney won the sixth-closest finish in NASCAR history when he beat Ryan Newman to the photo finish Monday to win the 1000Bulbs.com 500 in one of the most dramatic finishes in Talladega Superspeedway history.

Blaney won the race by 0.007 seconds, basically a foot. A foot that may have saved his season. Three of the six closest finishes have been at Talladega (see chart below).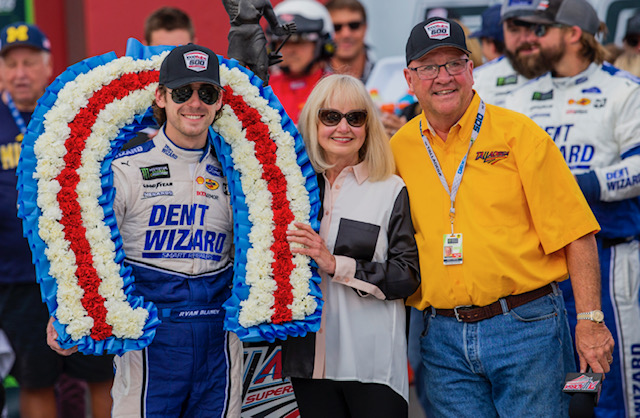 "Close," Newman said. "I told Aric (Almirola) they spent 50 million dollars rebuilding this place, I should've thrown in 50 bucks for them to move the start-finish line, repainted it or something."

The race finish was pushed to Monday after rain late Sunday forced a suspension after the completion of the first stage of the race, and those who came back were treated to the kind of racing that made Talladega famous.

The dramatic finish was set up by the second of two major wrecks in the final 25 laps. The race was red-flagged with six laps go to after a multi-car incident at the front of the pack that collected several contenders and sent Brendan Gaughan flying.

On the restart Blaney moved out front and tried to protect his position from the bottom, but Newman made a big run on the outside with the help of Denny Hamlin to get the lead. Blaney then used a push from Almirola to challenge and the shootout was on.

There looked to be side contact that pushed Blaney under the yellow line, but the 25-year-old kept his wits, got all four tires back onto the track and barely beat Newman to the line.

"There was no blocking the 6 (Newman) and 11 (Hamlin), they were coming so fast, and I figured I'd give up the bottom and they were going to leave me in the middle," Blaney said. "I wanted to pull up, but you can't block runs like we used to in this package. I decided to stay with Aric. He was a great pusher all day and I kind of went up and pulled the 11 off the 6 and he (Newman) was so far out in front.

"We kind of got together on the front. He kind of pushed me below the yellow line. I wasn't going to go below there after the truck race. I kind of got forced down and it just worked out. Just survived. This was a huge, huge race for us. I'm pumped up."

Spencer Boyd was declared the winner of the Sugarlands Shine 250 truck race Saturday when race winner Johnny Sauter was deemed to have gone below the double yellow to block or improve his position against Riley Herbst on the last lap.

Interestingly, Blaney won the race despite spinning in a first stage that seemed ages ago and incurring a penalty for speeding on pit road (because of the spin). But he came back from it to get stage points and after sleeping on it lead the most the laps in the race.

"It was unfortunate what happened of spinning to pit road, but like I told him last night I'm glad we got that out of the way early and we didn't damage the car in any way and we kind of know what the limits are at that point," crew chief Jeremy Bullins said. "We pretty much recovered from it and got back to 10th by the end of the stage. We knew we had a good car and just put it behind us and move on.

"We knew once you get to the bottom in the lead a run is coming from somewhere. The 11 had a great recovery today and was pushing the 6 pretty hard. We saw them coming, but just hoped we could play enough defense and get those guys separated. The difference was the moves he made with those guys coming on the outside … Sometimes you just need things to play out for you and today it did."

A suspension issue last week at Dover left Blaney at the bottom of the playoff points standings. It didn't make this week a must-win, but he figured the team had to win one of these last two segment races to advance to the next round.

He doesn't have to worry about that now. The win guarantees him a spot in the Round-of-8 where he goes to three tracks that's been good to him in the past.

"It's a huge relief," Blaney said. "After having such a bad weekend last week it's nice to get a win and lock into the next round. It was definitely a really important day for us to do well. You just want to put yourself in a spot to have a chance and that's really all you can ask for and now our chance is here."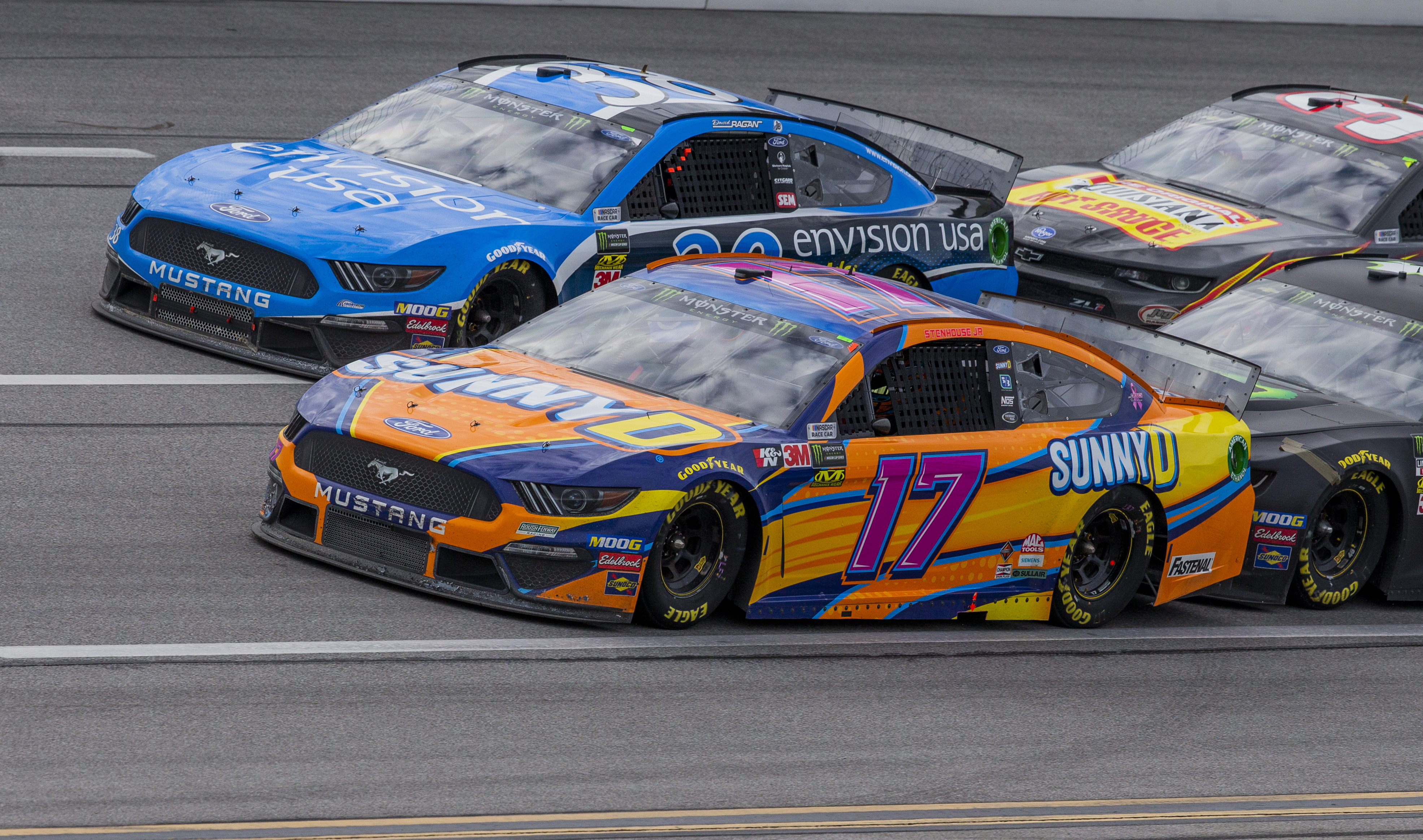 CLOSEST FINISHES
2003 Carolina Dodge Dealers 400, Darlington, 0.002 seconds (Ricky Craven, runner-up Kurt Busch)
2011 Aaron's 499, Talladega, 0.002 (Jimmie Johnson, Clint Bowyer)
1993 DieHard 500, Talladega, 0.005 (Dale Earnhardt, Ernie Irvan)
2007 Pepsi 400, Daytona, 0.005 (Jamie McMurray, Kyle Busch)
2001 Cracker Barrel Old Country Store 500, Atlanta, 0.006 (Kevin Harvick, Jeff Gordon)
2019 1000Bulbs.com 500, Talladega, 0.007 (Ryan Blaney, Ryan Newman)
Note: These close finishes came in events that were not part of the regular season
2001 Gatorade Duel 2, Daytona, 0.004 (Mike Skinner, Dale Earnhardt Jr.)
2011 Gatorade Duel 2, Daytona, 0.005 (Jeff Burton, Clint Bowyer)
2010 Gatorade Duel 1, Daytona, 0.006 (Jimmie Johnson, Kevin Harvick)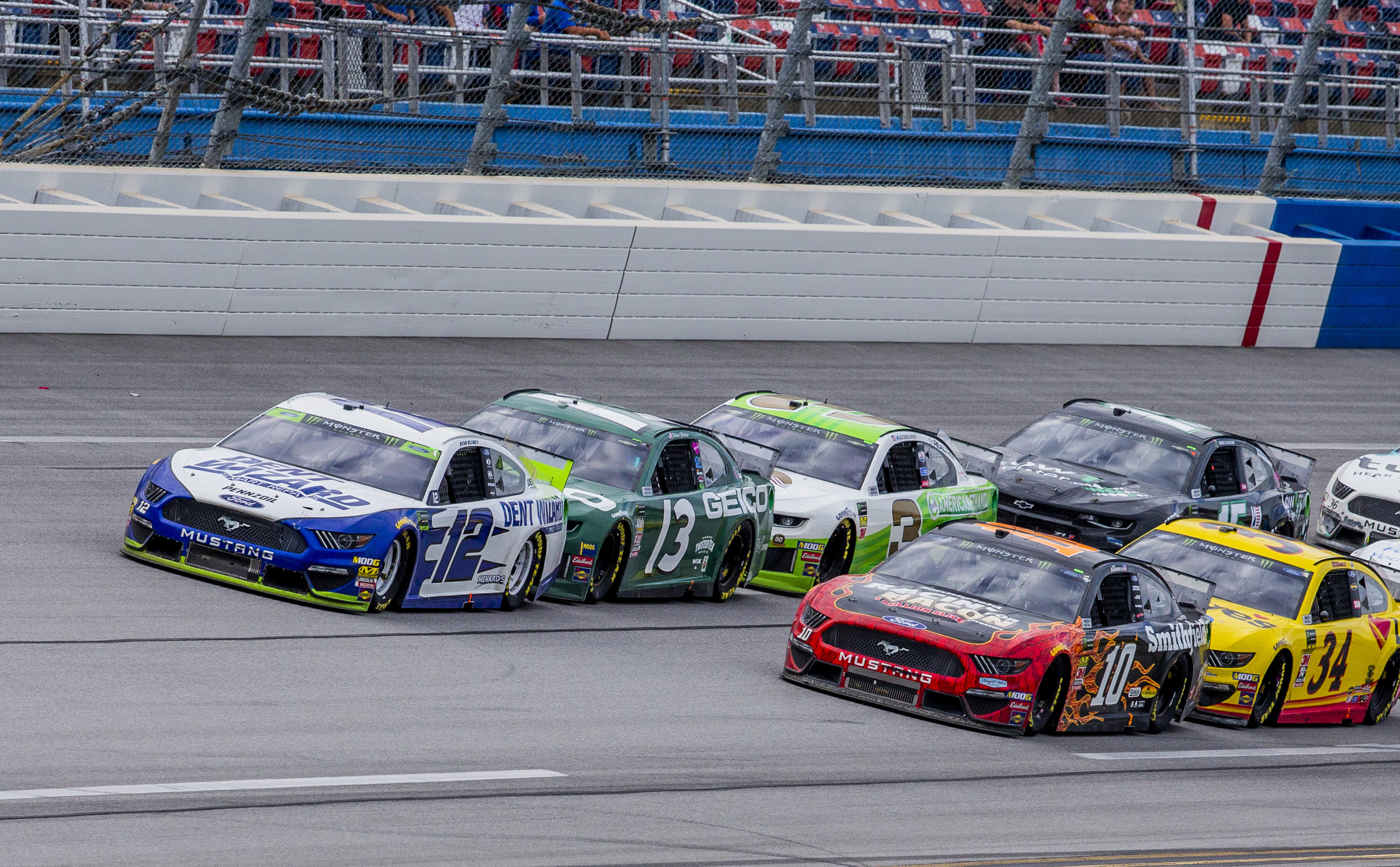 1000BULBS.COM 500
(Driver, car, laps)
x-12 Ryan Blaney, Ford, 188
6 Ryan Newman, Ford, 188
x-11 Denny Hamlin, Toyota, 188
10 Aric Amirola, Ford, 188
34 Michael McDowell, Ford, 188
3 Austin Dillion, Chevy, 188
32 Corey LaJoie, Ford, 188
x-9 Chase Elliott, Chevy, 188
17 Ricky Stenhouse Jr., Ford, 188
13 Ty Dillon, Chevy, 188
x-22 Joey Logano, Ford, 188
15 Ross Chastain, Chevy, 188
36 Matt Tifft, Ford, 188
00 Landon Cassill, Chevy, 188
96 Parker Kligerman, Toyota, 188
21 Paul Menard, Ford, 188
x-4 Kevin Harvick, Ford, 188
47 Ryan Preece, Chevy, 188
x-18 Kyle Busch, Toyota, 188
37 Chris Buescher, Chevy, 187 (Accident)
8 Daniel Hemric, Chevy, 187
27 Reed Sorenson, Chevy, 187
x-14 Clint Bowyer, Ford, 186
43 Bubba Wallace, Chevy, 185
x-2 Brad Keselowski, Ford, 182 (Accident)
x-19 Martin Truex Jr., Toyota, 182
62 Brendan Gaughan, Chevy, 181 (Accident)
1 Kurt Busch, Chevy, 181 (Accident)
38 David Ragan, Ford, 181 (Accident)
95 Matt DiBenedetto, Toyota, 181 (Accident)
77 Blake Jones, Chevy, 179
41 Daniel Suarez, Ford, 168 (Accident)
x-24 William Byron, Chevy, 162 (Accident)
20 Erik Jones, Toyota, 162 (Accident)
51 Austin Theriault, Ford, 162 (Accident)
66 Joey Gase, Toyota, 161 (Accident)
x-88 Alex Bowman, Chevy, 106 (Accident)
48 Jimmie Johnson, Chevy, 106 (Accident)
x-42 Kyle Larson, Chevy, 106 (Accident)
52 Spencer Boyd, Chevy, 53 (Engine)
x-Playoff drivers
Time of race: 3:39.35. Average speed: 136.644. Margin of victory: 0.007 seconds.
Stage winners: 1. William Byron. 2. Clint Bowyer. 3. Ryan Blaney.
Caution flags: 9 for 43 laps. Lead changes: 47 among 19 drivers. Most laps led: Ryan Blaney 35, Ricky Stenhouse Jr. 32, Brad Keselowski 22.
Series points: Danny Hamlin 3114, Martin Truex Jr. 3106, Kyle Busch 3099, Kevin Harvick 3094, Brad Keselowski 3078, Joey Logano 3076, w-Kyle Larson 3069, Alex Bowman 3058, w-Ryan Blaney 3056, Chase Elliott 3054, Clint Bowyer 3052, William Byron 3049. W-Playoff race winner.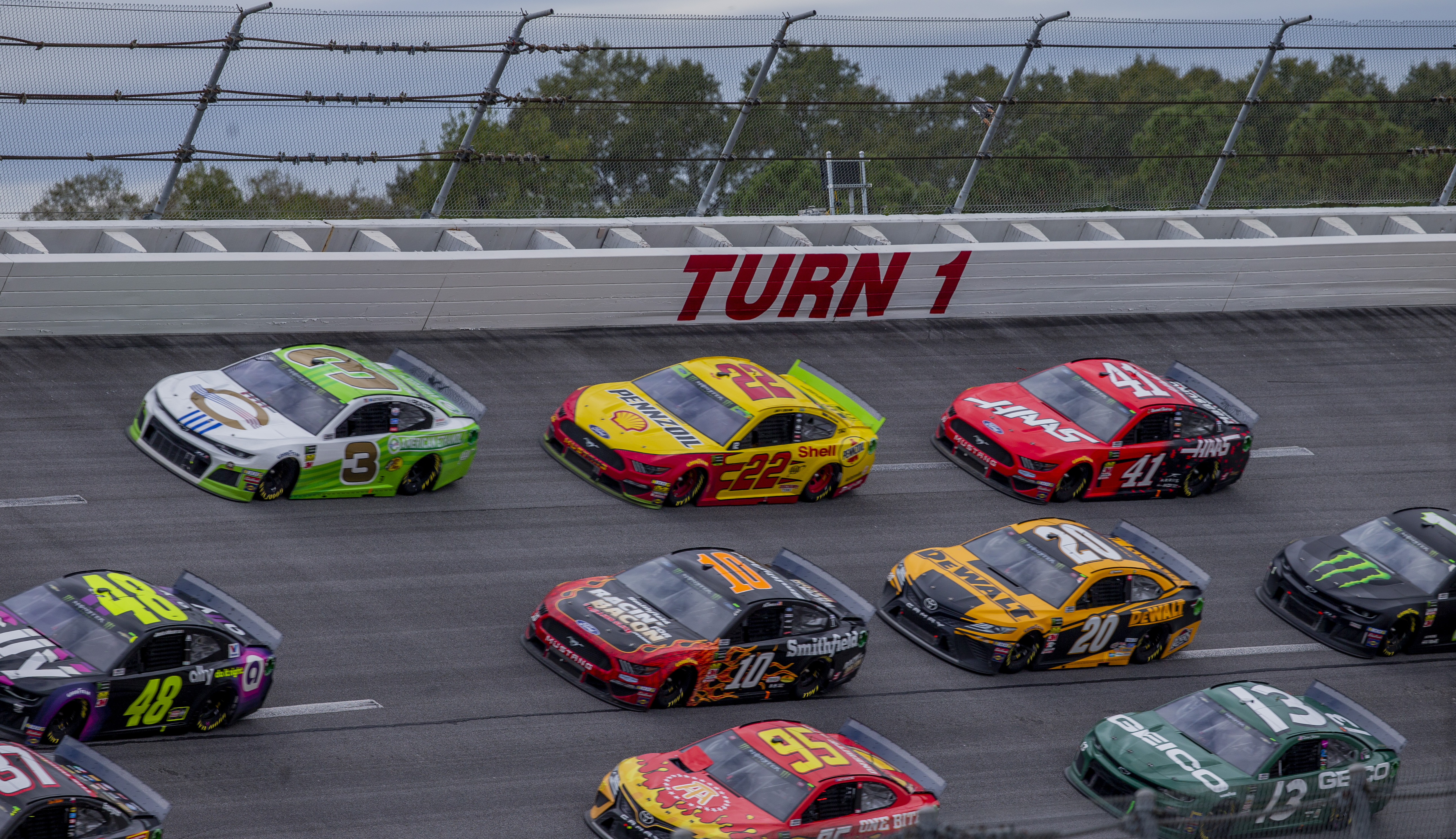 Photos by Jonathan Fordham