Kicking up a win
Daniel kicks Randolph County to win over Wellborn with field goal four seconds from the finish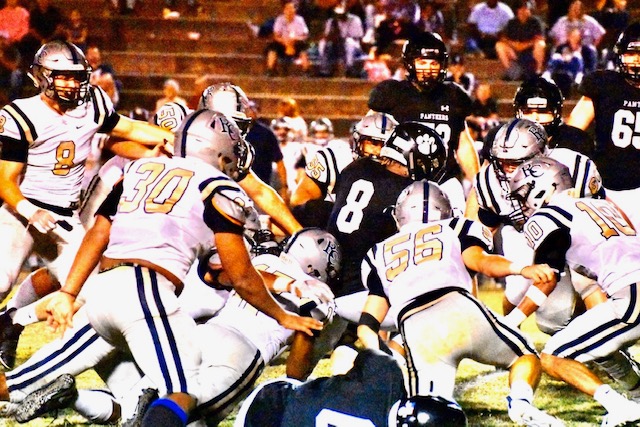 By Jeremy Wortham
For East Alabama Sports Today
 
If you stroll down memory lane to 2017 when Randolph County knocked off Piedmont to advance to the state finals you would have read somewhere the Tigers rallied late in the fourth quarter, scoring twice in 90 seconds of the remaining two minutes. 
 
The unsung hero then was sophomore kicker Braxton Daniel, who kicked the onside kick that helped give the Tigers the final drive needed to advance to Tuscaloosa.
 
Fast forward to Friday night. Daniel kicked a 27-yard field goal with four seconds to play to lift the fourth-ranked Tigers over undefeated No. 6 Wellborn 17-14 in a big Class 3A Region 6 showdown.
 
"The coaches were over there saying it's going to come down to you," Daniel said. "I told them if they could get to the 20 then I'd put it through.
 
"Two years ago when I kicked the onside kick against Piedmont, I said if I stayed calm and go through my form then I got it."
 
Wellborn, one of the highest scoring teams in the state coming into the game, found its only scores on its opening and final possessions of the night. Demarcus Davis scored both Randolph County touchdowns in between.
 
The Panthers tied the game on Calvin Spinks' 7-yard run with 2:08 to play. And that left plenty of time for Randolph County coach Pat Prestridge to stick to the original game plans of running the ball.
 
"We came out and challenged our guys to pound the ball in the second half and they responded well," Prestridge said. "Our plan was who could win the trenches."
 
Randolph County kept to the ground on its final drive and started to move the ball down the field in big chunks as time ticked away; 10 yards, 13 yards, 12 yards.
 
An 11-yard run by Marcus Woodgett got the Tigers closer to the goalposts and a 12-yard pass from Davis to Dante Jordan put Daniel right on the 20.
 
"I loved it! I loved every bit of it!" Daniel said.
 
The win keeps Randolph County (6-1, 4-1) in the running for hosting a first-round playoff game. Wellborn (7-1, 4-1) can still make a lot of noise and shake things up in the region the next two weeks. Similar to last year, there's the possibility of a three-way tie for first place if Wellborn won its final two region games against Pleasant Valley and Piedmont. Last year, Piedmont, Randolph County and Saks tied for first place with a tiebreaker needed to sort things out.
| | | |
| --- | --- | --- |
| RC (17) | | Well (14) |
| 13 | 1st Downs | 13 |
| 202 | Rushing | 202 |
| 36 | Passing | 36 |
| 1 | Fumbles | NA |
| NA | Penalty | 4-44 |
Randolph Co. 0 0 7 10 – 17
Wellborn 7 0 0 7 – 14
Scoring plays
W – Kentrez Hunt 2 run (Brandon Ramirez kick), 5:26 1Q
R – Demarcus Davis 9 run (Braxton Daniel kick), 7:58 3Q
R – Demarcus Davis 1 run (Braxton Daniel kick), 7:31 4Q
W – Calvin Spinks 7 run (Brandon Ramirez kick) 2:08 4Q
R – Braxton Daniel 27 FG, 0:04 4Q