Magical moment
Injured Weaver libero, hurt during Senior Night warmups, returns to the floor for match-clinching point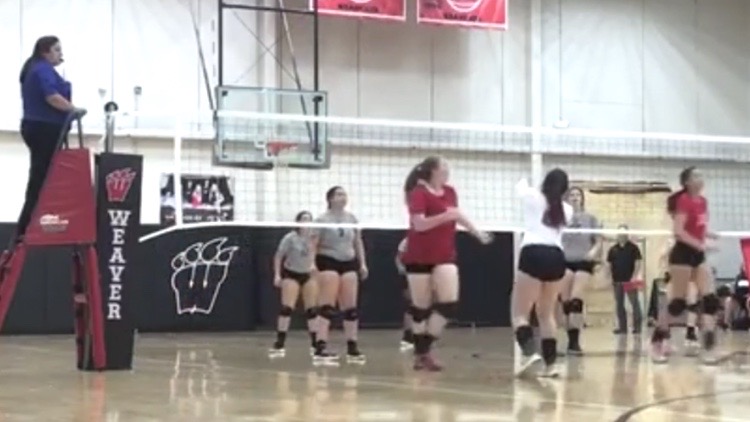 By Al Muskewitz
East Alabama Sports Today
 
WEAVER – A memorable night that couldn't have started any worse for one player ended in one of those emotional moments that will never be forgotten.
 
Weaver libero Makayla Lilio had been preparing all season to celebrate her Senior Night in the final home match of her high school volleyball career Thursday night. There were going be flowers and hugs and cupcakes and cheers.
 
But 30 minutes before the start of the match disaster struck when she sprained her left ankle during warmups. Suddenly the tone of the night completely changed.
 
The injury kept Lilio out of the Lady Bearcats' first match, a 2-1 victory over Spring Garden (25-23, 19-25, 15-9), and nearly all of their 25-6, 25-23 win over Wellborn.
 
But here's where the night got saved. Weaver coach Chelsea Watson Mize's husband Corey convinced Lilio to play the final point on her special night. Mize sent "Mak" onto the floor to serve at 24-23 and as fate would have the ball came back over the net and she made the pass that produced McKennah Flynn's match-clinching kill.
 
"When I heard the news I couldn't play I was devastated and started crying," Lilio said. "I'd already felt like I let my team down, so I wanted to go out and help them for one point in my last game and their last game with me.
 
"It was hard (to go back in) because I felt like I didn't do anything up to that point, but I did it for the team and for her husband.  It meant the world to me that they wanted me to do that."
 
Lilio was one of four seniors being honored Thursday night, joining middle hitters Flynn and Kayleigh Hindsman and setter Rylee Hewitt. She was even going to play a different position against Wellborn for a one-time escape of the rigidity of her normal spot.
 
But those plans were scuttled when Haley Homesley stepped on her foot during warmups. It forced Mize to play freshman Keelie Leach at libero, move Nevaeh Hawkins into Leach's normal spot as sub for Hindsman on the back row and call on Homesley to pass more.
 
The Lady Bearcats got through it, but it was a challenge. They barely took the first set from 1A Spring Garden and lost the second.
 
"I just told the girls you have got to win this for her," Mize said. "She is never going to forget this. This is the last home game she'll ever play. You can't let her down like that. When I told them that, I think it turned things around."
 
Weaver took the third set handily to win that match and dominated the first set against Wellborn. Ironically, it was Homesley who Lilio subbed for when she entered the match at the end.
 
"I cried when she went back on the floor," Mize said. "I'm so glad Corey talked her into doing it. I thought her parents would be mad at me, but I think they were happy in the end."
 
Although the ankle was swollen and sore, it was not believed to be a career-ending injury. Lilio is expected to miss the Lady Bearcats' final regular-season match with Coosa Christian Tuesday and return when they play Glencoe in their area tournament opener Oct. 21 at Pleasant Valley.