Weaver serves up a title
Lady Bearcats' service game strong in sweeping hosts to win Wellborn Slam Fest; Alexandria wins Brooks Tournament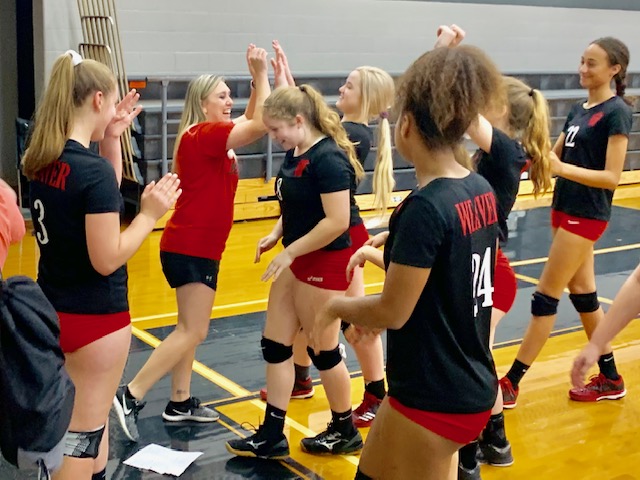 WELLBORN SLAM FEST
Wellborn 2, Cleburne County 0 (25-9, 25-9)
Weaver 2, Piedmont 0 (25-10, 25-4)
Sacred Heart 2, Wellborn 0 (25-14, 25-21)
White Plains 2, Cleburne County 0 (25-19, 25-20)
Wellborn 2, Piedmont 0 (26-24, 25-23)
Weaver 2, Cleburne County 0 (25-17, 25-17)
Weaver 2, Sacred Heart 1 (27-25, 22-25, 15-12)
White Plains 2, Piedmont 0 (25-7, 25-15)
Sacred Heart 2, White Plains 1 (25-20, 19-25, 15-13)
Championship
Weaver 2, Wellborn 0 (25-13, 25-17)

By Al Muskewitz
East Alabama Sports Today

It'll be hard to forget your first tournament title, but it's likely Weaver volleyball coach Chelsea Watson Mize will remember Saturday's Wellborn Slam Fest title for a long time for all she'll associate with it.

It was her first tournament title as a varsity head coach and the Lady Bearcats' first regular-season title in their recent memory, but more than that the 2-0 win they scored over Wellborn in the title match had her fighting back tears for the deeper personal history the occasion will now forever be linked.

"My brother (Cody Watson) was killed in a car wreck when I was a senior in high school (at Weaver) and he was a junior, and today's his birthday," Mize said. "Mine was two days ago so we're a year and two days apart and we've always celebrated together, so this was a really, really good way to lift me up today.

"We were really, really tight so I always have a hard time on his birthday. I told the girls if y'all can win this tournament this would really pick me up."

There were hugs and tears all around immediately after the Lady Bearcats closed out Wellborn 25-13, 25-17 in the title match and again when Lady Panthers coach Brenda Vinson presented them the trophy. Weaver went 4-0 in the event that's typically a small-school preview of the Calhoun County Tournament, dropping only one set along the way.

The championship match was tight early, with Wellborn leading 8-6 before Weaver stepped into the lineup that completely changed the match. McKenna Flynn's kill gave Weaver possession, she moved back to serve with 5-foot-10 Kayleigh Hindsman at the net and they proceeded to rip through 17 straight points. Flynn had two aces and Hindsman had three blocks and two kills in the run, and their teammates in between covered the floor well.

"That's always a struggle of ours," Mize said. "I'm always telling them had we just made a few serves that could've been the difference between winning that set. I think they just got so hyped off getting a good lead and getting so many good serves that it just kind of fueled the fire to keep doing that.

"I know we're in a good position with McKenna's serving. She's such a strong passer it's really nice to have her behind because she reads tips really well. Having McKenna in the back row with Kayleigh in the front gives us a-whole-nother hitting option."

"Kayleigh helps me a lot," Flynn said. "She's a great person to have in front of me. She does real good up there and she always gives 100 percent so it makes my job a lot easier. I was really proud of my team in the first set. They really hustled and tried to make the best of everything and I feel like it really set us up for the second set."

The Lady Bearcats had a similarly fast start in the second set. They jumped out front 16-4 with Flynn scoring four kills and Hindsman continuing to do her thing at the net. Wellborn staged a small rally, cutting the margin to seven points late, then Flynn ended the match with a winner.
Lady Cubs win at Brooks
Alexandria goes 6-0, wins the Brooks Tournament.

KILLEN — Alexandria beat Brooks (25-18, 25-16); Jacksonville (25-11, 21-25, 15-13); Phillips (25-16, 25-13); Addison (25-22, 16-25, 15-12); Carbon Hill (25-15, 25-22) and Rogers (28-26, 25-17).

The matchup with Jacksonville was a battle of top two seeds in the upcoming Calhoun County Tournament and Alexandria's third win over the Lady Golden Eagles this season. The Lady Cubs are now 29-6.

Jacksonville beat Deshler (25-23, 22-25, 15-7) and Athens Bible (25-22, 26-24), lost to Lauderdale County (25-14, 25-21) and Alexandria.

Alexandria statistics (6-0)
KILLS: Jordan Beason 45, Kylee Jordan 10, Madison Wallace 28, Lexie Weber 23, TyShica Woodgett 4, Anna Johnson 10, Kandyn Blankenship 28, Kaylee Smith 14, Blakeley Mobbs 2, Crossley Sparks 3.
ASSISTS: Anna Johnson 123, Crossley Sparks 3.
ACES: Sarah Pelham 4, Ashley Parker 12, Anna Johnson 16.
DIGS: Jordan Beason 25, Sarah Pelham 58, Ashley Parker 22, Jolie Weathington 5, Anna Johnson 36, Kandyn Blankenship 22, Blakeley Mobbs 3, Crossley Sparks 3.
BLOCKS: Lexi Weber 14.