Black is back
Talladega's brings back Earnhardt's iconic black 3 Chevy to celebrate its golden anniversary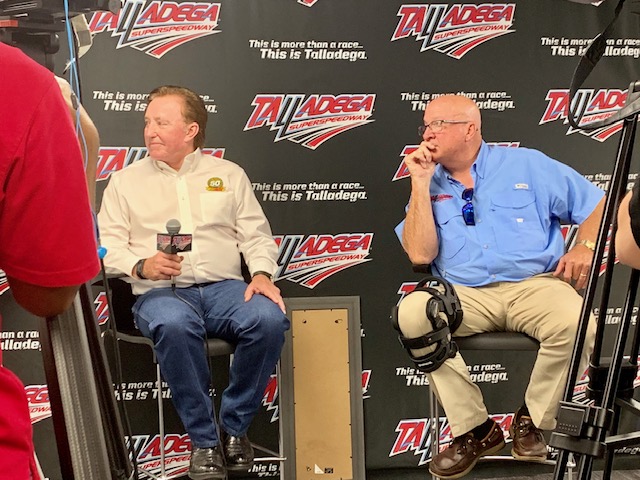 By Al Muskewitz
East Alabama Sports Today
 
TALLADEGA – The first time Richard Childress came through the tunnel and set eyes on the expanse that was the Alabama International Motor Speedway it took his breath away.
 
Fifty years later the name has changed – it's Talladega Superspeedway now – but it still takes his breath away, especially with the new infield transformation that will make the track even more fan-friendly than it had ever been before.
 
Childress is as much a part of Talladega's legacy as anyone who'd grace the track's Mount Rushmore of luminaries. Heck, he's probably already is on it.
 
Driver. Owner. Friend of chairman Grant Lynch. Winner.
 
Childress is living Talladega history and when the track celebrates its golden anniversary during the Oct. 13 1000Bulbs.com 500 Monster Energy Cup series race he'll bring back a revered piece of that history that's sure to take everyone's breath away.
 
Childress and Lynch announced Wednesday the iconic black 3 of Dale Earnhardt Sr. will be back at Talladega. Not only will it be back, it'll be back on the track as Childress will drive it leading the parade laps before they drop the checkered flag.
 
Maybe he'll even wear his old racing helmet Talladega communications director Russell Branham discovered (uncovered? recovered?) in a room at Darlington, put it in a case and presented it to him during Wednesday's trip down memory lane.
 
"We're bringing the black No. 3 back to Talladega," Lynch said. "Dust your shirts off, put them back on … It's going to be awesome."
 
"It's a celebration of Talladega's 50 years and a tribute to Dale and his last victory," added Childress. "It gives me cold chills just to think about it."
 
The 2000 race is one of most memorable in Talladega history. Dale Sr. came from 18th place after telling his owner – Childress – to give him four tires while already sitting on pit road to win. He made his way through the pack, took the lead at the white flag and drove to the checkered in what would be his final Cup win.
 
The car has been on display at the RCR Museum in North Carolina since 2001.

Childress drove in the first Cup race ever at Talladega, Sept. 14, 1969, lured by a cash bonus from track operator Bill France after a large group of Cup veterans declined to race over safety concerns related to tire wear. He finished 17th in the Saturday Grand Touring race and finished 23rd in the Sunday Talladega 500 against a field of about a dozen Cup regulars and even more cash-strapped Saturday holdovers who were giving up 20-30 mph to their big car competitors.
 
"I left here with more money than I'd ever seen in my life and I said man I'll never have to work again," he said. "Fifty years later I'm still here working. Talladega is always going to be a special place in my heart."

He stayed on the driver side for several more years until the sport experienced an influx of new money and he knew he'd have to get out of driving or he'd be doing something else real fast. The sport had a bunch of good drivers, he was told, but very few good car owners and he needed to be a car owner.
 
It wasn't soon after he was sitting in the Anniston Downtowner putting a deal together to put Dale Earnhardt Sr. in his car.
 
Do we have to say the rest is history? Interestingly, it was an RCR car that won the Xfinity race on Sept. 14, 2019, a connection Childress had to be reminded of after the race.