PV bounces back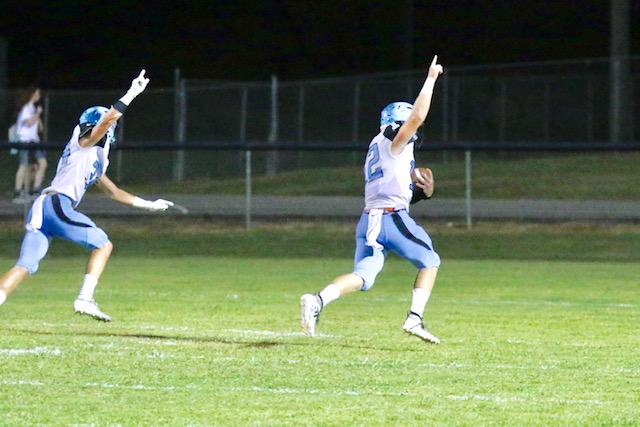 Raiders rebound from loss, rout Weaver to set up big game next week with Saks

By East Alabama Sports Today

WEAVER – Pleasant Valley coach Jonathan Nix was really interested to see how his team would bounce back after a shutout loss to one of the state's top teams the week before.

The Raiders made a statement about the kind of team they want to be Friday night, routing longtime nemesis Weaver 59-13 to set up what might be the program's biggest game in Nix' tenure next week.

The Raiders host Saks in a game that, if they win, could set them on a path to make the Class 3A playoffs for only the fifth time in school history and first time since 2010.

That, of course, is the focus for the week ahead. Friday night, the focus was squarely on coming back from a 28-0 loss to Piedmont in their region opener.

"I wanted to find out how they bounce back," Nix said. "There were so many snippets in that game that showed we're a good quality team. We held Piedmont to 70-some total rushing, which exposed us some on the back end but we worked to get that fixed.

"Offensively we struggled against Piedmont, but we wanted to show tonight we just had a bad game. It's up to both sides of the ball how you bounce back against some of those things and how you're going to bounce back is what everyone wanted to know. I think this group of seniors honed in on that all week. I thought our kids came out and took care of business early and played like they're capable of playing."

The Raiders had a 13-6 lead when the game was delayed for nearly an hour by lightning that moved through the area. They came back out and scored 28 points in the final 9:31 of the second quarter to take a 41-6 halftime lead.

Brody Phillips scored three touchdowns in the half (1, 12, 17 yards), threw one to Colby Nelson, and Colton East and Jake Upton each scored one. East had close to 200 yards in the half and rested. Cameron Green, Hunter Sallee and Zeke Curvin scored in the second half.

Taylor Thompson and Isaiah Woods had the touchdowns for Weaver.

The Raiders' last win in the series was 2014, at the end of a four-game winning streak that were their only wins in the series before Friday night. They had won only one other time in the Bearcats' stadium.

"Weaver took that last playoff spot the last two years when we were one game short," Nix said. "I don't think there's a kid in our locker room who's ever beaten Weaver. Every year it seemed like it was us and Weaver; sometimes it was early, sometimes it was late. For our kids to get over that is huge for them."

Cover photo of Pleasant Valley's Brody Phillips racing to the end zone for one of his three first-half touchdowns by Greg Warren.
Alexandria 34, Boaz 14
Nate McCallum rushed for 225 yards and three touchdowns on 27 carries and the Valley Cubs pulled away from a close game with 21 points in the third quarter for their second victory of the season and first in region play.

McCallum had two touchdown runs of six yards and one of 24. Ronnie Royal rushed for 108 yards on 15 carries and scored two touchdowns, one on a 65-yard run and another on one of his two interception returns. The Valley Cubs rushed for 390 yards as a team.

The Pirates scored first and led 14-13 at halftime, but Alexandria shut them out in the second half.
White Plains 31, Ashville 20
Jaden Chatman threw for 223 yards and three touchdowns and rushed for another as the Wildcats (2-2) snapped a two-game losing streak and scored their first region win for coach Chandler Tyree on Homecoming.

Chatman completed 15 of 22 passes and scored on a 20-yard run with his only carry of the game. He threw two touchdowns to Teddy Hall and one to Ethan Bozarth. Hall caught six passes for 170 yards.

Jaden Harris was White Plains' leading rusher with 126 yards and a touchdown on 16 carries.

On a down note, Carson Wright, one of the Wildcats' big playmakers the last two years, suffered a dislocated elbow and may be lost for the season.

The Wildcats are now at an early crossroads. They have the same record they did a year ago at this time, winning and losing against the same set of teams, but didn't win again after beating the Bulldogs on the road.

Jacksonville 35, Cherokee County 28
JACKSONVILLE – Luke Jackson threw a pair of touchdown passes to Jaeden Barksdale in a 21-point first quarter and the Golden Eagles held on to extend their region winning streak to 15 games.

Ron Wiggins went 65 yards the second time he touched the ball to open the scoring 52 seconds into the game and Jackson threw scoring strikes to 55 and 27 yards to Jaeden Barksdale to stake the Golden Eagles to a 21-0 first-quarter lead.

Wiggins rushed for 180 yards on 21 carries. Jackson completed 11 of 18 passes for 142 yards and three scores.

Jacksonville held a 21-point halftime lead as the teams traded four touchdowns in the final 5:30 of the second quarter. Centre's Slade Alexander threw a 10-yard scoring pass to Damien Ramsey, Barksdale returned the ensuing kickoff 67 yards for a score, Alexander capped the ensuing drive with a 19-yard run and Jackson threw a 10-yard pass to Yessman Green with 23 seconds left in the half.

The Warriors made it a one-score game going into the fourth quarter on touchdowns by Ramsey (a 13-yard run) and Alexander (a 3-yard run).

Both teams turned over their next possessions and then turned over time-consuming drives on downs. The Golden Eagles ran out the final 2:36 to preserve the victory.
Ohatchee 50, Cleveland 7
CLEVELAND – Ohatchee running back Domonique Thomas scored five touchdowns in the first half, returned the second half kickoff to the 1 and then retired for the night.
 
"He was on fire," Indians coach Scott Martin said. "He was just dominant. He made one (touchdown run) he broke the safety's ankles twice. I'm going to send that in for one of the plays of the week (statewide and nationally).
 
"He played really good on both sides of the ball. It is another one where you say what a great night, but he just ceases to entertain you, let me put it that way. He is really special and he looked it tonight."
 
The game was delayed about 30 minutes by lightning that was miles away with Ohatchee ahead 22-6. Eli Ennis intercepted a pass on the first play back from the delay and Thomas went 44 yards for his fourth touchdown.

Thomas rushed for 185 yards on 11 carries in the game. He now has 597 yards on 39 carries – a whopping 19.9 yards per carry – and 11 touchdowns in three games. Ryker Lambright rushed for 110 yards on five carries in the game. The Indians' other two touchdowns were scored by Lambright and Tyler Waters.

The Panthers had scored 102 points in their first two games of the season, but they managed only one first-half touchdown against Ohatchee. The Indians have outscored their three opponents this season 152-31.
 
"I thought we played pretty danged good defensively," Martin said. "When you go on the road and win big like that it's a good feeling. You've got to br able to take your good game on the road. You can't just play good at home."

Oneonta 44, Hokes Bluff 13
ONEONTA – David Hall rushed for 123 yards and three touchdowns, Collin Moon rushed for 126 yards and the Oneonta defense held Hokes Bluff's Darrian Meads to 88 yards rushing and one touchdown as the Redskins upset the No. 2 team in Class 4A.

Hokes Bluff, playing its first road game of the season, scored first on Ashton Gulledge's 3-yard run, but Oneonta scored the next four touchdowns to 24 straight points to take a halftime lead it would never relinquish.

The Eagles hadn't lost a road game since their road opener in 2017 at Jacksonville (28-27). They had won their last 12 on the road and beaten Oneonta three straight years.

Oneonta 44, Hokes Bluff 13
| | | |
| --- | --- | --- |
| HB (13) | | One (44) |
| 7 | First downs | 23 |
| 31-102 | Rushes-yds | 47-299 |
| 4-11-0 | Passing | 7-12-0 |
| 87 | Passing yds | 88 |
| 0-0 | Fumbles-lost | 0-0 |
| 7-28.9 | Punts-avg | 5-35.0 |
| 2-15 | Penalty yds | 6-55 |
Hokes Bluff 7 0 6 0 – 13
Oneonta 14 10 6 14 – 44
Scoring plays
HB – Ashton Gulledge 3 run (Jadan Burns kick), 9:38 1Q
O – David Hall 40 run (Erick Vargas Pineda kick), 7:52 1Q
O – Eli Buse 38 pass from Brody Pinyan (Erick Vargas Pineda kick), 1:17 1Q
O – David Hall 2 run (Erick Vargas Pineda kick), 8:54 2Q
O – Eric Vargas Pineda 32 FG, 4:16 2Q
HB – Darrian Meads 20 run (kick failed), 9:37 3Q
O – David Hall 1 run (kick failed), 2:00 3Q
O – Collin Moon 16 run (Eric Vargas Pineda kick), 10:35 4Q
O – Austin Nix 7 run (Eric Vargas Pineda kick), 4:44 4Q