Third time a charm
After two runner-up finishes, Bowen, Etter claim Buddy Moore title; 
McGatha, Rogers battle first-round leaders on back nine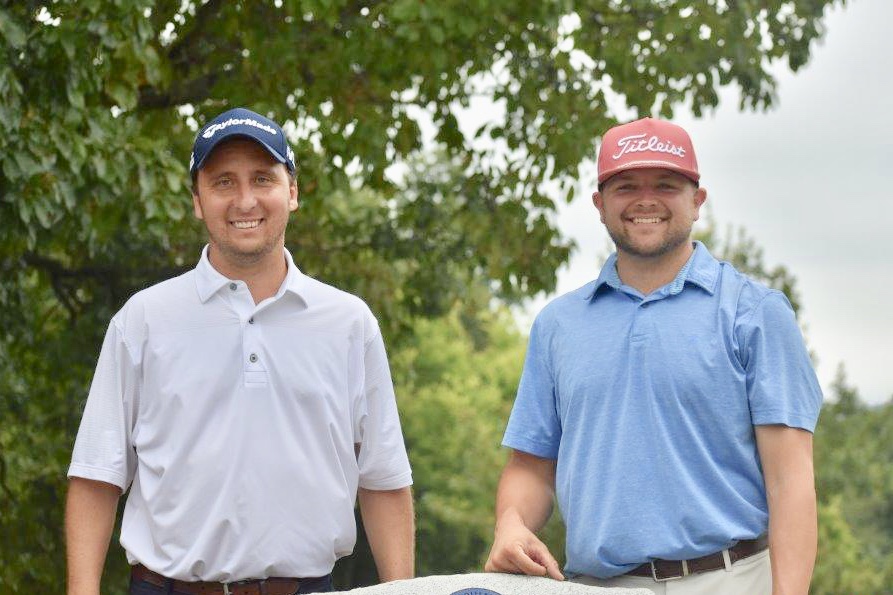 By East Alabama Sports Today
 
In what became a classic shootout on the back nine, Caleb Bowen sank a slippery 15-foot putt for birdie on 17 to give his team the lead and it held on through the final hole to win the Buddy Moore Charity Golf Tournament for the first time and gain a bit of redemption from a gut-wrenching loss the year before.
 
Bowen and partner Cory Etter shot a final-round 57 in Sunday's scramble at Anniston Municipal for a two-day total of 29-under 111 that edged Jeremy McGatha and Matt Rogers by a shot. McGatha and Rogers had the best round of the day, a 16-under 54 that matched the eventual champions' opening-round score.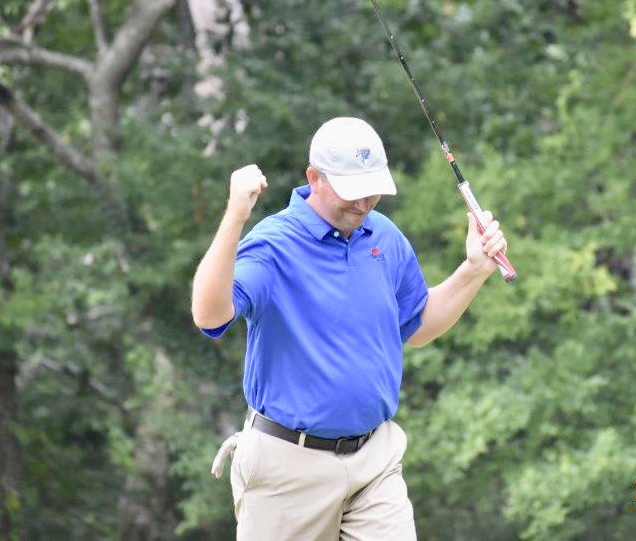 Bowen and Etter had finished second twice before as partners in this tournament, including last year when Brennan Clay made a 25-foot eagle on the last hole after B&E held a five-shot lead at the turn.
 
They carried a four-shot lead into Sunday's final round, but were caught on 11 when Rogers chipped in for birdie. The teams basically matched hole for hole the rest of the way until Bowen made his birdie on 17. Both teams birdied 18.
 
"It was some kind of golf out there today," Bowen said. "They were playing unbelievable and we were trading blows with them. They would knock us on the chin and we would knock back.
 
"That putt on 17 was one of those kinds that if it does not go in it could roll all the way off the green. It was not easy, but it went in for us … We were fortunate to get the win and it was a lot of fun out there."
 
The most popular viewing spot for any tournament at The Hill is the area right behind the second green. Rogers gave that gallery plenty to cheer about – twice – when he rolled in a birdie putt on No. 2 and when he chipped in from off the green to tie the leaders when they came back around to play it as 11.
 
Both shots came from the middle shelf to a pin set on the upper tier.
 
"The putt on 2 was good and they yelled and screamed, but the chip goes down in my personal golf Hall of Fame," Rogers said, comparing it to the 2005 chip-in Tiger Woods made on 16 at Augusta, a shot they turned into a commercial. "They think they have roars at Augusta; they just went crazy. It was the loudest I ever heard up there.
 
"It was good to do something when you have the chance, and when you do it twice in a day that's really good."
 
Reaching 30-under-par was firmly in both teams' sights as they went to 15 at 26-under, but they both parred 15 and both birdied 16.
 
Both teams almost drove the green on 17. McGatha pitched up to 20 feet, Bowen to 15. McGatha and Rogers both missed their putts, and Rogers missed with a mulligan. Bowen coaxed his fast putt into the hole to give his team a one-shot lead.
 
"I said if they can make that putt above the hole they've done something," Rogers said.
 
Even though Bowen and Etter had the lead, the same situation presented as last year where they could have had their heart ripped out again with another eagle at 18.
 
Etter and Bowen were off to the left of the green some 25 feet in the rough with their second shot. Rogers and McGatha, trying to win their fourth title, were about 100 feet away.
 
Etter came up with a beautiful chip to within four feet and Bowen tapped it in for a birdie. Rogers and McGatha also birdied, but they needed eagle to force a playoff.
 
"Our goal was to try to get to 30-under and we could win this thing," Etter said. "We both played our game and Caleb was there when he was needed. It was so much fun to play with guys like Jeremy and Matt. They are such good golfers to go up against and they some of the better golfers in our county."
BUDDY MOORE TOURNAMENT
Final scores
Buddy Flight
Cory Etter-Caleb Bowen 54-57—111
Jeremy McGatha-Matt Rogers 58-54—112
Brennan Clay-Layton Bussey 59-57—116
Clay Calkins-Chris Hubbard 60-61—121
Lenn Coffey-Tee Brown 59-62—121
Chip Howell-Jay Miles 61-65—126
Gary Wilborn-Janson Wilborn 60-68—128
Johnny Barnes-Charles Carden 61-68—129
Lamar Carter-Bruce Collins 60-72—132
 
Mary Ann Flight
Randy Burke-Danny Weeks 63-60—123
Gage Miller-Allen Mangham 62-61—123
Jason Johnson-Landon Straub 63-62—125
Jim Ramey-Scott Murphree 63-63—126
Danny Whittaker-Gary Thomas 63-64—127
George Salmon-Chris Maye 63-64—127
Will Brown-Austin Minter 63-64—127
Frank Brady-Landon Winfrey 62-65—127
Adrian Geeting-Chase Hollingsworth 63-65—128
Jackson Bonner-Matt Hunter 62-69—131
Byron Preston-Brian Simpson 63-69—132
 
Scott Flight
Daniel Clonts-Brett Key 64-64—128
Ted Heim-Garrett Heim 65-63—128
David Ramey-Greg Shultz 67-65—132
Michael Herndon-Tony Strickland 65-67—132
Chris Randall-James Randall 65-67—132
Andrew Tyson-Guy Bradley 67-65—132
Mark Gaines-Andy Jenkins 66-69—135
Kelly Rogers-T.J. McGatha 66-70—136
Scott Moore-Will Prickett 66-71—137
Derek Webb-John Roe 66-71—137
Tim Mullendore-Mike Braxton 67-74—141
 
Angie Flight
Steve McClellan-Ron Wheeler 68-68—136
David Hill-David Fitzgerald 68-69—137
Steve Akers-Grady Sapp 69-68—137
Henry Donald-Rob Reynolds 72-67—139
Steve Rogers-Keith Gann 72-69—141
Donnie McGinnis-Ron Dulaney 70-73—143
Jay Jenkins-Matthew Wright 71-72—143
Ken Renfroe-Konner Renfroe 72-74—146
Steve Mullendore-Will Mullendore 72-75—147