Early leaders
Etter-Bowen post 54, lead Buddy Moore after the morning wave; could a 30-under be in their future?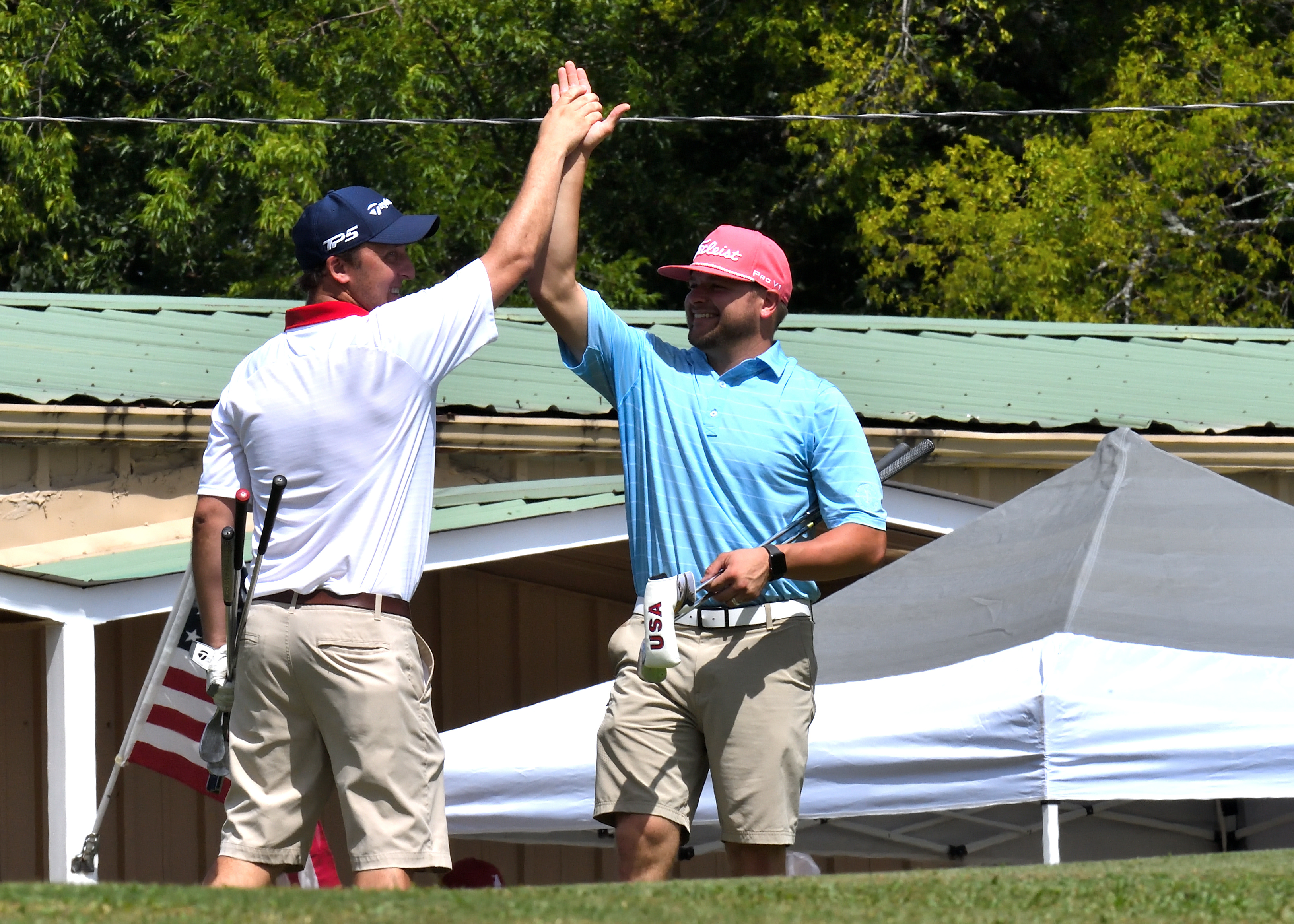 By Al Muskewitz
East Alabama Sports Today

Remember when they said 50-under-par was an impossible number in the Sunny King Charity Classic, and it happened this summer? Can the same thing happen if the number is 30-under in the Buddy Moore Charity Scramble at Anniston Municipal?

Cory Etter and Caleb Bowen made a run at it last year before stalling on the back nine Sunday and they appear to be in position again this year after shooting 16-under 54 (28-26) in Saturday's opening round.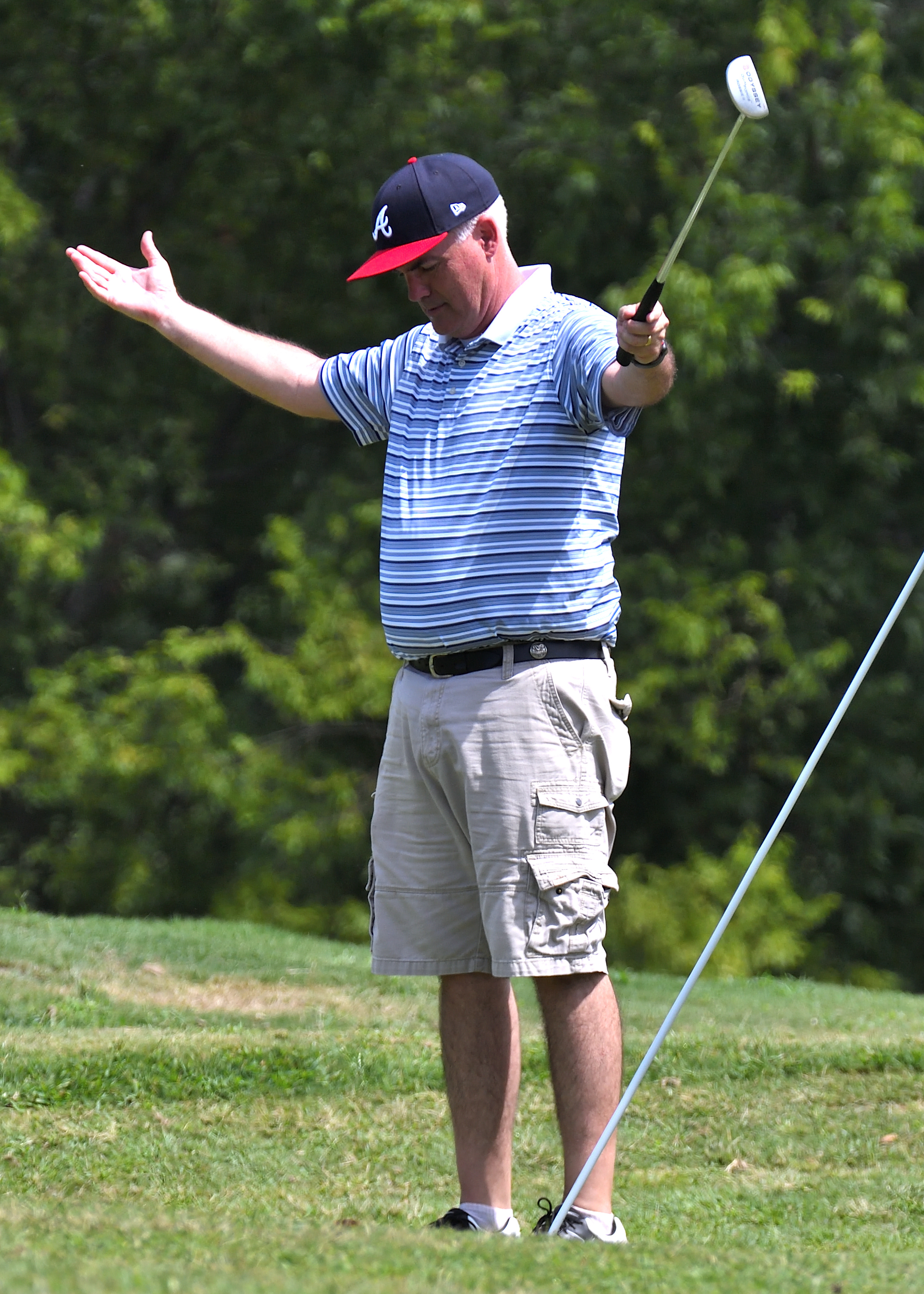 "It really is (possible)," Bowen said. "We have the same format tomorrow. Today we had a legitimate chance (to go deeper).  We should've made the last putt to get to 17. Anything kind of like that tomorrow kind of makes that (30) possible."
 
They hold a four-shot lead over Jeremy McGatha and Matt Rogers. Brennan Clay-Layton Bussey and Lenn Coffey-Tee Brown are both another shot back.
 
Last year Etter and Bowen were 23-under after 27 holes and held a five-shot lead over Brennan Clay and Andrew Brooks, but then inexplicably the birdies stopped landing. They shot only 2-under on the back and lost when Clay made a 25-foot eagle putt on 18 after Brooks rolled his attempt over the hole.
 
"I can't lie and say it's not in the back of your mind; that was just a heartbreaking way to lose it," Bowen said. "It wasn't their last putt. To shoot 9 on the front and have a five-shot lead and we just couldn't hit it close or buy a putt (on the back).
 
"For us to play the back nine – we shot 9 there today – I don't think we can play with no mulligans that back nine again ever and shoot 2-under. It's nuts. I don't know how it happened, but it did."
 
Saturday's round was highlighted by back-to-back eagles on 18 and 1, the tail end of an eight-hole stretch between the three-tiered par-3s (11/2) in which they shot 10-under-par. Etter chipped in from 40 feet on 18 and Bowen made the putt on 1 after Etter hit a pitching wedge to 15 feet.
 
They could've taken it deeper but parred their first and last holes (missing a five-foot uphill putt on the finishing fifth), parred 2 and 11, and burned both of their mulligans making a five-foot birdie putt on 9.
 
"Our goal tomorrow is to go out and try to get to 8- or 9-under on the front," Etter said. "If we can do that, that ought to set us up pretty good."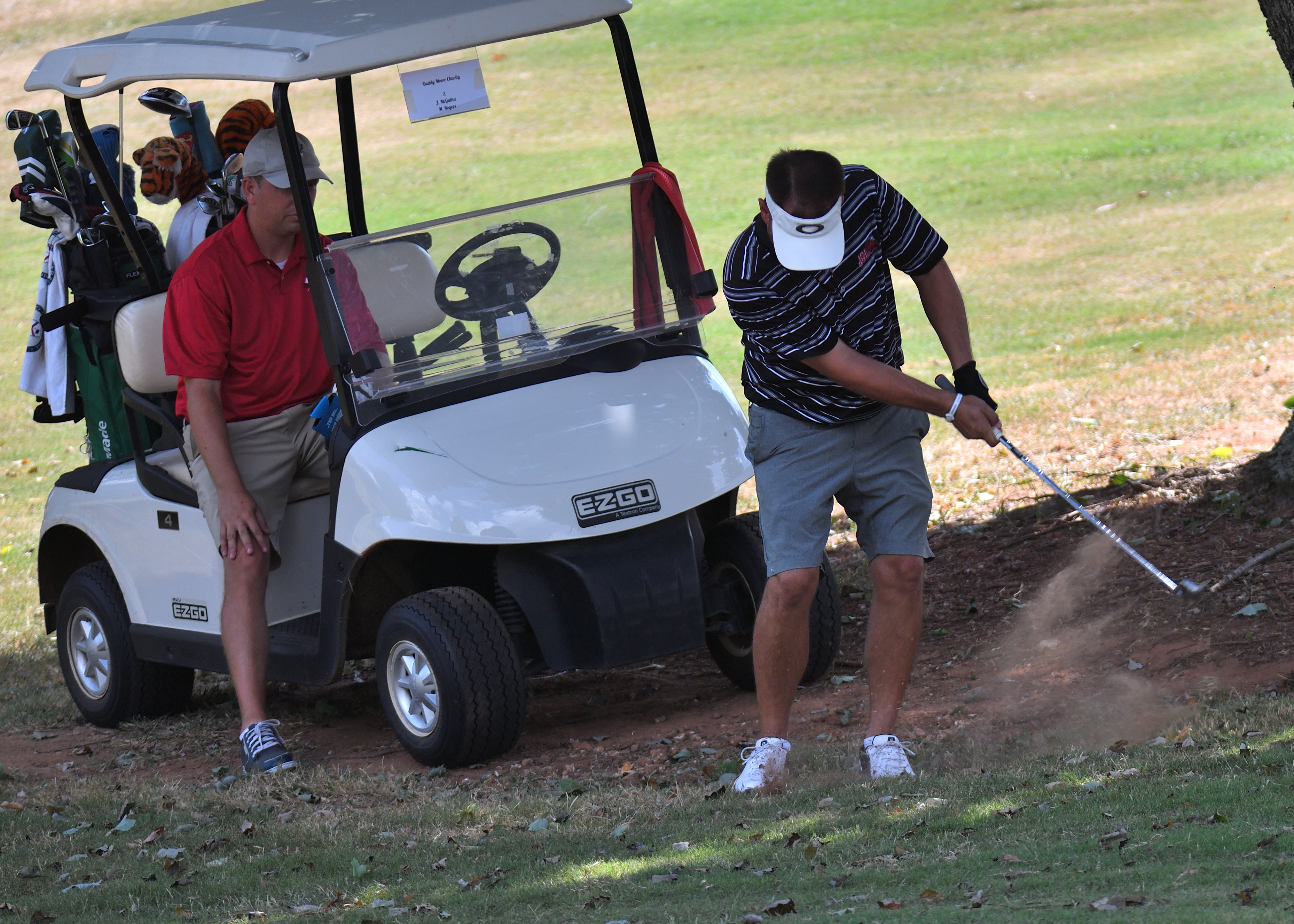 To see more photos from the round click this link: www.bjfranklin.smugmug.com

BUDDY MOORE TOURNAMENT
Buddy Flight
Cory Etter-Caleb Bowen 28-26—54
Jeremy McGatha-Matt Rogers 29-29—58
Brennan Clay-Layton Bussey 29-30—59
Lenn Coffey-Tee Brown 27-32—59
Lamar Carter-Bruce Collins 30-30—60
Gary Wilborn-Janson Wilborn 30-30—60
Clay Calkins-Chris Hubbard 29-31—60
Chip Howell-Jay Miles 29-32—61
Johnny Barnes-Charles Carden 31-30—61

Mary Ann Flight
Frank Brady-Landon Winfrey 31-31—62
Gage Miller-Allen Mangham 31-31—62
Jackson Bonner-Matt Hunter 31-31—62
Jason Johnson-Landon Straub 31-32—63
George Salmon-Chris Maye 32-31—63
Danny Whittaker-Gary Thomas 32-31—63
Adrian Geeting-Chase Hollingsworth 33-30—63
Byron Preston-Brian Simpson 34-29—63
Randy Burke-Danny Weeks 31-32—63
Jim Ramey-Scott Murphree 30-33—63
Will Brown-Austin Minter 31-32—63

Scott Flight
Daniel Clonts-Brett Key 30-34—64
Ted Heim-Garrett Heim 32-33—65
Chris Randall-James Randall 32-33—65
Michael Herndon-Tony Strickland 33-32—65
Derek Webb-John Roe 35-31—66
Mark Gaines-Andy Jenkins 34-32—66
Scott Moore-Will Prickett 31-35—66
Kelly Rogers-T.J. McGatha 33-33—66
David Ramey-Greg Shultz 32-35—67
Tim Mullendore-Mike Braxton 33-34—67
Andrew Tyson-Guy Bradley 35-32—67

Angie Flight
David Hill-David Fitzgerald 33-35—68
Steve McClellan-Ron Wheeler 34-34—68
Steve Akers-Grady Sapp 34-35—69
Donnie McGinnis-Ron Dulaney 34-36—70
Jay Jenkins-Matthew Wright 34-37—71
Henry Donald-Rob Reynolds 36-36—72
Steve Rogers-Keith Gann 36-36—72
Ken Renfroe-Konner Renfroe 35-37—72
Steve Mullendore-Will Mullendore 38-34—72

Sunday tee assignments
8 a.m. shotgun
1B: Clonts-Key, Heim-Heim
1A: Randall-Randall, Herndon-Strickland
2: Webb-Roe, Moore-Prickette
3: Rogers-McGatha, Gaines-Jenkins
4: Ramey-Shultz, Tyson-Bradley
5: Braxton-Mullendore, McClellan-Wheeler
6: Akers-Sapp, Hill-Fitzgerald
7: McGinnis-Dulaney, Jenkins-Wright
8: Mullendore-Mullendore, Donald-Reynolds
9: Renfroe-Renfroe, Rogers-Gann

1 p.m. shotgun
1B: Etter-Bowen, McGatha-Rogers
1A: Clay-Bussey, Coffey-Brown
2: Wilborn-Wilborn, Calkins-Hubbard
3: Carter-Collins, Howell-Miles
4: Barnes-Carden, Miller-Mangham
5: Brady-Winfrey, Bonner-Hunter
6: Johnson-Straub, Salmon-Maye
7: Ramey-Murphree, Whittaker-Thomas
8: Geeting-Hollingsworth, Preston-Simpson
9: Burke-Weeks, Brown-Minter