Ty-ing it all together
Cole completes wire-to-wire win in Calhoun County Championship, his fifth win on the County Tour this season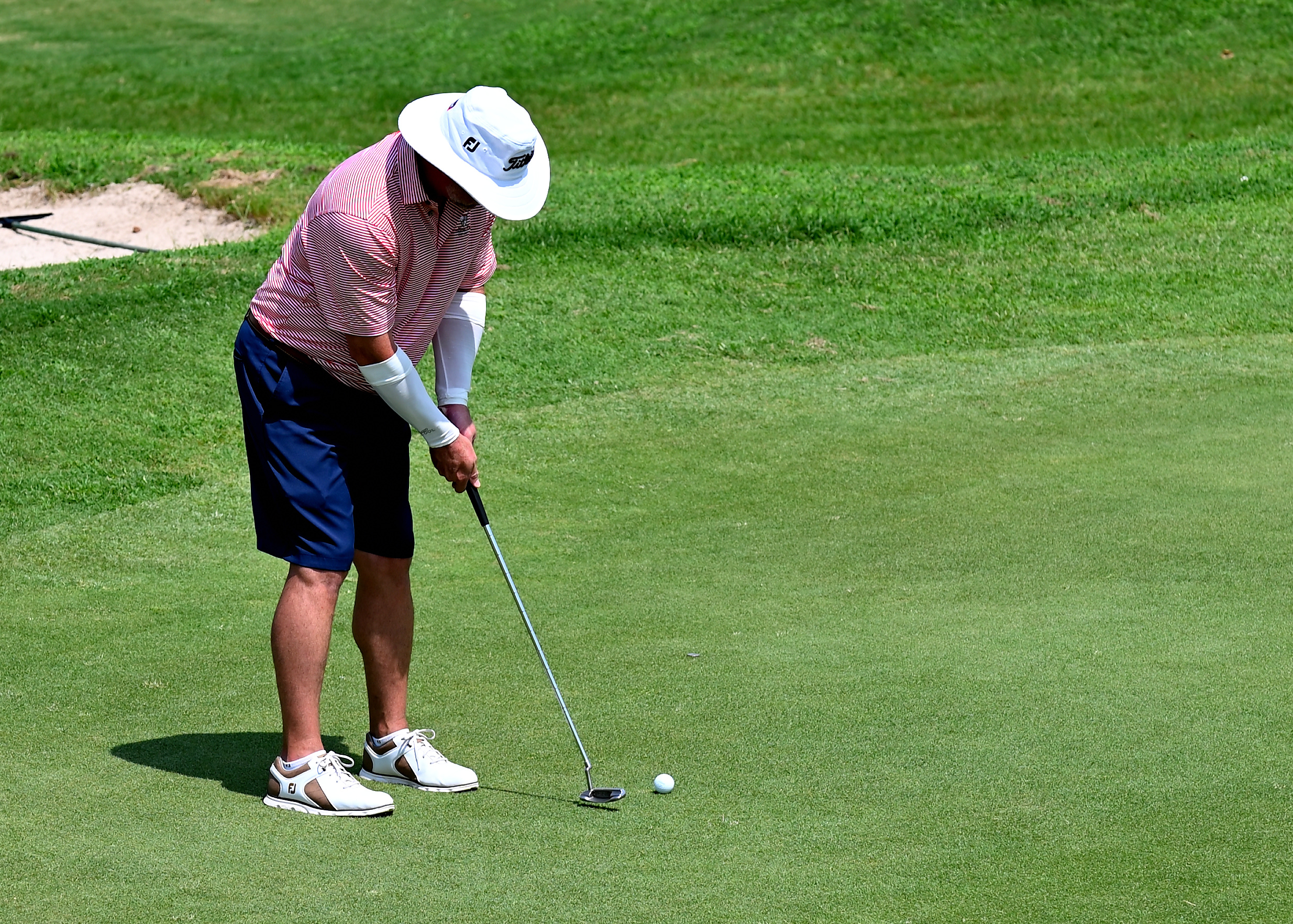 By Al Muskewitz
East Alabama Sports Today

It wasn't a 57, but it was plenty good enough to win another tournament.

Ty Cole shot a final-round 68 Sunday to complete a wire-to-wire victory in the 83rd Calhoun County Championship at Anniston Municipal Golf Course and the most dominant season by any player in the history of the Calhoun County Golf Tour.

Cole went into the round with a five-shot lead after a Tour and course-record 57 in the opening round and his two-day total of 15-under-par 125 was three shots better than runner-up Jeremy McGatha. Brennan Clay finished third (131) after posting the best round of the day (64).

It was Cole's record fifth win on the Calhoun County Golf Tour this season and 18th since joining the Tour. He locked up the Player of the Year the day before and finished with the maximum points available under the current points format.

In addition to the victories, Cole finished the year with a 67.94 stroke average with 11 of 18 rounds in the 60s or better, seven rounds of 66 or better and only three rounds over par. He averaged 14.2 greens in regulation, made 92 birdies and got up-and-down from the greens he did miss at a 59 percent clip.

Cole's round Sunday was nowhere near as spectacular as the day before; how could it be? He didn't birdie any of the par-5s, had one bogey and made three birdies despite hitting 17 of 18 greens.

"It was a tough day," Cole said. "I shot stupid (low) yesterday and it is always tough to come back and do it again, but as a whole it was a good day and a good year for me."

McGatha chipped away at the lead where he could after an early bogey and did get within two shots with two holes to play after coming within inches of a hole-in-one on 16, but Cole turned back the threat with a birdie on the next hole. It was McGatha's eighth runner-up finish in the Calhoun County Championship (to go with three wins).
 
"I'm tired of second; second sucks," McGatha said. "He gave me every chance to catch him and I didn't walk through the door. I hit some good shots where I really put pressure on him and didn't make the putt. A 66 is a good score on Sunday but when you're five back you've got to be thinking 61, 62, 63 and I just couldn't do it."
 
For third-place finisher Clay, his final-round 64 represented a positive end to an otherwise plain season. It was his best individual score ever in tournament conditions. He had seven birdies, highlighted by two strings of three in a row (6-7-8 and 15-16-17).
 
His best finish this Tour season prior to Sunday was a fifth in the Etowah Open at Briarmeade.
 
"The last month and a half, since the Sunny King, I've played pretty decent," he said. "Could've been better at Briarmeade, could've been better at Pine Hill, but I'm actually starting to hit it pretty good. That's the best finish I've had here. This place has kind of beat me up, I haven't played great here, so it was good. It was fun to finally get a good round in."

The bracket for the Calhoun County Match Play Championship was determined at the conclusion of play. Here are the unofficial 16 seeds and first-round matches: No. 1 Ty Cole vs. No. 16 Ott Chandler, No. 2 Jeremy McGatha vs. No. 15 Jonathan Pate, No. 3 Gary Wigington vs. No. 14 Matt Rogers, No. 4 Brennan Clay vs. No. 13 Layton Bussey, No. 5 Adrian Geeting vs. No. 12 Scott Martin, No. 6. Justin Graveman vs. No. 11 Caleb Bowen, No. 7 Randy Lipscomb vs. No. 10 Chad Calvert, No. 8 Daniel Black vs. No. 9 Dalton Chandler. Alternates: Frank Brady, Clay Calkins, Andrew Brooks, Tyler Dopson.

NOTES: Cole also won the County in 2013, 2015 and 2018. He joins Milton Wigley and Ott Chandler as four-time winners of the event. The all-time record is six (Chris Banister, Eric Hamilton, Gary Wigington) … Talk about crazy cards, Dalton Chandler (67) picked up some early ground with a 4-under through 6 with three birdies and an eagle, and Layton Bussey (65) had seven birdies, four bogeys, six pars and an eagle. … After further review, Danny Whittaker won the low putts prize in Saturday's round.  Specialty prize winners on Sunday went to Andrew Miller, Jeff Borrelli, Timmy Woodard and McGatha (closest to the pin) and Keaton Borrelli and Caleb Bowen (long drives) … The only holes that didn't have a birdie during the afternoon wave was the one that had the biggest gallery (2 and 11). … While not an event on the Calhoun County Tour, next week's Marshall County Open at Big Spring Lake GC in Albertville is expected to attract several local players. Call the pro shop for details (256-878-4403) … The next event on the Calhoun County golf schedule is the Buddy Moore Tournament in two weeks at The Hill.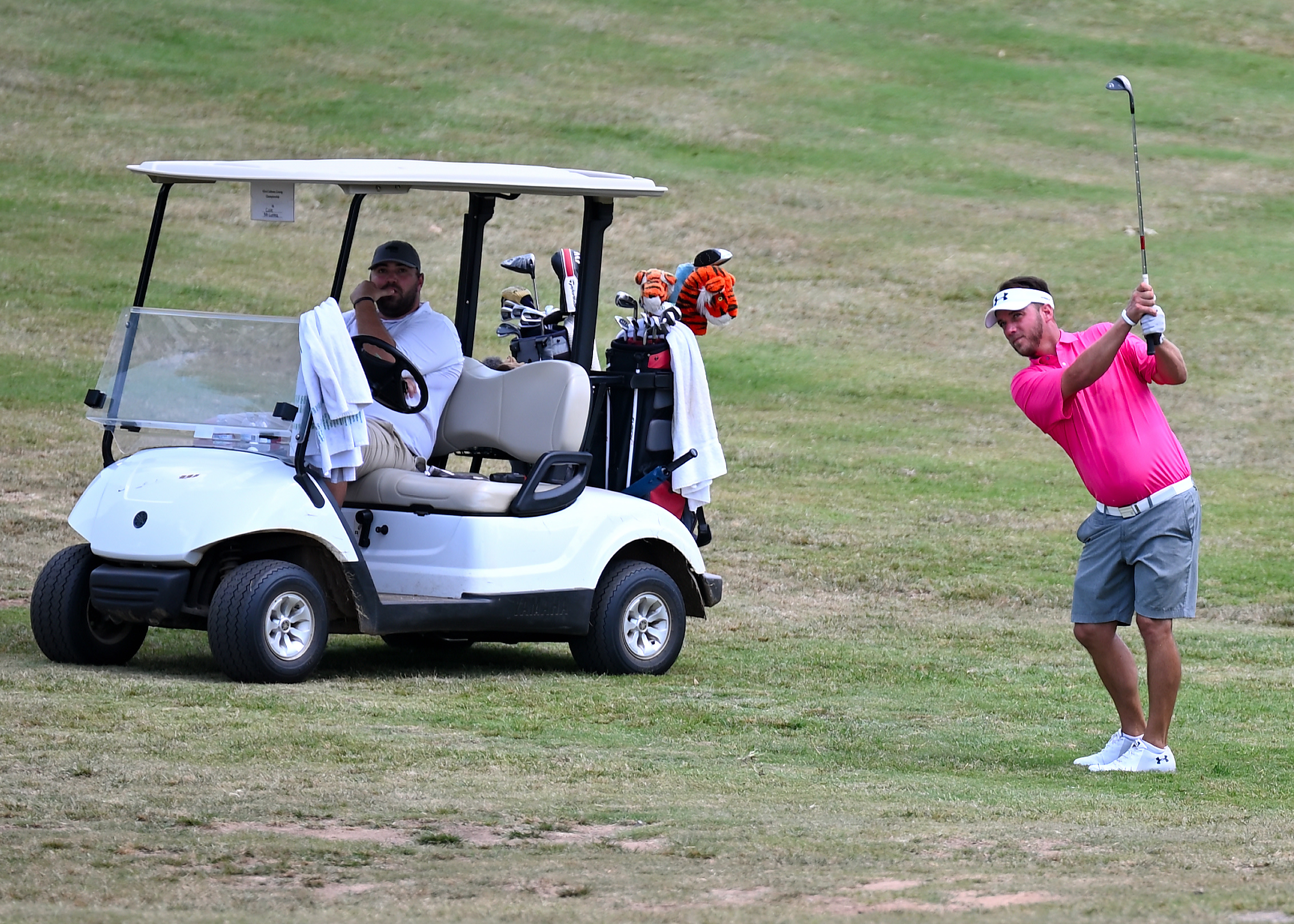 CALHOUN COUNTY CHAMPIONSHIP
Championship A
Ty Cole 57-68—125
Jeremy McGatha 62-66—128
Brennan Clay 67-64—131
Justin Graveman 66-67—133
Dalton Chandler 66-67—133
Ott Chandler 66-68—134
Tanner Wells 67-69—136
Jonathan Pate 67-69—136
Adrian Geeting 64-73—137
Caleb Bowen 67-71—138
Daniel Black 67-74—141

Championship B
Billy Thompson 68-66—134
Chad Calvert 69-66—135
Gage Miller 68-70—138
Matt Rogers 68-71—139
Andrew Brooks 68-71—139
Randy Lipscomb 69-74—143
Jake Goggans 69-74—143
Nate Griffin 69-74—143
Tyler Dopson 69-75—144
Keith Raisanen 69-75—144

First flight
Nick Pollard 70-69—139
Chris Hubbard 70-72—142
Tony Hicks 70-73—143
Frank Brady 70-73—143
Lamar Carter 70-75—145
Jason Johnson 70-75—145
Will Brown 70-78—148
Jeff Borrelli 70-78—148
Lenn Coffey 70-78—148
Danny Whittaker 70-84—154

Second flight
Layton Bussey 71-65—136
Landon Straub 71-71—142
Clay Calkins 72-72—144
Brian Woodfin 71-76—147
Landon Winfrey 71-76—147
Robin Wood 72-77—149
Mike Lett 72-77—149
Ron McClellan 72-78—150
Chase Hollingsworth 71-79—150

Third flight
Andrew Miller 73-72—145
Chip Howell 74-72—146
Randy Watson 75-74—149
Payton Bradley 75-74—149
Tim Steward 73-77—150
Don Hill 75-76—151
Byron Preston 75-76—151
George Salmon 75-77-152
Chase Thomas 73-79—152
Chad Mullinax 73-79—152
Kenny Fulmer 74-83—157
Andrew Tyson 75-80—155
Nick Hubbard 74-WD

Fourth flight
Timmy Woodard 78-70—148
Chris Randall 77-73—150
Mike Hughston 77-76—153
Keaton Borrelli 77-77—154
Allen Mangham 77-77—154
Mark Gaines 76-78—154
Will Broome 76-79—155
Johnny Barnes 77-78—155
Tim Dennison 77-80—157
Mark Cotton 77-86—163
Cameron McCareeth 77-78—165

Fifth flight
Kenneth Patterson 80-73—153
Cal Lambert 80-75—155
Ted Heim 78-78—156
Al Johnson 79-79—158
Trent Lott 79-79—158
Tyler Teneyck 78-82—160
Chris Reaves 80-82—162

Sixth flight
Kelly Rogers 81-78—159
Dennis Austin 82-78—160
Brad Hardin 84-79—163
Will Coker 83-83—166
Bruce Collins 81-88—169
Gene Hicks 91-87—178
Brad Young 81-WD

CALHOUN COUNTY MATCH PLAY CHAMPIONSHIP
(Unofficial first-round matches)
Buddy Moore Bracket
No. 1 Ty Cole vs. No. 16 Ott Chandler
No. 8 Daniel Black vs. No. 9 Dalton Chandler
No. 5 Adrian Geeting vs. No. 12 Scott Martin
No. 4 Brennan Clay vs. No. 13 Layton Bussey
Chris Banister Bracket
No. 3 Gary Wigington vs. No. 14 Matt Rogers
No. 6 Justin Graveman vs. No. 11 Caleb Bowen
No. 7 Randy Lipscomb vs. No. 10 Chad Calvert
No. 2 Jeremy McGatha vs. No. 15 Jonathan Pate