Bussey's big day
Former White Plains golfer fires career-best 63 to lead Pine Hill Invitational; entire championship flight (18 players) under par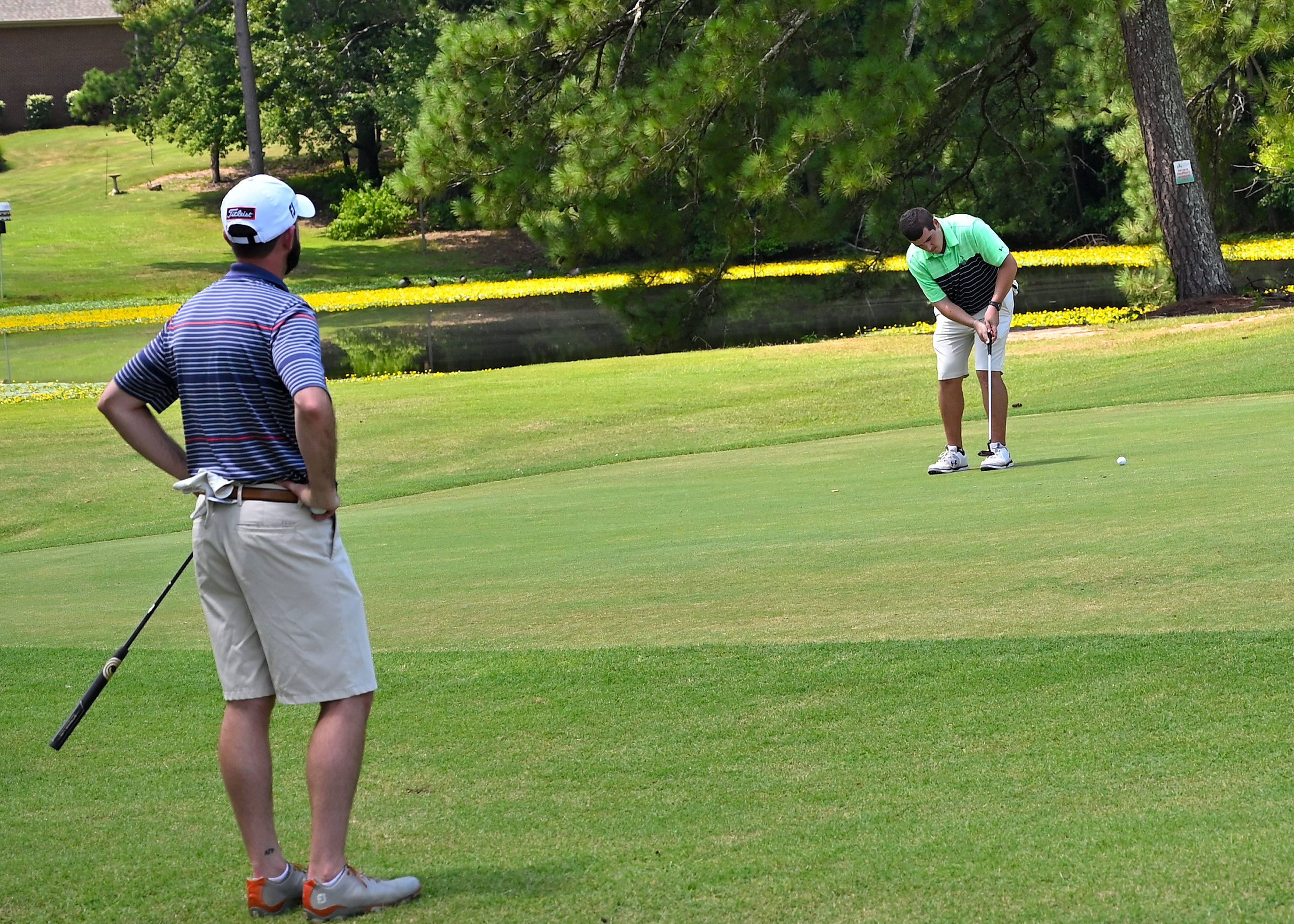 By Al Muskewitz
East Alabama Sports Today

Layton Bussey hadn't been too happy with his golf game of late. Heck, he hadn't even been in the country the past few weeks to practice.

But there's something about playing Pine Hill Country Club that brings him a level of comfort regardless of the state of his game.

Bussey has had some good golf things happen to him here and he added to those good memories Saturday with a bogey-free 9-under-par 63 to grab the first-round lead over a record field in the Pine Hill Invitational.

The former White Plains county medalist and Jacksonville State junior leads by one over Dalton Chandler and two over Jonathan Pate. Defending champion Gary Wigington is at 66.

"I've been playing really bad," Bussey said. "I never come out here and play but I've done some good things out here so I just tried to have some positivity about me. I know every blade of grass on this course even though there's not always that many of them.

"We just got back from Germany two days ago. We played some but no practice, just playing a bunch of courses I didn't know, so I wasn't super confident in my game. Played a practice round yesterday, shot like even, went home and got out in my driveway and hit some tee balls across the road, worked on my driver and got that sorted out. That's really all it was. I made some decent putts today and did what I needed to do, I guess."

Bussey had seven birdies and an eagle, and had opportunities to go even deeper. A big hitter, he parred two of the par-5s.

Two shots punctuated the day. He drove the eighth green to set up a 15-foot eagle putt and he hit a brilliant recovery shot onto the 17th green after blowing his tee shot to the back of that same eighth green. The recovery shot, punched under the trees and over a bunker, stopped 10 feet from the hole; his birdie putt for 10-under did a 180 around the hole.

"I had a lot of good things happen today out there," he said. "I'm not going to say oh my gosh it could have been 59. I played good. I hit the bad shots where I could and hit the good shots when I had to."

Chandler didn't come in with any expectations, either. He had been on working in Ohio and Virginia the last two weeks and hadn't picked up a club since finishing T-13 in the Sunny King Charity Classic with his dad.

The layoff didn't seem to affect him. He made a 20-foot birdie on 2 and was 4-under through six holes after consecutive birdies on 4, 5 and 6, and played bogey free. He birdied all four par-5s.

"I didn't know what was going to happen," he said. "I still know how to play golf, I didn't forget, but I just hadn't been practicing a lot. I didn't think I'd shoot 8."

Pate had to scramble on the first hole to make par, but after that he never struggled to make par again. The 65 matched his best round on the County Tour; he shot a 5-under 65 in the first round of last year's County Championship at Anniston Municipal.

"It was a really smooth 65," he said. "I just got up and down on the holes I should for birdie. I missed probably three birdies inside six feet today and I missed a short eagle putt on 17 (but made the birdie). My driver was good, my irons were straight, I hit most of the greens today. It was nothing exciting, I just made the birdies where I should out here.

"My goal today was to do 3-under on each side, so to birdie that last to get to 7 (under) was icing on the cake."

Pate has been a regular in the final group here the last couple years. He started out fast and didn't play badly the second day, but usually his final rounds had been around par as the other leaders pulled away.

"If I can hit it as good as I did today then I think I'll have a chance," he said.

Wigington has been fighting his swing most of the year, but no matter how much it gets away he always can count on Pine Hill to bring him back. He has won this tournament five of the last six years and got into the mix Saturday by tying his best round against par this season. He was 6-under in the second round of the ACC Invitational and shot 66 in the final round of last week's Etowah Open at Briarmeade

He was 5-under through 11, bogeyed 14 and then birdied his last two holes of the day. At one point in the round he had 11 straight one-putt greens. Over the past seven years he is a combined 44-under-par in the opening round at Pine Hill. His final-round scoring average in his five wins is 65.2

"I'm starting to hit it a little better now," he said. "Earlier in the week I kind of figured out a little something in the swing there. I haven't had as many shots way off the mark and that's what's been killing me all year and when I did I was fortunate enough to get up there and make a par."

Getting his 17thCounty Tour win just a week from his 50thbirthday would be a special thrill.

"That'd be nice," he said. "At our age there's just a few of them left – wins and birthdays."

Among the three players tied at 67, Caleb Bowen had the wildest ride. He had seven birdies and eagled No. 7 with a hole-out from 80 yards. He birdied the first three holes on the back, nearly holing out for another eagle on 10, to get to 5-under, but back-to-back bogeys on 13 and 14 and a three-putt par on 15 dropped him back to 3-under, but he recovered the shots with back-to-back birdies on 16 and 17.

"Today is the most frustrating 67 I've ever shot," Bowen said. "It was a very frustrating round to have that many low scores on the hole. I'm standing on 16 tee 3-under and I've got five birdies and an eagle, but getting the two back on 16 and 17 was huge. I scored really, really well, I just had a couple careless, careless mistakes."

NOTES: With 136 players in the field, Championship Sunday will take on a PGA Tour feel. The leaders tee off at 2:20 p.m. … Bussey went to Germany for two weeks and stayed with JSU teammate Max Basler. On the trip he got the chance to do a few laps at the famous Nurburgring racing complex. How fast did he go? "Not as fast as we went on the Autobahn by ourselves, but fast," he said. … Chandler has played in only four other County Tour events since winning Player of the Year in 2017 and had two top-five finishes (both at ACC) … Even with back-to-back three-putts, Bowen still only had 28 putts in his round … Closest to the pin prize winners were Wigington (No. 3), Dalton Faulkner (No. 4), Landon Winfrey (No. 14) and Clay Calkins (No. 16).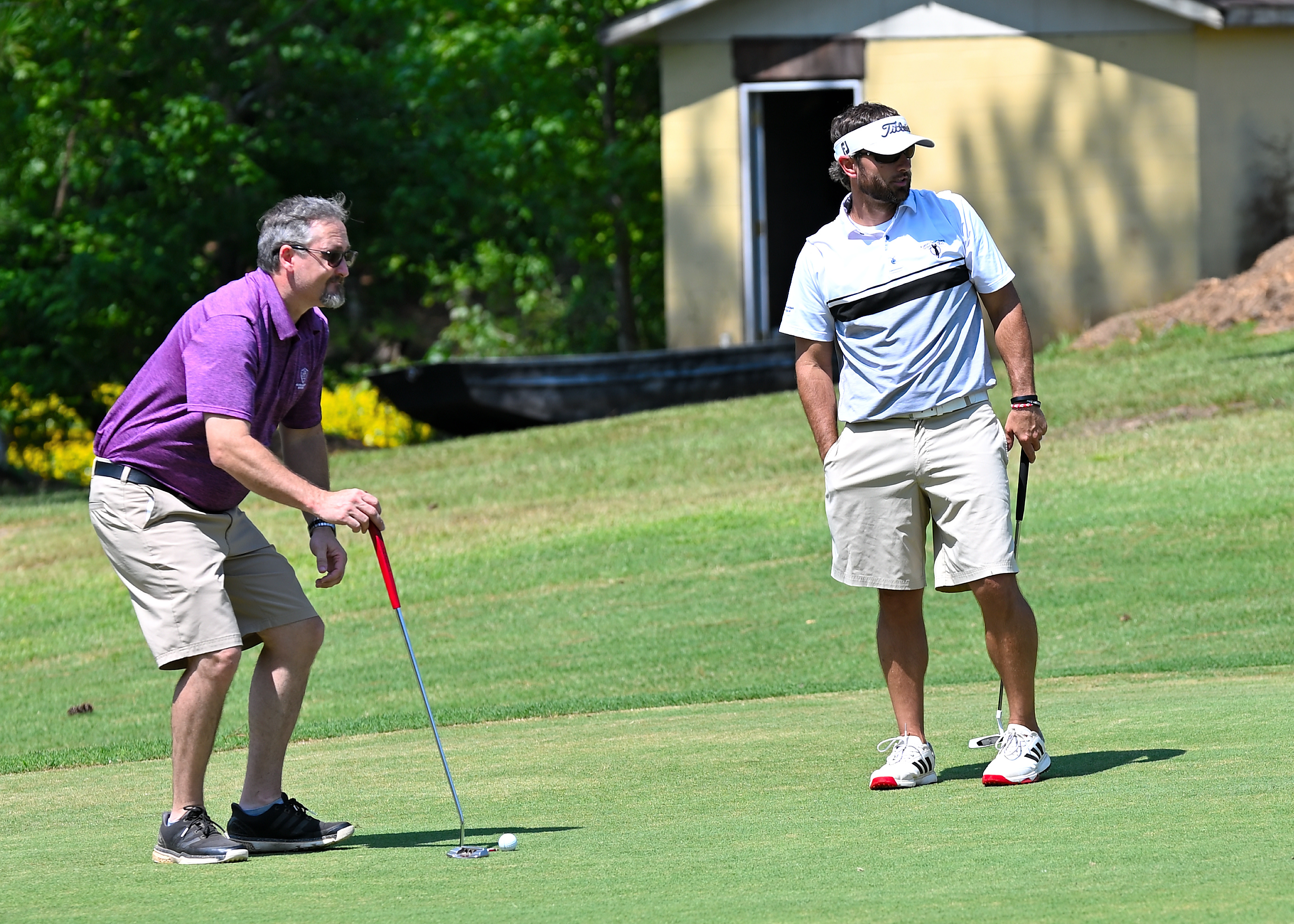 PINE HILL INVITATIONAL
First-round scores
Championship flight
Layton Bussey 32-31—63
Dalton Chandler 32-32—64
Jonathan Pate 33-32—65
Gary Wigington 33-33—66
Caleb Bowen 34-33—67
Jeremy McGatha 34-33—67
Frank Brady 34-33—67
Rick Okins 34-35—69
Kenny Okins 36-33—69
Clay Calkins 36-34—70
Brennan Clay 34-36—70
Daniel Black 36-34—70
Mason Dennis 34-36—70
Billy Thompson 38-32—70
Ty Cole 35-36—71
Scott Martin 34-37—71
Adrian Geeting 35-36—71
Lamar Carter 38-33—71

First Flight
Daily Thomas 37-35—72
Will Brown 38-34—72
Tony Hicks 37-35—72
Tyler Dopson 38-35—73
Chip Howell 38-36—74
Bruce Collins 40-34—74
Matt Rogers 39-36—75
Nick Hubbard 38-37—75
Nathan Griffin 38-37—75
Rob Vernon 37-38—75
Andrew Miller 38-37—75
Chase Hollingsworth 39-36—75
Gage Miller 38-37—75
Paul Shelly 42-34—76
Landon Winfrey 37-39—76
Chase Thomas 39-37—76
Ethyn Roberts 37-39—76
Charlie Smith 40-36—76
Chance Harris 38-38—76
Wesley Jenkins 39-37—76
Lenn Coffey 40-36—76
Nick Pollard 39-37—76
Rich Etter 39-37—76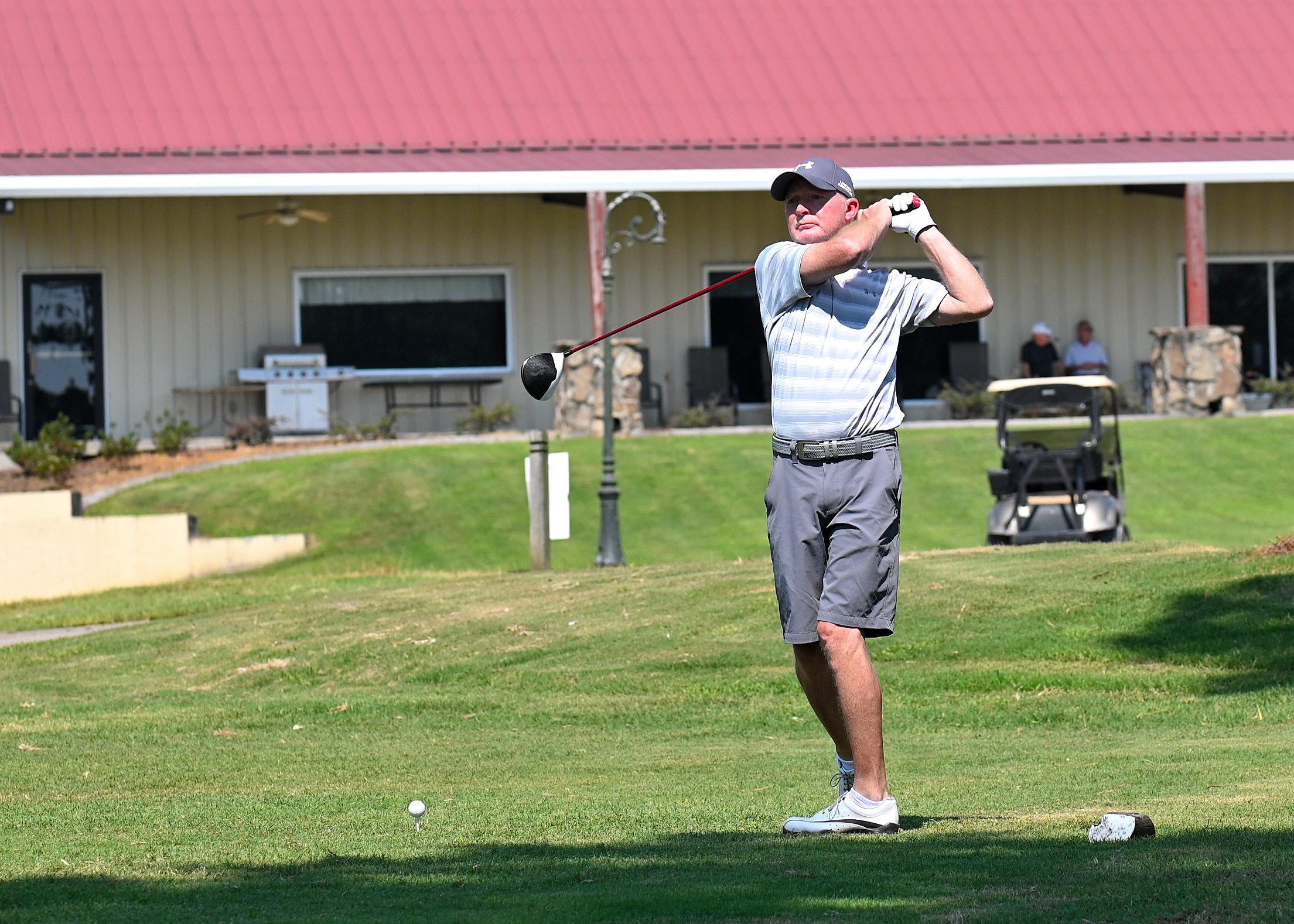 Second flight
Kenneth Patterson 37-40—77
Jason Johnson 42-35—77
Landon Straub 38-39—77
Allan Mangham 39-38—77
Hank Smith 40-37—77
Josh Hicks 38-39—77
Tyler Putnam 38-39—77
Heath Waldrop 38-40—78
Graham Morrow 39-39—78
Trenton Lott 37-41—78
Al Johnson 37-42—79
Tyler Teneyck 41-38—79
Kobie Webb 38-41—79
Jim Thomas 38-41—79
Don McClellan 43-36—79
Johnny Barnes 36-43—79
Ray Doss 39-41—80
Dan Griffin 41-39—80
Cody Grammer 38-42—80
Steve Taylor 41-39—80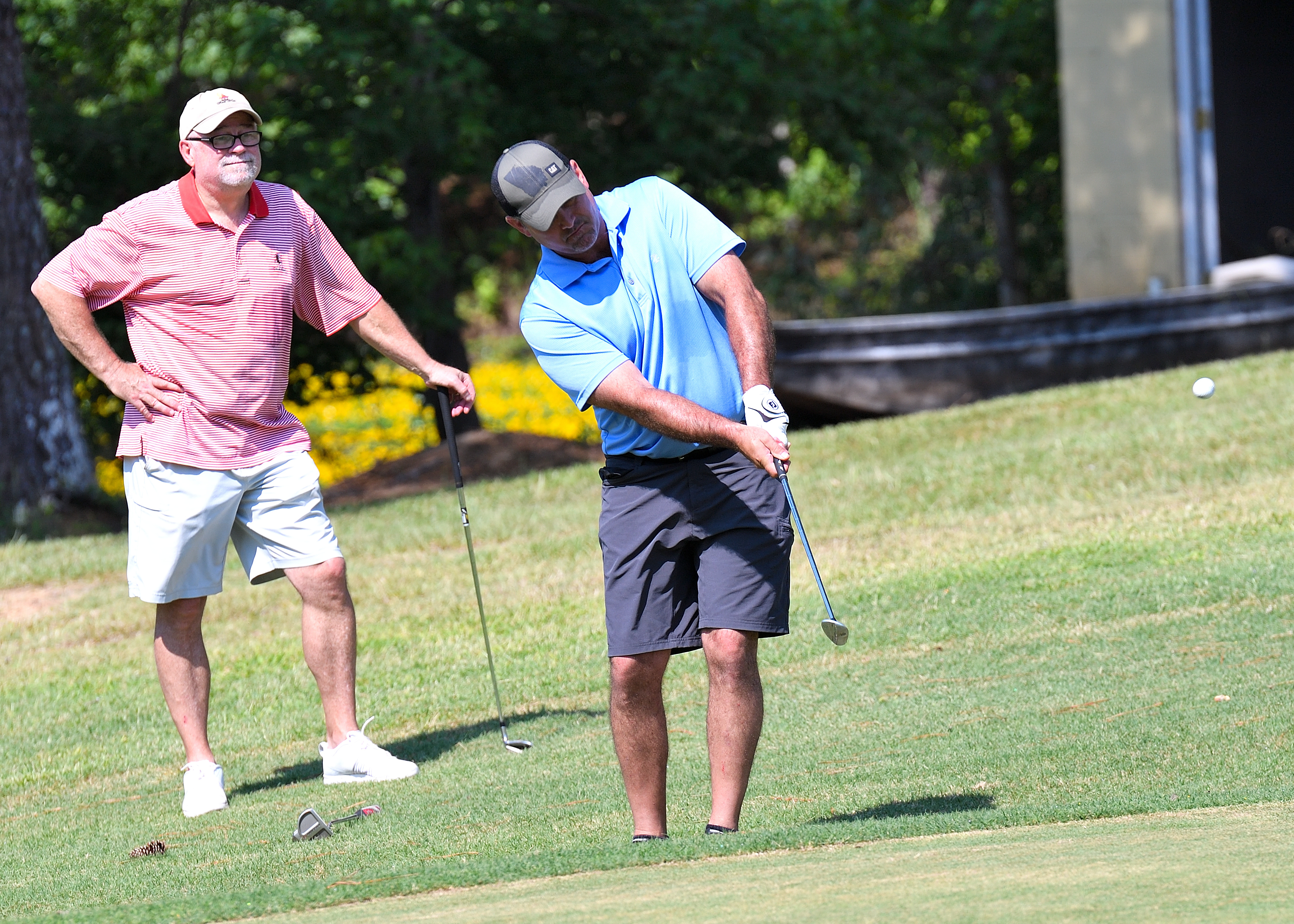 Third flight
Mark Cotton 42-39—81
Josh Davis 43-38—81
Keith Raisanen 37-44—81
Jimmy Ingram 42-39—81
Marcus King 41-40—81
Mike Lett 42-40—82
Sean Kline 40-42—82
Cole Fuller 42-40—82
Dalton Faulkner 40-42—82
Casey Harmon 38-43—82
Greg Harrelson 40-43—83
Landon Holley 42-41—83
Brad Young 40-44—84
Cain Hollingsworth 41-43—84
Tom Liles 45-39—84
Porter Stokes 41-43—84
Ricky Hurst Jr. 43-41—84
Houston Black 42-42—84
Justin Dopson 41-43—84

Fourth flight
Derek Webb 41-44—85
Brad Hardin 48-37—85
Kelly Rogers 42-44—86
Rick Saylor 42-44—86
Nick Ledbetter 44-42—86
Don Hill 42-45—87
Greg Rainey 42-45—87
Ricky Carden 41-46—87
Adam Benefiel 45-45—90
Wayne Boyd 42-48—90
Cal Lambert 42-49—91
Austin Hurst 51-41—92
Matt Hartdegan 45-47—92
Todd Pilkington 48-47—95
Mike Ledbetter 47-48—95
Gary Tieck 49-47—96
Daniel Ricks 46-51—97
Jason Payne 47-54—101
Al Pinson 60-51—111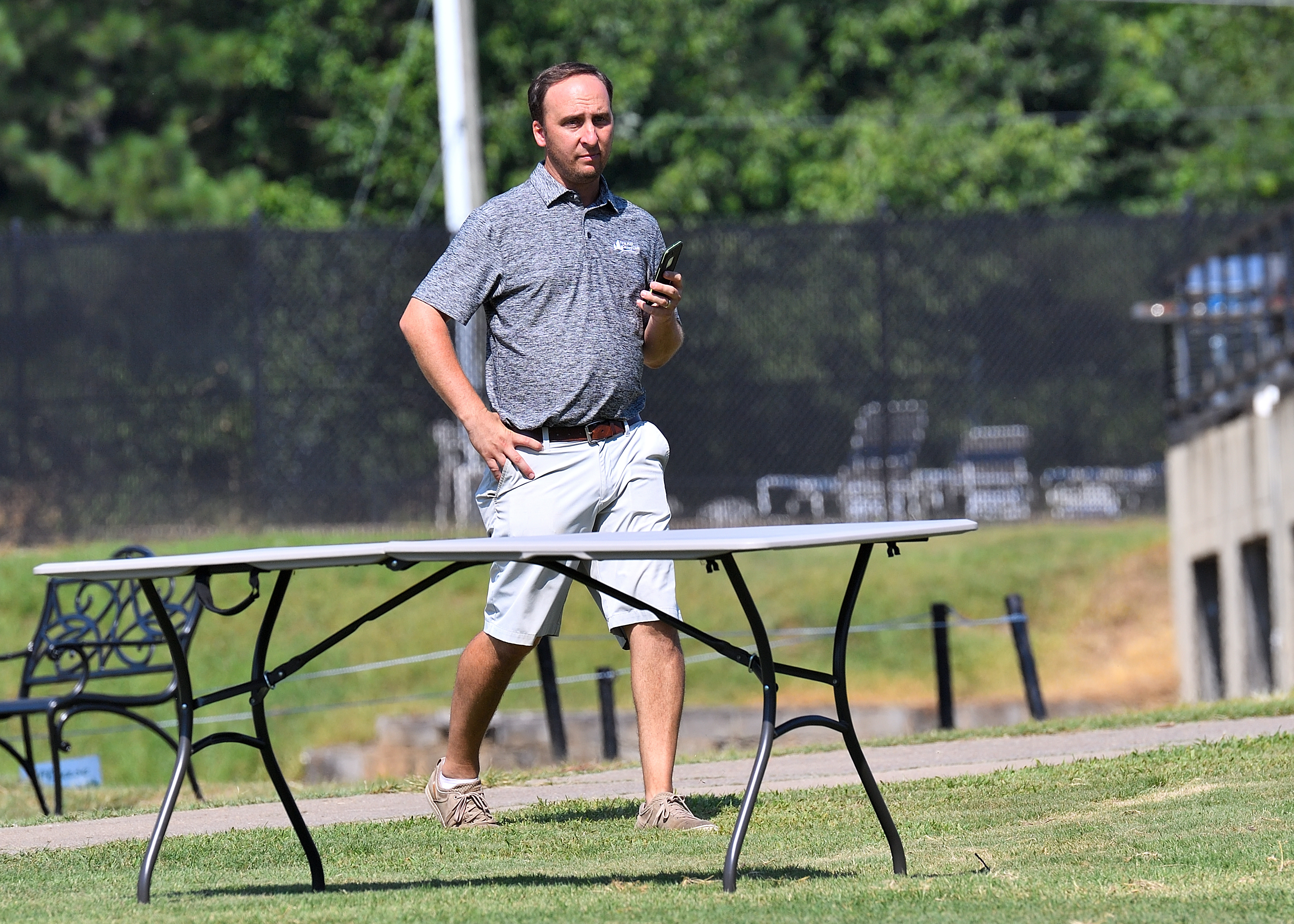 SENIORS DIVISION
Championship flight
Jerry Irwin 36-36—72
Ron McClellan 39-34—73
Randy Liles 36-38—74
Ted Heim 37-37—74
Robbie Hurst 37-38—75
Ron Fleming 35-40—75
David Sanders 39-36—75
Ben Surrency 37-39—76
Mike Thompson 41-36—77
Morris Mink 38-39—77

First flight
Keith Haywood 39-39—78
Ron Wheeler 40-38—78
Ricky Hurst 37-41—78
Tim Steward 38-41—79
Rick Taylor 40-40—80
David Medders 41-39—80
Bob McClain 40-41—81
Carter Gable 40-41—81
Eddie Reese 40-41—81
Randall Doss 37-44—81
Greg Johnson 38-43—81
Glenn Heathcock 39-43—82

Second flight
Lamar Ward 44-40—84
David Roden 43-41—84
Wayne Jackson 41-43—84
Randy Peppers 40-45—85
Keith Thomas 47-41—88
Rick Barthel 45-43—88
Richard Banks 47-42—89
Robbie Robertson 42-48—90
Tim Davis 46-44—90
Gary Smith 45-45—90
Richard Sexton 46-46—92
David Stephens 50-48—98
Gary Singleton 49-49—98
Frank Cobb 49-51—100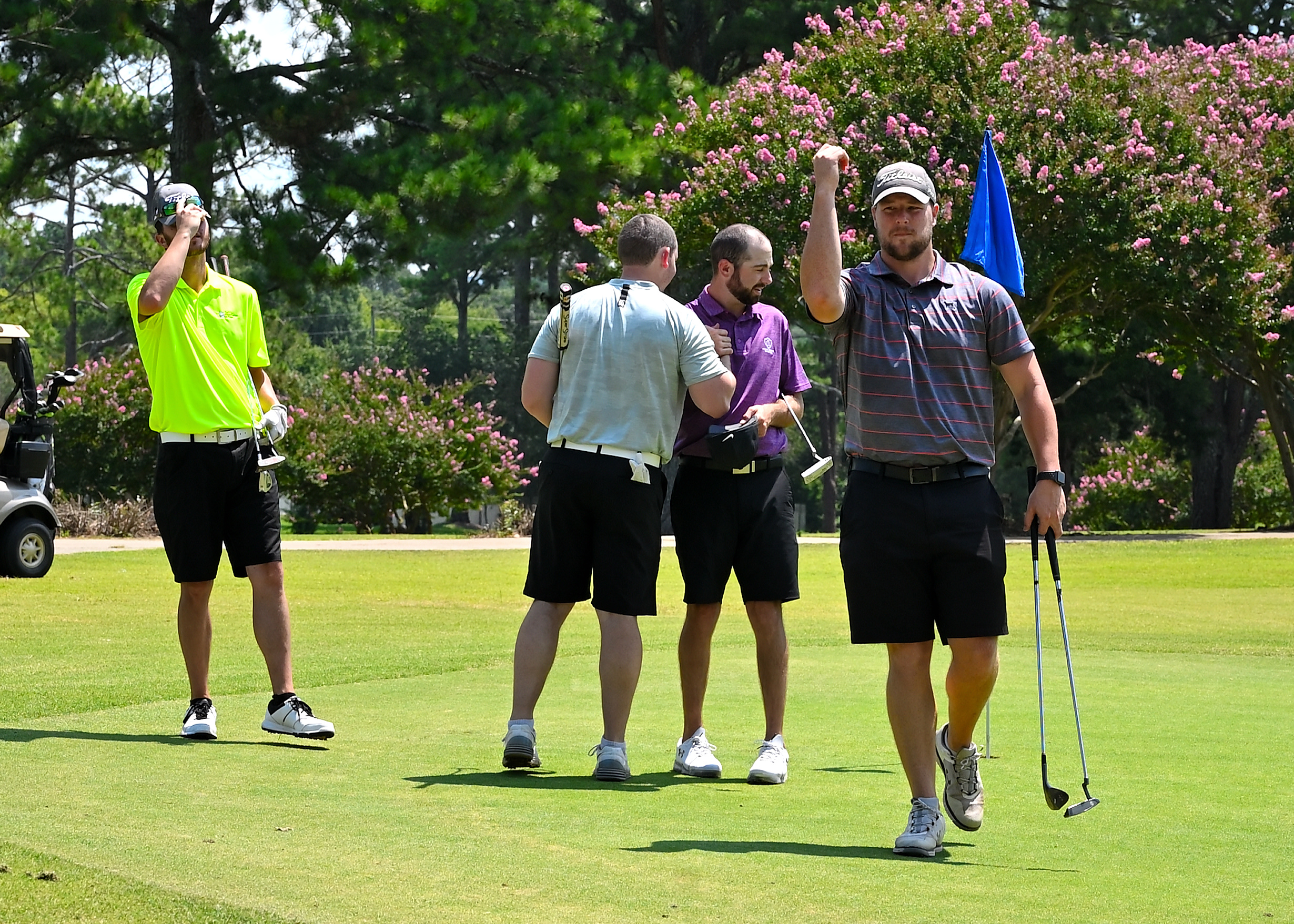 Sunday's tee times
6:40 a.m. – Frank Cobb, Gary Singleton
7:00 – Rick Barthel, Keith Haywood
7:20 – Randy Peppers, Gary Tieck, Al Pinson, Todd Pilkington
7:30 – Wayne Jackson, David Medders, Richard Sexton, Glenn Heathcock
7:40 – Rob Vernon, Kelly Rogers, Johnny Barnes, Derek Webb
8:00 – Ron Wheeler, Dvid Roden, Richard Banks
8:10 – Jim Thomas, Josh Davis, Lamar Ward, Greg Johnson
8:30 – Jason Payne, Daniel Ricks, Matt Hartdegan
9:00 – Randall Doss, Robbie Robertson, Gary Smith, David Stephens
9:10 – Al Johnson, Tyler Teneyck, Don Hill, Mark Cotton
9:20 – Ricky Hurst, Ricky Hurst Jr., Austin Hurst, Ben Surrency
9:30 – Casey Harmon, Landon Holley, Nick Ledbetter, Mike Ledbetter
10:00 – Heath Waldrop, Sean Kline, Kobie Webb, Greg Rainey
10:10 – Houston Black, Rick Saylor, Adam Benefiel, Brad Young
10:20 – Tim Davis, Eddie Reese, Dalton Faulkner, Porter Stokes
11:00 – Chase Hollingsworth, Chance Harris, Rick Taylor, Robbie Hurst
11:10 – Wesley Jenkins, Gage Miller, Andrew Miller, Rich Etter
11:20 – Greg Harrelson, Keith Raisanen, Keith Thomas
11:30 – Allan Mangham, Landon Straub, Jason Johnson, Tyler Putnam
11:40 – Ray Ross, Cal Lambert, Cody Grammer, Trenton Lott
11:50 – Dan Griffin, Dan McClellan, Steve Taylor, Jimmy Ingram
Noon – Marcus King, Graham Morrow, Bruce Collins
12:10 p.m. – Nick Hubbard, Matt Rogers, Nathan Griffin
12:20 – Mike Lett, Cole Fuller, Cain Hollingsworth, Tom Liles
12:30 – Will Brown, Tyler Dopson, Tony Hicks, Daily Thomas
12:40 – Paul Shelly, Landon Winfrey, Chase Thomas, Ethyn Roberts
12:50 – Morris Mink, Bob McClain, Carter Gable
1:00 – Jerry Irwin, Ron McClellan, Ted Heim, Randy Liles
1:10 – Tim Steward, Mike Thompson, Ron Fleming, David Sanders
1:20 – Wayne Boyd, Ricky Carden, Brad Hardin, Justin Dopson
1:30 – Josh Hicks, Hank Smith, Kenneth Patterson, Nick Pollard
1:40 – Billy Thompson, Lamar Carter, Adrian Geeting, Chip Howell
1:50 – Charlie Smith, Scott Martin, Daniel Black, Ty Cole
2:00 – Mason Dennis, Brennan Clay, Clay Calkins, Kenny Okins
2:10 – Rick Okins, Frank Brady, Jeremy McGatha, Caleb Bowen
2:20 – Gary Wigington, Jonathan Pate, Dalton Chandler, Layton Bussey
To see more of B.J. Franklin's pictures from Round 1 click this link: www.bjfranklin.smugmug.com