Media Day a 'home run'
Coaches praise the opportunity to meet the press in long-awaited Calhoun County Football Media Day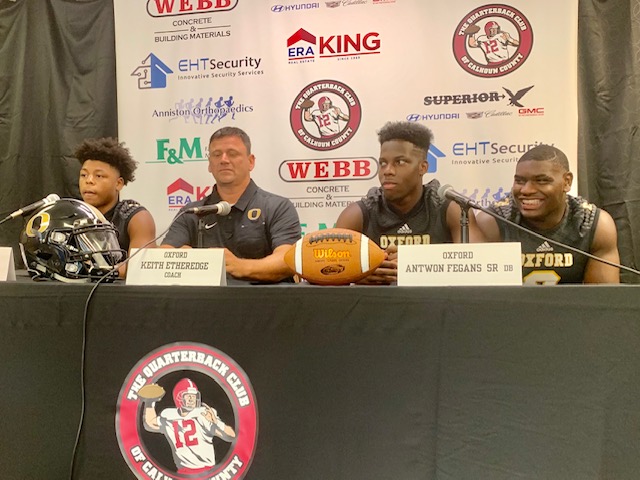 By Al Muskewitz
East Alabama Sports Today
 
One by one, from the newest to the longest-tenured, the head football coaches in Calhoun County sat at the head table and expressed appreciation and gratitude for participating in the inaugural Calhoun County Football Media Day, a day whose time was long overdue.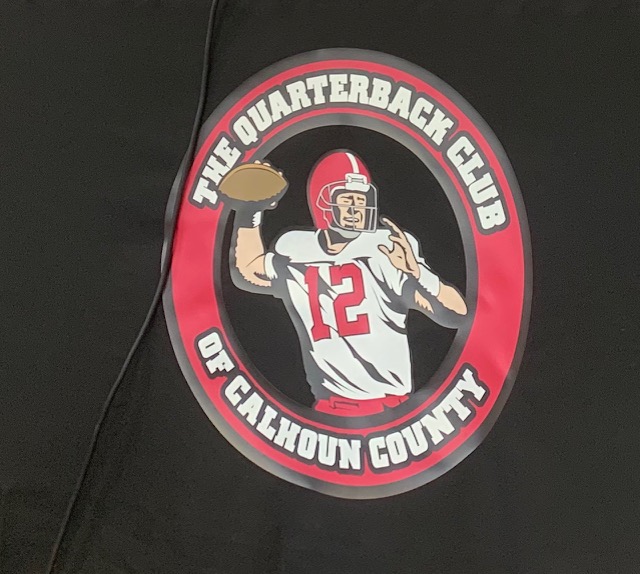 After nearly four entraining and informative hours of questions from various media of East Central Alabama and answers from all 12 county football programs at Anniston Country Club's 19th Hole, Doug O'Dell, former captain of the Calhoun County Quarterback Club, the day's presenter, proclaimed the event an unqualified success.
 
"For not ever having attended anything but an SEC Media Day I would say not only for myself, the schools, but the media and staff, we hit one out of the park today," O'Dell said. "For the first time, I think it was great … Everybody had a great time. Lots of great discussion about last season, this season, what people think of the future. I think high school football is alive and well in Calhoun County."
 
The day was full of storylines and anecdotes to fill a notebook to capacity. Here are a few snippets of story ideas you'll be reading today, in the preseason and during the season.
 
Read about Saks' coach Jonathan Miller's move to calling the team's offensive plays this season, how new Oxford coach Keith Etheredge got the nickname "Weepy" at one of his other coaching stops for the way he reacts when talking about special players, the inspiring story of Wellborn twins Dalton and Dylan Gilbert, who turned to football to bravely carry on after losing their dad at age 10, the picture Ohatchee running back Domonique Thomas keeps on his phone's lock screen, and more.
 
Here are a couple to get you started:
 
HEY, ISN'T THAT: After looking at the seal of the Calhoun County QB Club all day it was hard not to see the image of College and Pro Hall of Fame quarterback Terry Bradshaw in the player image. O'Dell would neither confirm nor deny the likeness in the logo, but ultimately confided "the face looks like Terry Bradshaw's."
 
TURNOVER: The influx of three new head coaches this year is the largest turnover in Calhoun County since 2015 (Donoho's Andy McWilliams, Pleasant Valley's Jonathan Nix and White Plains' Chris White). The largest year for turnover in the last 25 years was 2002 (six: Donoho, Oxford, Piedmont, Pleasant Valley, Saks and Wellborn). There were only three years during that same span with no turnover (2016, 2011 and 1996). 
 
OUCH: The Alabama high school football history website has Ted Darby listed as the head coach on its White Plains page. Of course, Darby never had it, failing to get approval by the Calhoun County board and Chandler Tyree was approved Thursday.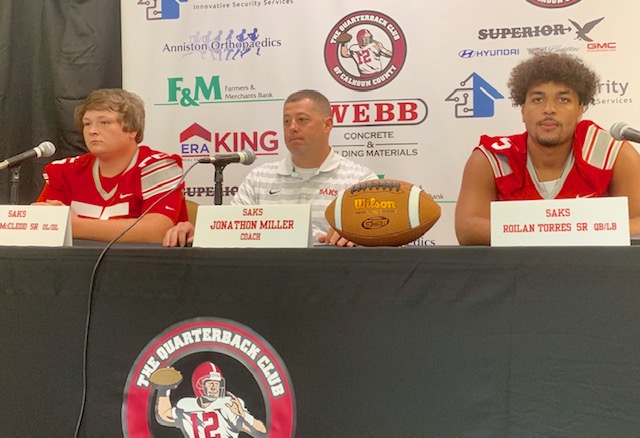 SAKS: With his former offensive coordinator off to run his own program, Wildcats coach Jonathan Miller has opted this season to come over to that side of the ball and call his team's offensive plays.
 
"I just decided that instead of bringing somebody new in I'm just going to take over that," he said. "I've done (defense) for 12-13 years, but I'm not going to do both."
 
Wes Ginn will take on a bigger role with the defense, but Miller, who starts his eighth season at Saks' head coach, won't be able to stay away. The situation was created when former OC Michael Easley took his first head coaching job at Munford.
 
"I don't look at it as giving it up because I'll still be involved on that side of the ball, too," he said. "I've been doing it a long time, so it will be a little bit different."
 
The Wildcats will continue to play fast, where possible – there's a 40-second play clock this year – but one thing you might see from his brand of play calling is a little more passing. The Wildcats plan on having a running back by committee, have several players who can make plays on the perimeter and returning quarterback Roilan Torres has improved as a passer.
OXFORD: Keith Etheredge has brought what the players call "a different swagger" to the Oxford football team and with an atmosphere not as uptight as they've felt it in the past they like it.
 
Etheredge came to the Yellow Jackets in May after Ryan Herring left for a head coaching job in South Georgia, and the players instantly noticed a change in the air. 
 
"He's brought a different kind of energy to the team," defensive back Antwon Fegans said among laughs that seemed to say you don't know the half of it. "It's just different."
 
"He brings a different swagger to us," added linebacker Jay Roc Swain.
 
Etheredge is also a coach who's not afraid to cry. He didn't say where it happened, but he had been given the nickname "Weepy" by one of his players for the way he's been known to tear up when talking about special players on his roster.
 
He choked back a few Friday when he talked about Yellow Jackets' running back J.B. Carlisle, who four-time state champion coach said may be the best running back he's ever coached, and he's had some outstanding ones.
 
"I get emotional when I talk about kids," he said. "Especially the real good ones."
 
The players find it endearing.
 
"That's like letting me know that he cares what my life is going to be about after high school," Swain said.
 
"It shows how much he got attached to us as soon as he got here," said Fegans. "He's only been here a couple months and it shows how much he loves us."
 
"Coach Etheredge cares about us (for) more than just football," added versatile Zay Britt. "It doesn't matter if we go 0-10 he's still going to love us and care for us and try to make us better fathers because that's the type person he is. Winning football games is just a bonus."
 
And the Jackets plan on winning a lot of football games this season. The goal is 15-0 and a state championship. Of course, the big hurdle is clearing Pinson Valley and Clay-Chalkville, the team that knocked them out in the third round each of the last two years.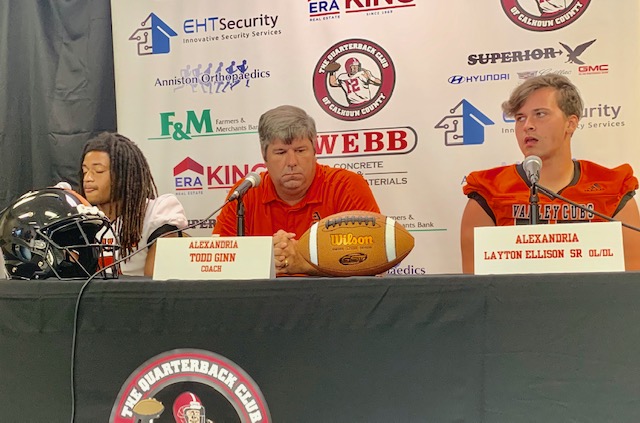 ALEXANDRIA: With a roster heavy on ninth- and tenth-graders, young is the word around the Valley Cubs' program. Look for them to play several quarterbacks especially early in the season as coach Todd Ginn tries to find a new No. 1. Two of the candidates are tenth graders, two of them are left-handed. It's anybody's guess who'll come out on top.
 
"We're still searching," Ginn said. "We hoped in the spring that we would see a guy really step forward. We thought against Lincoln in the spring game, I personally said I thought these guys are going to be OK; they looked pretty good in practice but when the game actually started people talk about a deer in the headlights that's what you saw immediately.
 
"We're probably going to play two or three especially early because different quarterbacks bring different things to the game and I want to see how (they perform) in a real game and their mentality after that."
 
The candidates are elusive right-handed sophomore Javais McGhee, hard-nosed left-handed sophomore Austin West and left-handed junior Wesley Wright who throws "a really nice ball."

OHATCHEE: Last year's loss to Fyffe in the third round of Class 2A playoffs still stings the Indians, some more than others. The missed opportunity motivates tailback Domonique Thomas to this day, to the degree he has a picture of Fyffe holding up the championship trophy as his phone's lock-screen photo.
 
"It's very motivating because we know we let that game slip through our hands; we wish we could get that one back," Thomas said. "I'm still mad about that, so I want a reminder every day. That's why it's like that."
 
He's good about those kinds of things. Last year Thomas printed out a motivation quote for each team on the schedule. He's doing it again this year.
 
This is Martin's sixth season with the Indians and this senior class who came in as seventh graders, including Thomas and Ryker Lambright, is the only one to know Martin as their head coach.
 
"When you first go in and establish a program you're basically having to re-coach people who have already been coached by other people," Martin said. "Habits are formed and sometimes it's hard to break those habits.
 
"That's why I'm super excited about this team. I've finally got a team, six years worth, that the only habits they know are the habits that we've engrained in them the last six years, and I think that's going to make a difference. And any flaws they have are coming from our program."
 
ANNISTON: Coach Rico White shocked a lot of people last year when he proclaimed the Bulldogs' goal for his first year as coach as going 15-0 and winning the state championship. He didn't back down then and he's not backing down now with the same projection for this year.
 
"A lot of people joked and said why would you predict that," White said. "The biggest thing coming into Anniston last year was to change the mindset. In previous years we had some rough years. In order to get where we needed to be you had to change the mindset and predict high standards. I think it worked well because we ended up being 6-4, went to the playoffs and the team we lost to went to the state championship, so that wasn't bad.
 
"The biggest thing coming in as a new coach is to get the kids to believe in your system, the things you believe in and setting a great foundation and a different brand, and I think the kids really bought in to what we tried to accomplish … This year we are really putting work in. We're looking forward to a great season."

HEY DAD, ER, COACH: Two head coaches in the county will have sons playing key roles for their teams this year. Jett Smith will be the quarterback on father Jeff Smith's Wellborn team (with his brother Jud calling the plays) and Piedmont's Steve Smith will have two sons in the lineup – senior lineman Sean and freshman receiver Sloan. It makes for an interesting dynamic.
 
"It's different that's for sure," Piedmont's Smith said. "What we try to practice at our house is ball stayed at the fieldhouse and when we went home it was mom, dad and the kids. All of us in this room who are fortunate enough to be dads we're probably harder on our own kids than anybody else. Being able to let them know at home I'm just dad and at the fieldhouse they're treated like anybody else. I feel blessed to be able to have done this long enough to get to see my kids come through. I can't tell you how special it is to be able to share what you do for a living with your kids."
 
"One of the best things I did last year was fire the offensive coordinator, which was me, and move  to defense and made (Jett) offensive coordinator," Jeff Smith said. "The reason I bring that up is I get to be the good guy. When Judd's out there crawling on Jett, I can go to him I know. Judd cuts him no slack at all. I'm very blessed to be in the situation we're in right now. It was a lot of fun last year and it's a lot of fun right now, too."