Lefty is all right
Gadsden's Randy Lipscomb came from three back with four to play to become first left-handed winner on the Calhoun County Golf Tour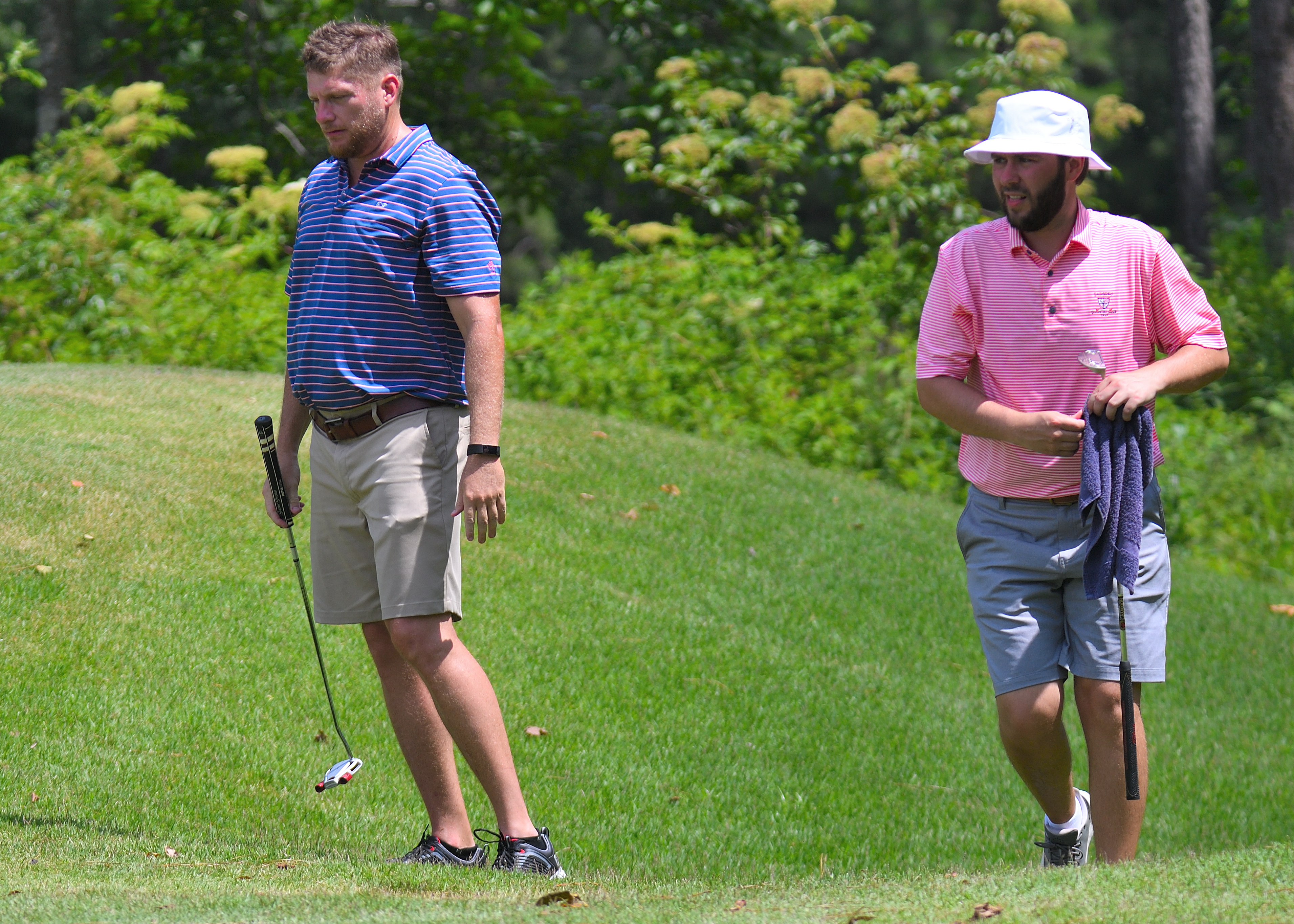 By Al Muskewitz
East Alabama Sports Today

SILVER LAKES – The way Ty Cole and Gary Wigington have been running through the Calhoun County Golf Tour during his two years on the circuit Randy Lipscomb never thought it'd be possible to break into the winner's circle. He can count himself in their number today after an historic win in the RTJ Silver Lakes Championship.

The 40-year-old Gadsden golfer came from three shots back with four holes to play Sunday and became first left-handed winner in the Calhoun County Golf Tour's 13-year, 96-tournament history. He shot a final-round 73 to finish at 4-under-par 140 for the tournament and chased down Corey Ray of Boaz to win by a shot. Wigington and Jeremy McGatha tied for third (142).

"This is awesome; I can't believe I won one of these things," Lipscomb said on the 18thgreen. "The last two years has just been the Ty and Twig Show. Really, I haven't thought about winning out here, just because they've been so good. If you were in my situation would you think about winning out here with them two playing like they've been playing?

"There are two things I'm going to remember about this: This sport is you against you, it's like a mirror. You're sitting there looking at yourself because no one can bail you out, you're out there all by yourself and you either get it done or you don't. There's been a lot of times I hadn't got it done but I got it done today.

"The second thing is just the quality of the field and there are some really good golfers in this area. To win with these golfers in the field, it really does mean a lot."

Lipscomb fell three shots off Ray's lead with a three-putt bogey on No. 14 that he admitted thinking put him out of it. But he rebounded with back-to-back birdies on 15 and 16, pulled into a share of the lead with a par on 17 and won it with a bogey on 18 after Ray found the water with his second shot.

"I am ecstatic," he said. "I couldn't feel my hands on the last hole and a half. I was nervous as hell on that last hole, but my swing's in a good place where it can hold up under pressure. I only had seven feet for par on the last hole; it was the hardest seven-footer I've ever had in my life and I just had to two-putt it."

Lipscomb, a senior industrial engineer with General Dynamics, played college golf at Gadsden State, but returned to competitive golf only last year. In between he filled the time with weekend play and various scrambles. He won the Cherokee County CC Invitational in 1999, back-to-back Etowah Opens (2002 and 2003) and the 2006 State Left-Handers Championship, but hadn't won anything of note since a 50-player tournament at Dancing Rabbit a couple years ago.

Since joining the Calhoun County Tour on a regular basis last year, his best previous finish was a T-5 last year at Cider Ridge, an event he led after the first round.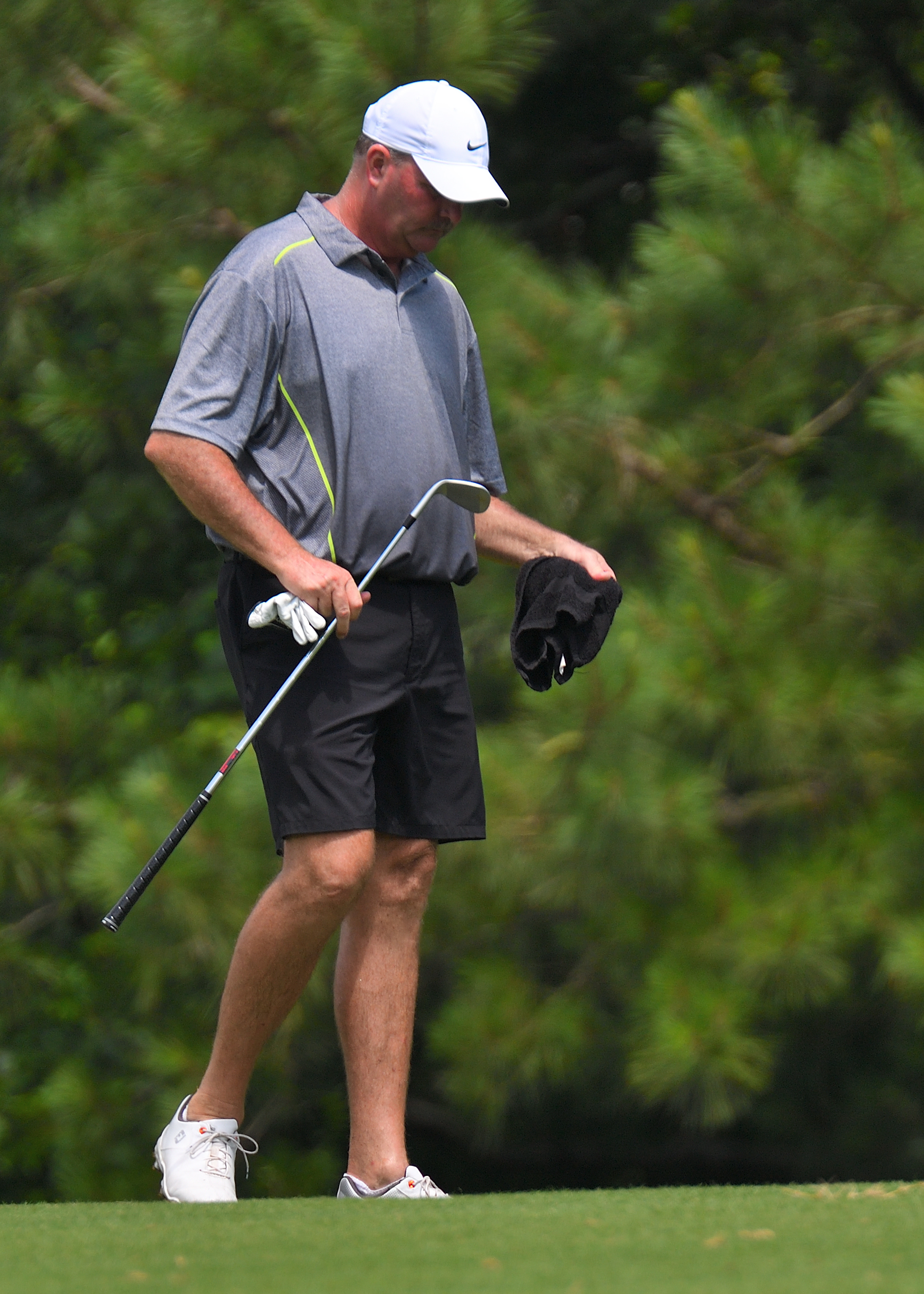 Ray took the lead with a par on 9 and Wigington stayed on his heels until taking an unplayable lie in a greenside bunker on 16 that led to a bogey and then falling farther back with a shocking shank off the tee on 17 that led to a double bogey.

The play into 16, a 7-iron from 195 yards, was a bad break – "the worst I can remember ever having," he said. The wedge off the 17th tee was just a bad swing. He played his final 27 holes of the tournament in 5-over-par.

"I hadn't struggled all year about hitting the ball and now every round I hit two or three terrible shots, it just kills you," he said.

When the final group came off the 16thgreen Ray was leading Lipscomb by a shot. Both players missed the green at 17 to the left, but Lipscomb's ball was in smoother grass on the collar while Ray's ball settled between two clumps of rough grass. Lipscomb putted his ball to about three feet, while Ray had to chip on and two-putted to fall into a tie.

On 18, Ray had 133 yards to the green but "completely underestimated the wind" and the 9-iron he took a little off of came up short into the water. When that happened, Lipscomb knew he wasn't going to flirt with the flag and hit his second shot over the green. Ray's fourth landed in the second quadrant and his bogey putt came up short over the rise. Lipscomb chipped on, cozied his nervous putt down to the hole and tapped in for the winning bogey.

"The front I was pretty smooth, I played well on the front (33), but the back I was kind of leaking oil, there in the middle stretch anyway," Ray said. "I was trending in the wrong direction, just kind of lost my swing there towards the last few holes. I'll learn from it."

NOTES: Lipscomb had five birdies, six bogeys and seven pars. "It wasn't like I tore it up," he said. "I had some shots I could've done better. Hey, an ugly win is still a win." … Scott Martin ran his birdie streak on par-3s this weekend to five when he got Backbreaker 2 … Jeremy McGatha (10), Caleb Bowen (10) and Cole (16) had eagles in the round … Three players in the Championship Flight posted rounds under par: Ray (71), Cole (70) and Justin Graveman (70) … The other flight winners were Jack Sims, Josh Hayes and Jarrod Smith … Cole remained the points leaders on the County Tour. Lipscomb, with his win, moved into fourth … The next event on the Tour schedule is the Etowah Open at Briarmeade July 20-21 … Players interested in playing in the Calhoun County Tournament (Aug 10-11) or Buddy Moore Classic (Aug. 24-25) should text Matt Rogers at 453-0206 starting July 1. Entry fee for each event is $125 per player.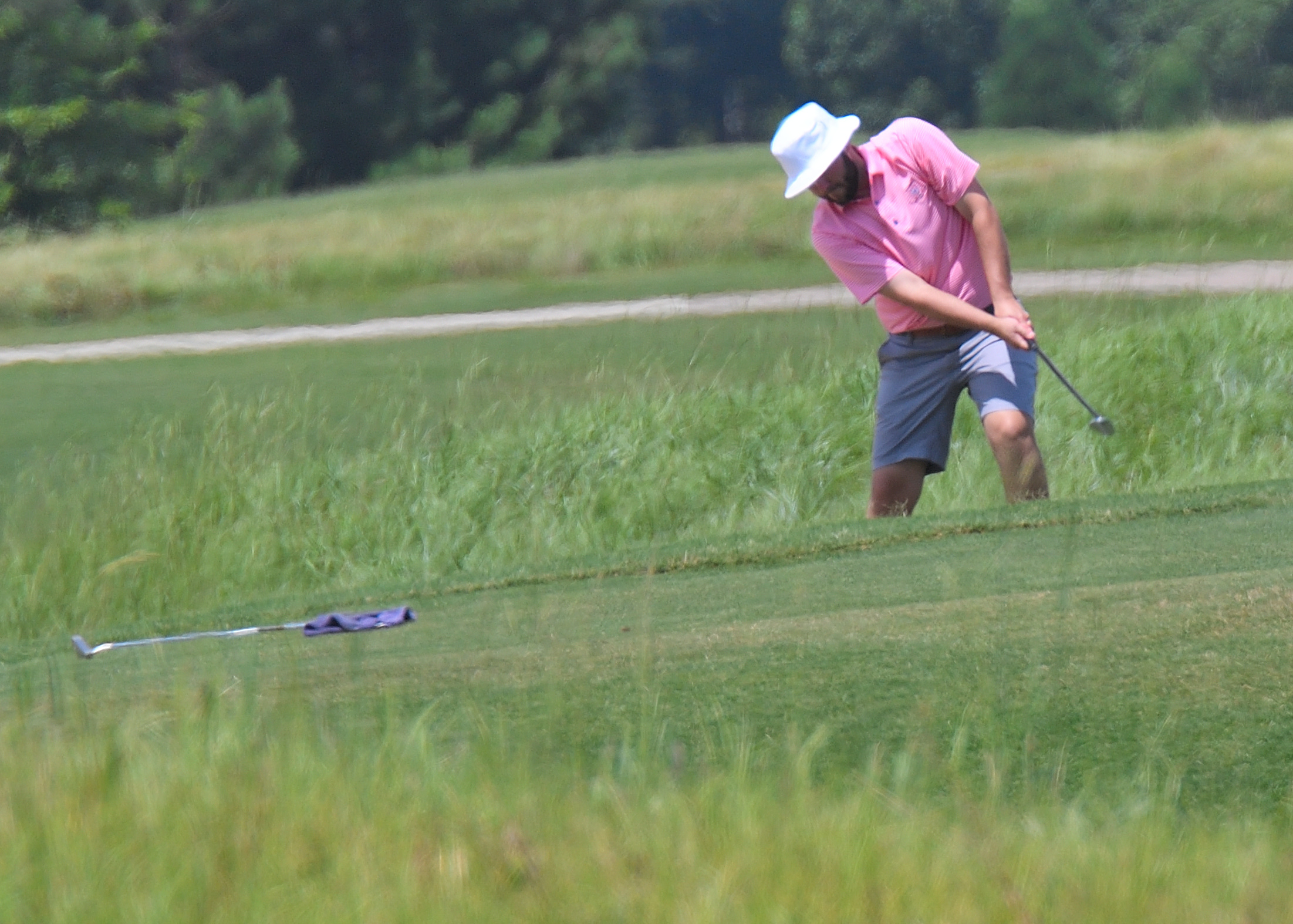 To see a gallery of photos from the round visit www.bjfranklin.smugmug.com

RTJ SILVER LAKES CHAMPIONSHIP
Championship flight
Randy Lipscomb 67-73—140
Corey Ray 70-71—141
Gary Wigington 67-75—142
Jeremy McGatha 70-72—142
Alex Harper 69-75—144
Justin Graveman 74-70—144
Scott Martin 70-74—144
Ty Cole 74-70—144
Caleb Bowen 72-73—145
Brennan Clay 73-75—148
Adrian Geeting 75-74—149
Chris Cox 76-74—150
Jake Goggans 75-75—150
Kenny Okins 76-74—150
Jeff Bain 75-78—153
Tyler Putnam 76-77—153
Drew Anderton 73-81—154
Michael Rich Jr. 72-82—154
Gage Miller 75-82—157
Ryan Huff 75-84—159
Tyler Dopson 76-85—161
Lance Evans 73-WD

First flight
Jack Sims 79-69—148
Rick Okins 77-72—149
Landon Straub 77-73—150
Randy Reaves 78-72—150
Andrew Brooks 77-75—152
Dane Moore 79-73—152
Brian Baugh 79-74—153
Darin Smith 78-77—155
Frank Brady 81-74—155
Chris Leonhardt 78-79—157
Daniel Black 81-77—158
Rob Loboda 80-79—159
Charlie Smith 77-83—160
Landon Winfrey 79-83—162
Chad Reavis 81-83—164
Lamar Carter 81-83—164
David Beard 79-87—166
Jacob Law 79-89—168
Jared Waits 81-WD

Second flight
Josh Hayes 82-71—153
Jason Johnson 83-74—157
Matt Rogers 82-75—157
Keith Raisanen 82-76—158
Sam Bone 84-74—158
Timmy Woodard 83-75—158
Clayton Chandler 84-75—159
Austin Minter 82-78—160
Clay Calkins 82-79—161
Jason Britton 84-79—163
Kyle Rosenbauer 82-81—163
Maverick Smith 85-82—167
Ryan Moore 83-86—169
Mike Lett 85-87—172
Bobby Luttrell 86-87—173
Jake Williams 84-89—173
Josh Hicks 82-92—174
John Hutchison 83-95—178
Cain Hollingsworth 86-WD

Third flight
Jarrod Smith 89-79—168
Blake Grisham 88-83—171
Craig Graves 89-88—177
Kenny Fulmer 91-86—177
Barrett Edwards 90-88—178
Chase Thomas 87-92—179
Jason Shields 89-90—179
Joe Hedgepeth 87-92—179
Dre Davenport 94-86—180
Nick Ledbetter 91-92—183
Blake Maxwell 91-93—184
Chad Caplan 93-91—184
Kelly Rogers 90-94—184
Michael Ledbetter 94-91—185
Corey Trantham 95-92—187
Keith Thomas 91-97—188
Chad Maples 95-96—191
Parker Staton 91-101—192
Blake Erwin 94-100—194
Keith Hutcheson 103-102—205
Greg Hayes 101-114—215
John Hill 117-108—225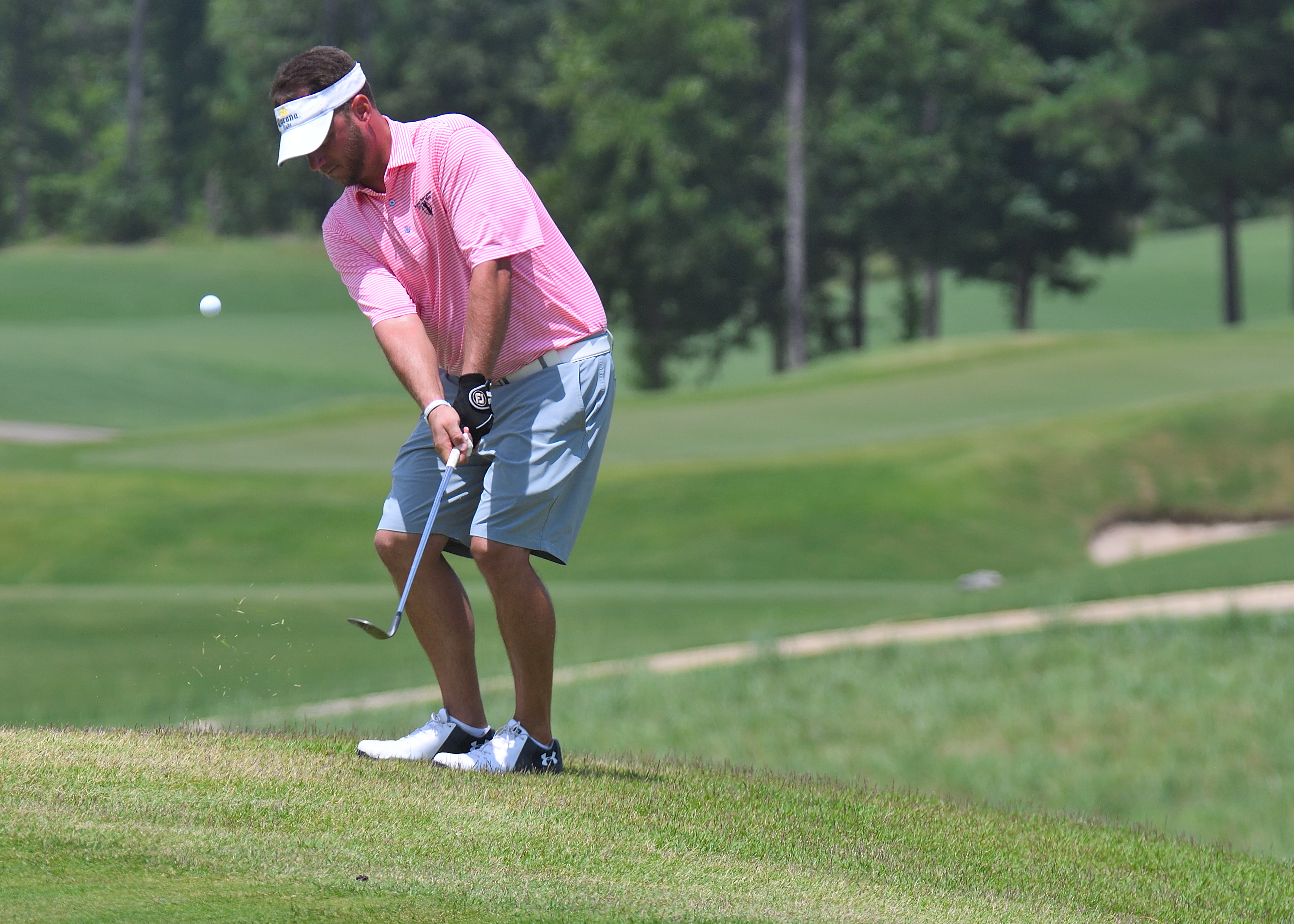 Cover photo: Randy Lipscomb holds the championship trophy in his left hand after winning the RTJ Silver Lakes Championship to become the first left-handed winner on the Calhoun County Golf Tour.