A long day
Evans shoots 73 on zero sleep; Wigington, Lipscomb share Silver Lakes lead with 67s

By Al Muskewitz
East Alabama Sports Today

SILVER LAKES – Lance Evans pulled up a chair in the grille after his round and let out a low groan. It had been a long day and he was glad to be off his feet.

Silver Lakes is challenging enough for a player who comes in with a good night's rest; try it with no sleep. Evans had been going for 32 straight hours by the time his final putt in the first round of the RTJ Silver Lakes Championship dropped Saturday. All things considered, his 1-over-par 73 that's six shots behind co-leaders Gary Wigington and Randy Lipscomb was pretty sporty.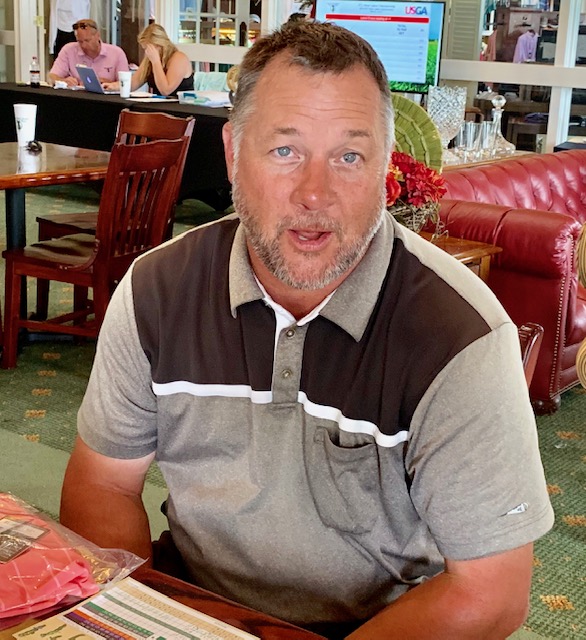 Evans didn't expect to play this weekend, but since he was up anyway he figured what the heck.
 
His odyssey began at 4:00 Friday morning when the self-described early-riser answered the alarm to caddy for Birmingham pro Garrett Osborn's 8:30 a.m. second-round tee time in the Wichita Open on the newly named Korn Ferry (formerly Web.com) Tour. Osborne withdrew at the turn with back issues and a 4-over score. They loaded up the car and headed back to Alabama.
 
On the way, Evans checked into the availability of playing in the tournament and was told if he could get there for the 7:30 a.m. first tee time he'd be in. It was doable if they wanted to push it. They stopped a couple times for gas, once in Memphis – when they decided they might as well come all the way back – and again to pick up Evans' car at Osborn's house in Birmingham. 
 
He figured a pre-dawn power nap was going to be useless for a 7:30 tee time, so it was on to the course. Some 900 miles, 12 and a half hours on the road and five states later, Evans was on the first tee of the Backbreaker nine playing in his second Calhoun County Golf Tour event of the season and first since the season-opening Cane Creek Invitational.
 
"We got on the road and I thought if they had a threesome at 12 or 1 I could get back home and play," he said. "I didn't know the threesome was at 7:30."
 
It's not the first time he's pulled an all-night to make a tee time. "Only four or five hundred times," he said. "But not when you're 48. I'm dragging a little bit,""
 
Once he got on the course, he hit the ball "OK" and putted "decent." He hit 11 fairways, 16 greens and had 35 putts. He parred all nine holes going out, birdied both par-5s on the Heartbreaker nine and his only hiccups were a double bogey on 14 and a bogey at the last.
 
"When you're out there (caddying on the Tour) for a couple weeks and you watch those guys, I learn a lot, so every time I come home I feel like I'm going to play great," he said. "It doesn't always work that way but I feel like it. It's a big difference when you go out there and watch those guys and the way they hit it and the course management; it changes your game. That's a big bonus; it's just a matter of getting out there and hitting the ball solid.
 
"I figured I'd shoot close to even par," he said. "I hadn't touched a club two weeks, but playing it up and these greens are as good as anywhere right now … I figured I'd shoot under par or ever par. I didn't think I'd burn it up but I didn't think I'd play bad either."
 
He finished the round atop the leaderboard. It was a nice feeling, but all he was interested in was finding a soft pillow.
 
"I was really tired," he said. "Every time I'd squat down to read a putt and stand up I'd be dizzy; it was awful and I felt sick for a while. But I made it through it."
 
He can catch up on his sleep a little Saturday night. He doesn't have to play Sunday until 10:40 a.m.
 
As for the guys at the top, Wigington and Lipscomb may have shot the same score to share the lead, but they couldn't have felt differently about their rounds.
 
Wigington was on track for a really special round, but the finish was a letdown. Lipscomb played one of his best rounds in County Tour competition and held a piece of a first-round lead for the first time since the opening round of last year's season-opening Oxford City Championship at Cider Ridge.
 
Wigington's round started like his Saturday round in the ACC Invitational and finished like his Sunday round that denied him the title. He birdied his first three holes, six of his first seven, turned in 7-under 29 and was 8-under through 11.

He was 8-under through 16, too, then three-putted from 30 feet for bogey at 17 and found the water with his 175-yard second shot on 18 and made double bogey. He had 12 putts on the front, but it was the end of his round that left a bitter taste.
 
"I just can't finish, I don't know what it is," he said. "It was a good start, but you can't waste a 7-under and shoot 2-over on the back. I don't know what's going on with that. Don't have an answer for it. Frustrating."
 
Lipscomb shot a 67 for sole possession of first place after the opening round at Cider Ridge. He also shot 69 in the first round here last year, but had a 75.80 Tour stroke average this season. He had five birdies and his Tour-leading fifth eagle of the season after hitting a 4-hybrid from 220 yards to 15 feet on Backbreaker 7. He played the par-5s in 5-under.
 
"The thing that feels good about this 67 is I did it playing with Ty (Cole) and Twig," he said. "It's one thing to shoot 67 when you're playing with your comfortable buddies, which Ty and Twig are, but they're also the two best on the Tour."
 
They hold a two-shot lead over Alex Harper and three-shot lead over Scott Martin, Jeremy McGatha and Corey Ray.
 
Harper turned in 1-over, then shot a bogey-free 32 on the Heartbreaker nine. He had five birdies in the round.
 
"The front was real sloppy at the end, but the back nine I got really solid from eight feet and in," he said. "I made a couple really good par saves, which kind of keeps your focus and momentum going, and then I birdied 16 and 17 with really good solid putts and had a good lag putt par to finish that actually gave me more confidence than the birdie putts.
 
"We play pretty much every weekend here and you just get so content with 70 to 76; you don't quite have it. It's hard to really, really focus, but today I made the turn and just kept it going and was able to kind of focus in on the putts a little more than just regular weekend play."
 
Among the players at 70, Martin birdied all four par-3s for only the second time in his life, but it was offset by playing the par-5s in 4-over. He had seven birdies in the round.
 
"I played really good except for about two shots," he said. "The par-5s are what killed me today. I did not play the par-5s very well as far as score wise, and that's where to tend to make up ground. It's one of those rounds you say there is room for improvement."
 
NOTES: The only other time Martin recalled birding all four par-3s was in a casual round at Timberline … Lipscomb's eagle was one of four in the round. The others went to Ray (BB 4, a par-4); Timmy Woodard (BB 9) and Ryan Moore (HB 7) …  Players interested in entering either the Calhoun County Tournament (Aug. 10-11) or Buddy Moore Classic (Aug 24-25) should text Matt Rogers at 453-0206 starting July 1. Entry fee for each event is $125 per player.

RTJ SILVER LAKES CHAMPIONSHIP
Saturday's first-round scores
Championship flight
Gary Wigington 29-38—67
Randy Lipscomb 33-34—67
Alex Harper 37-32—69
Scott Martin 34-36—70
Jeremy McGatha 35-35—70
Corey Ray 34-36—70
Caleb Bowen 35-37—72
Michael Rich Jr. 35-37—72
Brennan Clay 38-35—73
Drew Anderton 36-37—73
Lance Evans 36-37—73
Ty Cole 36-38—74
Justin Graveman 38-36—74
Ryan Huff 35-40—75
Gage Miller 38-37—75
Jake Goggans 37-38—75
Adrian Geeting 39-36—75
Jeff Bain 39-36—75
Tyler Putnam 37-39—76
Chris Cox 38-38—76
Kenny Okins 38-38—76
Tyler Dopson 37-39—76

First flight
Andrew Brooks 38-39—77
Rick Okins 37-40—77
Charlie Smith 39-38—77
Landon Straub 38-39—77
Randy Reaves 39-39—78
Chris Leonhardt 38-40—78
Darin Smith 41-37—78
Brian Baugh 40-39—79
Jacob Law 37-42—79
David Beard 40-39—79
Jack Sims 42-37—79
Dane Moore 42-37—79
Landon Winfrey 40-39—79
Jacob Law 37-42—79
Rob Loboda 40-40—80
Jared Waits 43-38—81
Frank Brady 42-39—81
Lamar Carter 39-42—81
Daniel Black 40-41—81
Chad Reavis 40-41—81

Second flight
Austin Minter 39-43—82
Josh Hayes 44-38—82
Matt Rogers 44-38—82
Clay Calkins 41-41—82
Keith Raisanen 39-43—82
Kyle Rosenbauer 41-41—82
Josh Hicks 40-42—82
John Hutchison 42-41—83
Timmy Woodard 38-45—83
Jason Johnson 43-40—83
Ryan Moore 39-44—83
Jason Britton 38-46—84
Jake Williams 44-40—84
Sam Bone 46-38—84
Clayton Chandler 42-42—84
Maverick Smith 43-42—85
Mike Lett 42-43—85
Bobby Luttrell 45-41—86
Cain Hollingsworth 47-39—86

Third flight
Chase Thomas 43-44—87
Joe Hedgepeth 46-41—87
Blake Grisham 44-44—88
Jarrod Smith 43-46—89
Jason Shields 42-47—89
Craig Graves 41-48—89
Kelly Rogers 46-44—90
Barrett Edwards 47-43—90
Blake Maxwell 47-44—91
Parker Staton 47-44—91
Keith Thomas 43-48—91
Nick Ledbetter 46-45—91
Kenny Fulmer 49-42—91
Chad Caplan 45-48—93
Michael Ledbetter 48-46—94
Dre Davenport 50-44—94
Blake Erwin 51-43—94
Chad Maples 40-55—95
Corey Trantham 48-47—95
Greg Hayes 53-48—101
Keith Hutcheson 48-55—103
John Hill 57-60—117
Graham Morrow WD
Jake Nichols WD

Sunday's tee times
7:30 a.m. – Greg Hayes, Keith Hutcheson, John Hill
7:40 – Michael Ledbetter, Chad Caplan, Corey Trantham
7:50 – Parker Staton, Chad Maples, Blake Erwin, Dre Davenport
8:00 – Blake Maxwell, Nick Ledbetter, Kenny Fulmer, Keith Thomas
8:10 – Jarrod Smith, Bobby Luttrell, Jason Shields, Kelly Rogers
8:20 – Chase Thomas, Joe Hedgepeth, Blake Grisham, Craig Graves
8:30 – Mike Lett, Barrett Edwards, Cain Hollingsworth
8:40 – Josh Hayes, Jason Britton, Sam Bone, Maverick Smith
8:50 – John Hutchson, Ryan Moore, Timmy Woodard, Clayton Chandler
9:00 – Keith Raisanen, Kyle Rosenbauer, Matt Rogers, Jason Johnson
9:10 – Austin Minter, Clay Calkins, Jake Williams, Josh Hicks
9:20 – Frank Brady, Jared Waits, Lamar Carter
9:30 – Landon Winfrey, Rob Loboda, Chad Reavis, Daniel Black
9:40 – Dane Moore, Chris Leonhardt, Jack Sims, Jacob Law
9:50 – David Beard, Darin Smith, Randy Reaves, Brian Baugh
10:00 – Andrew Brooks, Charlie Smith, Landon Straub, Rick Okins
10:10 – Kenny Okins, Tyler Dopson, Tyler Putnam
10:20 – Jeff Bain, Ryan Huff, Chris Cox
10:30 – Ty Cole, Adrian Geeting, Gage Miller, Jake Goggans
10:40 – Brennan Clay, Drew Anderton, Lance Evans, Justin Graveman
10:50 – Jeremy McGatha, Caleb Bowen, Scott Martin, Michael Rich Jr.
11:00 – Gary Wigington, Randy Lipscomb, Alex Harper, Corey Ray