Safe at home
Bryce Walter had a tough childhood, but the junior pitcher has found family love and stability in Piedmont with the Mohons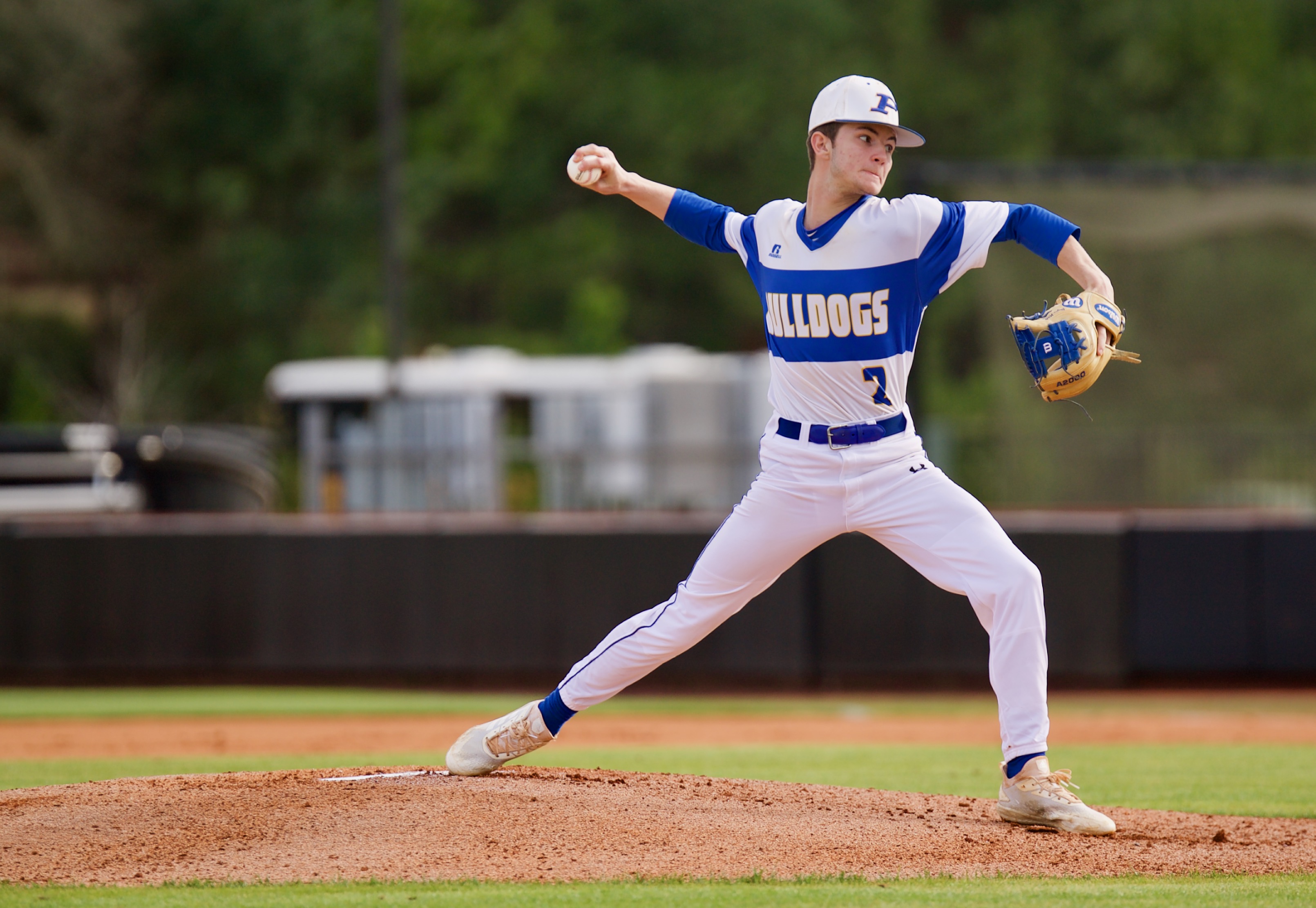 By Al Muskewitz
East Alabama Sports Today

PIEDMONT – When Bryce Walter homered in the second inning of Saturday's Game 3 with Lauderdale County, he wasn't just giving pitcher Mason Mohon and his Piedmont teammates the lead in their biggest game of the year, he was helping a brother out. His brother.

Every team talks about being a family or a brotherhood, but it's really a thing with Walter and Mohon even if they don't share the same last name – yet. The Mohons have taken in Walter as one of their own; think of it as a baseball version of The Blind Side.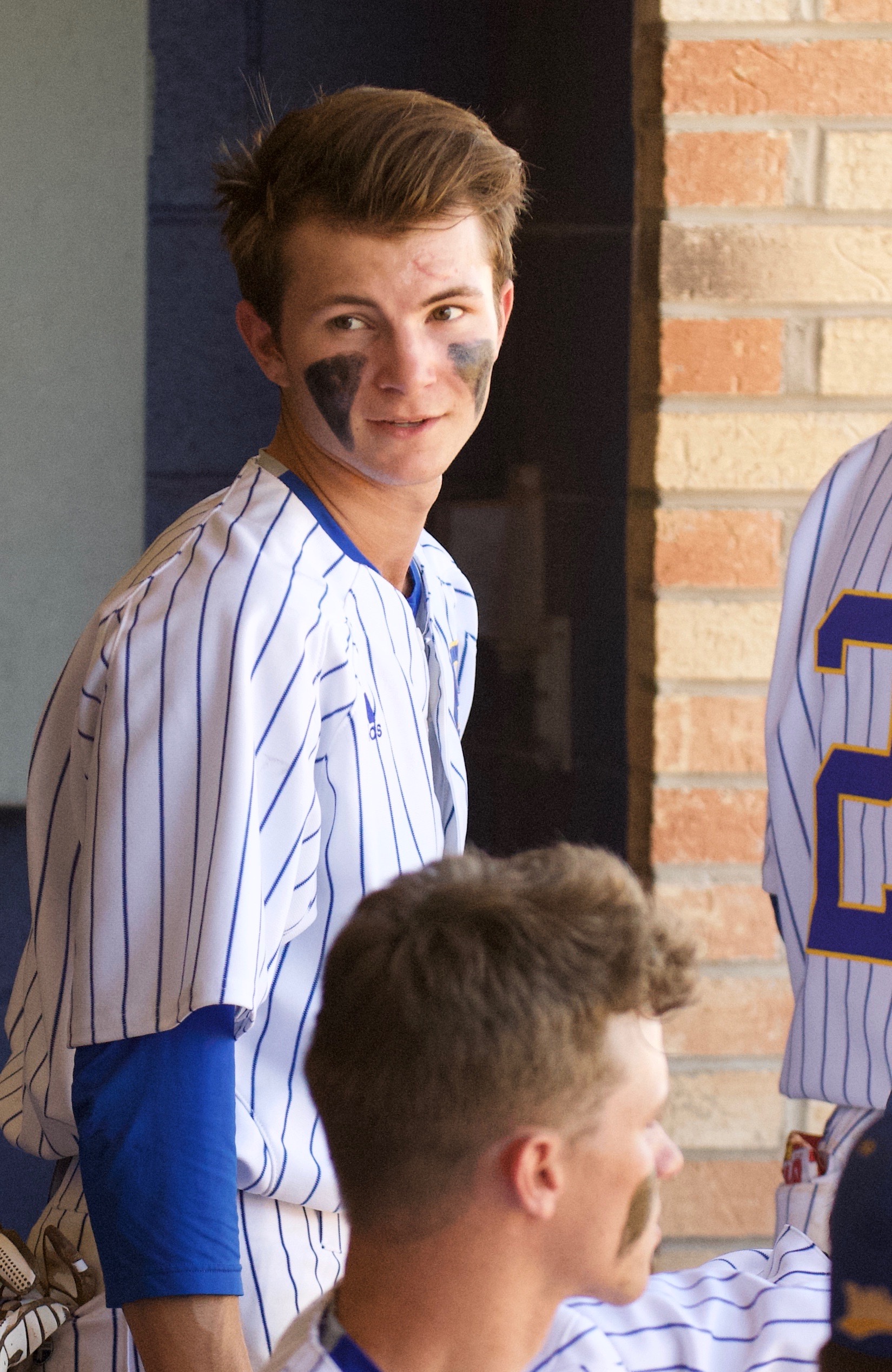 If the Bulldogs maintain their playoff rotation this week, the versatile junior will be on the mound for Game 2 today when they play Westminster Christian in the third round of the Class 3A baseball playoffs. He'll be at third in the opener when Logan Pruitt is expected to pitch. And he'll be at short if brother Mason is called upon to start a Game 3 Friday, just like last week. Any time else, he's patrolling left field.
 
Coming home takes on a whole new meaning for this family. Walter has been seeking a place to belong and the Mohons stepped to the plate to bring direction, stability and unconditional love into his life – to the benefit of all.
 
Duane and Sharon Mohon already have three of their own at home – Megan, a commuting sophomore on the Jacksonville State track program; 13-year-old McClain, the only seventh-grader starting on the Bulldogs' junior varsity baseball team; and Mason – but the way Sharon looks at it, "if you've got three you might as well have eight."
 
Try more like 20. Every team has that one house where all the players seem to gravitate and for the Bulldogs that's the Mohons', and Sharon happily plays the role of team mom.
 
"We were used to kids being at our house all the time," Sharon said. The players would come go and go, but Bryce would hang around. Curious without pushing, Sharon wanted to know more about this quiet new pitcher who befriended her son and frequented their home. At no time did they ever say he couldn't stay.
 
What she was discovering was heart-wrenching. Walter's home life was far from ideal. His biological father was older and aloof. His biological mother suffered a brain hemorrhage when he was 9 months old and is now receiving care out of a state. His relationship with his stepmother was strained. He was never homeless, but life was just "unstable."
 
There weren't many fond memories. The happiest ones were playing wiffle ball in the backyard with his dad and whenever he was on the baseball field. He hasn't seen much of either of his parents since; his father has moved out of state. When Bryce moved in with the Mohons he arrived with one small box that contained some baseball trophies and a couple pictures.
 
"It tore me up, really," he said. "It was hard to live like that."  
 
Everyone in the house could see what was happening and eventually, naturally, the conversation turned to a more permanent solution. Bryce began living with the Mohons shortly before his 16thbirthday in March 2017 and they became his legal guardian about five months later.
 
"It was kind of out of nowhere; I didn't expect it," he said. "I liked the idea, but I had to think about it a little bit, really think if I wanted to move and kind of start a new life. I thought about it a little bit and thought it was a good idea."
 
And now they're making happy memories every day.
 
"It's been great," Bryce said. "It's probably the happiest I've been in my life, definitely. I never thought my life would change so much."
 
The family has petitioned the court to legally change Bryce's name and, with a favorable ruling, come next baseball season he will be listed on the Bulldogs' lineup card as "Bryce Mohon." When he turns 18 next March and is free to make his own decisions, getting permission for adoption to legally become part of the Mohon's family will not be an issue.
 
In the minds of everyone who knows them he's part of the family now anyway. So much so that Bryce used the Mohons as his family in a recent ancestry project at school.
 
"In our minds and our hearts and his mind and his heart he's already a Mohon," Sharon said. "He has blessed us far more than you could know."
 
As Bryce was growing up he went to school in White Plains through fourth grade, then moved to Jacksonville. When he wasn't staying at home there, he stayed with Golden Eagles coach David Deerman, his son Brant and their family. When Deerman joined brother Matt's staff at Piedmont, Brant came with him and so did Bryce.
 
That led to a fast friendship with Mason and Bryce's smooth and eventual assimilation into their family. Now he has a loving family and brother, and Mason has a brother his own age to pal around with. They do all the thing you'd expect brothers to do, fish, fight, field grounders.
 
"He's my best friend," Mohon said. "It's definitely different from having one younger brother, but having Bryce there, it's kind of like he's always been a part of my family. He came right in. We've accepted him as our own. He's my best friend and it'll never change."
 
"They truly are brothers, they're inseparable," Sharon said. "Bryce is an amazing young man. I admire him on so many levels. He took charge of his own future. He's the one who said this is not how it should be. I'm not sure I would have that gumption or drive or the strength."
 
A stable home life has translated to success in the classroom and on the field. As a freshman at Jacksonville he pitched some and had one at bat, a three-pitch strikeout. His situation made him ineligible last season at Piedmont, but this year's he's flourishing.

As a pitcher, he's 7-1 with a 1.38 ERA. At the plate, he's batting .400 with four homers and 29 RBIs. He hit his first career home run earlier this year, a seventh-inning walk-off that beat White Plains in the Calhoun County Tournament quarterfinals and he's homered in each of the Bulldogs' two playoff series, including that two-run opposite-field shot that got Mohon and the Bulldogs going in Game 3 against Lauderdale County.
 
"He didn't seem very confident in himself last year, like, 'Oh, no, what's going to happen next," Matt Deerman observed. "This year he's got so much more self-confidence than he's ever had that I've seen from him and that comes from having a little bit more stability at home and knowing what he's going home to.
 
"It's always rewarding to see a kid who's come from a tough situation and somebody's helped them out and he's made the best of it. A lot of kids are in tough situations, a lot of kids are given opportunities and they don't always make the best of it. He's been a case where he has thrived because of the situation the Mohon family has given to him."
 
Bryce counts his blessings every day.
 
"I'm very grateful for the Mohons and what all they've done for me and how they treat me," he said. "They treat me just like one of their family members. I can't imagine how that is to just bring some kid who you never really knew into your family and call them one of your own. I love them. Every single one of them."
 
The feeling is mutual.
 
BROTHERS IN ARMS
Here's a quick look at the season statistics for Mason Mohon and Bryce Walter going into today's playoff doubleheader.
 
BATTING       BA      2B       HR      RBI      R         SB
Mason Mohon .378     21        2       39        41        13
Bryce Walter   .400     11        4        29        37        13
 
PITCHING      W-L     ERA    K
Mason Mohon 4-3       2.48     27
Bryce Walter   7-1       1.38     55