Fired up Falcons
Donoho girls erupt after giving up playoff game's first goal, blast Fultondale 7-1 behind hat tricks from Stremmel, Seals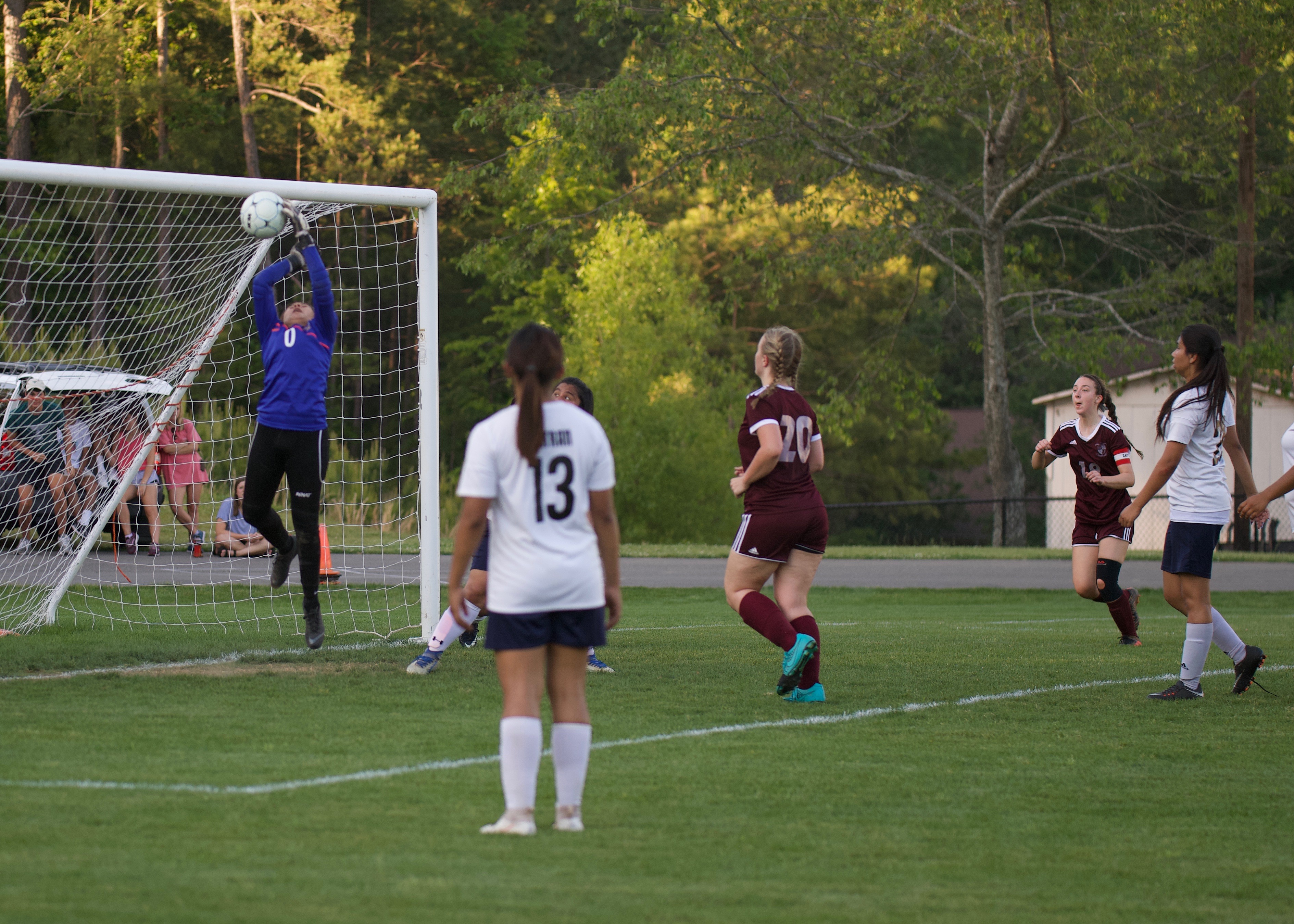 By Al Muskewitz
East Alabama Sports Today

The Fultondale Wildcats made the biggest mistake of the game doing something good midway through the first half.

They scored first.

The Wildcats scored an easy goal in the 22nd minute of their girls Class 1A-3A soccer playoff match with Donoho Monday night. It was all Donoho after that.

The Falcons scored seven straight goals — including hat tricks by freshman Kat Seals and senior Jenna Stremmel — and pummeled the Wildcats 7-1.

The Falcons (16-1) await the winner of Tuesday's Sacred Heart-Altamont match for Round 2.

"That's the eighth goal we've given up this season; the way they rallied off that was pretty impressive," Donoho coach Jay Jenkins said. "They've really had an excellent week of practice, very focused. They have not always been that focused, but they certainly were this week. I had a feeling. I told my wife this morning if we play like we're practicing, we're hard to beat."

It took Donoho all of 37 seconds for Seals to get the equalizer. She took a through-ball from Stremmel, cut back into the middle and beat Fultondale keeper Aubry Zuberi from straight on. Stremmel put the Falcons ahead for good about three minutes later.

"That's kind of the definition of this team; there's just not any quit in them," Jenkins continued. "There's just so much fight in them. They're going to will their way to a victory. That kind of opened the floodgates."

And when Fultondale did mount a threat, Maggie Wakefield turned it away. She made eight saves.

Seals said the goal by Lili Martinez "absolutely" made the Falcons mad. They had 13 shots and four cornerkicks the rest of the game.

"It was an easy goal and we weren't going to let them think they could win that easily so we came back hard," Seals said. "I was mad. I was angry. Because I know that we're better than that.

"I know as a team that we can step to the ball better than that, so I just knew the offense had to come back strong. I relied on my teammates and I happened to get the ball first and I was mad, so I took it."

Stremmel got her second goal in the final three minutes of the half when Erin Turley took it to the end line and crossed it into the 6-yard box. Stremmel pulled it out of a tangle and scored. She got her hat trick when she ripped home the rebound of a Turley shot.

After Seals and Stremmel scored their hat tricks in the second half, Turley scored on a penalty kick with 7:46 to play.Seals now has 33 goals on the season, Stremmel 22 and Turley 23.

"We just like to answer quickly," Stremmel said. "After that goal we were like OK that was not our best. Whenever any team scores first I think it makes us want to fight harder the rest of the game. Not that it's good that we let them score first, but we always find a way to come back from that."

Fultondale 1 0 – 1
Donoho 3 4 – 7
Goals – Fultondale: Lili Martinez (21:30). Donoho – Kat Seals 3 (22:07, 63:20, 70:01); Jenna Stremmel 3 (25:15, 37:38, 68:00); Erin Turley (72:14).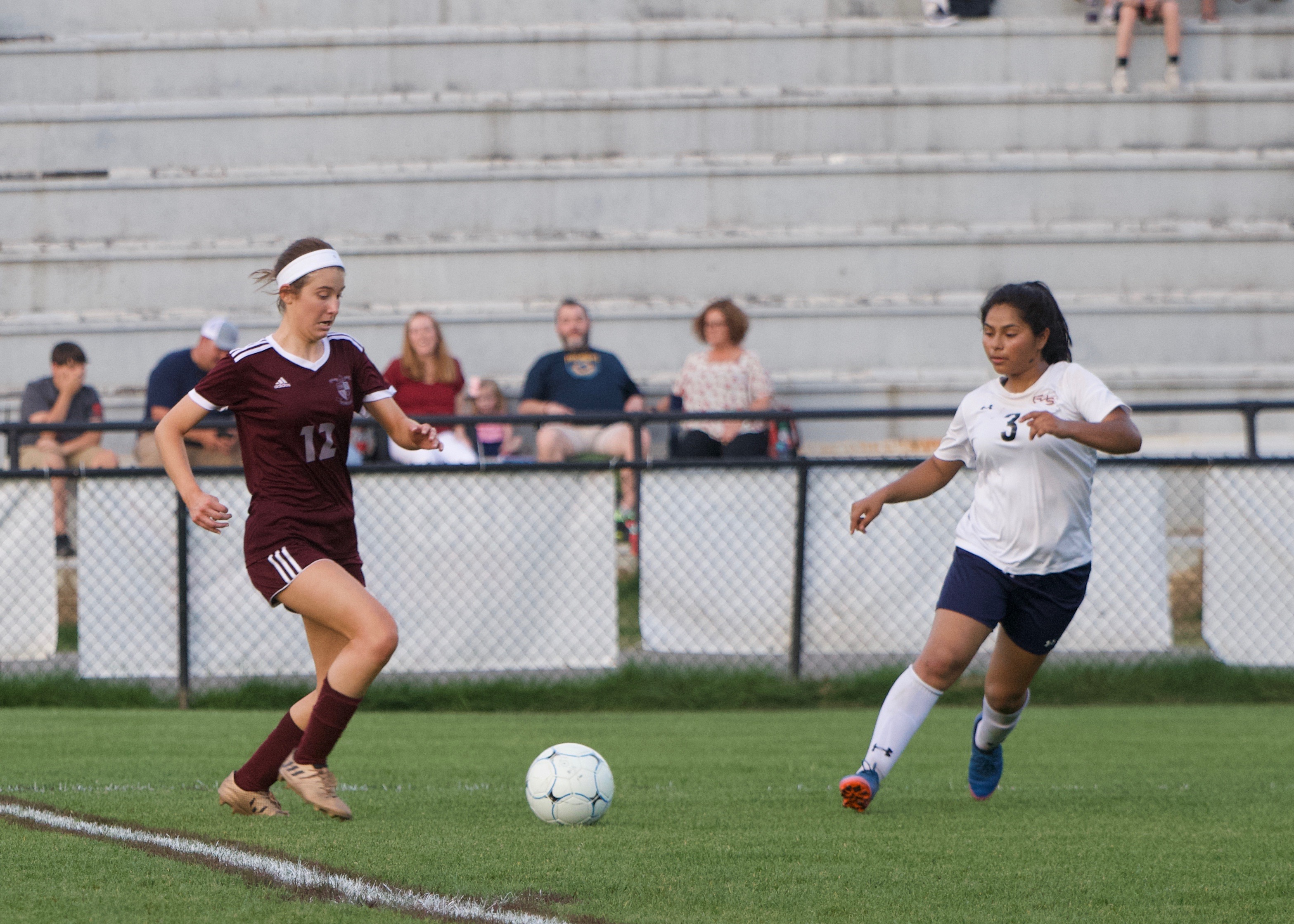 To see more pictures from the match click this link: www.bjfranklin.smugmug.com