Elliott wins Dega's 100th
Chevy all in: Chevy drivers stick together, push Chase Elliott to win in the GEICO 500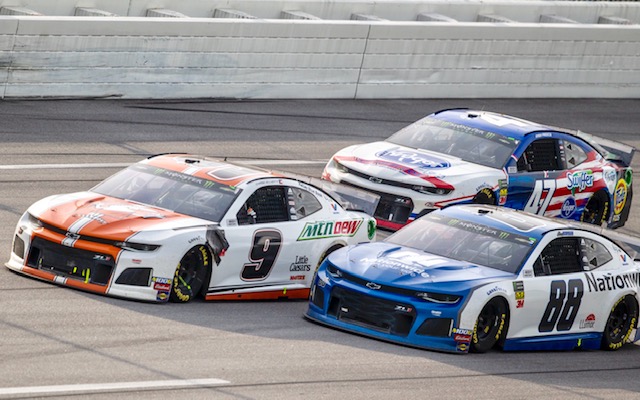 By Al Muskewitz
East Alabama Sports Today

TALLADEGA –The message in the Chevy manufacturer's meeting was simple. Race for the win fellas, but work together to get somebody there.

Every race at Talladega Superspeedway drivers spend all day looking for somebody to make a deal with in the closing laps of the race. Chevy made the quest simple this time. It didn't care who you did it with, just do it with somebody with a bowtie on the bumper.

The cars followed the plan perfectly and in the end pushed Chase Elliott across the finish line with carnage taking place behind him to win the GEICO 500 at Talladega Superspeedway.

It was his fourth career Cup win (all in the last eight months) and first this year in the 100th NASCAR Cup race Talladega, ending a run of seven straight Cup wins by Ford here and locking him into the NASCAR playoffs. He was ahead of Hendrick Motorsports teammate Alex Bowman when a last-lap caution effectively ended the race, with Chevy rookies Ryan Preece and Daniel Hemric wrapped around Joey Logano's Ford to complete the top five. Chevy cars won both stages (Ty Dillon, Elliott) as well.

"Obviously, there was a lot teamwork done today," Elliott said. "We just had a plan and executed it really well. Obviously, it could have gone both ways but fortunately everybody stayed together and stayed the course.

"There's certainly power in numbers at these races and when you have guys being selfless and wanting to push and make the lane go it makes a difference. It certainly worked out for us there."

Chevy tried to make a plan like this before, but Elliott crew chief Alan Gustafson described it as a "pathetic attempt" with "very little success," but Sunday with 18 Chevys in the field was "a culmination of a lot of hard work and a lot effort by all the Chevy teams."

The drivers stuck to the plan through all three stages of the race — and with more Chevys in the field than any other brand it was easy to find a partner – but when it got down to the finish for Bowman all bets were off. There was no plan coming off Turn 4, he said, but he just couldn't get to his spot before the caution that effectively ended the race came out just after the white flag for a scary five-car crash on the backstretch that got Kyle Larson up in the air.

"I'm not just gonna let him win, I've gotta try," Bowman said. "I knew I could get to his quarter panel. I was pretty confident I could get to his quarter panel through the tri-oval and who knows who's going to get to the line first at that point. I thought I could do it but it depends on the car behind you, where he goes. It would've been fun to try, but happy for Chase.

"Second place is obviously very good, but you're in the catbird seat to go win that race – you don't want to be leading coming to the white. I was pretty pumped and kind of knew the outside lane had fallen apart and I was going to be able to maybe get a run, but really proud of Chevrolet and everybody sticking together and executing like we talked about doing and actually sticking to it. We've talked about it before and just not been able to stick to it."

Gustafson expected Bowman would throw a run at them down the stretch and they were going to block it. Elliott had committed to the bottom line by then and if Bowman came off the bottom he was going to go with him.

"I'd like to believe that it would have ended up with one of the two of us winning, but who knows," Gustafson said. "Could've both been wrecked."

There certainly has been enough of that here in the most dramatic stages of the race.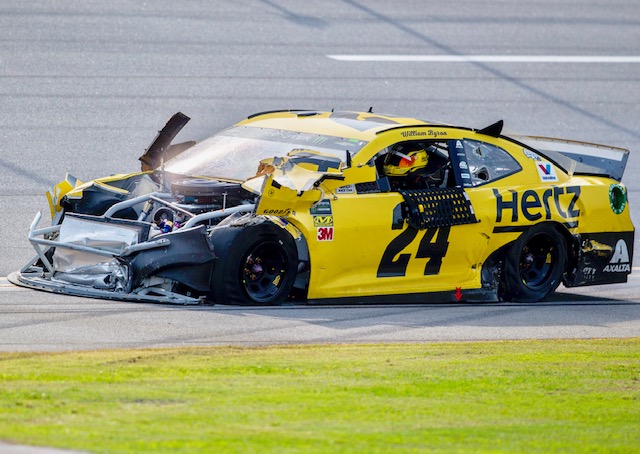 The field bunched after a wreck with seven laps to go, the average position for a late caution over the last 11 Talladega races. The endgame started out among Joey Logano, Kyle Busch, Ricky Stenhouse Jr., Kurt Busch and Elliott.

Elliott took the lead with four laps to go. Stenhouse then spun behind them, but brought no caution, and the final four Chevys lined up for the furious finish that's typical Talladega.

The white flag had just came out when the Stenhouse, David Ragan, Larson, Jeffrey Earnhardt and William Byron got collected behind the lead pack and the caution brought Elliott the victory. Although there were some confusing moments before realizing he actually won.

"I thought I blew it back there," he said. "I saw the yellow light. In my mind I was thinking, it's over, and then everybody comes blowing by me. I was like, 'You've got to be kidding me, I pissed this away.'

"I really didn't know. I mean, I thought when the caution came out it was froze. That's what I was thinking in my mind. Luckily, they officiated it the way I was thinking it was done. I kind of let off. I didn't know where the wreck was, there were cars everywhere from what I understand. We were always told to slow down when the caution came out. That's what I did. Maybe I shouldn't have."

It was a win-win kind of day for the Elliott family. Chase's dad Bill wasn't here to see his son's victory – he was busy winning a race at Road Atlanta himself. Chase's mother was on hand and saw her son take the checkered flag in a Cup race for the first time.

Cover photo of Chase Elliott by Jonathan Fordham.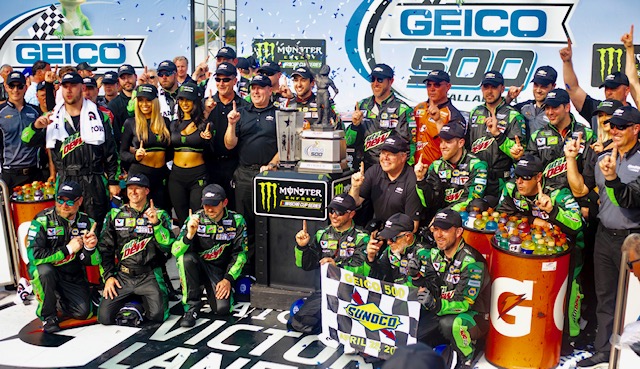 GEICO 500 RESULTS
1. Chase Elliott, Chevy, 188 Laps
2. Alex Bowman, Chevy, 188
3. Ryan Preece, Chevy, 188
4. Joey Logano, Ford, 188
5. Daniel Hemric, Chevy, 188
6. Kurt Busch, Chevy, 188
7. Ryan Newman, Ford, 188
8. Brendan Gaughan, Chevy, 188
9. Aric Almirola, Ford, 188
10. Kyle Busch, Toyota, 188
11. Corey LaJoie, Ford, 188
12. Daniel Suarez, Ford, 188
13. Brad Keselowski, Ford, 188
14. Austin Dillon, Chevy, 188
15. Ryan Blaney, Ford, 188
16. Paul Menard, Ford, 188
17. Ty Dillon, Chevy, 188
18. Reed Sorenson, Chevy, 188
19. Erik Jones, Toyota, 188
20. Martin Truex Jr., Toyota, 188
21. William Bryon, Chevy, 188
22. Jeffrey Earnhardt, Toyota, 187, Accident
23. David Ragan, Ford, 187, Accident
24. Kyle Larson, Chevy, 187, Accident
25. Ricky Stenhouse Jr., Ford, 187, Accident
26. Ross Chastain, Chevy, 187
27. Parker Kligerman, Toyota, 186
28. Cody Ware, Ford, 184
29. Clint Bowyer, Ford, 182
30. Chris Buescher, Chevy, 181, Accident
31. Matt DiBenedetto, Toyota, 181, Accident
32. Justin Haley, Chevy, 180, Accident
33. Jimmie Johnson, Chevy, 178
34. Landon Cassill, Chevy, 154
35. Stanton Barrett, Chevy, 132, Suspension
36. Denny Hamlin, Toyota, 80, Accident
37. Matt Tifft, Ford, 11, Accident
38. Kevin Harvick Ford, 11, Accident
39. Bubba Wallace, Chevy, 10, Accident
40. Michael McDowell, Ford, 10, Accident

Time of race: 3:05.59. Average speed: 161.331 mph. Margin of victory: Under caution. Lead changes: 39 among 15 drivers.