Donoho dogpiles
Falcons take a wild Game 3 from Athens Bible to reach third round of Class 1A playoffs, sophomore Williamon comes up big on the mound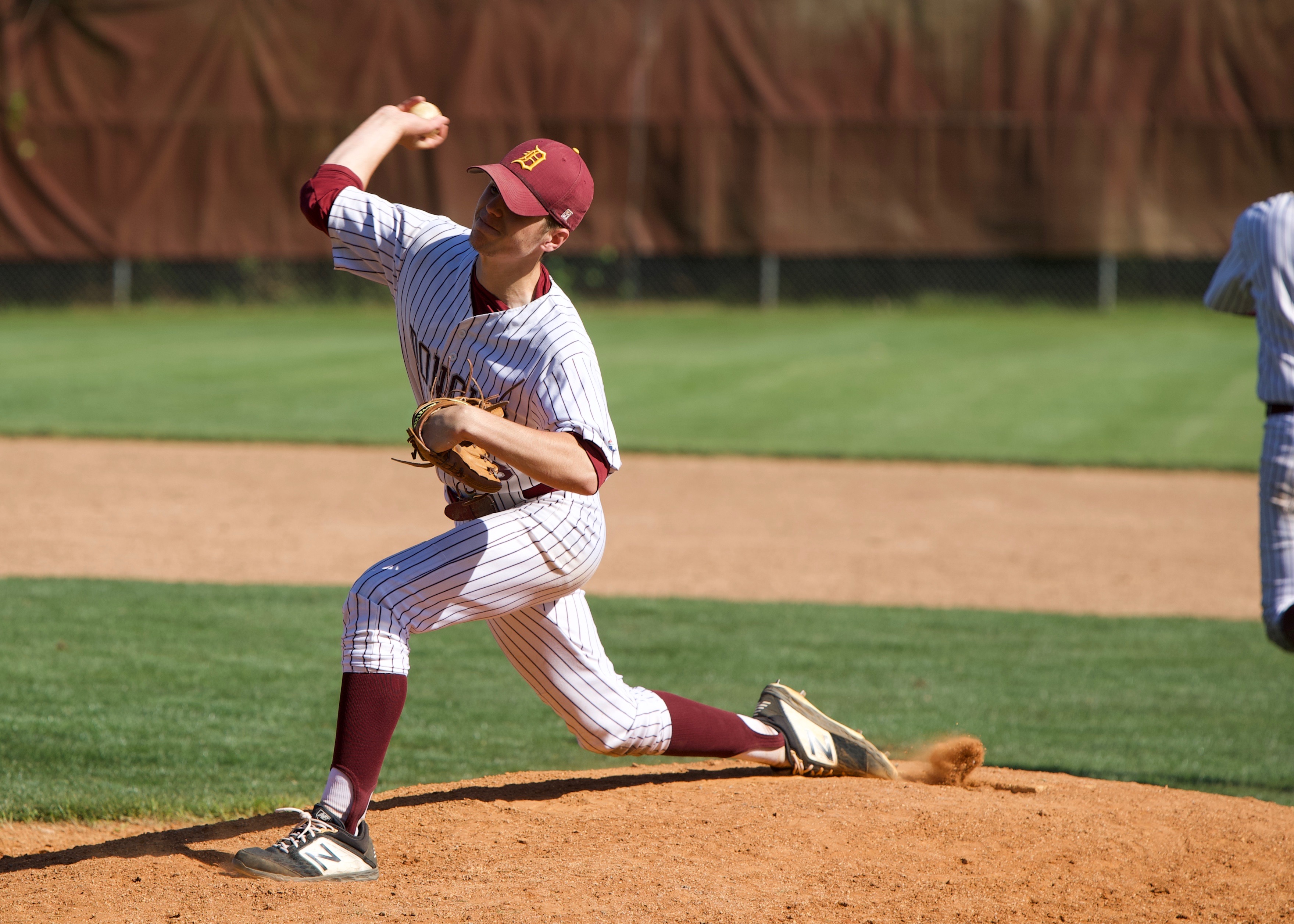 By Al Muskewitz
East Alabama Sports Today
 
Donoho baseball coach Steve Gendron told everyone who'd listen Friday that typically the team that wins Game 3 is the one that hits the best. On Saturday he amended that statement with something that really was an extension of the original thought.
 
Not only does the team that hits best win Game 3, it really helps to get an unexpectedly good outing from a pitcher deep within the rotation in a game where pitching is at a premium.
 
The Falcons hit – well, scored – better than Athens Bible Saturday in winning a wild 15-14 Game 3 to reach the third round of the Class 1A baseball playoffs for the first time in school history. But what took them over the top was getting an effective performance from sophomore right-hander Charlie Williamon on the mound.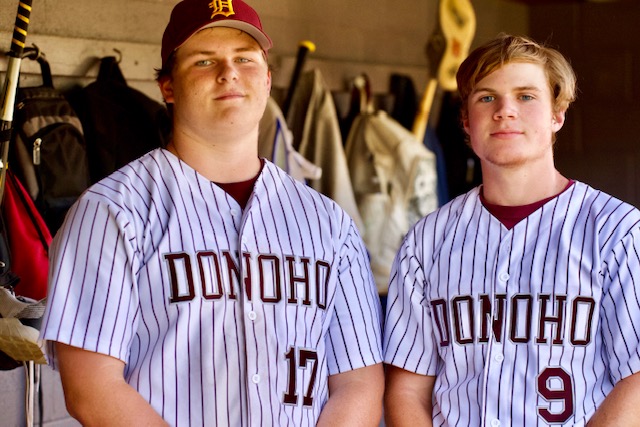 Williamon had thrown fewer than 15 innings for the Falcons this season, and usually never more than two at a time before getting pulled, but he went 5 2/3 in their biggest game of the year and threw 93 pitches. He gave up eight hits, eight runs (five earned) and walked four, and faced the tying run at the plate in the seventh, but he was effective when he needed to be. 
 
Like right out of the gate. Neither team was getting anybody out when Willamon entered with bases loaded and one out in the second inning of a 6-6 game. He threw three pitches and turned a soft liner back to the mound into an inning-ending double play. The next inning he retired the Trojans in order – on 12 pitches – the only time anybody did that in the game.
 
He called it the best stretch he's pitched all year.
 
"That's the best Charlie has ever pitched, the most innings he's ever thrown in one game; he was fantastic," Gendron said. "He's been texting me all week saying I can pitch if you need me, I'm going to throw strikes. Last night he texted me, 'Who's starting tomorrow?' I didn't know, but I did. Then today after Davis' (Jones) first inning I said 'Charlie, I need you ready to go,' and he came in and was a strike machine. It was fun to watch. Tense, nervous moments at times, but that was awesome."
 
"I was ready to pitch," he said.
 
Williamon struck out the final batter of the game right after giving up a two-run homer that raised everyone's anxiety meter. Right before the final pitch, his older brother and catcher Reid Williamon, on direction from the bench, walked out to the mound and in what could have been poignant brother moment simply asked Charlie what pitch he wanted to throw, change-up or curve.
 
Charlie told Big Brother he wanted to throw the curve, but not for a strike, hoping to fool Trojans third baseman Henderson May into fishing. Well, it was strike three and the Falcons commenced to dogpile on the infield.
 
"I was just trying to settle his nerves because he gets pretty nervous," Reid said. "I just wanted to know what he wanted to throw for his last pitch. He threw a perfect curve ball. … I couldn't be more prouder of my brother."
 
The first two innings took an hour, 15 minutes – eight minutes longer than the entire Game 1 Friday. There were 18 runs, 10 hits, 27 baserunners and 140 pitches. Athens Bible used four pitchers in the first two innings-plus before settling on soft-throwing Lee Moyers for the rest of the game. 
 
Athens Bible got two run in the first, but nobody expected that to stand. Donoho came back with six in the bottom of the inning, with Reid Williamon getting it started with a two-run homer to tie the game. The Trojans tied it in the second before Williamon came in, but the Falcons scored six more in that inning to go back up 12-6.
 
"When they scored two on us to start, I knew I had to hit something to get some momentum back, so I just took it for a ride out to left center," Reid Williamon said.
 
Payne Golden slammed a two-run homer off the scoreboard in the third after Williamon put the Trojans down in order in the top of the inning to make it 14-6. 
 
Moyers kept the Falcons off-balance the rest of the game although they did score what would eventually become their winning run off him on Edwin Connell's bases-loaded fielder's choice in the fifth. 
 
Moyers hurt the Falcons in the seventh with his bat when it hit laser-liner two-run homer over the fence and under the scoreboard to make it 15-14. First baseman Judson Billings may have made the biggest defensive play of the game for Donoho earlier in the inning when he short-hopped third baseman Seth Ford's throw on Cade Abernathy's grounder for the second out of the inning, keeping a runner off the bases that would have made Moyers' homer a game-tying blast.
 
"That (game) was exactly what I was expecting," shortstop Hall Billings said. "I knew it was going to be back and forth; they were going to have their best swings and we were going to have ours. Like I said yesterday, this is what we dream about. That's the ending that we wanted. Make a movie out of it.
 
"What makes it even better was Charlie. He's done terrible all season and then goes out there and closes it out like he was our No. 1. That was awesome."
 
The Falcons will travel to Mars Hill Bible for their third round series, scheduled to start Friday. Both teams have had one road and one home series in the playoffs, but Mars Hill gets the host nod despite Donoho's upper position in the bracket because it's an area champion.
 
"We've been working (for this) since the seventh grade, all these guys," Reid Williamon said. "We've lost in the first round, lost in the second round, didn't make it some years. It feels good to get a third round."
 
Athens Bible  240 303 2 – 14 12 3
Donoho           662 020 x – 15 12 3
WP: Charlie Williamon. LP: Connor Abernathy. 2B: Hayden Pierce (AB), Chris Waddell 2 (AB), Seth Ford (D). HR: Lee Moyers (AB), Reid Williamon (D), Payne Golden (D).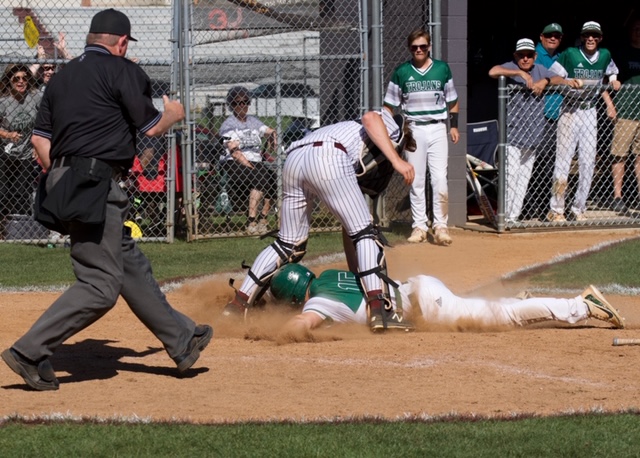 To see more great photos from the game click this link: www.bjfranklin.smugmug.com