Bearcats stay alive
Thursday baseball: 'Resilient' Weaver rallies to keep its playoff hopes alive, Oxford clinches area title, scores and more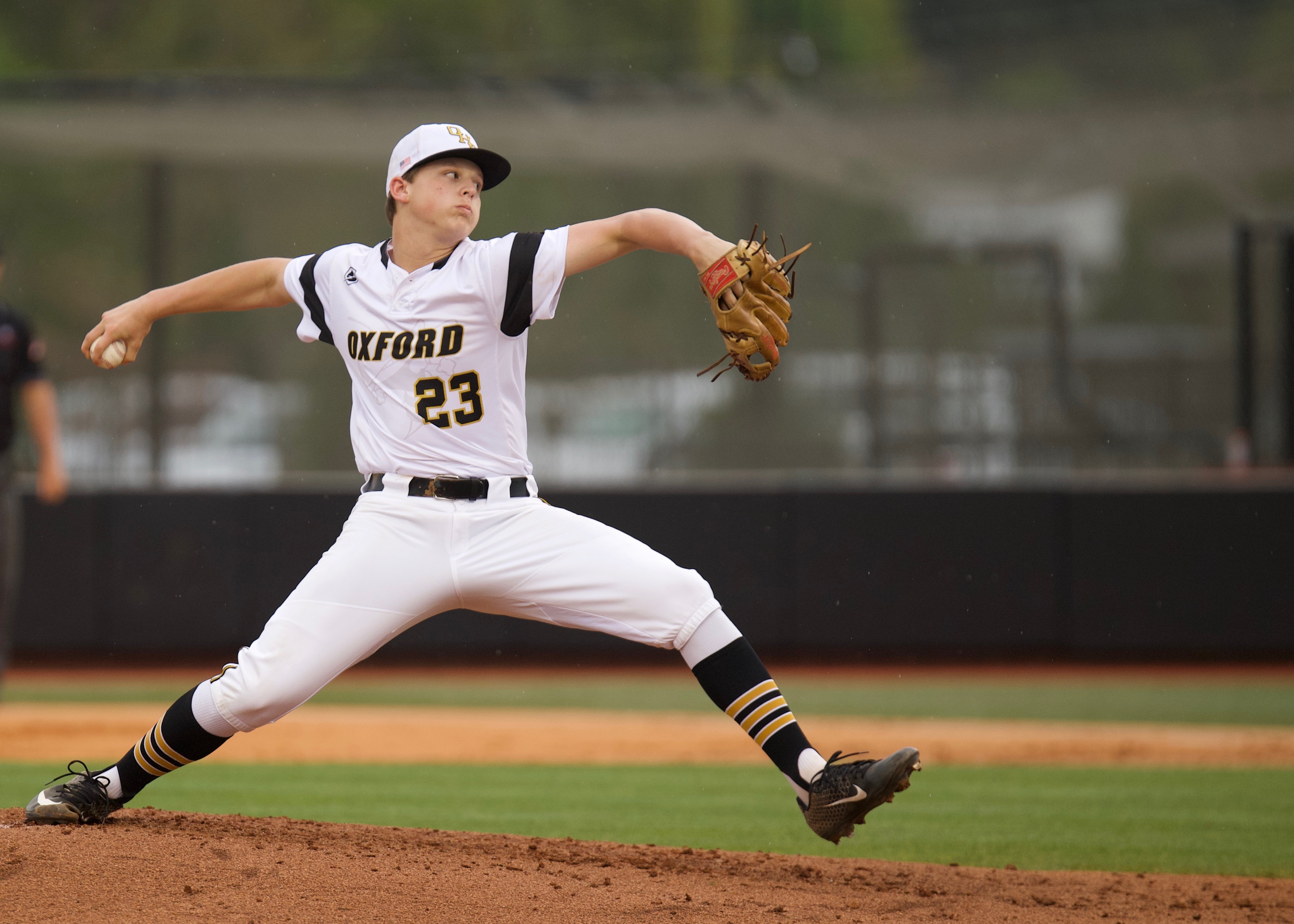 Thursday's games
Cleburne County 4, Wellborn 1
Hokes Bluff 6, Jacksonville 4
Jacksonville Christian 11-7, Coosa Christian 12-4
Munford at Sylacauga (2)
Ohatchee 3-21, Gaston 1-5
Oxford 3-11, Fort Payne 2-0
Piedmont 17-22, Saks 2-7
Southside 9, Alexandria 8
Spring Garden 4-13, Donoho 0-3
Weaver 9, Pleasant Valley 7

By Al Muskewitz
East Alabama Sports Today
 
WEAVER — The Weaver Bearcats kept their playoff hopes alive and sent Pleasant Valley looking for help after rallying past the Raiders 9-7 Thursday to sweep their Class 3A Area 9 series.
 
The second game of the day's scheduled doubleheader was postponed because of the weather, but the Bearcats won the two games that counted most.
 
After Thursday's victory, all they have to do now is split the two counting games with Saks next week to clinch a playoff bid. Pleasant Valley, meanwhile, needs a Saks sweep to punch its ticket.
  
"We knew going in this was a team that beat Piedmont the week before and had been playing good so we needed to bring our A-game," Bearcats coach Jamie Harper said. "I can't say enough about how our guys responded, Tuesday at their place with all the hits and runs that scored (22-4) and today we had to grind one out.
 
"There were moments in the game where it didn't look promising and we battled back.That's resiliency. That's what it takes this time of year to win baseball games."
 
Jadon Calhoun's two-run single in the sixth inning snapped a 7-7 tie and put the Bearcats ahead for good. Drake Monroe pitched 3 1/3 innings of no-hit relief after the Raiders took a 7-5 lead, facing only one batter over his minimum, to get the win.
 
Harper didn't hesitate in saying the Bearcats couldn't have gotten it done without the effort Monroe gave on the mound. He entered after the Raiders batted around in the fourth and got the final out of the inning.
 
Monroe retired the first eight batters he faced before giving up his only base runner on a walk. He then closed out the game with his sixth strikeout and grounder back to the pitcher.
 
"I wanted to go in and execute, help the team out, try to throw strikes," Monroe said. "Had a good defense behind me."
 
Calhoun's go-ahead single came after the Bearcats loaded the bases with a leadoff walk, hit batsman and Taylor Thompson's single. He gave his team a 4-3 lead in the third when he tripled into the right field corner and raced home when the Raiders mishandled the relay in the outfield.
 
"I saw we had speed on the bases so I just had to hit it in a gap to get a base hit and drive in one or two runs," Calhoun said. "I just had to go up there and have confidence and just do what I had to do. If we just keep playing like we are now as a team and doing what we have to do on the field I think we'll have a pretty good chance at getting in the playoffs."
 
PV coach Chris Youngman knows his team needs a little help to make the playoffs a reality. The Raiders were in a good position after beating Piedmont in that series' opener, but now they'll be avid scoreboard watchers.
 
"I don't like it," he said. "You want to take care of your own business and leave it in your own hands but we didn't get the job done today. We just gave them too much." 
 
Pleasant Valley        102 400 0 – 7 10 3
Weaver                      302 202 x – 9 9 1
WP: Drake Monroe. LP: Austin Johnson. 2B: Ashton King (PV), Austin Bryant (W). 3B: Jadon Calhoun (W). HR: Drake Hardy (PV).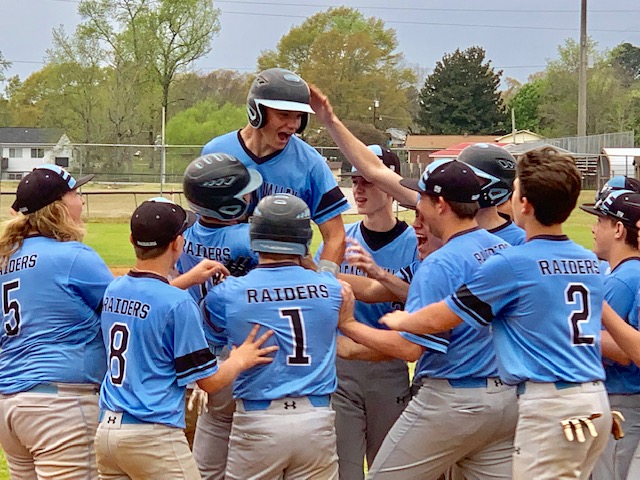 Oxford 3-11, Fort Payne 2-0: The message on the Yellow Jackets' social media board said it all: Circumstances don't determine the outcome, performance does.
 
Reese Howard's two-out single to left in the sixth broke a 2-2 tie and Trey Mooney pitched a complete-game five-hitter with 11 strikeouts as the Yellow Jackets won in pouring rain to win the Class 6A Area 13 championship.
 
The Jackets grabbed a 1-0 lead in the third on Jake Spivey's RBI double that extended his hitting streak to 10 games. Trey Higgins' sacrifice fly tied the game in the fifth after the Wildcats took the lead in the top of the inning.
 
Spivey extended his hitting streak further in the nightcap when he and  Jarin Turner hit back-to-back homers to give the Jackets a 7-0 lead in the third inning. Higgins went 2-for-3 with a bases-loaded triple right before the back-to-back homers, a two-run homer and five RBIs

Wesley Sparks pitched a one-hitter in the nightcap with eight strikeouts. The only hit he allowed was a leadoff single by Dylan Ledford in the fourth inning.

Fort Payne    000 020 0 – 2 5 0
Oxford           001 011 x – 3 5 0
WP: Trey Mooney. LP: Dylan Wisener. 2B: Robbie Graham (FP), Jake Spivey (O). 3B: Levee Hall (FP).

Fort Payne    000 00 – 0 1 0
Oxford           164 0x – 11 7 2
WP: Wesley Sparks. LP: Carson Burt. 3B: Trey Higgins (O). HR: Jarin Turner (O), Trey Higgins (O), Jake Spivey (O).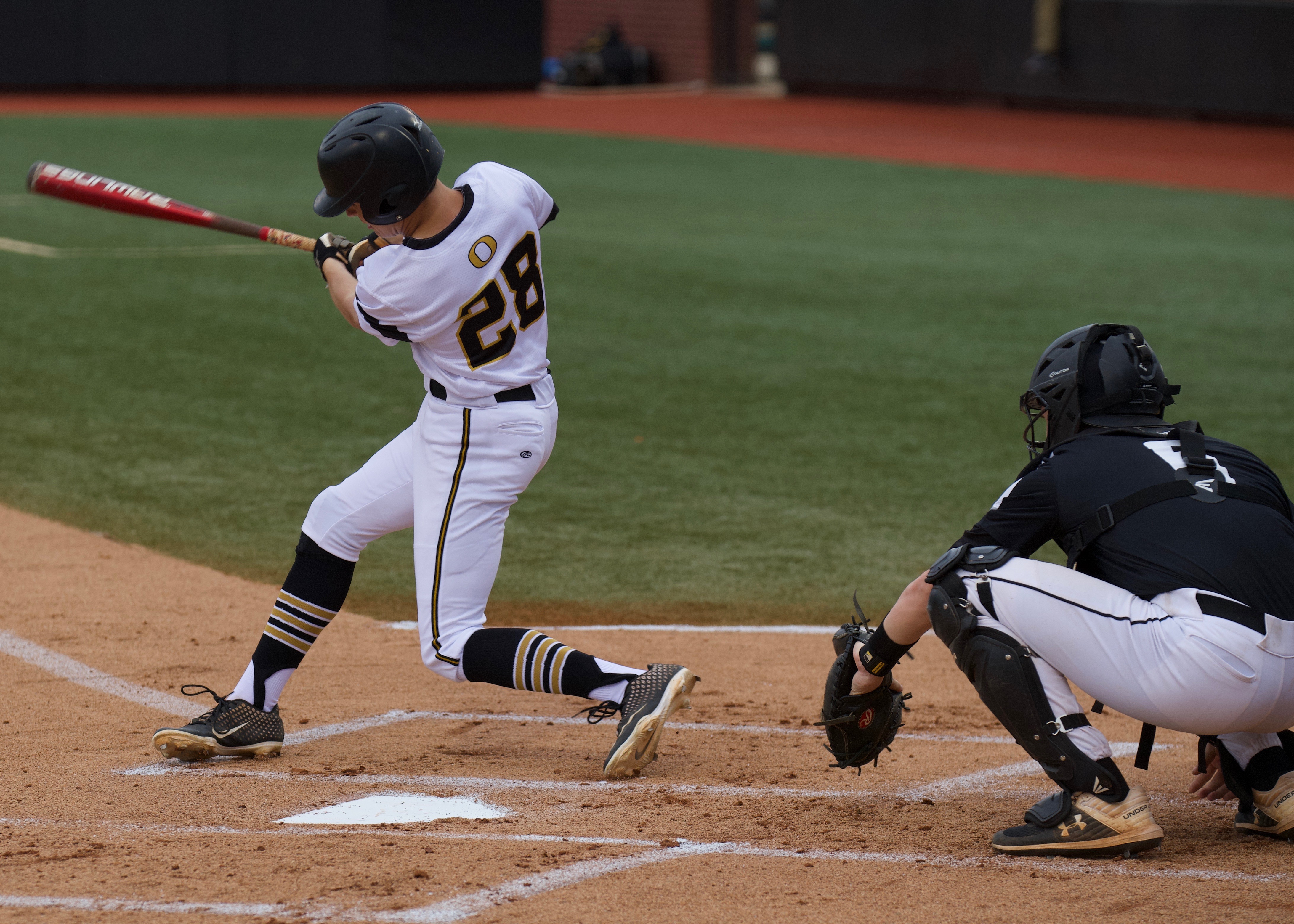 Ohatchee 3-21, Gaston 1-5: Cade Williamson led off the fourth inning with a home run to snap a 1-1 tie and Larry Noah struck out 11 in a complete-game five-hitter to help the Indians clinch their fourth straight playoff berth in first in Class 2A.
 
With playoff berth in hand, the Indians completely dominated the nightcap. They pounded 15 hits and had two seven-run innings. Every starter in the lineup had at least one hit with leadoff man Baylee Graham going 2-for-4 with five RBIs and 2-hole hitter Konnor Baswell going 2-for-4 with three RBIs.
 
"I'm proud of the boys for locking up a spot tonight," Indians coach Blake Jennings said. "This season has been somewhat of an up-and-down season, but I'm proud of the grit they have shown all year.
 
"This group of seniors is my favorite group of seniors that I've ever had because of their love of the game. They have been able to enjoy making the playoffs every year of their (four-year) varsity career. Now we get to go for an area championship for the third year in a row (against Westbrook Christian) next week. We are looking forward to the challenge."
 
Ohatchee        001 100 1 – 3 6 2
Gaston            001 000 0 – 1 5 2
WP: Larry Noah. LP: Bryant Allen. HR: Cade Williamson (O).
 
Ohatchee        740 37 – 21 15 4
Gaston            400 10 – 5 5 6
WP: Konnor Baswell. LP: Tanner Humphrey. 3B: Baylee Graham (O), Grayson Alward (O).

Piedmont 17-22, Saks 2-7: The Bulldogs clinched a tie for the area championship by completing a sweep of its highest scoring series of the season. They erupted for 15 runs in the first three innings of the opener and put 11 on the board in the second inning of  the nightcap.
 
Mason Mohon and Nick Johnson both went 3-for-3 in the opener and Bryce Walter drove in four runs. The Bulldogs pounded 19 hits in the nightcap.
 
Piedmont outscored the Wildcats in the series 49-14 and outhit them 40-16. The Bulldogs batted.421. They had 11 extra-base hits in Thursday's doubleheader.
 
Piedmont       465 11 – 17 14 0
Saks                000 20 – 2 5 2
WP: Logan Pruitt. LP: Daeveon Larkins. 2B: Nick Johnson (P), Bryce Walter (P), Brant Deerman (P), Sean Smith (P), Mason Mohon 2 (P), Jaylen Childs (S), Connor Martin (S).
 
Piedmont       0(11)3 116 – 22 19 3
Saks                000 250 – 7 5 10
WP: Cassius Fairs. LP: Mason McLeod. 2B: Bryce Walter (P), Sean Smith (P), Jack Hayes (P), Austin Estes (P), Daeveon Larkins (S), Caleb Ogle (S), Mason McLeod (S). 3B: Austin Estes (P).

Spring Garden 4-13, Donoho 0-3: The Falcons were swept in the doubleheader and the series, but they still hold hope of making the playoffs and will play the tiebreaker game with Coosa Christian Monday. 
 
Those hopes hinge on the Panthers taking down Coosa Christian next week.
 
In the opener, Spring Garden scored a pair of runs in their first and last bats and Weston Kirk scattered five hits in pitching a complete-game shutout. Hall Billings gave up only three hits, but one of them was a two-run homer to Kirk.
 
Seth Ford and Billings both homered for Donoho in the nightcap. Billings' blast came leading off the game. Ford's was a two-run shot in the third.
 
Donoho           000 000 0 – 0 5 2
Spring Garden 200 002 x – 4 3 3
WP: Weston Kirk. LP: Hall Billings. HR: Weston Kirk (SG).
 
Donoho           102 000 – 3 5 4
Spring Garden 420 421 – 13 6 2
WP: Jackson Maddox. LP: Davis Jones. 2B: Luke Ivey (SG), Weston Kirk (SG), Kenneth Petty (SG). HR: Seth Ford (D), Hall Billings (D).
 
Hokes Bluff 6, Jacksonville 4: Dalton Cook homered and two pitchers held Jacksonville to two hits (one each) as the Eagles clinched a Class 4A playoff spot.
 
The Eagles took a 5-4 lead in the fourth. Jacksonville took a 4-3 lead in the third with two runs scoring on separate passed balls. All four Jacksonville runs scored on passed balls. Brandon Breeding and Brandon Charping had the Golden Eagles' two hits.
 
Hokes Bluff    210 201 0 – 6 10 4
Jacksonville    202 000 0 – 4 2 1
WP: Payton Lemons. LP: Brandon Breeding. HR: Dalton Cook (HB).
 
Southside 9, Alexandria 8: Tyler Roberts drove in four runs, including the tying run in the seventh, and Toren Snow followed the tying single with the go-ahead double setting up an area title showdown between Southside and Etowah.
 
The Valley Cubs took an 8-7 lead with four in the sixth. The tying run scored on an error and the go-ahead run scored on a wild pitch. Ryan Taylor was 3-for-4 and Noah Primm was 2-for-5. 
 
Southside       402 100 2 – 9 11 2
Alexandria     004 004 0 – 8 9 3
WP: Tyler Roberts. LP: Landon Comer. 2B: Tyler Roberts (S), Toren Snow (S), Ryan Taylor (A), Tanner Mize (A), Layton Ellison (A).
 
Cleburne County 4, Wellborn 1: Starting pitcher Austin Benefield drove two runs with a pair of doubles and Reese Morrison pitched two perfect innings of relief to get the win in the rain-shortened game. Benefield's doubles gave the Tigers leads of 1-0 and 2-1. 
 
Wellborn        000 10 – 1 2 0
Cleburne Co.  010 12 – 4 7 0
WP: Reese Morrison. LP: Jett Smith. 2B: Austin Benefield 2 (CC). 3B: Jett Smith (W), Reese Morrison (CC).