Snow signs in
Faith Christian's Snow signs to play softball at Judson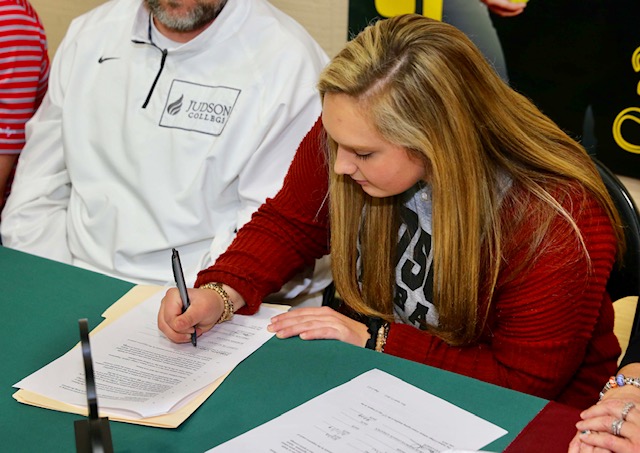 By Al Muskewitz
East Alabama Sports Today
 
When Madi Snow transferred to Faith Christian last year and wasn't able to play her important junior high school season she worried a little that the break might impact her shot at playing college softball.
 
But it all worked out in the end.
 
Early on, she was just about resigned to the idea of going to Gadsden State and then transferring to Alabama for academics, her developmental years in softball just a happy memory.
 
But on Monday morning, in front of her team and classmates, the senior third baseman signed to play for Judson College, where coach Tom Hannah anticipates her flourishing for the next four years.
 
"I wanted to play softball in college, but it just kind of wasn't working out," she said. "I started thinking about Judson and everything kind of fell into place like it was meant to be.
 
"I really wasn't scared, but I was nervous, about a lot of things. What's going to happen? Are coaches going to forget about me? Am I going to be a has-been and not (get seen for) what I could do?"
 
The tryout wasn't easy. The weather and field conditions that day in the fall forced the prospects to hit in the indoor cage at nearby Marion Military Institute and then move back to Judson's quad for fielding work.
 
It didn't dissuade Hannah. He had two targets at the tryout, Snow was one of them, and the Eagles signed both.
 
"I didn't see her play high school ball or travel ball, but it didn't one bit," Hannah said. "We had her at a tryout and we worked her out and I knew immediately she had the kind of skills and was the kind of young lady that fits our program perfect.
 
"She can really hit it, is a really good fielder and just a super kid. We try to get as many of those athletes as we can."
 
Actually, not playing last year after moving over from Alexandria made her a better prospect, first-year Faith coach Jason Campbell said.
 
"I've known Madi pretty much all her life and she's always been a competitor," he said. "I really think (sitting out) made her more hungry and also being able to see the game from my perspective. Her helping out last year, kind of mentoring some of the young girls, I think it made her more hungry. She kept working, she just didn't play in games."
 
The weather has made it tough to get anything started, but Snow has delivered for the Lady Lions when she's gotten the chance. She had two hits against Jacksonville and has three hits and three RBIs in four games so far this season.
 
"Just sitting out there and watching everybody play and I had to sit on the bench and keep book, it ate me up inside," she said. "I missed it so much. When our first game got canceled here I was so upset because I haven't played and when I finally played in that first game I was like this is what I've been missing."
 
The Lady Lions already had postponed Monday's game because of weather, but Snow is scheduled to take the field again Tuesday in the team's area opener against Winterboro.