Trying to make history
Updated: February 27, 2019
Talladega reaches 4A state championship game by taking game 'up a notch,' sends top-ranked Hillcrest home in semifinals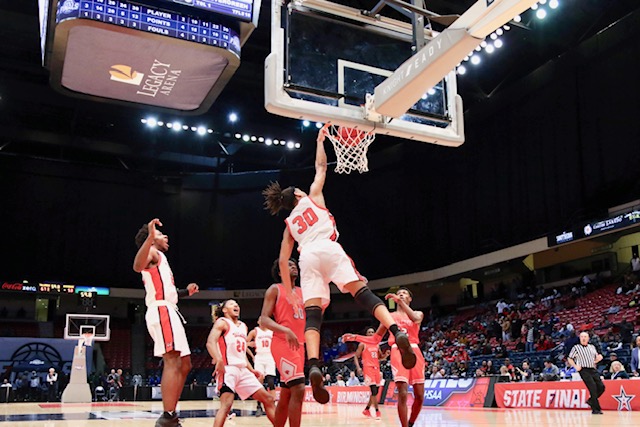 By Al Muskewitz
East Alabama Sports Today
 
BIRMINGHAM – The Talladega Tigers are chasing an elusive state championship when at one point in the year it was just trying to save their season.

Four previous years they've gotten to the Final Four and four times they've been denied in the semifinals. They're playing like a team that won't be denied this time.
 
The way to make this year different is by being assertive. The Tigers threw their weight around both early and late Tuesday and beat top-ranked Hillcrest-Evergreen 69-58 for a spot in Friday's Class 4A boys state championship game at the BJCC.
 
The Tigers (25-8) will play West Limestone (21-13) at 5:45 p.m. for a chance to make history. West Limestone edged Booker T. Washington 50-48 on four free throws in the final 26 seconds and a steal under the basket right before the buzzer.
 
"It's historic to get in the finals," Talladega coach Chucky Miller said. "The first two times we were down here we played Ramsay and Butler. We competed very well against those teams, but they were two of the top teams in Alabama history.
 
"The last two years (against Sylacauga, Faith Academy) we have not played our total game down here like we should have and this bunch has decided they're going to take it up a notch. They're going to play Talladega ball the whole game, and basically we did tonight."
 
The Tigers asserted themselves early, jumping on the Jaguars 17-8 in the first quarter. But it was the way they took charge in the final seven minutes that earned them a spot in the title game.
 
"We wanted to take it to them at first," Miller said. "We wanted to be the aggressor the first quarter and kind of set the tempo and play off that quarter. They've been the aggressor on about everybody all year so we had to match their intensity and I thought we did tonight."
 
The Tigers never trailed after 2-0 and led by as many as 10 late in the third quarter, but as Miller has learned over the years no lead is really safe in today's game. The Jaguars (26-3) cut it to 48-46 on an Eddie Watkins layup with 7:04 to play, but then the Tigers embarked on a 12-2 run over the next four minutes to regain control of the game.
 
"We played our hearts out those seven minutes," Arron Greene said.
 
Kobe Simmons threw down a monster slam with one minute left to put a bow on the victory.
 
"The fourth quarter is the most important quarter of the game," Simmons said. "If you want to win the game you have to lock down D in the fourth quarter. It feels real good to get over that hump. It feels real good to go to the state championship. When's the last time we made it to the state championship? Like 20 years? We're trying to make history."
 
D'Corian Wilson led Talladega with 22 points. Simmons had 13 points, nine rebounds and four assists, while Greene had 14 points and 13 boards.
 
Interestingly, this Talladega team that is one game away from a state title was 5-5 at one point this season. 
 
"If we played better as a team we knew we could get here," D'Corian Wilson said of the turnaround. "We had to believe. That's the only we had to do, keep believing in each other, and we got here. And once we got here we knew we could do it. We just had to stay as a team. Once we came together as team that's when we started playing our best ball."
 
NOTES: The win was Miller's 758thof his career. He's the second winningest coach in the Final Four field … The Tigers held Hillcrest to 4-of-23 shooting from 3-point range … The loss snapped the Jaguars' 17-game winning streak. 7A Mountain Brook now has the longest boys winning streak in the state (15 games) … West Limestone has won two state titles in its history  (1956, 2015).
 
CLASS 4A BOYS SEMIFINALS
Talladega 69, Hillcrest-Evergreen 58
HILLCREST (26-3) – JaCobee Bryant 2-7 0-0 4, Jarrett Taylor 4-13 6-6 18, Christopher Lett 4-11 0-1 8, Eddie Watkins 4-7 4-8 12, Adarius Oliver 4-7 7-9 15, Andrae McMillian 0-1 0-0 0, Andray Pope 0-1 0-0 0, Phillip Evans 0-0 0-0 0, Jaylen Dancer 0-2 1-2 1, Jekeviahn Stewart 0-0 0-0 0. Totals 18-49 18-26 58.
TALLADEGA (25-8) – Jaquon Chatman 4-6 0-1 8, Arron Greene 6-12 2-2 14, D'Corian Wilson 8-17 3-5 22, J.Q. Wilson 2-5 1-2 5, Kobe Simmons 6-9 1-1 13, KeAndre Brand 0-0 0-0 0, Nigel Scales 0-4 3-4 3, Michael McGregor 0-0 0-0 0, Rontavious Barclay 1-2 0-0 2, RaDerius Montgomery 1-1 0-0 2. Totals 28-56 10-15 69.
Hillcrest                 8               18            18            14            –                58
Talladega               17             17            13            22            –                69
3-point goals: Hillcrest 4-23 (Bryant 0-1, Taylor 4-12, Lett 0-6, Oliver 0-1, McMillian 0-1, Dancer 0-2); Talladega 3-7 (Greene 0-2, D. Wilson 3-4, Scales 0-1). Rebounds: Hillcrest 27 (Oliver 9); Talladega 40 (Greene 13, Simmons 9). Total fouls: Hillcrest 18, Talladega 20. Officials: Ben Mathison, Kyle Chambers, Jamar Matthews.