Sparks sparks PV
Karmyn Sparks' recent move to the high post helps her game, Lady Raiders get past Piedmont and into 3A Area 11 tournament title game, subregion round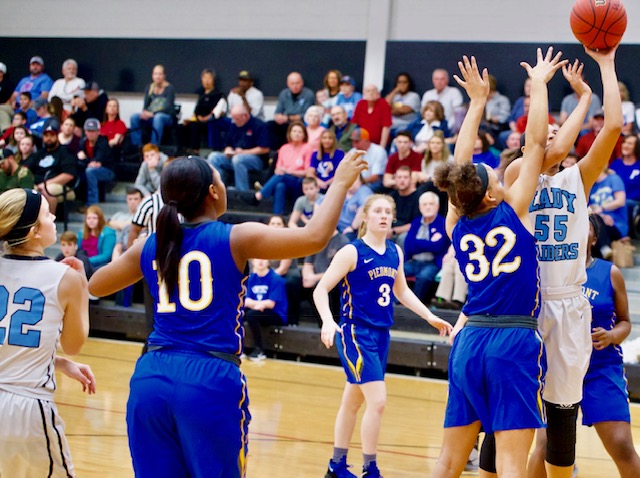 By Al Muskewitz
East Alabama Sports Today

WEAVER — Pleasant Valley's girls earned a spot in their area tournament championship game and the Class 3A subregion round with an intense 41-40 victory over Piedmont Thursday night.

They got the winning points on a not-so-pretty basket by center Karmyn Sparks with 15.8 seconds left, but one could make the claim they won it two weeks ago when coach Brad Hood put Sparks at the high post and said that was the only place she could shoot the basketball.

It wasn't a shot typically associated with a player of her size and position — think Duke's Christian Laettner against Kentucky in the 1992 NCAA Tournament — but it was exactly what her team needed her to do and she answered the call.

Sparks finished with 18 points and 10 rebounds.

"Karmyn had a great game tonight," Hood said. "She got in a little phase when she's feeling sorry for herself, but when she's not thinking about the game and just playing she's a different player.

"She's had that freedom since Christmas. The Anniston game (in the county tournament) she started doing a lot of flying around the court wanting the ball. I'd rather her be too aggressive than not aggressive enough."

The win sends PV into the Area 11 title game against top-seeded host Weaver with the backdrop of trying to avoid a trip to once-beaten Area 15 champion Pisgah for a spot in the Northeast Regional at Jacksonville State. The winner hosts Area 15 runner-up Sylvania.

"We're going to have to play a lot better to play Weaver," Hood said. "There's no consolation prize of let's go to Pisgah and try to pull one out. First of all, it's important because it's an area championship in a five-team area with some good teams with some veteran girls in it and then whoever we play (in the subregion) we play. We know who we're going to play if we don't win it."

Sparks big basket came after a controversial call in which Piedmont was whistled for a backcourt violation after PV's Emma Hood knocked the ball from Sydney Prater with 20.2 seconds to play and the game tied at 39.

Hood confirmed she tipped the ball free, but Brad Hood thought Prater grabbed for the loose ball and couldn't control it as it bounced into the backcourt.

Emma Hood said she didn't chase it down because of it weren't a backcourt violation and the Lady Bulldogs got an easy go-ahead layup there would have been heck to pay.

Piedmont coach Terrace Ridley said that call "was definitely the change in the game."

The Lady Bulldogs had come all the way back from an early 16-2 deficit behind the 3-point shooting of their seventh- and eighth-graders to tie it with 1:33 left in the third quarter and made it a dogfight the rest of the game.

They outscored the Lady Raiders in each of the last three quarters and led 39-36 with 3:10 to play following two Prater free throws after she checked back in with four fouls.PV tied the game on a free throw by Sparks and a basket by Hood from the elbow the bench was reluctant to call for her.

"These girls fought hard and they came back," Ridley said. "It's just that we've still got to work on when we get back on top being patient. We were and then all of a sudden we went back to the old way. We had them where we wanted to have them at and we just didn't keep mashing the pedal."

Sparks' go-ahead basket was more of an off-balanced throw Ridley said "was meant to go in at that time."
.
"I looked at the scoreboard and was like my team needs me," Sparks said. "I need to hit this, they need me a lot, so focus in, soft touch, let it roll in. We've been working so hard this season I'm not letting my team down. My team is trusting me with this I'm doing it.

"We've worked so hard this season and we've been hearing how people stop working hard towards their goal, when the going gets tough they cut back. Just to sit there and see my team fight as hard as they did it was encouragement for me to say OK they have my back let me get theirs."

After the basket, Piedmont's Kayley Kirk was fouled by Lindsey Pritchett with 11.2 seconds to play. Kirk hit the first free throw to make it 41-40. She missed the second, Sparks rebounded and Pritchett was fouled with 8.2 seconds left once she got the ball.

Pritchett missed her first free throw. She made the second but it was waved off by a lane violation. The Lady Bulldogs set up for a last-second winning or tying shot, but Sparks intercepted Kirk's entry pass presumably for Prater and time expired.

Prater led Piedmont with 15 points, 10 rebounds and five steals in the final game of her high school career. She was 7-for-7 from the free throw line. Hood called her "top notch" and Ridley called her "one awesome, awesome student-athlete," noting her status as salutatorian of her senior class as well as ability on the court.

It was the fourth time the teams have played this season.

CLASS 3A AREA 11
Pleasant Valley 41, Piedmont 40
PIEDMONT (12-12) – Kayley Kirk 3 4-9 10, Lele Ridley 0 1-2 1, Ava Pope 2 0-0 6, Hannah Barbee 2 0-0 6, Madison Tyree 0 0-0 0, Z'Hayla Walker 0 0-0 0, Sydney Prater 4 7-7 15, Kiana Jackson 1 0-0 2. Totals 12 12-18 40.
PLEASANT VALLEY (17-11) – Brooke Perry 2 0-2 5, Lindsey Pritchett 1 0-1 3, Ava Boozer 0 0-0 0, Rylee Haynes 0 3-4 3, Chandler Dorsett 0 4-6 4, Emma Hood 3 2-7 8, Karmyn Sparks 8 2-8 18. Totals 14 11-22 41.
Piedmont 16 11 3 11 – 41
Pleasant Valley 4 13 11 12 – 40
3-point goals: Piedmont 4 (Pope 2, Barbee 2); Pleasant Valley 2 (Perry, Pritchett). Technical fouls: Piedmont coach Ridley (indirect). Fouled out: L. Ridley. Total fouls: Piedmont 16, Pleasant Valley 16. Officials: Walker, Battles, Barber.