Two-sport tough
Piedmont's Mohon signs baseball scholarship with Southern Union, playing two sports credited with building maturity, leadership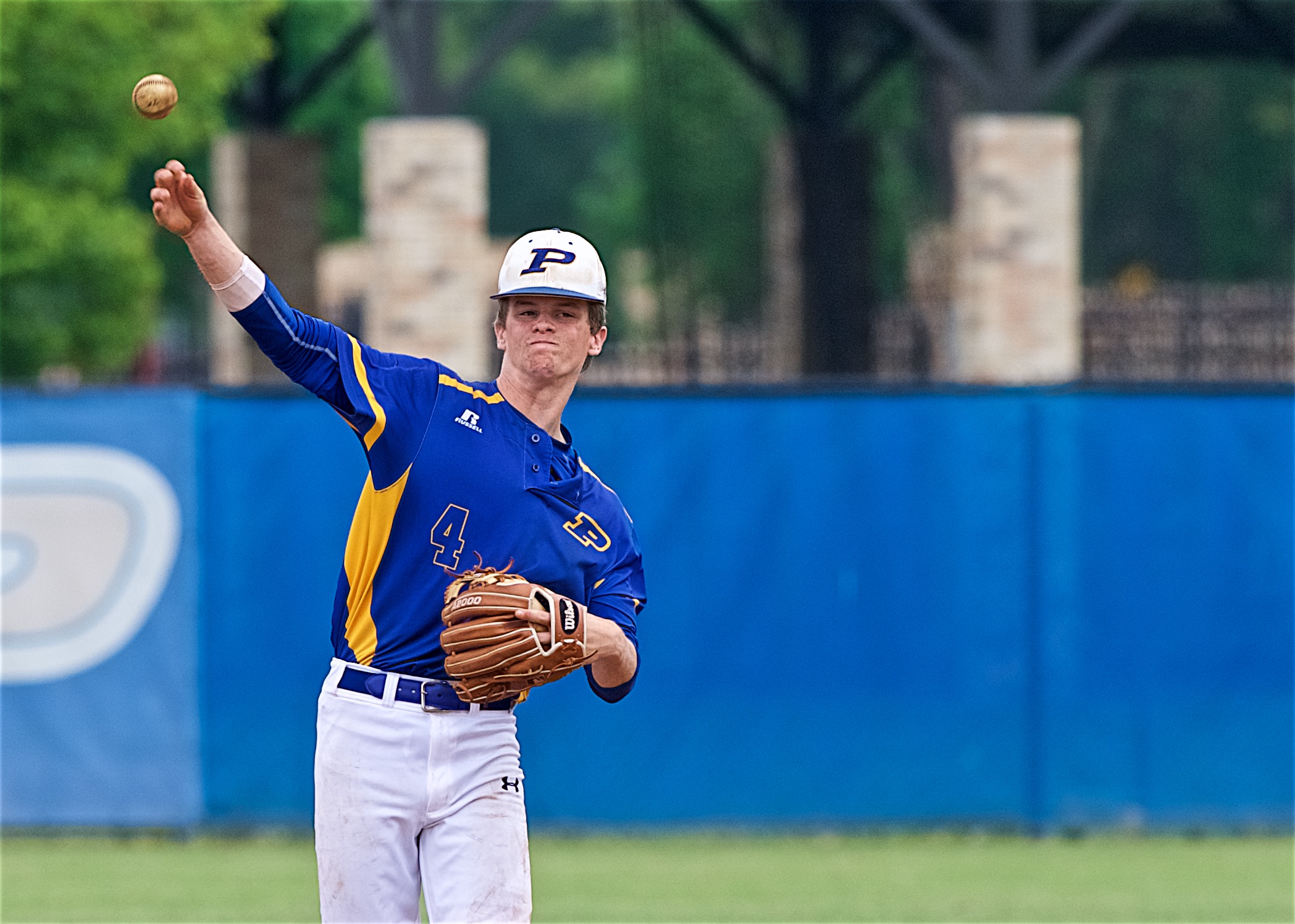 By Shannon Fagan
Special to East Alabama Sports Today

PIEDMONT – Piedmont baseball coach Matt Deerman has confidence in Mason Mohon to deliver what the Bulldogs need. Whether it's a big hit, a key pitch or a solid defensive play, Deerman has come to expect that from the now-senior.

But one play stands out above the rest. And, it's one that helped send the Bulldogs to the state championship series two years ago.

Mohon was just a sophomore during the Bulldogs' 2017 Class 3A state semifinal series at Colbert Heights. He came up in a crucial situation in the sixth inning, the score tied 1-1.

Taylor Morrow led off the inning with a double and was bunted to third by cleanup hitter Derrick Baer, bringing a struggling Mohon to the plate.

"Mason's a guy who puts the ball in play a lot," Deerman said. "He hits a lot of balls in the air. I'm thinking we're going to get a sac fly and this thing's going to be over with, but he gets to 0-2. It was his fourth at-bat against him (pitcher Dakota McCreless), but he hadn't made solid contact yet. He fouled two balls off, and that's not like him. He's a big contact guy.

"I said 'Heck, let's try (a suicide squeeze) right here. We did a suicide squeeze with two strikes. He's not a good bunter, and I think he was as surprised as anybody he got it down. That was a high-pressure situation. He performed and got the job done. He's hit some big home runs in the playoffs too, but that was probably the biggest moment in his baseball career."

That is, until Wednesday morning when Mohon signed a baseball scholarship with Southern Union Community College.

"Getting the opportunity to play in those type games, it gives you a lot of confidence," Mohon said. "It gives you more drive to do better things."

Mohon went on to become a solid quarterback for football coach Steve Smith as a senior last fall. His performance there – 78-of-131 passing, 1,217 yards and 12 TDs; 472 yards and 118 carries rushing with 11 TDs –helped carry the Bulldogs to the 3A title game, where the finished runner-up to Flomaton.

Even though that championship game was in a different sport, Southern Union coach Jabo Jordan's confidence in Mohon was reaffirmed by watching him in person at Auburn's Jordan Hare Stadium.

"I think he's a really good athlete," said Jordan, who attended the signing ceremony. "I think he'll come in and do a real good job for us. He may be a two-way guy for us, a pitcher and a player. We think he can play in the infield. That's what he'd be first, then he might be able to pitch a little for us. We're tickled to death to get him and looking forward to having him."

Deerman said playing multiple sports has helped toughen Mohon up and the football experienced developed his leadership skills that will translate well to the baseball diamond.

For Mohon, playing college baseball is a dream come true.

"I've been playing for a long time," he said. "Since I was 3, my dad got out there and threw the baseball with me until I got better at it. I was set on playing college baseball. I've always had a love for the sport. Me and my brother Bryce, we do something daily with it. I just love the sport."

Before heading down to Wadley he's hoping to end his high school career on a strong note.

"We're trying to win a state championship this year, and we're not taking anything less," Mohon said. "It's exciting. I wanted to sign before the season to get it off my chest and just play baseball. I don't think it will be that much of a change (at Southern Union) except for the people around me. You've just got to play your game."

Shannon Fagan is sports editor of the Cherokee County Herald.

Coaches, if you haven't submitted your 2019 season schedules yet to East Alabama Sports Today, do so by email to almusky@aol.com. The master schedule is building as we speak.