Taking care of business
Piedmont uses big second half to beat Weaver for second time and avoids coin flip for top seed; hosts Class 3A Area 11 tournament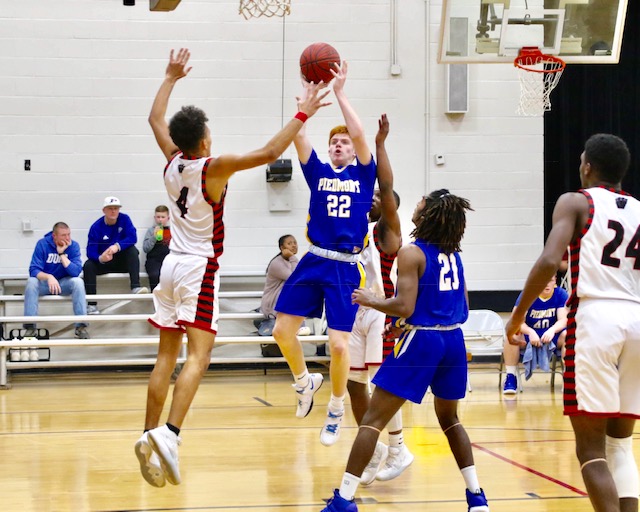 By Al Muskewitz
East Alabama Sports Today

WEAVER — Piedmont avoided leaving its postseason fate to the flip of a coin Monday when it it beat the weather and Weaver 60-47 in its final area game of the season.

The Bulldogs would have fallen into a tie with Weaver for first place in Class 3A Area 11 had they lost, but they avoided the tiebreaker by – stop us if you've heard this before – putting together a strong second half.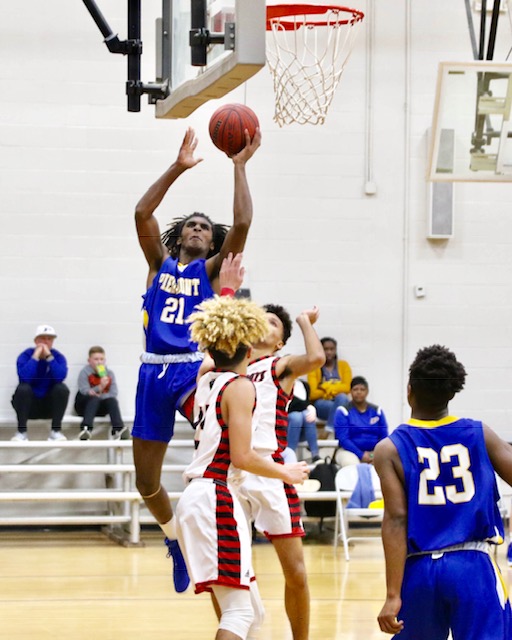 "We talked about it Friday," Piedmont coach JoJo Odam said. "If we took care of business we don't have to come to a coin toss. I'm horrible at coin tosses. I'm not a gambler, so I didn't want it to come to that. I'd rather just take care of it on the court."

As much as they'd like to shake it, the Bulldogs lived up to their reputation as a second-half team. They fell behind early 16-8, rallied to trail by only one at halftime and then held the Bearcats to 15 points in the second half.

The game was tied at 37 early in the third quarter when Piedmont took control with a 13-2 run that carried into the fourth quarter. Weaver stopped doing the things that make it good and the Bulldogs scored nine straight points to take a 46-37 lead. Brandon Heath broke the string with a layup with 26 seconds left in the quarter.
 
"This year, that's how we've played," Silas Thompson said. "We've played from behind a lot. We usually don't start off fast, but once we get going we're a hard team to beat.
 
"We're a good team once we get going. I believe by the time we get to Plainview and all them we'll get to where we play good the whole entire game instead of coming from behind all the time."

Thompson, the sixth starter in a five-man lineup, was the spark for Piedmont. He scored 15 points in the game on 6-for-9 shooting. He had eight points in the second quarter to lead the comeback. It started with a three-point play to open the scoring and then in the final 1:10 he hit a 3-point to give his team its first lead since the first basket and added another layup to get a lead.

"He (Thompson) is a starter, that's what we told him early in the year," Odam said. "Look we've got six starters. If we could start six guys, play 6-on-6, he'd be that sixth guy. He's huge to us. That left hand is hard to guard."
 
When Thompson was younger it used to bother him about not starting, but now he relishes his role as the first man off the bench.
 
"My teammates call me a spark plug and they just tell me to come off hot," he said.

Alex Odam led the Bulldogs with 20 points. He also had five assists and four steals. Delo Foster had 10 points, 11 rebounds and six blocked shots.
 
"Everybody who played tonight did something really, really well," JoJo Odam said.

Robert Gaines started fast for Weaver. He had eight of the Bearcats' first 14 points, had 16 at halftime and finished with 24.

The area meeting was set for Wednesday, but to beat the weather area officials were prepared to do the coin toss if necessary after the game. It wasn't necessary.

Now, the Bulldogs will await the winner of the Pleasant Valley-Wellborn area tournament play-in game, while Weaver plays Saks. At Piedmont.

"We didn't play well enough to deserve a coin toss tonight," Bearcats coach Marcus Herbert said. "We played well for the first half and then we got out of our game and we lost our composure a little bit. We've said from the beginning of the year it's about being disciplined and doing the little things.

"The season isn't over yet. It's all about rankings and seedings we're playing at, but they have to understand time is running out. If they don't understand about playing team ball at all times the season will end early."

Piedmont 60, Weaver 47
PIEDMONT – Carl Myers 3 0-0 6, Kaedon Jenkins 1 0-0 2, Delo Foster 4 2-4 10, Silas Thompson 6 2-2 15, Alex Odam 6 8-10 20, T.J. Fairs 2 0-2 5, Malachi Jackson 0 0-0 0, Jakari Foster 1 0-0 2, Sean Smith 0 0-0 0. Totals 23 12-18 60.
WEAVER – Taylor Deck 0 0-0 0, Brandon Heath 2 1-2 6, Robert Gaines 10 2-2 24, Shamar Spinks 2 1-2 5, Gary Wallace 1 0-0 2, DeAndre McCain 2 0-0 4, Amardric Elston 2 0-0 4, Taber Stephens 1 0-0 2. Totals 20 4-6 47.
Piedmont             12            19            17            12            –               60
Weaver                 16            16            7              8              –               47
3-point goals: Piedmont 2 (Thompson, Fairs); Weaver 3 (Heath, Gaines 2). Technical fouls: Weaver coach Herbert. Total fouls: Piedmont 9, Weaver 17. Officials: Russell, Robinson, Holmes.