Seeding the field
Oxford boys, Anniston girls pull down top seeds for Calhoun County Basketball Tournament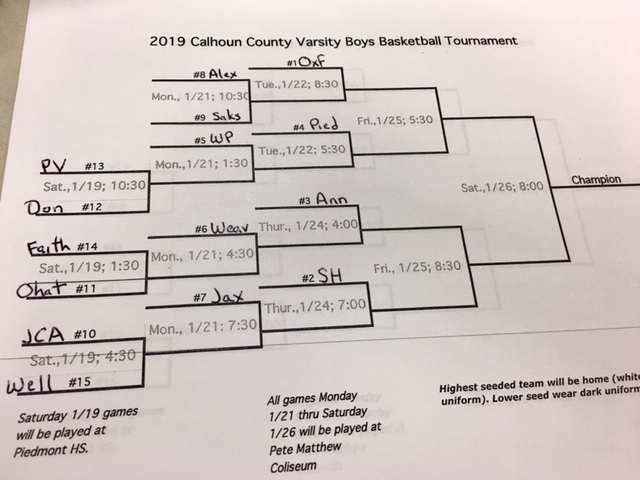 By Al Muskewitz/East Alabama Sports Today

PIEDMONT — The Oxford boys and Anniston girls, the presumptive favorites going in, pulled down the top seeds in their respective county tournaments Sunday.
Oxford, Sacred Heart and Anniston were the top three seeds in the boys field. Anniston, Sacred Heart and Weaver were the top three seeds in the girls field.

Both top-seeded coaches, Oxford's Joel VanMeter and Anniston's Eddie Bullock, said they were appreciative of the nod by their peers but quickly added they still have to do the job on the court.
"It feels good that everybody thinks that we deserve the No. 1 seed, but we've lost to one county team so anything can happen on any given night," said VanMeter, who nominated Anniston for the No. 1 seed based on schedules and county records. "To be the No. 1 seed in the Calhoun County Tournament is very important and a very worthy thing for us to be; we're very proud of that. Now we just look forward to getting out on the floor and having a chance to prove it against those worthy opponents that are there."

"You always appreciate it when your colleagues vote for you," Bullock said. "It makes you feel good they understand and appreciate your work and know you're not just out there winning them by luck. We appreciate it but we still have to prepare because the game's still played on the floor. We've still got to play."

Actually after the top seeds were established 2 and 3 easily fell in line. Sacred Heart boys beat Anniston head to head while Sacred Heart's girls have beaten several bigger ranked opponents, as recently as Saturday when they rallied from 21 down in the third quarter to beat Prattville Christian, and Weaver hasn't.

Weaver coach Gary Atchley was prepared to "fight for my team," but the Lady Cardinals' body of work was hard to argue. No one challenged the Lady Bearcats for the third seed.
Many of the other choices were less cut-and-dried. There were five teams put up for the fourth seed among the boys and Alexandria brought up the rear in that group. There were four teams up for No. 9, with Saks avoiding the first day of tournament play ahead of three 1A and 2A teams with better overall records but one fewer in-county wins.

Sacred Heart boys coach Ralph Graves thought the coaches got it right. Still, Piedmont coach JoJo Odam was "super surprised" his team drew the No. 4 boys seed, particularly in light of its 16-point loss to Alexandria, which slipped to No. 8 seed, and No. 5 White Plains' win over top-seeded Oxford.
But the Bulldogs won a close show-of-hands vote over White Plains for 4 and White Plains was the overwhelming choice in the subsequent vote for the 5.
The tournament starts Jan. 19 at Piedmont High School with the bottom six seeds playing each other. The event moves to Jacksonville State Jan. 21 for the rest of the week. The championship games are Jan. 26.
"When you look at all the teams, especially the top eight to 10, I think that's a pretty tight race there," VanMeter said. "I think it'll be great games and I think it'll be great for the tournament, just because I think it's going to be very competitive every game."
Boys seeds: Oxford (14-4, 0-1 county); Sacred Heart (11-9, 2-0); Anniston (12-5, 3-1); Piedmont (10-2, 6-1); White Plains (11-6, 5-3); Weaver (12-4, 6-1); Jacksonville (8-7, 4-4); Alexandria (9-6, 1-1); Saks (3-9, 2-5); Jacksonville Christian (11-4, 1-1); Ohatchee (7-7, 1-2); Donoho (5-7, 1-2); Pleasant Valley (3-9, 2-4); Faith Christian (6-8, 2-3); Wellborn (0-12, 0-8).

Girls seeds: Anniston (13-3, 2-0); Sacred Heart (14-2, 1-0); Weaver (11-5, 7-1); Jacksonville (6-8, 4-2); Oxford (3-14, 2-2); White Plains (8-10, 5-5); Alexandria (4-11, 3-1); Pleasant Valley (10-7, 5-2); Piedmont (6-6, 3-3); Ohatchee (6-8, 1-2); Jacksonville Christian (10-5, 2-0); Faith Christian (5-6, 2-2); Saks (2-12, 1-8); Wellborn (1-11, 1-8); Donoho (1-9, 0-3).

This story will be updated.