State champs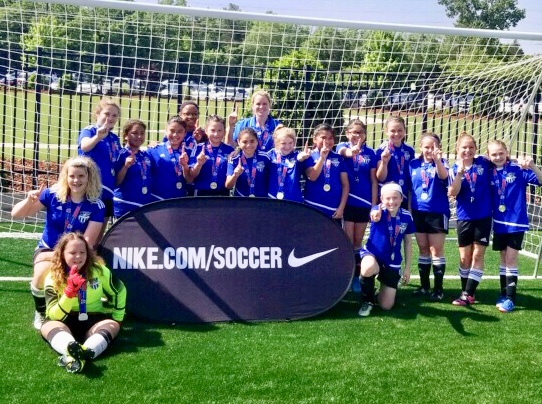 Lady Fusion 06 wins division in State Cup D2 tournament, Fusion 06 boys declared co-champs
By East Alabama Sports Today
DECATUR — The Northeast Alabama Fusion U12 boys and girls soccer teams had a big weekend in Alabama State Cup D2 tournament.
The Lady Fusion 06 Oxford girls posted two shutouts and scored five straight goals after falling behind 1-0 in the finals to win their state championship.
The Fusion 06 boys were declared co-champions of their state tournament after a bizarre series of tiebreakers.
The girls, led by first-year coach Nikki Brown, blanked Tuscaloosa United 3-0 and Birmingham United SA North Select 2-0, then beat Trussville United Blaze 5-1.
Campbell McKelvey posted both shutouts and stopped a penalty kick in a crucial situation in the championship game. Emi Nabors scored goals in all three games.
"What was the most exciting for me was seeing a group of girls I took over in February and see how quickly they absorbed the information I was giving them and to go to the state championship and put everything together," Brown said. "For everybody to contribute was the most exciting thing for me. They all played their socks off."
The boys lost their tournament opener to Prattville in the absolute last second, then beat BUSA 3-2 and Vestavia 5-2. They were awarded the title by virtue of their win over BUSA, but a review of the tiebreaker procedure gave the nod to BUSA. Since the championship medals already were awarded the resolution was to declare both teams co-champions.
The tournament wraps the season for these two teams. The Lady Fusion 01 and Fusion 02 (boys) are headed to regional play in Greenville, S.C., in June.
The club will hold tryouts in Oxford and Gadsden June 2 and Guntersville June 3. For details, check the club website at www.fusion-fc.com