Flying into Final Four
Wiedmer scores hat trick as Donoho tops Sylvania 3-1 to advance to Girls State Final Four for the first time
By Brant Locklier
For East Alabama Sports Today
Midway through the first half, Lily Wiedmer gathered in a high kick some 20 yards from the goal and quickly spun around and drilled the ball into the back into the net for a goal.
It was a stunner and gave the Donoho girls soccer team a lead from which they would never look back as the Lady Falcons beat Sylvania 3-1 and advanced to the Class 1A-3A State Final Four next week in Hunstville for the first time.
Wiedmer scored all three goals for the Lady Falcons (17-1), giving her 57 for the season.
It only took five minutes after her first goal for Wiedmer to score again. This time she took the ball at midfield, weaved her way past Rams defenders, got to the keeper one-on-one and stuck the ball in the right side of the net for a 2-0 lead.
The Donoho defense took over on the hot humid evening in the second half as it was determined to not let go of the lead. That defense has only allowed 12 goals all year long and seven were to Glencoe.
Wiedmer converted on a penalty shot in the second half to complete the hat trick. She just missed a fourth goal moments later.
"I think that this year I have gotten older and become a more mature player," Wiedmer said. "I am more calmer now and know what to do and when to go and where to go this year."
Sylvania (16-5) got a late goal to make it 3-1.
The Lady Falcons got great goal play from two goalies. Maggie Wakefield played the first half and Campbell Hagan got the job done in the second half after Wakefield injured a finger in the first half.
"I think I have the best two goalies in the county," Donoho head coach Jay Jenkins said.
Hagan was forced to come up and make plays on the ball as the Rams approached the Falcon goal.
"That was not my strong suit," said Hagan. "I am not real good at coming up and sliding and catching the ball, but I could not let them score and when coach said get your gloves I did what we had to do to win."
The Lady Falcons will face the winner of Saturday's Morgan County-Westbrook Christian match in their Final Four opener.
"We started out slow, because we had no scouting report on them, so we kind of laid back and were going to go out and feel out what they had and then go from there," Jenkins said. "This is a good team. We enjoy playing together and are focused all the time; of course, all the teams are at this time of the year. We were a little sluggish at times tonight, maybe the heat was a factor, but we are looking forward to next week."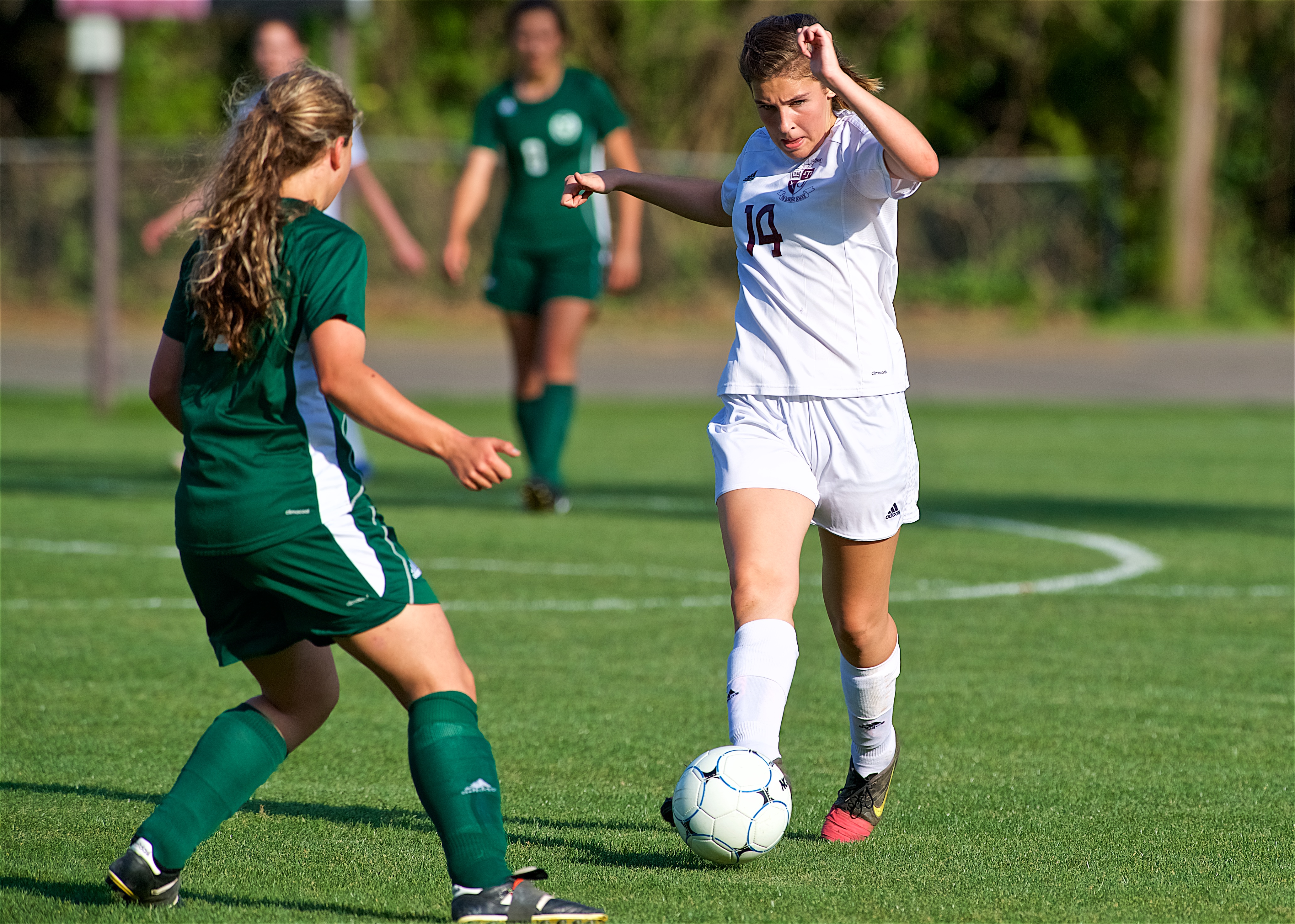 To see a photo gallery from the match visit www.bjfranklin.smugmug.com
AHSAA Soccer Playoffs
Quarterfinal Pairings/Results
GIRLS
CLASS 1A-3A
Montgomery Academy (17-3) at Westminster-Oak Mountain (9-3), Sat., 5 p.m.
Indian Springs (13-4) at Houston Academy (7-8), Sat., 5 p.m.
West Morgan (18-6) at Westbrook Christian (16-4-1), Sat., 5 p.m.
Donoho (16-1) 3, Sylvania (16-5) 1
CLASS 4A-5A
Trinity Presbyterian (21-2-2) 1, Briarwood Christian (12-6) 0
Faith Academy (20-5-1) at St. Paul's Episcopal (18-4-3), Sat., 5 p.m.
Guntersville (16-1-2) 3, Westminster Christian (17-4) 1
Arab (14-4-3) 3, Springville (14-7)
CLASS 6A
John Carroll Catholic (19-3-1) 4, Chelsea (16-6-1) 0
Northview (17-3-1) 1, Spanish Fort 0
Southside-Gadsden (16-1-1) at Hartselle (13-7-2), Sat., 1 p.m.
Gardendale (12-4) 2, Pell City (13-3-2) 1
CLASS 7A
McGill-Toolen Catholic (19-2-3) 2, Prattville (11-11-1) 0
Enterprise (9-8-2) 3, Fairhope (12-7-1) 2
James Clemens (14-3-2) 8, Spain Park (17-6) 2
Vestavia Hills (20-3-1) 3, Bob Jones (12-4-3) 0
BOYS
CLASS 1A-3A
Westminster-Oak Mountain (17-2) 1, Montgomery Academy (14-9-1) 0
Indian Springs (16-6-4) at Bayside Academy (22-2), Sat., 7 p.m.
West Morgan (19-2) 3, Collinsville (20-3-1) 2
Altamont (16-5-1) 4, St. Bernard (13-7) 0
CLASS 4A-5A
Briarwood Christian (22-2-1) 4, LAMP (15-3-1) 1
Montgomery Catholic (17-6-4) at St. Paul's Episcopal (17-5-5), Sat., 7 p.m.
Randolph (14-4-2) 3, St. John Paul II Catholic (12-4-5) 0
Arab (13-2-2) 2, Sylacauga (16-7-4) 1
CLASS 6A
Homewood (22-0-2) 6, John Carroll Catholic (10-12-2) 1
Northview (11-9-1) 4, Stanhope Elmore (14-7-4) 1
Fort Payne (18-3-3) 1, Florence (13-7-1) 0
Pell City (13-5-2) 2, Clay-Chalkville (17-7-1) 1
CLASS 7A
McGill-Toolen Catholic (13-8-5) 2, Smiths Station (13-5-3) 0
Auburn (9-4) at Foley (13-7), Sat., 5 p.m.
Mountain Brook (19-5-3) 2, Huntsville (16-6-2) 0
Grissom (15-7-3) at Vestavia Hills (16-5-1), Sat., 5 p.m.