Chasing a title
Top-seeded Saks boys shake off first-round scare, while both Donoho teams keep repeat hopes alive
CALHOUN COUNTY TOURNAMENT
Thursday's Boys Results
No. 1 Saks 3, No. 8 Faith Christian 2
No. 4 Donoho 2, No. 5 Sacred Heart 0
No. 3 Oxford 4, No. 6 Weaver 1
No. 2 Jacksonville 4, No. 7 Anniston 0
Friday's Games
Saks vs. Donoho, 4:30 p.m. (F1)
Oxford vs. Jacksonville, 4:30 p.m. (F2)
Thursday's Girls Results
No. 1 Donoho 10, No. 8 Saks 0
No. 5 Oxford 4, No. 4 Faith Christian 1
No. 3 Sacred Heart 3, No. 6 Weaver 0
No. 2 Jacksonville, No. 7 Anniston 0
Friday's Games
Donoho vs. Oxford, 3 p.m. (F3)
Sacred Heart vs. Jacksonville, 4:30 p.m. (F4)
To see a photo gallery from Thursday's games visit www.bjfranklin.smugmug.com
By Brant Locklier
For East Alabama Sports Today
OXFORD – Top boys seed Saks survived a double overtime scare from eighth-seeded Faith Christian and the Donoho boys and girls teams kept their hopes alive for a repeat after Thursday night's opening round of the Calhoun County Soccer Tournaments at Choccolocco Park.
The Saks boys found themselves down 2-0 with less than 20 minutes left in regulation after Faith's Daniel Blackstone and Beau Conley hammered home second-half goals. The upstart Lions, playing with five seventh- and eighth-graders had played Saks tough during the regular season losing 2-0 and 3-1 and appeared to be on their way to a UMBC-style upset.
But the Wildcats picked up their intensity and began to fiercely attack the goal. Corey Watkins got Saks on the board at the 18:00 mark of the second half and tied the game with 11:51 left.
The teams traded punches back and forth until Saks' Anthony Cornejo ended the game with 1:07 left in the second overtime.
"We were just glad to get out of here," Saks coach Lamus McCombs said. "We had to just keep things simple. Our communication was not very good and our shots were too high. We got the shots down in the latter part of the game and we were able to get the ball in the goal."
Lions coach Tim Mitchell, meanwhile, saw his team come to play.
"I was so proud of the effort these guys had tonight; we have been so close all year," he said. "All our games but one have gone down to the last minute or so. We just play Faith-style soccer as hard as we can."
Donoho 2, Sacred Heart 0: The Falcons ground out a tough victory on second-half goals by Blake Steen and Mack Love. "We do not have the team speed that we had last year, so we are having to figure out other ways to win," Falcons coach Matthew Wright said.
Jacksonville 4, Anniston 0: The Golden Eagles got two goals from Davis King and one each from Preston Harvey and Colter Anderson.
Oxford 4, Weaver 1: The Yellow Jackets erupted for three second half goals. Misael Reyes scored two of those second-half goals and Sergio Ruedas got the other. Raul Morales scored Oxford's first-half goal, while Kyle Knight scored for Weaver.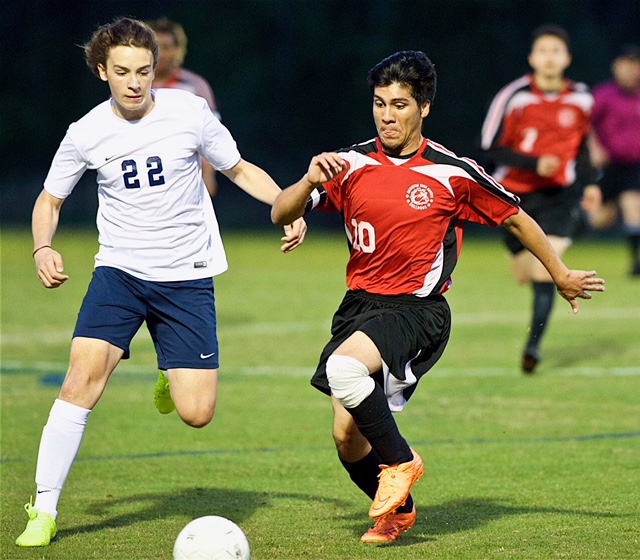 GIRLS BRACKET
Donoho 10, Saks 0: Donoho girls coach Jay Jenkins challenged his top-seeded defending champion Lady Falcons to be sharp and do things the right way in the second half after a building a lackluster 4-0 halftime lead on Saks.
His words of wisdom were taken to heart as Lily Weidmer came out and scored four quick goals to double the margin. Whitney Seals and Kathleen Seals added goals as the game was called at 10.
Weidmer was unstoppable as she ended the game with six goals and two assists. Kathleen Seals had a second goal and Constance Hodges had one. Whitney Seals three assists and Hodges had two.
The Lady Falcons have now won four straight County Tournament matches and have yet to allow a goal.
Oxford 4, Faith Christian 1: All the scoring came in the first half. Sawyer Brooks, one of four seventh-graders that start for the Lady Jackets, scored two goals and Macie Williams had one. Their first score came on an own-goal. Babatunmise Aremu scored the lone Lions goal with 17:40 left in the first half.
Jacksonville 4, Anniston 0: Hannah Rhodes scored two goals in the first half. Madison Shadrick and Dana Johnson each scored in the second half. The Lady Golden Eagles will play Sacred Heart a 1-0 shootout winner over Weaver.