Major feat
Florida champions jump out front early, pull away late to win Dixie Youth Majors World Series championship
ROAD TO THE TITLE
South Carolina, 2-1
Arkansas, 13-0
North Carolina, 2-6
Georgia, 9-4
North Carolina, 4-0
South Carolina, 8-2
By Al Muskewitz
East Alabama Sports Today
OXFORD — The boys from Bushnell South Sumter had a lot of incentive to play well in the Dixie Youth Baseball World Series this week, the biggest being that Florida state flag that was flying over the outfield fence.
The longer their flag flew, the longer they were staying around.
Theirs was the last flag flying Friday at Choccolocco Park, and they couldn't wait for the invitation to go fetch it.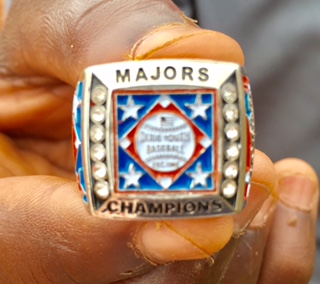 The Florida All-Stars ran over South Carolina 8-2 to win the 62nd DYB Majors World Series, then sprinted to the fence to grab the state flag and the World Series Champions banner.
Bushnell also won the Majors crown in 2012 in Bartow, Fla.
"The whole way there we kept looking at the flag," Florida slugger Caleb Breeden said. "Every day we were like, 'one flag's going to be left, one flag's going to be left, that's going to be ours, make it ours.' We just kept saying that and eventually we got to what we wanted.
"It's just a great accomplishment, really. It's something we'll always remember. Even when we have kids and grandkids it'll be a story to tell."
There were other incentives driving them as well. The Florida stars had only the Series to play for after learning early in the week the O-Zone champions would represent DYB at the third annual Youth Baseball Network 12U National Championship in Branson, Mo., next week. Several of their teammates had been on younger division World Series teams that finished second each of the last two years, so they wanted to get them a championship. And school started back home Thursday, so who wouldn't want a couple extra days of summer vacation?
Breeden's leadoff homer in the second inning set the tone and sent Florida on its way. The seventh-grader wowed the crowd with prodigious blasts during the Majors Home Run Derby last Friday and the one he hit to open the scoring against South Carolina was just as impressive. The champions added two more runs behind it in the inning and never lost the lead.
"That really set the tone for us," manager Matt Morgan said. "We can hit fastballs all day long. Hats off to (South Carolina starter Zolten Osbourne), he's really good, but we've got some really good hitters on this team. One through 12, they're all hitters."
Jude Wietan went 2-for-3 for Florida and finished 9-of-16 for the tournament.
South Carolina made it 3-2 in the bottom of the second on a two-run single by Jackson Brown and it was a 4-2 game after three innings. It stayed close until Florida broke it open with four runs in the sixth inning. Michael Savarese and Ethan Stephens drove home runs and two others scored on wild pitches.
Savarese pitched 4 2-3 strong innings before hitting his pitch limit to get the win. He took a pitch off the wrist from the hard-throwing Osborne in the sixth inning and went through the victory celebration with a ice bag on his arm, but his teammates awarded him the game ball for his effort. He gave up four hits, struck out nine and faced four batters over the minimum.
"I just knew my defense was going good today so I just kept pitching strikes and I knew they could field it," Savarese said.
The Florida stars went 22-1 on its championship journey. It went 5-1 here, outscoring its opponents 38-13. It beat South Carolina 2-1 in the opening round.
"It's a wonderful feeling," Morgan said. "We've been working hard since the fall. All these guys have been playing travel ball, rec ball during the week, just a lot of dedication out of these guys.
"We've just got a lot of heart, big heart and some really good baseball players on this team. Our pitchers took us a long ways and our batters took us a long way. I've always told these guys hard work will pay off and it just paid off there. They wanted this championship, they went after it and they got it."