Saints march in
St. Clair County gets hot at right time, bounced back from rough pool play to win Piedmont Passing Camp
By Al Muskewitz
East Alabama Sports Today
PIEDMONT – If he knew he was going to get these kinds of results all the time, St. Clair County coach Matt Glover might consider going to his administration and make a pitch for some artificial turf.
The Saints got hot at the right time Saturday and won all four of their bracket games on the artificial turf of the Field of Champions to win the 10th annual Piedmont Passing Camp.
The Saints went 1-2 in pool play, including a loss to Piedmont's B team, but took down three No. 1 seeds in the knockout rounds, including Cleburne County in the final 20-0, to win the event in their first appearance.
"We just started competing a little bit better and started doing what we're coached to do," Saints coach Matt Glover said. "The big thing with our guys is confidence. We're just trying to get them confidence in themselves and know they can compete with other teams.
"That's what was good about getting this thing out. I think we got some kids who got better throughout the day. We did a lot better job when we came out here (the stadium). We need to try to get some."
Jayce Fisher, a three-year starter, threw three touchdown passes in the final against Cleburne County.
The Tigers earned their spot in the finals by beating Piedmont on Brock Swafford's touchdown pass and two-point conversion to Isaivia Brown on the final plays of their semifinal. The Tigers swept through their pool, lost to Saks in the run-up to bracket play, and then won close games over Anniston B, Jacksonville and the Bulldogs.
"With some of the young players we brought up here we just wanted to see them compete," Tigers coach Michael Shortt said. "We competed. We had some kids to make some big plays for us in the Jacksonville game, had some make some big plays for us in the Piedmont game. I really think we left everything we had right there in that Piedmont game."
There was a scary moment in that semifinal. Piedmont defensive back Taylor Morrow fell awkwardly breaking up a Swafford pass at the goal line and was transported from the field for precautionary reasons and tests on his lower back. Morrow's interception for a touchdown in overtime gave the Bulldogs their 20-14 win over Pell City in the quarterfinals.
10th ANNUAL PIEDMONT PASSING CAMP
Pool Standings
POOL A: Cleburne County 3-0, Sand Rock 2-1, Anniston 1-2, Coosa Christian 0-3.
POOL B: Saks 3-0, Piedmont 2-1, West End 1-2, Southside 0-3.
POOL C: Ranburne 2-1, Jacksonville 2-1, Piedmont B 1-2, St. Clair County 1-2.
POOL D: Pell City 3-0, Handley 2-1, Pisgah 1-2, Anniston B 0-3.
Additional Games
Sand Rock B 6, Saks B 0
Pell City B 14, Handley B 12
Piedmont 28, Sand Rock 6
Anniston 20, West End 12
Saks 14, Cleburne County 0
Coosa Christian 12, Southside 7
Handley 13, Jacksonville 12
Pisgah 13, Piedmont B 6
Pell City 34, Ranburne 0
St. Clair County 27, Anniston B 0
Pell City B 21, Sand Rock B 0
Saks B 12, Handley B 0
Bracket Play
First round
Cleburne County 7, Anniston B 0
Jacksonville 13, West End 6
Piedmont 14, Piedmont B 12
Pell City 26, Coosa Christian 15
Ranburne 13, Southside 12
Handley 14, Anniston 6
Sand Rock 19, Pisgah 8
St. Clair County 6, Saks 0
Quarterfinals
Cleburne County 19, Jacksonville 13
Piedmont 20, Pell City 14
Ranburne 19, Handley 12
St. Clair County 13, Sand Rock 12
Semifinals
Cleburne County 22, Piedmont 21
St. Clair County def. Ranburne
Championship game
St. Clair County 20, Cleburne County 0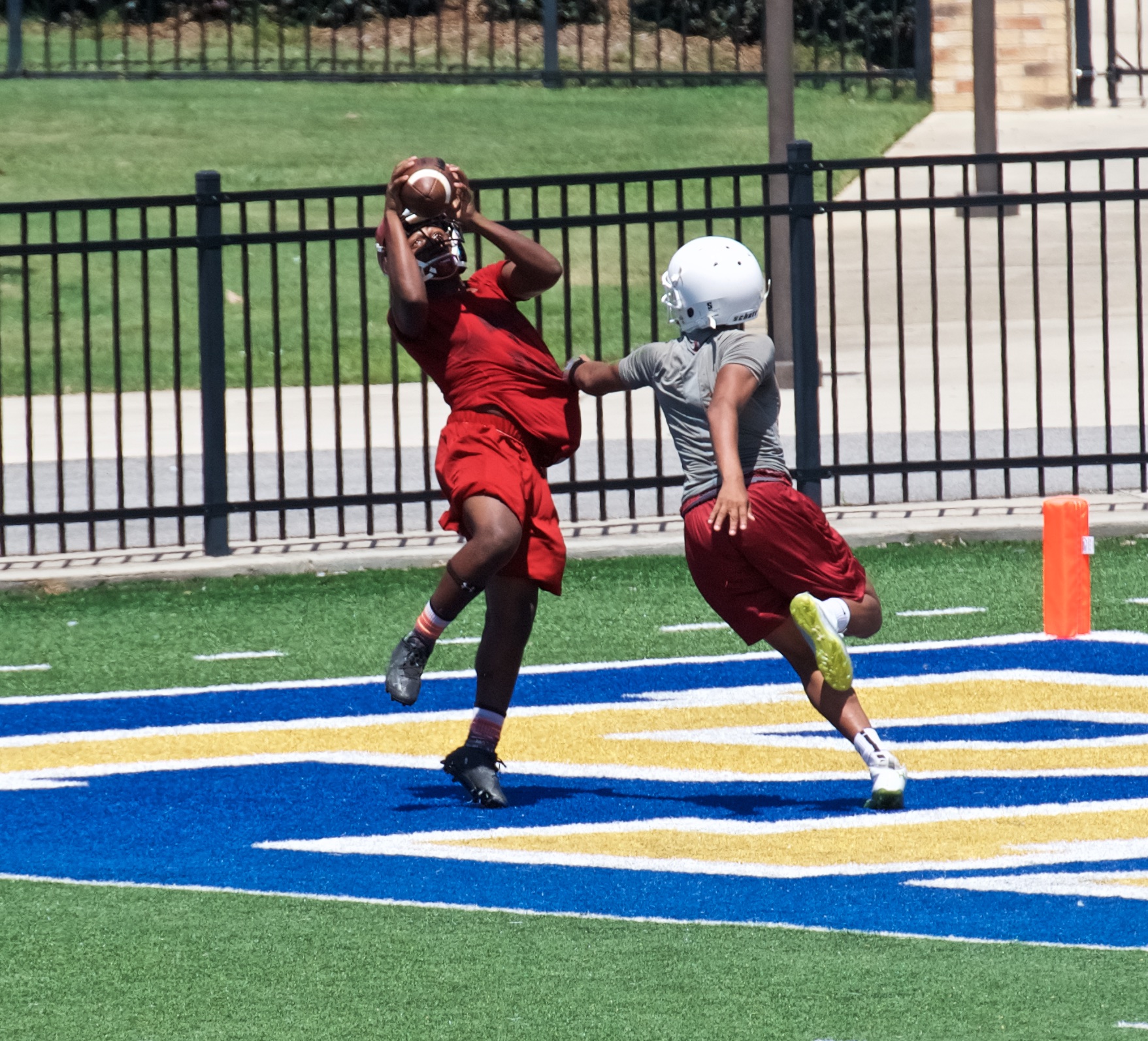 To see more photos by B.J. Franklin from the Piedmont Passing Camp, go to www.bjfranklin.smugmug.com and enter the football file.