SKCC notebook
Sunny King Charity Classic raises $115,000-plus for local charities; visiting pro raves about his experience in tournament
By Al Muskewitz
East Alabama Sports Today
The biggest moment of any Sunny King Charity Classic weekend is when tournament officials roll out the big check for charity.
This year's Classic raised $115,000-plus for its local charities. The plus comes from what officials called "a little surprise" from an unnamed benefactor that was received after the big check was created and filled in.
The revealed total was more than $8,000 more than last year and the most the Classic has raised since 2011.
"We did some different things," tournament co-chairman Jason Alderman said.
Among them was a chipping contest during the Saturday night social. The tournament also "did better" on its mulligan/sandie sales, thanks to a full field of 204 teams. It also raised nearly $2,800 for the Junior League from the "125" circle on the 16th hole at Cider Ridge.
Alderman said the tournament committee had no preconceived estimate of how much the novelty would raise when they proposed the idea, but it went over so well they are considering introducing it at all the courses in the rotation next year. Nearly 60 percent of the teams played.
"We want this to be fun; I want somebody to go over 50-under," Alderman said, referring to the winning score. "This is about raising money for charity. We have a good time and we have nice parties and golf, but it's about helping out."
In terms of the overall operation of the tournament, Alderman said, "I think this was the smoothest tournament we've had in a long, long time. I've had other people tell me that, so I felt like it was."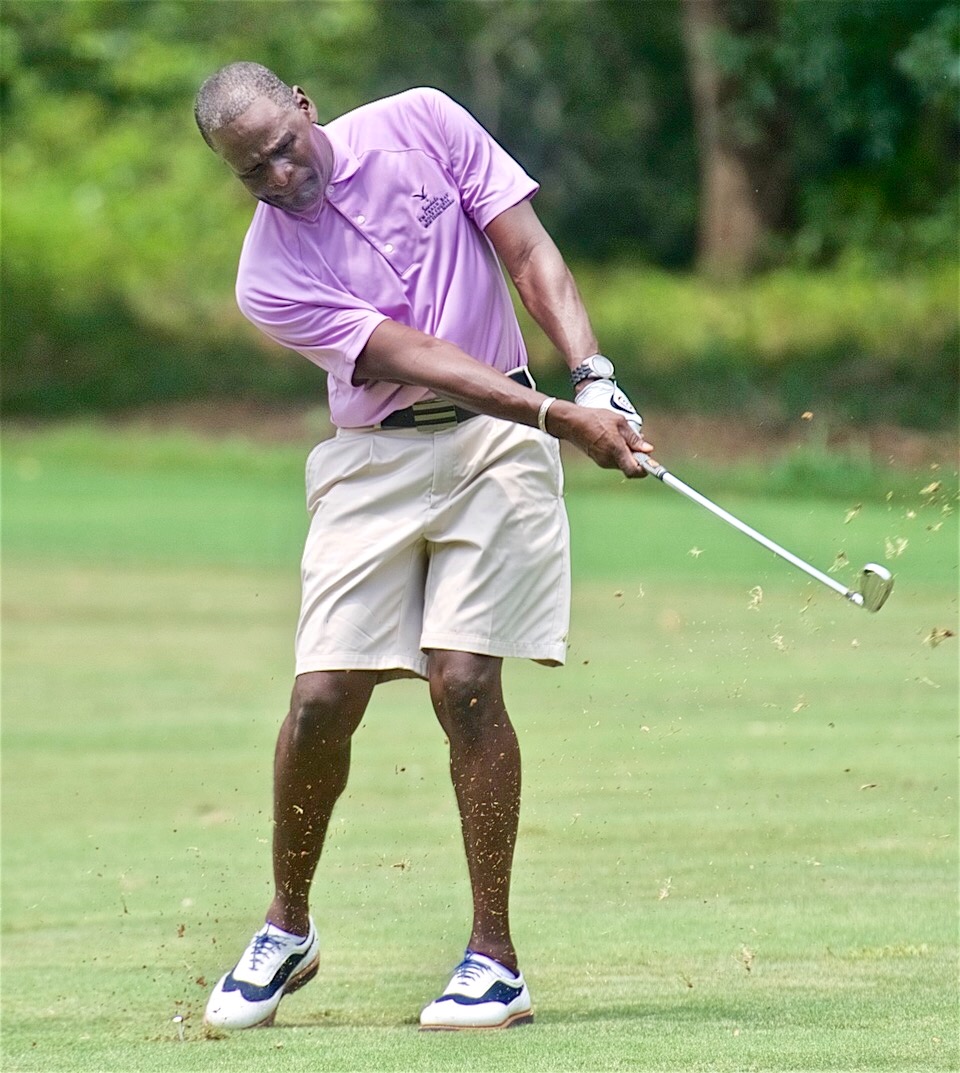 INTERNATIONAL ACCLAIM: When Rich Gibson was asked to play in the Sunny King Charity Classic, the Bahamian resort pro thought it was going to be like many of the other events he gets called upon to play.
After going through his first SKCC experience, Gibson said the SKCC was beyond compare. It's one of the biggest charity tournament he's ever experienced and is confident a similar event where he's from would be welcome.
"To play in this tournament is just awesome," he said. "You people have been so welcoming and nice to me. I greatly appreciate it. What a tournament.
"The perspective I had on it was it was just a tournament, a fun tournament, but coming up here and seeing what it is, hats off to you guys. It's such a wonderful, put together golf tournament that really contributing to the community and the needy, my heart just went out to whatever I can do to improve it or be a part of it."
Gibson is the director of golf at Sandals Resorts' Emerald Bay Golf Club, an acclaimed Greg Norman-design on Great Exuma. He was invited by Robbie Ginn of R&R Travel who hopes to spark interest in a tournament at one of her favorite properties to celebrate the firm's upcoming 30th year in business.
Gibson played all three days with six-time SKCC champion Randy Reaves. They shot rounds of 61-68-69 and finished tied for seventh in Championship B at 198.
"I played pretty good for the first time," he said. "Testing the three golf courses I thought I did well. A little jitters there, but I thought I did well and next year I hope to do better."
Does that mean he'll be back as a regular participant?
"Most definitely," he said. "I said to some of the good folks that I met that I think this is my home stop. Every year I want to be a part of this, so make me a part of this.
"From what I thought it was going to be it knocked me out of my shoes. It definitely exceeded my expectation and I will go back home and talk about it as much as I can."
GIVING TIL IT HELPS: Here is an accounting of the charitable funds the Sunny King Charity Classic has raised since 2005:
2005 — $101,000
2006 — $110,000
2007 — $120,000
2008 — $135,000
2009 — $130,000
2010 — $110,000
2011 — $120,000
2012 — $105,000
2013 — $100,000
2014 — $92,000
2015 — $102,000
2016 — $107,000
2017 — $115,000