On top at last
Shields, Ellison shoot 17-under, grab Sunny King lead for first time, lead 3 teams by a shot
SKCC LEADERBOARD
P.J. Shields-Jaylon Ellison -17
Logan Archer-Randy Archer -16
Ty Cole-Gary Wigington -16
Cory Etter-Caleb Bowen -16
Alan Smedley-Josh Ashley -14
Chad Calvert-Cris Smith -13
Ott Chandler-Dalton Chandler -13
Trey Hanvey-Jerry Irwin -13
By Al Muskewitz
East Alabama Sports Today
SILVER LAKES — It's been a pretty good week so far for P.J. Shields and Jaylon Ellison, and it could get even better if they can make some hay Saturday on the course that has vexed them in the Sunny King Charity Classic the last two years.
Shields shot 59 in an SKCC practice round during the week and Friday he and Ellison scrambled to a 17-under-par 55 to got the first-round lead in the Classic for the first time in three years as partners.
They hold a one-shot edge over three teams going to the Ford Mustang Championship Flight's modified scramble at Cider Ridge GC in Oxford.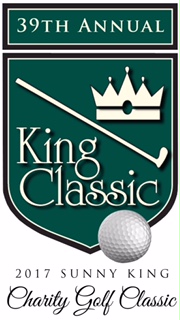 Defending champs Ty Cole and Gary Wigington are among those at 16-under 56 that came under wet course conditions that many said made the course play "a lot longer" than it has the last few years and the occasion weather-warning siren. ACC Parent-Child winners Logan and Randy Archer also shot 56, as did early leaders Cory Etter and Caleb Bowen.
"We just hit it pretty solid all day," Shields said. "It was what we wanted; all we could ask for."
Shields and Ellison finished second and third each of the previous two years in the Classic, and the element preventing their victory was a less-than-stellar showing at Cider Ridge after climbing into contention in the opening round.
Last year they lost ground after they followed a 57 that was two shots off the lead with a 62 in the modified scramble. The year before they again started the second round two shots back and shot 59. They shot 61 there their first year together in 2014.
There's reason for hope this time through, though. On Wednesday, Shields shot a course-record 59 at Cider Ridge from the SKCC tournament tees.
"We'll just have to go out there and give it our best shot tomorrow," Shields said. "We've struggled in the past, but we went out there and had a great practice session, obviously a good round Wednesday.
"We just going to have to go out there and maybe we'll have to get out there a little early and get adapted to the greens because they're a lot different from here. Hope we get the ball rolling early, that's what we're going to have to do — get off to a good start."
The leaders birdied every hole Friday except the par-3 Backbreaker fifth, and they had 20-foot putts at that one. They birdied their last 13 holes in a row.
"We talk about process and that was kind of like our motto today — we stick to our process," Ellison said. "We talked on the 16th tee that nothing special happened today. We kind of stuck to our process."
Cole and Wigington made 14 birdies after eagling their first hole of the day for the 16-under that Wigington said under the conditions was "a real good score." They shot 17-under last year on their way to setting the all-time tournament scoring record of 43-under.
Both came close to making holes-in-one, Cole on Mindbreaker 2 (which would have won him a car for the second time in three years) and Wigington on Backbreaker 5 when his shot jumped back over the hole.
Interestingly, Cole changed putting grips midway through the round. He started with a conventional style, then on No. 7 switched a cross-hand and started everything he stood over.
"I made the putt on 1 and we were hitting it close, 4-5 feet and I'm (missing putts) and Twig is having to make everything behind me, which he's doing," said Cole, who once won a county tournament with three putting grips in three days. "I felt bad. I hit it good, real good, and then on No. 7 I told him 'Don't think I'm crazy, but I'm going crosshand and he said 'whatever works, baby' and then I went putt, putt, putt."
It started with a five-foot uphill putt, then a 15-foot downhill putt with a mulligan on 8 and then a four-footer on Mindbreaker 9 to turn the team 9-under.
"He putted the ball a thousand times better," Wigington said. "He went from making nothing to several good ones and it was a big difference, obviously. If it's not working you need to try to do something different. He just wasn't hitting near where he was trying to hit it, so when he swapped over he hit it right where he wanted to."
The Archers shot 8-under on each side highlighted by back-to-back eagles on Backbreaker 9 and Mindbreaker 1. Randy set up the first with a 5-iron from 205 yards that almost went in for a 2. Logan set up the second with an 8-iron from 165 yards to six feet.
"That actually got us right back on track," Logan said. "We weren't lighting it up, we were 6-under through 8 and that eagle-eagle put us at 10 through 10."
Etter and Bowen set the tone, posting the first 56 for the rest to shoot at. They started eagle-par, then ran the next 11 birdies in a row. They putted for eagle on every par-5, but only made the first one and with two par-5s among their final three holes they settled for a birdie-birdie-birdie finish.
"The key to us is if (Bowen) hits his driver good, we play good, because we both putt pretty good and my wedges are always pretty good," Etter said. "He didn't hit his driver good last year and neither one of us could ever get going.
"Last year was a tough year for both of us. We wanted to play and wanted to play good, but I don't think our heart was there. So this year I've played a lot more golf, more in the last month than I have all last year; that helps a lot. We've just got to take it one day at a time and make some putts."