Thanks for the support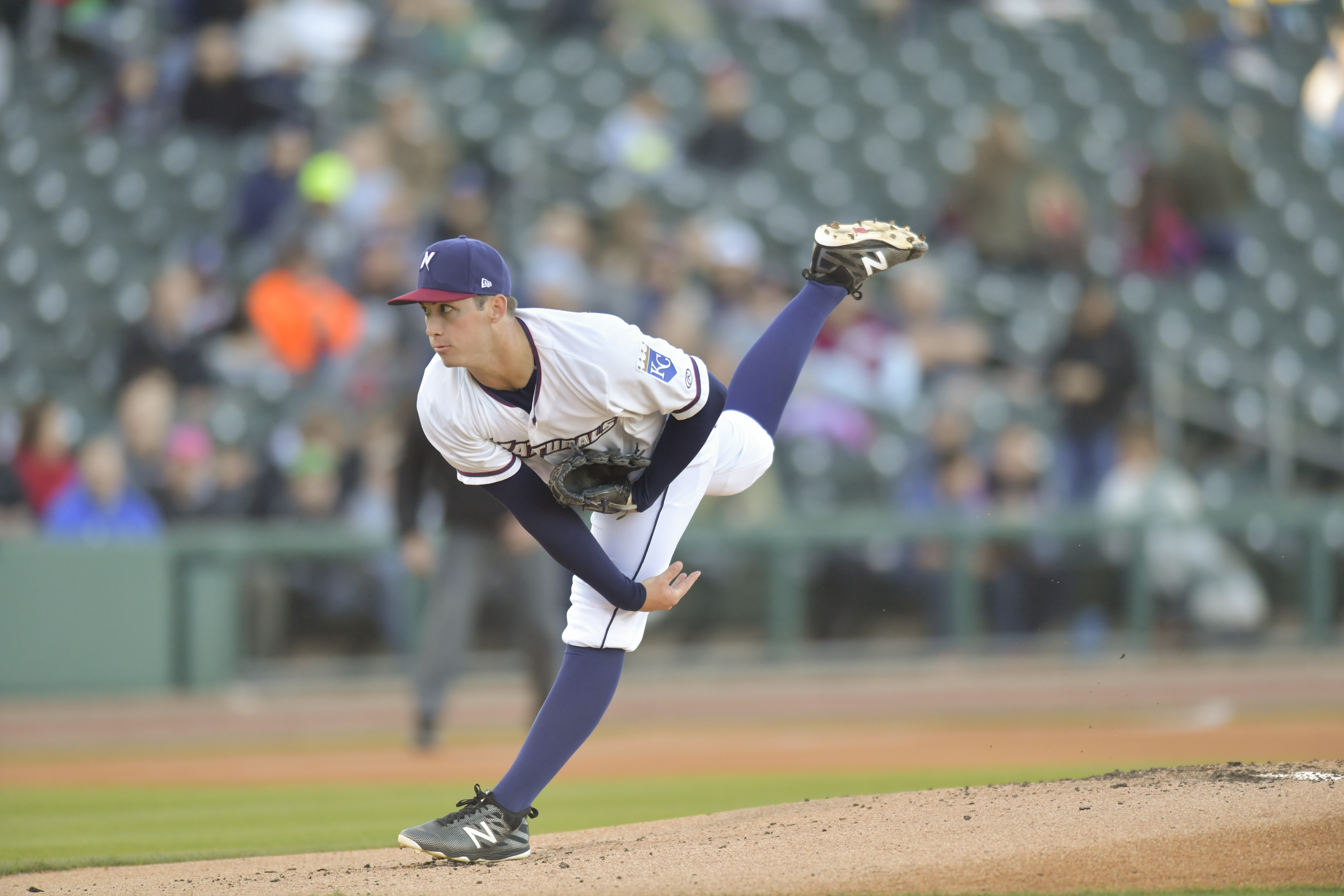 Former Oxford pitcher Lovvorn getting unprecedented run support in his first month with Double-A Naturals
EDITOR'S NOTE: This is the first in an occasional series on the players from Calhoun County playing minor-league baseball this summer.
By Al Muskewiz
East Alabama Sports Today
Zach Lovvorn went through a minor-league season last year he can only and always describe as "weird." It only took to the second inning of his second start this season to know he was in a different place.
A year ago, Lovvorn, a right-handed pitcher in the Kansas City Royals system, may have been the hardest luck pitcher in all of baseball. His record made you wince, but his overall numbers were pretty good.
He was 2-15 for the Single-A Wilmington Blue Rocks, but had an ERA of 3.95, a WHIP of 1.394 and a career-high 107 strikeouts. The 15 losses were a career and Carolina League season high, but his ERA was sixth best in the league and his ERA and WHIP were both second best among pitchers with 10 losses or more.
Other pitchers might have been kicked to the curb with a won-loss record like that; instead, the Royals saw beyond the record and promoted him to Double-A, telling him the second day he reported early for spring training he had a spot on the roster. It wasn't his fault the guys behind him couldn't hit a lick.
OK, maybe that's a little harsh, but the truth is Lovvorn had some of the weakest run support in pro baseball. In his first 15 appearances last season the Blue Rocks scored only seven runs for him; they were 4-11 in those games and he got none of the wins.
He finally got his first win July 8 — 1-0, of course — ending a run of 19 straight appearances without a W. At the time of the win, he had 0.933 of run support.
Fast forward to his second start this season with the Northwest Arkansas Naturals of the Texas League. He was in the dugout reviewing his first two innings of work when in comes one run, then another, then another. Suddenly, there were crazy crooked numbers on the scoreboard where before he'd have been lucky if there were one or two straight ones.
Lovvorn starts again tonight against Tulsa (Dodgers), a team he's faced twice this season (win, no decision). He has come out of games already with leads of 11-1, 5-3 and 9-1, where last year he may go weeks without seeing that many runs.
"I think in my first two starts it doubled the amount of runs scored for me last year," Lovvorn said. "This team, we're pretty stacked. We've got a lot of talent, a lot of guys who are repeating, guys who were here last year, guys who were all-stars here last year. All throughout the lineup you've got guys who are gonna make something happen. Run support definitely isn't an issue out here.
"It feels good having guys like that that you don't have to approach each outing like I almost have to be perfect so I don't go out here and lose this game. Not only are you giving your team a good chance to win, they're also giving you a good chance to win."
And they're not just supporting him with the bats. There's been some good glove work going on in the field as well.
"I've seen plays behind me these past six outings I don't think I've seen my baseball career," he said. "It's incredible. I feel like I'm finally playing some baseball."
Last year certainly tested Lovvorn's character. He called the experience "one of those building blocks on the way to the big leagues" that has molded him into the pitcher he is now. Still, it's taken some getting used to having all that support.
Take that second start, for example. Maybe it was the 15-20 minutes it took for seven runs cross the plate on his behalf, but he went out the next inning and walked the second batter he faced. It prompted a conversation with the manager when he got back in the dugout.
"He said I know you're not used to winning a ballgame by this much, but this is how you've got to attack hitters," Lovvorn recalled. "Just kind of approaching the game a different way than I did last year because I did have all this run support.
"He said I looked at your numbers last year, you lost a lot of ballgames, I get it, but you had good numbers. This is a different league. It's not like that here. … Now that we're getting to this level and the levels to come, it's not so much of developing as it is executing."
On the cover, former Oxford pitcher Zach Lovvorn delivers a pitch in his first start with the Northwest Arkansas Naturals. (Photo by John Owen/NWA Naturals)
LOVVORN'S LOG
Here is a record of Zach Lovvorn's starts this season and the score when he came out of the game
April 6 – San Antonio, 6 IP (L), losing 1-0
April 11 – Corpus Christi, 6 IP (W), leading 11-1
April 17 – Corpus Christi, 5 2/3 IP (ND), leading 5-3
April 23 – Tulsa, 6 IP (W), leading 9-1
April 30 – Tulsa, 5 IP (ND), losing 3-0
May 5 – Springfield, 7 IP (L), losing 4-1