New year, same drive
Updated: November 30, 2016
Alexandria state champion Knop seeks to take his skills to a higher plane this season, starts his defense with a pin
By Al Muskewitz
East Alabama Sports Today
LINCOLN – The last time Christian Knop was seen on a high school wrestling mat in Alabama he was leaping into the arms of Alexandria assistant coach Tyler Causey celebrating an undefeated season and an individual state championship.
A lot has happened to the Valley Cubs sophomore in the offseason leading up to Tuesday night's 2016-17 debut as his visibility on a national stage has increased, but the results – and the expectations – remain the same.
Knop stepped onto the mat for the first time with the prestige of a defending state champion and promptly pinned Saks' Rodney Reddick in 59 seconds to get his season off with a bang.
"Now that I know I can have an undefeated season so that's my goal for every year," he said. "If I can accomplish that throughout my high school career, hopefully winning more and more matches, getting more and more pins, more and more awards, getting to know more and more coaches, getting to experience more and more wrestling, that's my goal."
Knop became Alexandria's first ever wrestling state champion last year when he went 56-0 and outpointed another undefeated wrestler, Dora senior Caleb Lauderdale, for the 170-pound title in what was the match of the 1A-5A tournament.
He wrestled at 182 here and started his run towards a second straight title with a forfeit win against Lincoln and quick work against Saks.
Valley Cubs coach Frank Hartzog was "really worried" about his best guy moving up to 182, but after seeing the way he handled things Tuesday night eventually "felt good" about it. His expectations for Knop remain as high as ever and even with one state title under his belt he perceives the wrestler remains "as hungry as he ever was" for more.
"Just winning one state championship will not satisfy me at all," Knop said. "Winning two, three, four; I want to make my legacy at Alexandria just like everyone else does."
It was a different kind of hunger he was satisfying before the matches. Just prior to taking the mat for warm-ups, he was munching on a quick snack of pineapple and cherries.
Knop's star didn't stop rising with the success in Huntsville. The next week he won a state Cadet championship and during the offseason he finished third in a big tournament in Virginia Beach, double champed at the Southeast Regionals, won the Super 32 qualifier and competed in wrestling hotbeds North Dakota and Iowa.
"I feel like my abilities now have far surpassed my abilities last year," he said. "I worked all summer just to get to this moment and now it's time to go and show what I can do. I've definitely showed it these last two years and this year I want to make a statement. I set a precedent for myself and everybody's expecting me to surpass that because I've gotten better."
You could say his run to another title is part of a bigger vision quest; he does. Knop and teammates Fletcher Swindall and Aaron Whittaker recreated the iconic scene from what has become the team's favorite Christmastime movie tradition in which Knop runs stadium steps with a heavy log on his shoulders. It has become something of a local sensation on Facebook.
"We want our team to differ from others," Knop said. "This is kind of like a team bonding thing. We get together and watch the movie and everybody enjoys it. It's just a fun experience to get together and get away from wrestling. One day after practice we were like, 'I really like that scene, we should recreate that.' Everybody loved it."
His success a year ago was rooted in a focus on perfecting his takedown move. This year he has worked to expand that part of his game in an effort to become a more rounded wrestler.
"I figure why be good at one takedown," he said. "I worked all summer on my foot movement and my takedowns and how to get to them … so I can be good not only from neutral but from top and bottom. You can't just win a match from neutral, so I worked more on my top game and my bottom game as well and everything tied in. Instead of saying I'm working on one thing, I'm working on wrestling."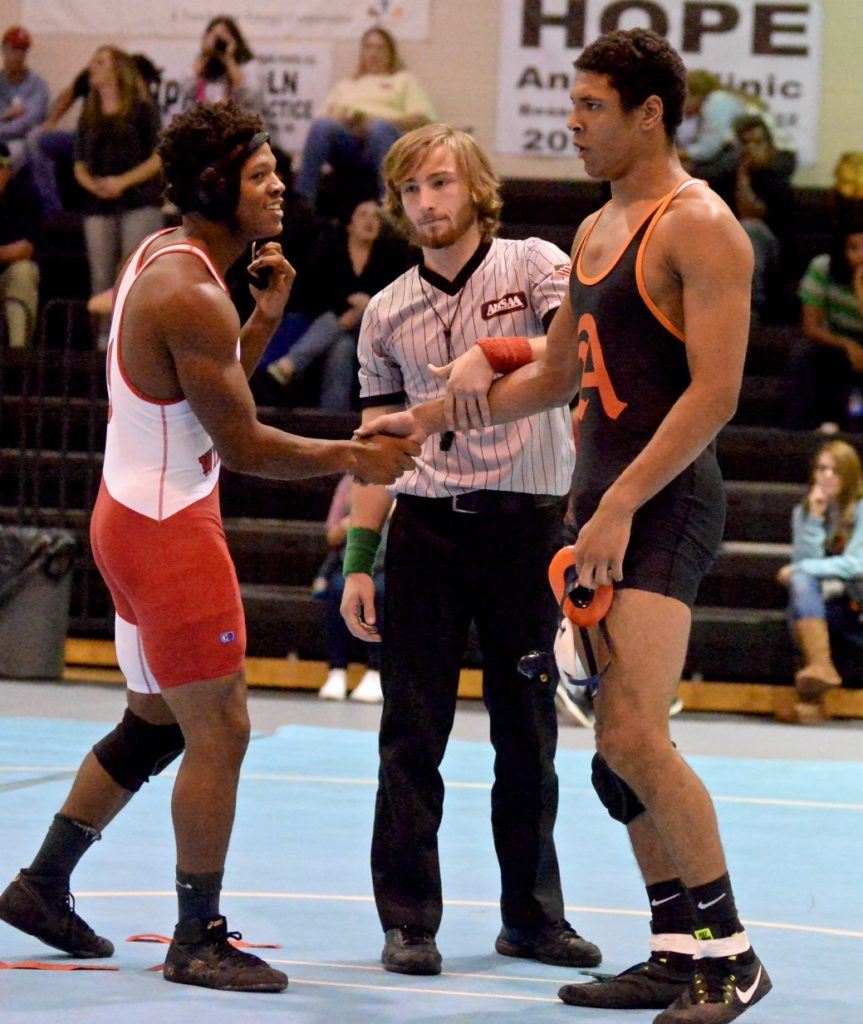 On the cover: Christian Knop goes into the season looking to add to his legacy as an Alexandria wrestler.