County has big day
Updated: November 3, 2016
Calhoun County scores 3 team titles (PV sweep, White Plains girls), 2 individual champs and 2 runner-ups in cross country sectional meets
By Al Muskewitz
East Alabama Sports Today
Before this week, the White Plains cross-country team was one of those teams whose athletes went about their business, competed hard and brought polite applause when introduced. On Thursday, the Wildcats showed their teeth.
The White Plains girls won the first cross country sectional championship in the program's history when they fought off challenges from Jacksonville and Sipsey Valley to take the Class 4A Section 2 title at Veterans Park in Hoover.
"It gives us a little credibility, some validity," White Plains coach John Moore said. "Until you win something nobody's gonna pay attention to you. If you get a sectional championship out of it, people will take notice of you.
"Instead of us coming back and saying we did well in this meet or that meet and some people might think it was small meet, a country team, people you beat up anyway, this was a sectional; we won this big meet. I'm proud to be associated with this team. Overjoyed."
The Lady Wildcats were one of three Calhoun County teams to grab sectional titles on what turned out to be a big day for county runners.
The other two went to Pleasant Valley, which continued its dominating season by sweeping the Class 3A Section 4 titles in Cold Springs. The team crowns were part of three 1-2 sectional finishes by county teams — Jacksonville was second to White Plains and both Ohatchee teams finished second to the two PV squads.
Additionally, Alexandria's girls were second in the Class 5A Section 4 race in Scottsboro, White Plains' boys were second in 3A Section 4 and Donoho's boys were third in Class 1A-2A Section 2 at Cold Springs.
Individually, Jacksonville's Rebecca Hearn won the 4A Section 2 girls race and Ohatchee's Gabe Hammonds became his school's first-ever sectional champion in the 3A Section 4 boys race. Alexandria's Abby Nunnelly, meanwhile, was second in the 5A Section 4 girls race in Scottsboro and Pleasant Valley county champion Trinity Roberts was second in the 3A Section 4 girls race.
In all, Calhoun County is sending nine teams and 14 individual qualifiers to the state championships in Moulton Nov. 12. All the results involving county teams are listed below.
"That tells you you've got some of the best teams in all of cross country in the county," White Plains coach John Moore said. "I told one of the coaches the other day I'd have (an easier time) at the sectionals than the county."
Pleasant Valley's girls, who hadn't lost a scored meet all season, put all five counters in the top 12 and their top seven in the top 10. Trinity Roberts (20:10.01) and Rachel Faucett (20:48.14) finished 2-3 for the PV girls; Jayda Fair (21:44.50) and seventh-grader Brittany Caywood (21:53.94) went 8-9 for Ohatchee. Alexandria's girls put three runners in the top 20, but Scottsboro had seven in the top 11.
The White Plains girls, back to full strength after losing two runners during their sixth-place finish at last week's County Championship, bounced back to put all five scorers among the top 12 counters.
Hearn (21:43.04) and Mary Shelton (23:13.45) went 1-3 to lead Jacksonville, but the Lady Golden Eagles' next counter was 14th. White Plains jammed all its counters in between.
"This is the first girls team that ever won sectional; I don't know if we ever had enough girls to run anywhere before I came to coach," Moore said. "For us, everything we do is pretty much a first. We had some bad luck at the county, but bounced back."
Senior Alyssa Hudgins stepped out of the County race about the two-mile mark when her blood sugar spiked. She was determined to finish the sectional and was the first Lady Wildcat across the line, sixth overall (24:09.74). Briar Poytress was seventh and Adrianna Sotelo was 10th.
"I wanted to redeem myself for stopping the race; I run track, too, and I've never once stopped a race before," Hudgins said. "Today I set out to take it slow so I didn't have to stop; my goal was to keep running. I wasn't even worried about my individual placing. I wanted our team to win first so we could go to state together."
The boys team will be joining them after a second-place finish in their race behind dominant Northside. The winners put all five counters in the top 10. The Wildcats put three in the top 10, led by senior Chase Crandall's fifth-place finish.
"It's good we won, but this is not where we want to be," Moore said. "Someday we want to be state champions. We've got to keep pushing to that point."
Pleasant Valley's girls, who hadn't lost a scored meet all season, put all five counters in the top 12 and their top seven in the top 10. Trinity Roberts (20:10.01) and Rachel Faucett (20:48.14) finished 2-3 for the PV girls; Jayda Fair (21:44.50) and seventh-grader Brittany Caywood (21:53.94) went 8-9 for Ohatchee. Alexandria's girls put three runners in the top 20, but Scottsboro had seven in the top 11.
Hearn (21:43.04) and Mary Shelton (23:13.45) went 1-3 to lead Jacksonville. Alexandria's Nunnelly (19:43.23) finished second to Scottsboro's Karsyn Whitehead (19:36.61).
In boys 1A-2A, Kam Thomas was the Donoho boys' fastest at 18:39.92 (11th); Bradey Goodson was 15th overall 19:17.66. Faith Christian missed qualifying as a team, but qualified Jack Sills (19:10.37) and Daniel Clark (19:30.61) individually. Donoho missed a team spot in the girls race, but Libby Davis and Savannah Frickey made it through.
Among the other individual qualifiers were Calhoun County boys champion Reed Robinson, Madison Reeder and Toni Coley (Oxford); Gannon Womack and Luis Rodriguez (Alexandria); Kevin Barajas and Braxton McFall (Jacksonville); Rayburn Price (Saks), Shelley Phillips (Faith Christian) and Michael Austadillo (Sacred Heart).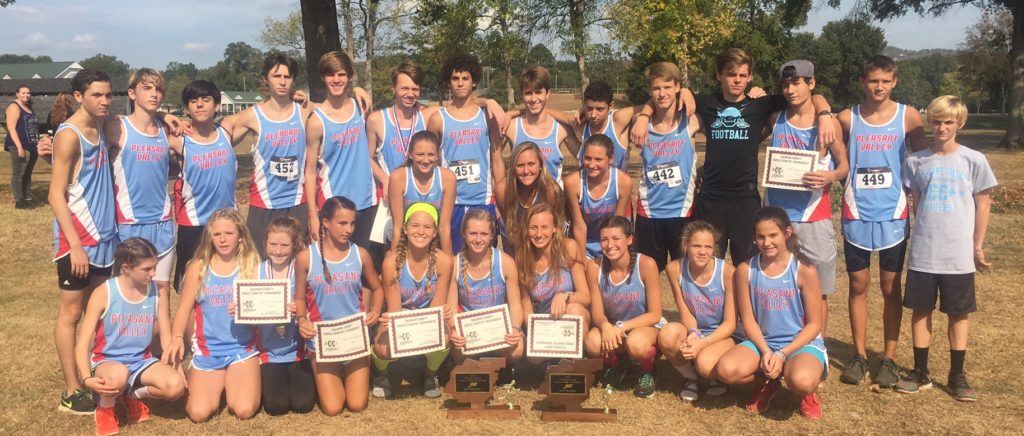 CLASS 3A SECTION 4
Pleasant Valley stayed on track for a big finish at the state championship race by sweeping their respective sectional championships.
The girls, the defending state champs who haven't lost a scored meet this season, put four runners in the top 10, six in the top 15, got PRs from seven of their top 10 runners and dropped their team average by six seconds. They were 42 points ahead of second-place Ohatchee
The boys won for the sixth time in eight starts, putting five runners in the top 15. Their five counters ran in a pack from seventh to 12th separated by 24 seconds.
"There's just not a whole lot to say until next week," PV coach Brad Hood said. "Everything we've been doing has been geared toward next week. It's not geared to win the county or the section; the focus has been on the boys getting second and the girls getting first.
"The guys were kind of disappointed I was selling them short at second, but they see what's out there. A second place would be huge for the guys; that'd be a tough but attainable goal."
Ohatchee's dual seconds weren't a downer. Indians coach Casey Howell called them the "greatest accomplishment we've had in our program's history."
It's all about progression.
In their inaugural year the girls won the section, but the boys failed to qualify for state. The second year, the boys won the county but the girls didn't place. Last year was the happiest Howell had been before Thursday as both teams went to the state meet for the first time.
They're going back together this year with a "no-name guy group" that just goes about its business and a girls team that has overcome the adversity of losing three of its top five runners to injury and illness.
Hammonds learned from the miscalculation of going out too fast in the County Meet and paced himself Thursday. He was running third at the first mile, then drafted off Pisgah's Ben Hembree before making a big kick in the final 800 meters that carried him to his first career win and at 17:14.66 a PR by 13 seconds.
"I wasn't really focused on winning first today," he said. "I was mainly going to be my PR, which I figured would get me first if I did it. I just try to run as hard as I can and when I heard "11" at two miles I told myself try to beat my PR. The last mile I just kicked it in and gave it everything I had and finished strong."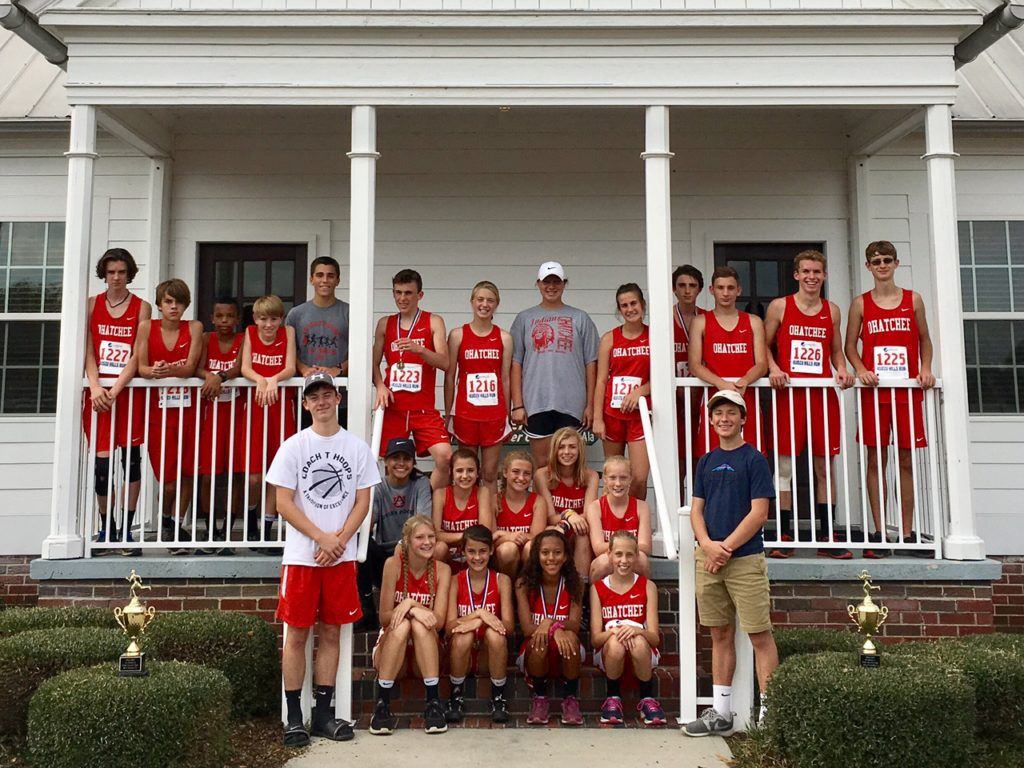 AHSAA CROSS COUNTRY SECTIONALS
CLASS 6A SECTION 5
Girls: Fort Payne 19, Cullman 80, Albertville 81, Oxford 105, Southside-Gadsden 136, Hartselle 150, Pell City 159.
Top 10: Maggie Crow, Fort Payne 20:33.67; Gracie Groat, Fort Payne 20:35.20; Maddie Jackson, Fort Payne 20:43.64; x-Madison Reeder, Oxford 21:14.72; Hannah Pratt, Albertville 21:16.07; Mollie Sanderson, Fort Payne 21:18.02; Raven Fairley, Fort Payne 21:44.72; x-Toni Coley, Oxford 21:46.97; Rachael Collins, Cullman 21:53.58; x-Chloe Brown, Pell City 21:57.84.
Boys: Cullman 36, Albertville 70, Fort Payne 83, Southside-Gadsden 110, Hartselle 118, Pinson Valley 165, Oxford 169, Pell City 214.
Top 10: x-Hunter Nails, Southside 16:19.72; Joey Franklin, Cullman 16:31.86; Victor Bravo, Albertville 16:41.86; x-Taylor Nails, Southside 16:57.47; Eli Wilhite, Cullman 17:00.20; Chance Cofield, Albertville 17:12.96; x-Vondrekus Miller, Pinson Valley 17:26.21; Jackson Tucker, Cullman 17:27.87; Tucker Adkison, Cullman 17:31.29; x-Caleb Dingbaum, Hartselle 17:37.54. Other local qualifiers: Reed Robinson, Oxford 17:51.82.
CLASS 5A SECTION 4
John R. Esslinger Trail of Champions, Scottsboro
Girls: Scottsboro 25, Alexandria 82, Guntersville 83, Arab 95, Saint John Paul II 130, Boaz 159, Douglas 184, East Limestone 237, Ardmore 241.
Top 10: Karsyn Whitehead, Scottsboro 19:36.61; Abby Nunnelly, Alexandria 19:43.23; Alex Murray, Arab 20:15.67; Hallie Bone, Scottsboro 20:44.04; Courtney Cleveland, Scottsboro 20:44.73; Emma Stewart, Arab 20:54.91; Anna Carlson, Scottsboro 20:58.64; Maddie Gossett, Scottsboro 21:03.17; Kate Tully, Guntersville 21:10.00; McCall Chandler, Scottsboro 21:24.76.
Boys: Scottsboro 26, Saint John Paul II 46, Guntersville 71, East Limestone 156, Boaz 165, Arab 169, Alexandria 178, Etowah 241, Douglas 249, Ardmore 278.
Top 10: Colton Smith, Scottsboro 16:06.02; Sam Moultrie, Guntersville 16:16.91; Noah Flynn, SJP II 16:46.25; Hayden Judge, Scottsboro 16:47.97; Will Coleman, Scottsboro 16:54.82; Fuad Qushair, SJP II 16:56.85; Cooper Atkins, Scottsboro 17:00.01; Riggs Ferguson, SJP II 17:04.40; Devin Berry, Scottsboro 17:13.02; Jackson Ausley, Guntersville 17:17.24. Local individual qualifiers: Gannon Womack, Alexandria 18:16.23; Luis Rodriguez, Alexandria 18:23.76.
CLASS 4A SECTION 2
Veterans Park, Hoover
Girls: White Plains 43, Jacksonville 51, Sipsey Valley 52, Northside 114, Childersburg 150, Bibb County 151, Saks 152.
Top 10: Rebecca Hearn, Jacksonville 21:43.04; x-Megan McCoy, West Blocton 23:08.76; Mary Shelton, Jacksonville 23:13.45; Morgan Adcox, Sipsey Valley 24:01.17; x-Makayla Worrell, Northside 24:06.21; Alyssa Hudgins, White Plains 24:09.74; Briar Poytress, White Plains 24:16.14; Kayla Brown, Sipsey Valley 24:40.38; Brandi McKnight, Sipsey Valley 24:43.23; Adrianna Sotelo, White Plains 24:50.61.
Boys: Northside 21, White Plains 65, Sipsey Valley 76, Jacksonville 99, Bibb County 127, West Blocton 151, Saks 157, Childersburg 231, Leeds 265.
Top 10: Tanner King, Northside 17:53.10; James Lagrone, Northside 18:36.82; Trace Hannah, Sipsey Valley 18:59.47; Drake Patton, Northside 19:06.99; Chase Crandall, White Plains 19:18.44; Cody Robertson, Northside 19:24.36; x-Kevin Barajas, Jacksonville 19:31.77; Samuel Barrentine, Northside 19:40.84; Jake Moore, White Plains 19:46.31; Isaiah Verde, White Plains 19:49.58. Other local individual qualifiers: Braxton McFall, Jacksonville 19:52.26; Rayburn Price, Saks 20:14.87.
CLASS 3A SECTION 4
Cold Springs HS
Girls: Pleasant Valley 34, Ohatchee 76, Pisgah 84, JB Pennington 101, Glencoe 109, Holly Pond 131.
Top 10: x-Camilla Chambers, Holly Pond 20:07.79; Trinity Roberts, Pleasant Valley 20:10.01; Rachel Faucett, Pleasant Valley 20:48.14; x-Lauren McHan, JB Pennington 20:49.28; Kelleigh Joiner, Pisgah 21:10.65; x-Abby Vice, Glencoe 21:23.73; Emma Hood, Pleasant Valley 21:35.21; Jayda Fair, Ohatchee 21:44.50; Brittany Caywood, Ohatchee 21:53.94; Lindsey Pritchett, Pleasant Valley 22:10.25. Other local qualifiers: Anna Beth Giles, Glencoe 22:55.82.
Boys: Pleasant Valley 47, Ohatchee 62, Pisgah 72, Holly Pond 91, JB Pennington 128, Hanceville 158, Glencoe 182.
Top 10: Gabe Hammonds, Ohatchee 17:14.66; Ben Hembree, Pisgah 17:29.64; Blake Noah, Ohatchee 17:45.49; x-Jacob Drane, Holly Pond 17:50.41; Aaron Brown, Hanceville 18:08.76; Jase Moore, Pisgah 18:41.34; Jacob Gladen, Pleasant Valley 18:43.71; Daniel Gladen, Pleasant Valley 18:47.90; Caleb Kirk, Pleasant Valley 18:55.51; Victor Serrano, JB Pennington 19:00.58. Other local qualifiers: Mark Cook, Glencoe 19:20.10.
CLASS 1A-2A SECTION 2
Cold Springs HS
Girls: Cold Springs 30, Altamont 36, Cornerstone 92, Donoho 101, Faith Christian 114.
Top 10: Mary Allen Murray, Altamont 19:49.81; x-Mary Reid Goodwin, Westbrook Christian 19:53.40; Bay Stackpole, Altamont 21:17.45; Breia Smith, Cornerstone 21:22.36; Brooke Crider, Cold Springs 21:23.88; Ava Akridge, Cold Springs 21:24.42; Sadie Terry, Cold Spring 21:25.43; Alyssa Jackson, Cold Springs 21:47.96; Ashleigh White, Cold Springs 22:07.16; x-Libby Davis, Donoho 22:11.32. Other local qualifiers: Savannah Frickey, Donoho 23:25.05; Shelley Phillips, Faith Christian 23:48.54.
Boys: Cold Springs 28, Altamont 37, Donoho 108, Faith Christian 120, Decatur Heritage 129, Westbrook Christian 146, Sacred Heart 154.
Top 10: C.J. Lang, Cold Springs 16:32.09; Asher Desai, Altamont 16:51.78; Jared Stanley, Cold Springs 16:56.44; James Dixon, Altamont 16:57.99; x-Mitchell Cook, Westbrook Christian 17:31.58; Jonathan Collett, Cold Springs 18:00.14; Spencer Skidmore, Altamont 18:09.85; Trentan Williams, Cold Springs 18:11.67; Robert Luke, Altamont 18:12.13; Mason Harris, Cold Springs 18:29.82; Kam Thomas, Donoho 19:39.92. Other local qualifiers: Jack Sills, Faith Christian 19:10.37; Daniel Clark, Faith Christian 19:30.61; Michael Austadillo, Sacred Heart 19:49.34.
x-Individual qualifier