Oxford crowned
Updated: October 19, 2016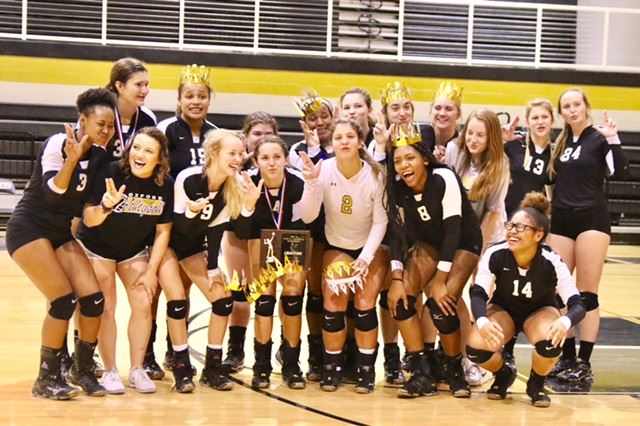 Lady Yellow Jackets win area championship, have crowns to prove it; Kidd named most valuable player
By East Alabama Sports Today
OXFORD — Tournament MVP Makayla Kidd, Chloe Stone and Rachel Uhrin all turned into all-tournament performances and Oxford was particular sharp on its serves while defeating Southside-Gadsden 25-23, 25-20, 22-25, 25-11 to win the Class 6A Area 13 championship.
The Yellow Jackets (38-15) will now play McAdory in the first round of the North Regional 11:30 a.m. Friday.
Kidd was everywhere for Oxford defensively and played well up front. She had eight kills, 20 digs and an ace.
Nyia Archie had 13 kills, three digs and two aces, while JoJo Skinner had 11 kills and 15 digs and Chloe Stone had 11 digs, two kills and 40 assists.
Alex Gomez had four kills, Alex Hammond had 27 digs, Abby Bussey had 18 digs and Rachel Uhrin had 11 kills.
Southside reached the final by beating Pell City in three sets, 25-11, 25-23, 25-14.